Pocket Casts 4: more than just a fresh coat of paint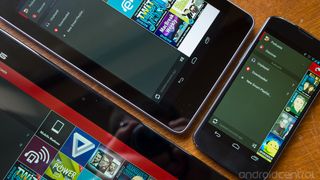 Pocket Casts has been around for some time, and is always part of the conversation when talking about podcast apps on Android. But like many other apps, it was long overdue for a redesign. This latest update, Pocket Casts version 4, has thrown the app back into the forefront of quality Android design. But the update is more than just skin deep -- underneath that design is a whole bucket of new features that are just as appealing as the visuals.
Hang around with us after the break, and take a look at the completely redesigned Pocket Casts 4.
Phone UI
Take whatever you knew about Pocket Casts before and throw it out the window, because Pocket Casts 4 is basically a brand new app from top to bottom. Even the icon is new (and quite nice to our eyes). Developer Shiftyjelly has gone back and started over, rewriting a new interface and set of features for Pocket Casts that are extremely compelling. The interface follows new holo guidelines, but has its own bit of style with a red, white and grey color scheme that is clean and intuitive
The main interface is a grid of album art icons, with tags showing the number of unplayed podcasts in the corner. Tapping into each one will give an episode list, with detailed information for each. You can browse for new podcasts by swiping in from the left to reveal a navigation pane, and tapping "Discover". There are listings for featured, popular, networks and categories to choose from. You can also search at any time from the top menu bar. Those of us who use Google Reader to manage podcasts may have preferred a Google Reader list import features, but keeping things "limited" in this respect means you get a cleaner set of podcasts, better album art and up-to-date podcast listings.
7-inch tablet portrait UI
Also hiding behind that slide-in panel are options to view your playlists, which are configurable. By default you'll be given a few to choose from -- unplayed, played, downloaded, audio and video -- but you can delete the default ones and create your own if you'd prefer. For each playlist, you can make different rules (for lack of a better term) for how it should handle podcasts. For example you can choose whether to auto-download, when to update and how to handle deletion of items.
You'll do most of your listening from the playlist menu rather than the "Podcasts" menu, and it's executed nicely. Each listing for the podcast will show the name, episode number and length -- along with either a play button if it has downloaded, or an arrow displaying that it has yet to download. You can choose to either download or directly stream podcasts, which is also nice for longer shows. Taking a gesture out of the new Gmail interface, long pressing and swiping away a show removes it from the playlist.
7-inch tablet landscape UI
The entire UI is smooth and responsive, whether its navigating through the settings or playing podcasts from a playlist. Pocket Casts 4 also properly scales to different screen sizes inside of the same app, which is a huge plus for users with both phones and tablets. The interface scales up slightly to a 7-inch tablet from a phone, with smaller text and different scaling on the interface elements. Turning a 7-inch tablet to landscape (above) turns Pocket Casts to the 10-inch tablet UI (below), which changes the slide-in panel to a permanent fixture on the left side of the interface. It's really nice to see a developer paying attention to multiple screen sizes when redesigning an app, especially as tablets like the Nexus 7 gain popularity.
10-inch tablet landscape UI
We've left possibly the best feature for last here -- and that is that Pocket Casts 4 supports multiple device syncing. Once you have the app installed on your devices, you'll be prompted to sign in to sync. The app uses your default Gmail address to use for syncing, which keeps things simple (and well integrated). Once every device is signed in, changes made on any one device will be reflected on the others. Playlist changes, playback status, deletions and more are all synced between your phone and tablet(s).
Between the auto-download of podcasts and the auto-syncing of deletion and playback status, Pocket Casts provides a seamless transition in podcast listening between your devices. It's a fantastic feature to have that you really can't appreciate until you go back to other player that doesn't have it. It's easy to get overrun with old content if your devices aren't syncing together.
Pocket Casts 4 has made huge strides in interface and usability, bringing it up to the highest levels of how Android apps should look and operate. Even with all of these new features, the app is still just $3.99 in the Play Store -- which to our eyes is much less than it is truly worth with the new features. The update is live now as a free update to existing PocketCasts users also, which is a great gesture by the developers.
If you're looking for a new podcast manager that has a clean and useful interface backed up by a strong feature set, Pocket Casts is once again a great option.
Get the Android Central Newsletter
Instant access to breaking news, the hottest reviews, great deals and helpful tips.
Andrew was an Executive Editor, U.S. at Android Central between 2012 and 2020.
I don't see it available for download yet. Is it still in beta?

No, it should be live any minute. The dev said its uploaded to the Play Store. I'm not seeing it yet either but the dev planned right about now to release the update

They just pushed it to they play store, it will take some time to show up.

Just reinstall from the Web ... it will updated

The upgrade is not available if you originally got it through Amazon.

Amazon has their own upgrade path.

Already went through Amazon app store to check.
From the Dev - "The reason it no longer works is that we've turned off support for that old version as we prepare to release version 4 through Google Play today. Version 4 is a free update to anyone who has purchased our app on Google Play, however we're not able to provide it for free to people who already got the app for free"

That's what you are going with? Nothing to do with the developer pulling support after giving the app away for free and regretting the decision weeks later? AC's developer crushes are starting to leave a bad taste in my mouth. The update to one of a dozen good pod catchers gets top billing on your site during MWC?

Sooo, you got an app for free. The developer got a raw deal (according to them) and took it off the site. They continued to support those that got it for free, despite those users costing them money. They didn't give you a complete rewrite for free, so you feel cheated? I think that's called feeling unrightfully entitled.

Listen, it is a $3 app, the money has really nothing to do with it. It is the way the devoloper went about it that makes me not want to support them. You can do some searching and find all their gripes they had with the process after the knew what they were getting into. Again, it is $3...less than a coffee in most cases. I just choose not to support a dev that acts they way these guys did. I've griped about it when AC promoted them in the past and will again the future.

I remember that whole amazon thing too... I had downloaded the free app, thought it was decent. After hearing about the amazon problems they had I deleted the app; the developer made a good case I thought. However I emailed the dev telling them I ceased usage of the Amazon version & would consider buying the Google Play version if they added a couple key features that were missing at the time (primarily 2x playback speed.) For my effort in giving feedback on how to improve the app, I got a couple snarky replies back from them about 'holding them hostage' for $3 or whatever. I decided that if that was the attitude I got for agreeing with them on Amazon and trying to provide helpful feedback - I would never buy the app. Nor can I recommend it. I've been using Beyondpod since

@scottyhifi 2 things:
First, do a little research on the Amazon App store terms of service....a dev cannot pull their app from Amazon unless they also pull it from Google so the devs only choice is to not update it. The dev also has no say on if Amazon gives their app away for free, no say what so ever. Many devs have done this due to Amazon's terms/
Second, I don't see your argument for AC "crush" on devs. They have extensively covered MWC. And I as an end user would love more reviews of great apps, the app store is full of crappy apps. I would gladly support a dev that adheres to Google's guidelines for the new apps and does it well.

And that is why I said "pulling support" and not pulling the app. I love the app reviews. I want more of them. I believe this is the 3 time we have seen an AC review of ShiftyJelly's podcatcher and none for Beyondpod or Doggcatcher.

"That's what you are going with? Nothing to do with the developer pulling support after giving the app away for free and regretting the decision weeks later?" Your quote...... I responded to that by saying their only option is to pull support, they cannot legally pull the app per Amazon's TOS unless they also pull it from Google Play. I too wish they did more app reviews, but how a quick search shows an article for BeyondPod on their last update, they also did a review of the top 5 podcatchers when Google killed Listen. My point is, we can always want more but I think they are doing a fairly balanced job here. Because one of your other posts states that you will complain every time, I will excuse myself because there is obviously no pleasing you. Have a good one.
http://www.androidcentral.com/beyondpod-updated-jelly-bean-fixes-and-ui-...
http://www.androidcentral.com/5-better-podcast-options-android-now-googl...

I'm not looking to argue with people over the semantics of Amazon's terms of service. For the writer of the article to blow the question off with a "different upgrade path" was not helping people understand why the Amazon version will not be updated...ever. Is it too much to ask for full quality reviews on any pod catcher not named Pocket Casts?

OMG OMG OMG! This looks amazing. Hopefully they've fixed the lockscreen problem with none of the buttons being clickable. Edit: Nope. The buttons on the lockscreen didn't change and they still don't work.

What device? Working fine here on the Nexus 4.

It's an HTC Sensation. It's definitely doing it with CyanogenMod. And if I remember it did it even back when i had the stock Sense.

Lockscreen control works perfect on my Galaxy Nexus. Always has.

GO into settings\playback and enable "show lock screen controls" and also enable "respond to headset controls" that's how I got it to work in the older versions

They work just fine on my EVO 4G LTE! I bought this and am really happy with it!

If Isearch the app in tthe play store shows updated but when I click on it still has no update option.

I guess that if you are happy with BeyondPod there is little incentive to change. BeyondPod is certainly very capable. However I cannot stand its cluttered and confusing UI. I would certainly recommend to new users to use Pocket Casts instead, as it hits a perfect balance of form and function. And on top of that, the full version was cheaper, the last time that I checked.

If the podcast is not in their directory (through "Discover") then you can't import it any longer? I have a few podcasts that aren't in the directory. They worked fine with all previous versions and now they won't download/update and I don't see any way of re-adding them if I wanted to either. It looks great, but this is a major flaw. Am I missing something?

You're not missing anything. This is an enormous flaw and I'm thankful I noticed it within fifteen minutes of purchasing. I much rather use BeyondPod so I can listen to podcasts other than the ones Shift Jelly chooses to allow me to listen to.

Um, just to point this out. If you paste an RSS feed URL into the search box in "discovery" it'll import the podcast into PocketCasts. If you read the faq on their website it says so. Works for me.

So there is no more widget?

From http://www.shiftyjelly.com/help/upgrade Version 4 no longer ships with a widget, in its place you now get notification area controls, as well as lock screen controls. Basically you're only ever a pull down or a button press away from controlling your podcasts.

Hm. Maybe it's just me, but that doesn't seem to be an option for my Incredible 2. (Android 2.3) Is it only for 4.0+ or something?

What a stupid decision. I loved having the pocket casts widget on my home screen - it was a central part of my home screen "design". They obviously didn't talk to any of their user community before removing this central part of the app. Yah, boo, hiss, sucks. And, even more stupidly, the one thing that could have (partially) redeemed this situation, they haven't even made it a movable app. It sits on device memory and doesn't have a widget. Come on guys. Raspberry 2.

I emailed the devs last night and they told me that due to user feedback they were expecting to add a widget back in to the app in the near future.

Yeah, for me a widget is a necessity - not matter how clean or spiffy the UI is I don't want to have to open my podcast player to start up where I left off.

How do I set this up to only keep a certain number of episodes per subscription? Also where is the option to only download over wifi? Both of these options were in the previous version

electric turd, you can go into a playlist and then select playlist settings to select Auto Download Only on WiFi. But, it looks like they have removed the ability to select how many episodes to download/keep which is a disappointment. It looks like a number of features that I used to like are now gone. Right now I wish I could get version 3.9 back.

Download only on Wifi is both in the main settings, where you can have it warn you if i tries to update on schedule while on mobile data, as well as in the playlist settings if you have an auto-download policy set. Doesn't seem to by any granular control of "keep last 3 episodes" or the like, but you can have them delete when they're finished playing.

No widget on the DNA. What's up with that?

Why does this podcast app get seemingly more attention on the various android sites than other apps? Podkicker has been getting better and better with each new update and it's hardly ever mentioned.

I am so excited to start using it, it looks great. Pocket Cast is my podcast app of choice by for.

Really looking forward to trying this app out. This might get me to dump my iPod touch on my daily commute.

Great overhaul of the app (finally), but no widgets? I've gotten way too used to BeyondPod's 1x1 widget in my dock.

'zactly the 1x1 widget is reason alone

Hmmm...stuck on "registering" when trying to create account for sync. Also, it doesn't look like you can move episodes up or down in the play list like you could in old version. I like the idea of sync, but I'm not sure I'm liking this new version so far... Finally signed in for sync. Seems ok. Still would like to be able to move episodes up/down one slot in the playlist.

Also stuck registering. They didn't think about the loading they would experience with all these new users registering at the same time. Doh! However, in principle, this sounds like a good new feature. It seems that the register process never terminates. But if you wait a while, then quit pocketcasts, relaunch it and just login, the account has been registered. Redeems itself that far, at least.

I LOVE Pocket Casts. Unfortunately, the new version is very unstable on my Galaxy Player. I'll have to wait and see if an update fixes.
This has been my only podcast player till now. I have no idea which to try until I can use Pocket Casts again. :(

They did an update which seems to have fixed the stability.
However, as others have pointed out, they removed some very useful functionality; Custom sorting playlist, downloading older podcasts, etc... I will have to see if I can get the old version back from a backup or something.

Fonzie does a podcast? with Dvorak? Oh, and I wish it was a try before buy ap. Even if it is only a few bucks, I don't want to give anyone money until I know I'll like it.

When speaking of podcast apps, why does Doggcatcher go unmentioned? It's the best by a mile if you ask me.

Agree 100%. I logged in to say this exact thing. Doggcatcher has every feature you could want and it was also recently updated with a holo design that looks great. Oh, it has a widget too. Why no Doggcatcher love, Android Central?

Agreed, it is worth every penny I paid for Doggcatcher. So many great features. I tried Pocket Casts and it was just OK. Then the whole amazon app store thing turned me off to the developer and it was an easy choice. AC, why so much love for this whiny developer and no other podcast apps?

Eh, I own doggcatcher, and used it for a long time. To me, it was always mediocre at best when it comes to design. Slow to fix bugs/add features. I once sent in a bug report, and was told it was planned to be in a patch about 8 months later. Doggcatcher used to be the king of podcatchers, but others have passed it up in a lot of ways. It's not bad, but I hardly see what makes it the best. Different strokes perhaps.

1) it was just redesigned, have you looked at it since then? 2) it is probably one of the most frequently updated apps on my phone, despite the fact that I never have had any issues with bugs 3) sounds like it has several critical features that pocketcasts is now missing, such as importing any feed, setting how many episodes to keep, lock screen controls that work, and a widget. Seems like a no-brainer to me.

WARNING: ***** BACKUP BEFORE UPDATING ***** I sure wish I had. This is a horrible update to a once great app. I'm sure Android Central trades great reviews like this for being featured in their directory. But, this is a giant step backwards. I wish I could downgrade to version 3.9. Many of the features you knew and loved are gone.

The ability to filter podcasts by popularity in different countries. I use this to keep up my Spanish and now can't see what podcasts are popular in Spain. Trying to search on "espanol" or "noticias" or whatever is pretty unsatisfactory*. I emailed the team and they confirmed that feature was removed, which is a deal-breaker for me on using this. *Search is also screwed up - if you get a list of results and view one, there's no way to go back to the list without retyping the search term. The team confirmed that issue when I wrote them.

Such as:
You can't add podcasts via URL or RSS.
No more import via OPML
Basically, if they don't decide that you can listen to it, you can't.
No widget
You can no longer limit the number of downloads per podcast
Skip forward / backward is gone
And probably much more. But, the list above is enough to make me stop exploring and remove this app. Too bad they screwed this up so bad. And, I am convinced that Android Central gives them so much attention in exchange for being on the "Featured" page of the "Discover what we want you to discover" section.

I agree. We waited a year for this UGGGGGGGGGGG.

How is this better than BEYONDPOD... its not. It just looks better.
This is for newbs and casual people.. If youre a podcast fanatic,
GET BEYONDPOD. This app sucks. Regret paying. Trust me.

Agreed, BEYONDPOD. I purchased and installed Pocket Cast, based on this review...wasted my money. For an app that was a year in production, they missed the mark. Bad. Do your self a favor, get BeyondPod.

I was waiting for the new release hoping for maybe a little sale like some companies do, I figured worst case I pay the same amount, but they raised the price. I see this article was changed, they originally had the old price, but they still left the wording "Even with all of these new features, the app is still just..." I guess it depends on how you read it, but the app is not still just $3.99, it was $2.99 up until the update a few hours ago. I will just keep using the free app I have been for now.

They are shutting the free amazon app off. The amazon app cost them money to support, so they pulled it from the store. However, if you bought it from amazon, they promised double your money back (to all 19 buyers).

Love it. Wish they would support premium podcasts that I have to log in to use. From an email I received from them, there is no support for this in the near future.

Not being able to add our own podcasts is a massive oversight, and one that can't be understated. I listen to a number of locally made podcasts and there would be no way to add them to Pocket casts. that is way more important that the sync state. If the developer brings that functionality I'll jump right in. Until then, it is a complete non starter. EDIT: I'd also really like to have a widget back, but I can live without that. Can't live without the manual add.

So it supports export to OPML but can't import from the same format? I bought it way back but found the interface awkward, switched to BeyondPod but its support of saving downloads to external SD is horrid, switched to AntennaPod which I liked alot but is lacking in advanced features, finally decided to settle on Doggcatcher, just one major grip, it doesn't have logical sort order, all over the place. I was hoping Pocket Cast v4 would finally bring everything home with the killer sync feature, but the first thing I noticed is no way to import from OPML, what a disappointment; with 30+ feeds and a good deal of them not in the native directory, this version is a non-starter for me.

It is odd that you can't import from OPML from the app itself. But if you use a file explorer app and try to open the OPML file, PocketCast is one of the apps that is listed as being able to open the file. If you select PocketCast, your OPML file will be imported just fine.

You can just select an OPML file in any decent file explorer. Pocketcasts will be offered as one of the apps to open the file. It's NOT obvious, I agree, but once you get the "thought" behind the "design", it's ok.

Sorry, the new interface can't excuse the lack of a widget and no ability to move podcasts up and down the playlists. Don't really like the new white theme, any way to change to a black one?

Agree about the lack of a widget. The removal of a central Android feature without checking it out with the user community just sucks.

I emailed the devs last night and they told me that due to user feedback they were expecting to add a widget back in to the app in the near future.

It would be great to get a full review (with video) of the popular podcast apps out there. There was an article awhile back when Google Listen was axed, but a video showing the use would be great. I ended up settling with BeyondPod, but the UI is just not intuitive and extremely frustrating. For example, I would frequently select the podcast which in turns plays the episode when trying to hit the "add to playlist" button. It happens at least a few times a week and is absolutely annoying. It's not like I have giant fingers and I'm that uncoordinated either. I also get issues with persistent episodes in the playlist (they keep showing up even after removal). Doggcatcher looks very tempting but I wish they had a trial version. I don't want to spend $7 to not like the app.

Garbage update. I lose the ability to add custom feeds. That's the only way I was able to get the shows I had added. I can deal with not having a widget. I can deal with hit-or-miss lock screen controls on Galaxy Note 2. I will not tolerate the inability to add custom feeds.

If your custom feed comes in OPML form, just download the OPML, load up your file explorer click on the file and Pocketcasts is offered as one of the programmes to open it. Trouble is, it's not an obvious feature, so you have to know.

ITM Andrew. This app desperately needs some sort of demo or trial version.
Bought the app, installed, quickly added 3 feeds and then tried to find very important feature for me (sort playlist by "my feeds order" then by episode, still using DoggCatcher because of it). Couldn't find it, got a quick refund and deleted an app.

Ouch! Pocket Casts has been my fave podcast app for a loong time. However a huge glaring omission in v4. There's no ability to download older podcasts. If you tap on a subscribed podcast there used to be a link to browse all available episodes, so you could flag older episodes from the feed for download. It's gone. I now can't use this app. I have a number of podcasts with a large backlog I want to listen to and it's now impossible with the new design. Wish I'd never upgraded.

+1000, you can get some older podcasts if you delete the feed from your library and then re add it. But you only get maybe 20-30 depending on the podcast itself. Horrible feature.

Seriously? I also used that feature a lot in the old version. Between that and a few other things, I think I want the old version back on my phone.

Removing and re-adding the podcast feed does mitigate the problem a bit. However based on the @pocketcasts Twitter feed, they're releasing a bug fix tonight or tomorrow to fix the ability to seel all/old episodes on the feed and flag for download or streaming. That's my biggest gripe, so once it hits, overall I like the update.

The update is out now. They did add this back in.

Thanks, I'll have to give this a shot. I'm a long-time BeyondPod user, but I find that UI really clumsy.

ive been using beyondpod for a long time and i saw this update come out. and while its not as nice looking, i feel that beyondpod is a better app. i keep getting the "downloading" icon stuck in the notification area for pocket casts. also its very easy to accidentally start "download all" in pocket casts if you make a playlist of all the podcasts that are downloaded, downloading, not downloaded. which will crash teh entire phone if u have a lot of subscriptions i very much regret purchasing pocket casts

Why are all the DogCatcher fans in a tizzy? AndroidCentral picked it as podcatcher of the year in 2011. They've shown that app some love. Now they're showing this app some love. Get over it.

Just downloaded it early this morning. Used it on my commute into work and noticed that the screen won't turn off now when a podcast is playing. I can't find any option to stop that. I also don't like that they moved the jump forward / jump backward buttons to the bottom of the phone. The giant buttons for jumping that the old version had was way nicer (i.e., quicker / easier to access) when in a car. Too me a couple minutes to figure out where they moved the refresh button to. i.e., the button you click to find out if your subscribed podcast feeds have any new episodes available. A couple other issues that I won't go into. While I found the old version rather dated looking with it's iOS gradients and whatnot, I think it was much more intuitive. Now it looks nice but is rather clumsy. I do like that that it now has the ability to play local files which is nice for those episodes I get off torrent or usenet because the feed is broken or gone. Really hated that the old version insisted on a "feed".

The screen staying on must be specific to you phone or version of Android because mine turns off on my Galaxy Nexus. The Jump forward and back also works if you tap that side of the screen. So you can tap the cover art above the rewind button to rewind and above the forward button to go forward. You do not have to be precise.

The update seems to have removed the ability to download older podcasts. For example, NPR will release a bunch of segments all at once. With the current version of Pocket Casts you can only listen to one of them and the rest are inaccessible. Am I missing something? This new version is like a brand new Camaro with no wheels: It's pretty and fancy but of no use. I normally listen to a podcast on the drive in to work. Today I couldn't.

According to their twitter feed, a fix is in the works for an update maybe tonight. It was an oversight.

The update is out now. Now, there is an option at the bottom of the playlist to show old espisodes.

This is a nice app! I got it yesterday for both my iPhone 5 and my Nexus 7. But if anyone can point me in the right direction here, I do not see a login page on the iPhone 5 version. I created an account to sync playlists on the Nexus 7 version but can't find the login on the iPhone 5 version.

The iOS (iPhone) version has not yet been updated w/ the new look or features, so there's no account to login to on your phone just yet.

I can't wait for this. To me, this is the killer feature that has kept me from leaving my iPod touch behind. I could never find a decent app that would do this well.

Ah well, that might explain it. I thought it was a feature to begin with. Thanks.

I know how to mark podcasts as played, but how do you mark them unplayed on the new version?

Go to the playlist and tap on the podcast. The description pane should pop up. If the podcast is partially or unplayed, there will be a button at the top to mark it as played. If it is played, the button will mark it as unplayed.

Just updated for what I think is the 3rd time in about a week. Widget looks very good as an AC article said today, but there is still the pause/play function on the drop down menu. Playlists are great especially when you have a large number of subsriptions but about 4 or 5 podcasts you want downloaded and ready the second they come out. The streaming is a little slower to start than I remember, but that could be a day to day thing with the network.

purchased last night. would not download casts for offline listening. wrote developer this morning he said there was an update. updated still no downloads. wrote again & no response. it even says in the "whats new" section that there have been downloads issues. good UI, but if a podcast app does not download podcasts, it's like having a browser that can not execute google searches. very recent new design, so the high ratings refers from previous version. newer reviews are also negative. i called google play and got a refund. this is a pre-bata app.

The app looks really nice, but without the ability to pause a track without having to fish into my pocket and turn on my phone, I will be sticking with an iPod Nano with a clickwheel in a case with the click wheel exposed. Sell me a cheap bluetooth smartwatch with a handy Play/Pause button on it and I'll be happy to use the app.

Even the cheapest pairs of wired headphones have an in-line play/pause button on the cable.

meh, reading all the comments on Google play, I think I'll stick with the old version...on my ipod. It works. Wasn't impressed so much with the previous android version of Pocketcasts to begin with.
I have to chuckle at those admitting using Beyondpod! what a convoluted mess that is. What a laugh. An average version of Pocketcast trumps beyondpod.

So, I bought Doggcatcher a year ago when I moved to Android and am enjoying it for the most part. I've been looking for another alternative but I can't see myself dropping another $4 just to try it out. Anyone have experience with both?