Must-have apps for the 2013 baseball season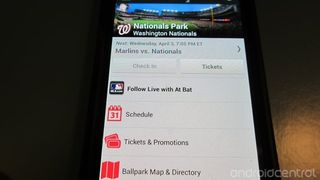 The 2013 Major League Baseball season is upon us. The first game was played Sunday night and the remainder of the games started Monday afternoon. It's the beginning of a long season, but one beloved by so many across the country. It remains America's pastime and provides an incredible activity for many to do during the spring and summer.
Whether you want to follow your favorite team or every team because of fantasy baseball, we've got some must have apps for you. Check them out, let us know what you think, and most importantly, play ball!
MLB.com At Bat (Lite - free, full - $19.99)
The official app from Major League Baseball and always a great app choice among baseball fans. The app gives you a simple scoreboard of the entire MLB action, the latest news from around the league, current standings and stats. In addition, if you're an At Bat 13 subscriber ($19.99), you can hear audio from any game you'd like as well as view in-game video and highlights. In case you don't remember, they've just changed their payment method. It's now free to download and the premium features are an in-app purchase. Whenever I want to check baseball scores from around the league, this is the first app I go to. I really like the layout and the UI. Well done MLB.
ESPN Fantasy Baseball (free)
I am a big fantasy baseball player. Most of my teams are on ESPN, so I've used their app over the years and have seen it evolve. The icon has changed for this year, a simple change that I like. Other than that, it seems like the app you know and love from years past. You get your current matchups up top, followed by major headlines and social media plus videos at the bottom. From there, you can visit your league's home or go straight to either your team or the scoreboard. You can set your lineup, add or drop players, propose or accept trades, manage your DL or trash talk in the message boards. Not overly different from last year, but it works well, so why drastically change it?
MLB.com At The Ballpark (free)
Another great app from the MLB. It is designed exclusively for everyone that is attending baseball games in person. You choose a ballpark (it'll find the closest using GPS) and it'll provide the schedule for the year, available tickets and current promotions, a map of the ballpark, directions on how to get there, the ability to share photos and videos of your own of the park, music, team stats and rewards for checking in at the ballpark. It's a great app to have when you're at the ballpark and I love that major League Baseball made it. A must have for fans who attend a lot of games.
Yahoo! Fantasy Baseball (free)
If you're a fantasy baseball player on Yahoo!, you'll want to get the official app. It gives you quick access to live fantasy scores, the ability to make changes to your lineup, access to message boards and an easy way to view all available free agents. Yahoo! has done a fine job with their app in the past and has improved upon it this year. You can even grant access to Yahoo! Sportacular app, which aggregates all sports news in one.
CBS Sports (free)
The CBS Sports app is not solely focused on baseball, but it has a pretty nice UI that I think many will love. With a left panel displaying the major sports or different settings that you can customize, such as My Watchlist, it's easy to navigate. The MLB scores are available, which lead to much more detailed info if you click on a match up. White dominates this app, which is why I think it looks nice. They've done a really great with their design. You can also view live Tweets for the current game you're looking at, which is pretty neat. Once I signed into Twitter, they popped right up. Instead of having to go to the Twitter app, and search for a hashtag, this provides all of that info right here. It's a feature that I know I'm going to use as the season goes on.
SportsTap (free)
With many sports apps getting huge UI lifts, I've found myself constantly going back to Sportstap. It's fast and if all you want are the updated scores for the games, it's a great place to begin. It's not as fully features as many of the other apps, but to have it just there just in case may be a good idea. It provides scores from all leagues, including the MLB, standings, stats and important news headlines. Not the prettiest UI, but always works when needed.
At bat is the way to go...$25/month and all the games you can watch audio/video broadcasts!!

FYI guys that in 2015 fantasy baseball leagues can earn a national ranking and league wide prizes at statchat. com. Just register the league on espn, yahoo, or cbs to enter!
#fantasybaseball

I installed SportsTap to try it out - you should've tested it again before listing it here. In the app, if you select a sport, the next screen has a notice to download TheScore, and says that SportsTap will no longer be supported as of early 2013.

Major League Baseball app. $20 a year, and the dang widget doesn't scroll scores. Never has. A multi-billion dollar industry, and they can't hire a programmer who can figure out how to create a scrolling scoreboard widget. Just wow.

First and foremost, GO CARDINALS! Secondly, MLB is starting to p!$$ me off. I can listen to the Cardinals on the radio, but if I pull up the same station on tunein radio or another app it is blocked because MLB wants you to pay $20 a year to use their app to listen to games. Luckily I'm in the Cardinals TV market so I get to see most games, but the few times a year I'm traveling or not around a radio that picks up the broadcasts it would be nice if I could listen on my phone.

Cardinals nation! I too was incredibly disappointed when I realized I couldn't listen to cards games on tune in radio. Ah well, listening to games won't be the same without mike Shannon anyway.

I believe Shannon is still supposed to do a majority of the games. You're right though, it won't be the same hearing a sober guy call the game! lol

Did you try just the flagship station? Or did you search for "St. Louis Cardinals" and check station to station? I haven't tried yet this season, but last season (and in NFL, College Football, etc.) if you type in the team name, it will give you an option to "Browse Atlanta Braves" (for instance). Click that, and it gives you a list of stations broadcasting the game. As you click each station.. one of three things will happen. 1) silence 2) alternative programming (music or sports talk) or 3) you can hear the game. Works 99% of the time.

I can't say I wasn't slightly annoyed that At Bat was $5 more than last year, but I also can't say that I didn't pay it without hesitation.

If you are in a CBS Fantasy league they have a nice app as well

If you are into fantasy, or just really like knowing lineups, Baseball Press gives you the daily lineups for each team as soon as they come out.

I want to know who is going to spend more than 5 minutes actually looking at an app, before writing something so bad for this site. C'mon! This isn't hard stuff. You left out probably the two best sports apps Android has available. You reviewed the Yahoo Fantasy app, but you skipped on Yahoo Sportacular altogether. The features it has for free are unbelievable. 1-5 million installs, and a 4.5 stars for reviews in the Play store. And TheScore App. Again, so much info in another free app. Again, 1-5 million downloads, and another 4.5 stars review. The Yahoo app is based on 30k reviews, with TheScore based on 34k reviews. Why is this so difficult to understand? Are guys picking this crap via Russian roulette? Screw anything you have to pay for. There are plenty of decent free apps out there, and the two highest rated, aren't even on your list! I think this article, needs a re-write, out of respect for those that frequently visit this site. It is poor, and I expect way more from you!

They should include ZTProNYY on this list. I think they have apps. for virtually every team. It gives news from a bunch of sources and alerts you whenever the game starts. I'd def give it a look. Their name is ZT Professionals, mine as well see if they have one for your team.

Theres a new app called GeeBo that is great when you are trying to enjoy a game! You can order food from your seat, and then they deliver it to you! I never miss an inning now. Check it out at www.mygeebo.com
Android Central Newsletter
Get the best of Android Central in in your inbox, every day!
Thank you for signing up to Android Central. You will receive a verification email shortly.
There was a problem. Please refresh the page and try again.