Plantronics Voyager Pro HD Bluetooth headset review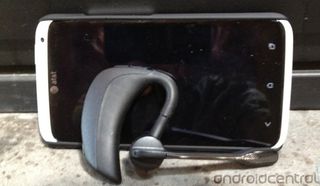 We've talked before that Bluetooth headsets, while once simply trendy, are now pretty much a necessity to those who drive to and from work. Actually, in many states, if you simply drive, you need a headset.
Bluetooth technology is getting better and Bluetooth headsets are getting "smarter." As I will cover in more detail, the Plantronics Voyager Pro HD actually knows whether or not you have the headset on. With their proprietary software for Android phones, you can also check your email, check the weather – even post a status update to Facebook.
Plantronics Voyage Pro HD Bluetooth headset
What's in the box
The Plantronics Voyager Pro HD comes well equipped. There is the standard charger and an additional USB cable (updates to the headset are handled via a USB connection to a Mac or PC.)
Also included are two additional earpieces with accompanying soft covers. Documentation (a rarity these days) is included as well.
Pairing the Voyager Pro HD
When you first turn on the Voyager Pro HD, it will automatically go into Pairing mode. The LED should flash and alternate between red and blue to indicate that you are in Pairing mode.
For future pairings, just press and hold the Power button for a few seconds to make the LED's flash and put the headset into Pairing mode.
On your HTC EVO 4G LTE or HTC One X or other Android device, just:
Go to your Bluetooth settings
Choose Scan for devices
Select the Plantronics Voyager Pro HD from available device
If you are asked for a passcode – just input 0000.
NOTE: There is a Plantronics My Headset app that you can download that adds specific functionality to Android devices. Search for it in the Google Play store. If you download the app, you can pair your device from the app as opposed to the Settings app detailed above. The My Headset app also displays an on screen battery meter and has voice recorder functionality.
Functionality
The Plantronics Voyager Pro HD uses what they call Smart Sensor Technology. That means, that somehow, this little headset knows when it is on your ear and when it is on the table or dashboard. If it is not on your ear, it doesn't answer the call – plain and simple and it works! If a call comes in, just put on the headset and without pressing a single button, calls will transfer right to the headset. When the headset is off your ear, it is "locked out" from taking calls – so you don't lose your calls.
If you wear it on your ear all the time in the car, just tap the call button to take a call. To end a call, just tap the call button again.
If you are on a call on your phone and want to transfer it to your Voyager Pro HD, just hold the call button for about a second or two.
If you want to reject a call that is coming through, just hold the call button for a couple of seconds while it is ringing.
Holding the call button for a second when not on a call should activate voice dialing on your Android phone.
Double tap the call button to redial the last call
Vocalist voice and text service
The Plantronics Voyager Pro HD comes with one year of free service to the Plantronics Vocalyst text and voice service. When you get the device, you go to www.Plantronics.com/myheadset and then click on the Activate Vocalyst button. Plantronics gives you an activation code you plug in to start your service.
Essentially, with the Vocalyst service (and the free Vocalyst app for Android) you can:
Record and listen to reminders
Send emails and have them read to you
Hear updated news and weather reports
Update your Facebook status
Once you establish your account you can customize it and add other text apps to your Vocalyst service. It should be noted that Vocalyst wants you to upgrade to the Pro service for $3.50 a month or $35.00 a year.
You can also connect two phones to the Voyager Pro HD using Multipoint technology and simply answer whichever one is ringing.
Comfort
The Plantronics Voyager Pro HD is a big headset. I'm guessing that the battery and the Smart Sensor are housed in the section of the headset that sits behind the ear. The headset is heavier than others like the Blueant Q2 and Jawbone Era.
The headset was comfortable in my ear with the included ear tip ant there are additional sizes for varying sized ear canals. The Plantronics Voyager Pro HD also has a boom type microphone that swivels. This took some getting used to, but I am convinced that it certainly contributes to the clear quality of my voice (according to those I spoke with.) One issue I had (and I had with many headsets) was that the back of the device that goes behind the ear can get stuck or in the way if you wear glasses.
Call quality
Call quality was excellent with the Plantronics Voyager Pro HD. Plantronics uses what they call Windsmart technology to block out wind and extraneous noise. Like other noise cancelation technology I have used, this is effective but it does alter the sound of the voice just a bit.
The sound was mainly loud and clear. Volume can be adjusted via the volume buttons on the top of the device.
NOTE: The Plantronics Voyager Pro HD support A2DP audio streaming meaning that when the headset is connected, you can stream your music from your Android phone right to the headset. Sound quality was very good and you can use the volume up and down buttons simultaneously to pause or play music.
The wrap up
The Plantronics Voyager Pro HD is an excellent headset. Sound quality is great, battery life seems very good and the boom mike means that your voice is picked up well and you are heard well on the other end of the call.
With the separate Android app installed, you can even have the headset read your email messages, check news or weather and more.
This is a big headset – that means you most likely won't lose it – but it may not be as comfortable as other in the ear headsets.
The good
Good sound quality for music and podcasts
Good functionality
Easy to pair and use
Great call quality
Added Android app is a plus
The bad
A bit on the heavy side
Not as comfortable as smaller in the ear headsets
The verdict
There are many factors that make a Bluetooth headset the right headset for you. The Plantronics Voyager Pro HD is easy to set up and use, it offers good functionality, it has good batter life and it stays in place. Add in the Android app for pairing and checking the battery life and the Vocalyst service and this becomes a feature-rich headset. I would suggest trying the on first (if possible) to make sure that it will be comfortable for you.
Buy it now
Others like this one
Get the Android Central Newsletter
Instant access to breaking news, the hottest reviews, great deals and helpful tips.