In pictures: The LG G4 vs. LG G3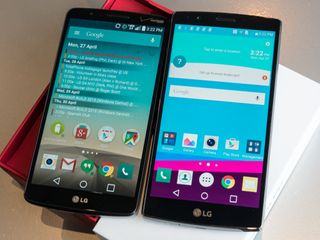 You're LG. You've made an excellent phone in 2014's LG G3. You've got a design language that stands out, and stands on its own. So what do you do in 2015? You certainly don't stop what's working, and that's the case with the new LG G4, just unveiled in New York City and London.
If you've seen or used the G3 at all, you're going to be pretty familiar with the G4. Same overall look and feel. But the devil is in the details, and LG's done some great stuff with the little things this year.
Start with the display. It's still 5.5 inches, but LG has brought over its quantum dot technology from television sets to make colors pop even more and be even more realistic. There's also a slight curve to the front of the phone now. Not anywhere near as much as the LG G Flex 2, but it's there. It's subtle.
The two phones are roughly the same size, and they've pretty much got the same feel to them. But there's a cool new polygon scheme on the removable plastic battery cover that makes the phone a little easier to hold, and it looks a little more futuristic, too. (It's also nice to see something other than faux brushed metal.) The gray version is done up in a sort of metallic scheme, but it still feels quite plastic. The white one has a ceramic paint job. But, really, it's going to be the leather back that stands out the most.
The rear buttons have kept things in order — volume up and down flanking the power button. You can now double tap the volume-down button to fire off the camera faster than ever before — 0.6 seconds, LG says — and take a picture just as fast. And that camera ... you're going to have to see it for yourself. (We'll have plenty more on that to come.)
Image 1 of 4
Image 2 of 4
Image 3 of 4
Image 4 of 4
Is the LG G4 going to be a must-upgrade from the G3? We'll have to see. But it's going to be a very tempting proposition either way.
That dull screen look so pale in comparison. One of the reasons I returned the G3. Posted via the Android Central App

Agree. It's brighter than the one next to it and has a more colorful wallpaper but still looks very washed out, and that's even compared to other LCD panels like the iPhone 6 and M8/M9.

What? Posted via the Android Central App

Do you think the G3 will get the updated software that the G4 has?

Of course.. Posted via the Android Central App

Really? I hope so! Posted via the Android Central App

The G2 has the G3's software. Nexus 5 GoPhone

Ah excellent. Hopefully won't take too long to arrive... Posted via the Android Central App

I am dying to know the camera quality comparison with other flagships. LG has done some awesome ads for this phone's camera's capabilities. Posted via the Android Central App

What about "mute" to replace the priority notifications debacle? Is it there in the UI?

The screen looks great! However, it's still too wide for my tastes. I used the G3 for about a month after switching from the One M8 (for the camera, obviously) and I just couldn't get used to the extra reach.

I'm really liking the G4. We'll see if it holds up to the tests...

I have the G3 and I'm still sitting here like 'Shut up and take my money!!!!' I can't wait for this bad boy to improve upon things I already love about the G3. Everyone's going to have different preferences of course, but for me, this hits every mark and i can't wait to see how much better it is in person.

Hm they kept the screen the same size yet the phone got larger. Why is it so much larger LG?

I was wondering the same thing. What could be the reason? Better airflow?
It's a bit of a shame as the size of the phone is it's best feature (G3) Posted via the Android Central App

havent really used lg phones since they started making smart phones I have a definite reason to say this phone beats the s6 in terms of the removal battery and the sd cards which Samsung opted not to include

Don't think that most of the buying public really cares all that much about removable battery and SD card being that the phone is selling well . I just picked up the gold edge 6 and this thing is beautiful Posted via the Android Central App

Can't deny in saying the S6 Edge is beautiful but functionality over form will always win. Posted via the Android Central App

Not really. Posted via the Sailfish iMore app

To some people, like myself, yes that's true. Case in point, I'd take this over either S6 all day everyday. Not even so much that the battery is removable, though I'm glad it is, but it's a hell of a lot bigger than the S6's. Micro SD expansion? Yup. Check. Don't like to have to pay out the you know what just for extra storage. ALWAYS hated that scheme. Very, very curious about that camera too. Sounds like they went for broke this time, especially with that aperture and shutter speed. I mean, I thought my G3 took pretty damn good pics. Also, extra props for using the 808, that was a very wise move. And I'm digging the leather back big time. if I had to stick with the standard, ok. That diamond pattern is kinda sharp and manages to be subtle. But a grey model with a black leather back? yeah...I gotta find a way to get this phone. Even though it's early and there haven't been any reviews yet, I feel like this is the flagship i was waiting for. No offense to the M9 or S6, as both are awesome in their own right (though admittedly the M9 less so) but it looks like LG brought the kitchen sink this year.

All the years I've owned phones with removable battery I've never bought another battery to swap. Even now I don't have extra Note 4 battery to swap out. Posted via AC App from Note 4

Its difficult to judge much from the pic because the two phones are not showing the same things. Posted via the Android Central App

Dat Verizon logo...kill it it before it lays eggs!!! Posted via the Android Central App

Also wondering about the size. It looks significantly larger for some reason, and more boxy. Not a fan.

The screen is definitely a major improvement. All I'm seeing is LG improving on the flaws of the G3 while improving other stuff as well. I like it.

Would love it if someone, anyone made leather backs for the g3 or even aftermarket backs Posted via the Android Central App

Pierre Cardin makes a leather back cover in three colors for the LG G3. It is available on ebay.

I wish they would make a slightly smaller 1080p version of this. Kind of like the G2 brought up to date. These super high res screens aren't worth the performance and battery hit - or the cost. Keep it as a high spec flagship if you must, but give the rest of us what we really want. I'll even pay for the leather back ;-)

The G4 looks bigger than the G3, or it my eyes. Posted via AC App from Note 4

It is definitely bigger. Not sure why since they kept same screen size.

Would love to see the exact same wallpaper on both. The G3's major weakness imo is the contrast ratio and it seems MUCH improved, but it's hard to compare G3s and oranges.

I was a fan of the G3's overall size with a 5.5-inch display. I hope the G4 doesn't feel much bigger. Posted via AC App on HTC One

I honestly don't know what the hype is with the G3 - it was the worst phone I've even had!! From serious battery drain, overheating, and switching itself off all the time!!! I'll never touch an LG phone again!!! Posted via Android Central App

av been a blackberry user for 8yrs n lastly used the BB z30...no fon can beat the g3 and g4 fons wen it comes to overall features and performance which include battery life;...only the BB Porsche can beat it the HTC m8s camera is below per

I own a lg G3 phone, i love it, but the camera is nt as sharp as s6. Butvit is ok. Looking forwardvto get G4.
Android Central Newsletter
Get the best of Android Central in in your inbox, every day!
Thank you for signing up to Android Central. You will receive a verification email shortly.
There was a problem. Please refresh the page and try again.