I'll say this upfront: the GT 10 Pro has its flaws, but right now, it offers one of the best hardware packages in its segment. The design in particular is striking, and while I'm not convinced the LEDs at the back serve any real use, they are cool. The MediaTek hardware is great most of the time, but I noticed throttling during extended gaming sessions, and the phone doesn't allow 120fps gaming. Then there's the software; Infinix didn't put nearly as much effort into XOS as it did on the external design, with the UI lacking polish and coming across as a bit antiquated. Overall though, the positives far outweigh the cons, and the GT 10 Pro is a good choice if you need a gaming-focused phone on a budget — just know that it isn't perfect.
Pros
+

Bold styling is sure to turn heads

+

Fastest hardware package in the budget segment

+

Standout battery life and 45W charging

+

Good AMOLED panel with 120Hz refresh

+

3.5mm jack and MicroSD slot as standard
Cons
-

Middling cameras

-

Will get just one Android OS update

-

No way to play games at 120fps

-

Overt UI customization won't be to everyone's tastes

-

No wide-angle lens
Why you can trust Android Central Our expert reviewers spend hours testing and comparing products and services so you can choose the best for you. Find out more about how we test.
Infinix isn't a brand we've covered a lot at AC, so I'll share a brief overview before the review. The brand is owned by Transsion Holdings, and counts other phone manufacturers Tecno and Itel as its sister brands. The way Infinix is set up is similar to BBK Electronics, where brands within the same umbrella go up against each other in the same category.
Whereas BBK focused on Asian markets and is increasingly gaining momentum in western markets, Transsion turned its attention to Africa, where it is in a dominant position. The conglomerate is now gravitating to Asian markets to increase its userbase, and Infinix is being more active in India. The GT 10 Pro is now up for sale in the country, and is slated to hit other markets in the region in the coming weeks.
Coming to the phone itself, the obvious starting point is that design. Infinix threw all restraint out the window when designing the GT 10 Pro, and it looks every bit as outrageous as a gaming phone should — you'll even find a few LEDs on this thing for good measure. The hardware also ticks all the right boxes, and the 45W charging tech is among the best in the budget segment.
But as I noted in the verdict, the phone isn't without its shortcomings, and they're mostly centered around the software. So let's take a look at what you're getting with the GT 10 Pro, and whether you should pick up the phone.
Infinix GT 10 Pro: Pricing and availability
Infinix unveiled the GT 10 Pro in India on August 3, and the phone is now up for sale in the country. It's sold in a single variant with 8GB of RAM and 256GB of storage, and is available for ₹19,999 ($240). Infinix is incentivizing the launch by offering a gaming kit that includes gaming triggers and a carrying case, with the first 5,000 customers eligible to pick up the kit.
The standard packaging itself includes a lot of accessories, including a screen protector, decent silicone case, and a 45W charger with an orange USB-A to USB-C angled cable.
Infinix GT 10 Pro: Design
I used a lot of gaming phones from ASUS, Nubia, and POCO, and the GT 10 Pro certainly looks the part. Infinix did a great job with the styling at the part, and while the phone invariably invites critique for using a similar circular aesthetic as the Nothing Phone (2), I think it looks different enough that it isn't a problem.
Anyway, the GT 10 Pro is available in two color variants — Mirage Silver and Cyber Black — and I think the latter does a better job accentuating the design. The etched cutouts along with the jagged lines and orange accents give the phone a lot of character, and the camera island adds to that in a significant way. That said, don't be fooled by the rings around two camera modules; this phone only has one usable camera, with the other two sensors mostly present for marketing needs. But more on that later.
The visible screws also creates an industrial look, and Infinix struck the right balance here; the styling is unabashedly bold, but it doesn't feel ostentatious or tacky. The only thing that I'm not entirely sure about is the LEDs at the back. While I initially assumed the GT 10 Pro would use a similar LED array as the Phone (2), that isn't the case — the only LEDs that light up are the five white bars that are located within the camera island.
Now, as for the usability of these LEDs, that's more of a hit-and-miss. The LEDs are designed to work in a similar fashion to the notification LED of years past, and light up when you get notifications, calls, and when the device is charging. There are various patterns that you can assign to these LEDs, and while that sounds good in theory, they don't really trigger all the time, and it feels like this feature was shoehorned in at the last minute because it would look cool.
Image 1 of 4
As for the rest of the design, the GT 10 Pro features a plastic chassis, and the glossy finish at the sides detracts from the overall look and feel of the device. The phone has flat sides as well, and I can't help but feel that a matte coating would have led to a much better in-hand feel. As it stands, the flat sides along with the glossy finish makes the device uncomfortable to hold and use.
Swipe to scroll horizontally
| Category | Infinix GT 10 Pro |
| --- | --- |
| OS | XOS 13.1 based on Android 13 |
| Display | 6.67-inch 120Hz AMOLED, 2400x1080, 700 nits max brightness |
| Chipset | MediaTek Dimensity 8050, 1 x 3.0GHz Cortex A78, 3 x 2.6GHz Cortex A78, 4 x 2.0GHz Cortex A55, Mali-G77, 6nm |
| RAM | 8GB |
| Storage | 256GB, MicroSD slot up to 1TB |
| Rear camera 1 | 108MP f/1.8 lens, 1/1.67-inch sensor, PDAF, 4K at 30fps |
| Rear camera 2 | 2MP macro |
| Rear camera 3 | 2MP portrait |
| Front camera | 32MP f/2.5 |
| Ingress protection | IP53 dust and water resistance |
| Connectivity | Sub-6 5G, Wi-Fi 6, Bluetooth 5.3, NFC |
| Security | In-screen optical fingerprint module |
| Audio | 3.5mm jack, stereo sound, 24-bit/192kHz |
| Battery | 5,000mAh battery, 45W USB PD 3.0 fast charging |
| Dimensions | 162.7 x 75.9 x 8.1mm, 187g |
| Colors | Cyber Black, Mirage Silver |
On that note, the GT 10 Pro has an in-screen fingerprint module, but it's located too far below the screen. This makes it awkward to use the sensor when holding the phone, and that isn't the only issue — the sensor is slow to authenticate and had its share of errors. I like that there is an in-screen module here, but it's far from the best I've come across in this segment.
There's IP53 dust and water ingress protection, and that's an added bonus. On the whole, if you need a budget phone that stands out, there isn't another device that's as flashy as the GT 10 Pro.
Infinix GT 10 Pro: Screen
Infinix outfitted the GT 10 Pro with a 6.7-inch AMOLED panel with 120Hz refresh and a resolution of 2400 x 1080. Now, the screen doesn't get as bright as the likes of the Galaxy S23+, but it manages a decent showing, and I didn't have any issues while using it outdoors.
You get the usual options to tweak the color balance, change the font, set up a blue light filter, and so on, and the always-on mode has a decent set of customization options. Using the phone next to the POCO X5 Pro, colors came across as muted and not as vibrant, but switching to the Bright mode made a difference.
Image 1 of 3
The GT 10 Pro lets you manually set the refresh rate at 60, 90, or 120Hz, and there's an auto mode that dynamically scales based on the content on the screen. I set it to 120Hz and didn't see any inconsistencies, and the phone is fluid in daily use thanks to the hardware on offer.
Rounding things off, there's stereo sound here, but the secondary speaker is limited in the amount of sound it produces. That said, you do get a stereo effect when streaming movies and playing games.
Infinix GT 10 Pro: Performance and battery
The GT 10 Pro is powered by MediaTek's latest 6nm design, the Dimensity 8050. This is a refreshed version of the Dimensity 1300, and it uses the same cores at the same frequencies: you get one Cortex A78 core at 3.0GHz, three Cortex A78 cores at 2.8GHz, and four Cortex A55 efficiency cores at 2.0GHz. There's a Mali-G77 with nine shader cores that handles the gaming side of things, and from a hardware point of view, this is the best overall package you'll find in the sub-₹20,000 ($240) segment.
That's evident in daily use; the GT 10 Pro feels great to use, and there are no slowdowns or lag. If anything, the minor stutters I encountered during my testing were down to the software not being fully optimized for the hardware, and that can be easily sorted out via OTA updates. Infinix isn't rolling out several storage variants, instead offering the GT 10 Pro in just a single 8GB/256GB configuration. This version hits the sweet spot for value, and the brand hasn't put a foot wrong here.
Swipe to scroll horizontally
| Category | Infinix GT 10 Pro | OnePlus Nord 2T | Nothing phone (1) |
| --- | --- | --- | --- |
| CrossMark (Overall) | 727 | 530 | 747 |
| Productivity | 827 | 495 | 793 |
| Creativity | 609 | 587 | 657 |
| Responsiveness | 848 | 484 | 918 |
| Geekbench 6 (single-core) | 1132 | 534 | 821 |
| Geekbench 6 (multi-core) | 3434 | 2826 | 2915 |
| 3DMark Wild Life (score) | 4550 | 4627 | 2579 |
| 3DMark Wild Life (FPS) | 27.25 | 27.7 | 15.4 |
| 3DMark Wild Life Extreme (score) | 1325 | 1319 | 698 |
| 3DMark Wild Life Extreme (FPS) | 7.95 | 7.9 | 4.2 |
What's particularly great is just how fast the GT 10 Pro is against its immediate rivals. It easily holds its ground against the likes of the POCO X5 Pro, offering gains of 10 to 15% in most synthetic tests, and it measures up to costlier devices like the Nord 2T and Nord 3. That isn't too astonishing considering the Dimensity 1300 on the Nord 2T is essentially identical to what you're getting here, but it's interesting to see that the single- and multi-core workloads are on par with the Dimensity 9000-toting Nord 3.
Anyway, what you're getting here is a stellar hardware package, and the GT 10 Pro manages to deliver in real-world use. Games ran without any issues and I was able to run demanding titles at their highest settings, but the only issue is that the device tends to hit its thermal limit early. Now, you still get playable framerates with minimal stutter, but given that the GT 10 Pro is branded as a gaming phone, I wanted to see a little more thermal headroom.
On that note, the only quibble I have on the hardware front is that games are locked at 60fps. Now, the hardware is able to easily deliver 120fps gaming in titles that offer it, but like several Chinese brands, Infinix is being a bit too conservative in this area, and as a result you don't get to play games beyond 60fps.
When it comes to battery life, the GT 10 Pro ticks all the right boxes. It has a 5000mAh battery that lasts a day without any issues whatsoever, and there's 45W charging. The bundled 45W charger is interesting as it comes with an orange angled cable, and as the phone uses the USB PD 3.0 standard, you can use the charger with other accessories. It took just over 65 minutes to fully charge the device, and it took just over 20 minutes to hit the 50% mark — more than adequate for most usage scenarios.
Infinix GT 10 Pro: Cameras
Infinix went with a 108MP camera at the back of the GT 10 Pro, but it then decided to tack on dual 2MP modules. The 2MP macro and portrait lenses do little to differentiate the device, and like other brands that went a similar route in the past, this is a purely marketing-driven decision.
The camera interface itself is largely identical to what you get on other phones, with the shooting modes arrayed on a ribbon at the bottom and toggles for HDR, AI scene recognition, flash, beauty mode, and full-res 108MP shots available. There's Google Lens integration as well, and while there isn't a zoom lens, the 108MP module does 2x zoom digitally. There isn't much to talk about on the video side of things, with the GT 10 Pro limited to 4K at 30fps even though the MediaTek hardware can easily drive 4K at 60fps.
Image 1 of 5
Like most other phones in this segment, the GT 10 Pro takes great images in daylight scenarios, offering plenty of detail and color vibrancy. It does a decent enough job in low-light situations as well, but you miss out on details, and there's visible noise. The Night mode does a better job managing the highlights and retaining colors, but even then, it isn't as effective as some of the other devices in this category.
There's some shutter lag as well, and while the few videos I shot with the device came out okay, it would've benefitted with better stabilization. Overall, the camera on the GT 10 Pro is strictly average, and while you get passable shots for sharing on social media, that's about it.
Infinix GT 10 Pro: Software
The GT 10 Pro runs Infinix's custom XOS 13 interface based on Android 13. Right off the bat, what's evident is that XOS 13 is heavily customized, and the visual design is a lot like older versions of ColorOS — the predominant usage of green accents throughout the interface is likely to blame. Like the design of the phone itself, the interface goes a bit overboard, and while that some brands do a great job pulling off a heavy skin — ASUS does a great job in this area — XOS is lacking overall polish.
A lot of it is down to the basics: there are translation errors with the text, the UI elements lack cohesion, and the animations feel dated. The interface uses a split notification system — similar to Control Center in MIUI — and there's no way to switch to a unified notification pane. Thankfully, a pull-down gesture from the lower two-thirds of the home screen surfaces the notification pane instead of the toggles.
There's no shortage of customization, and while I like the sheer amount of features Infinix has bundled here, Infinix should have done a better job with categorization.
Now, I haven't used Infinix phones a lot, so I can't really comment on whether this is an improvement from earlier versions. What I do know is that the square icons with the aggressive styling end up looking tacky, the lack of a unified notification pane is irksome, and not having any Material You influences makes the design feel a bit dated.
Most phones now use Google's Phone dialer, Android Messages, and Gboard as default out of the box, but that isn't the case here. Infinix bundles its own options instead, and you'll need to download Google's alternatives from the Play Store.
Ultimately, using XOS feels like going back to a Chinese skin from 2019. The major players — OPPO, Xiaomi, and Vivo — overhauled their interfaces over the last three years in a bid to modernize and make them more palatable to a global audience, and I don't see that with XOS just yet. Infinix needs to put in some more work to refine the interface and modernize it.
That said, the biggest issue with the GT 10 Pro is software updates — or lack thereof. At a time when most brands are delivering at least two platform updates and three years of security updates, Infinix is only guaranteeing one Android OS update and two years of security updates. That just doesn't cut it for a phone in 2023, and the brand really needs to do better here.
Infinix GT 10 Pro: The competition
There's no shortage of value-focused budget phones in this category, and right now, the POCO X5 Pro is the closest alternative to the GT 10 Pro. POCO also offers a 120Hz AMOLED panel, and the Snapdragon 778G platform holds up incredibly well in 2023.
You get a better 108MP camera, faster 67W charging tech, the software is much better, and it will receive more updates. That said, the X5 Pro loses out when it comes to raw power, and if that's a consideration, then yes, you should get the GT 10 Pro. But if you need an all-rounder instead, the X5 Pro has a lot to offer.
Realme's Narzo 60 is also a good enough choice if you want decent hardware and a high-quality AMOLED screen. The panel on that device is limited to 90Hz, and the Dimensity 6020 isn't quite as powerful, but you get better cameras and cleaner software.
Infinix GT 10 Pro: Should you buy it?
You should buy this if:
You need the best budget hardware package
You want a design that will turn heads
You need a 3.5mm jack and MicroSD slot
You want a battery that lasts all day and fast charging
You shouldn't buy this if:
You need great cameras
You want refined software that isn't heavily customized
You need more than one Android OS update
Overall, Infinix did a stellar job on the hardware front with the GT 10 Pro. The design is the biggest talking point of the device, and while the LEDs at the back are gimmicky, they invariably draw attention, and that's the point of the device.
The Dimensity 8050 is brilliant, and it allows the GT 10 Pro to overshadow all other devices in this segment. Sure, you don't get 120fps gaming, but that isn't a huge limitation, and for what it's worth, the phone handles visually-demanding titles without too much of an issue. You also get battery life that easily stretches beyond a day, and Infinix bundles all the accessories you'll need with the device.
Sure, the cameras feel like an afterthought here, and the AMOLED panel doesn't quite deliver the same color vibrancy as Xiaomi's budget phones, but those are forgivable considering the GT 10 Pro is billed as a gaming phone. My problems with the device are around the software. In its current state, XOS 13 just doesn't feel on the same level as MIUI 14 or ColorOS 13; there are too many inconsistencies with the software, and the design looks tacky.
But the biggest quibble is that the GT 10 Pro will get just one software update. Again, this hearkens back to the dark days of budget Android devices that were left languishing without more than one platform update, and it makes recommending the GT 10 Pro a lot hardware.
Ultimately, the choice comes down to you. If you want the best hardware package and don't mind the overt customization or the fact that the device will get just one Android OS update, then the GT 10 Pro is the best budget phone for you. But if you want a device that does a decent enough job in all areas, you should consider the POCO X5 Pro.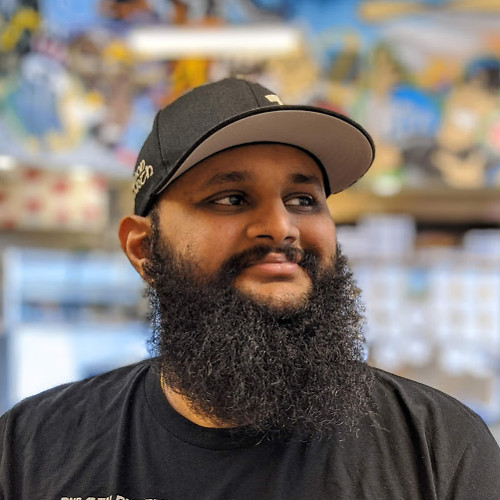 Harish Jonnalagadda is a Senior Editor overseeing Asia at Android Central. He leads the site's coverage of Chinese phone brands, contributing to reviews, features, and buying guides. He also writes about storage servers, audio products, and the semiconductor industry. Contact him on Twitter at @chunkynerd.