Perfect your mobile driving skills in Top Gear: Extreme Parking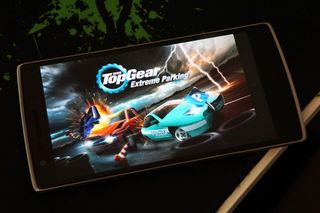 Do you have difficulties parking your vehicle while out and about? If so, Top Gear: Extreme Parking is now available to help out by taking the task of parking and throwing in some ridiculous vehicles, precision skill development and some strange obstacle courses. Co-developed by the team behind popular parking simulator games, Play With Friends, this title is worth the download for those who enjoy wacky experiences.
The title itself enables players to get behind the wheel of iconic cars from the TV show, including the Indestructible Pickup, the 'Reasonably Priced Car', Jezza's Italian 'Polizia' Coupe or James' 'Rozzers' Saloon. Players then take their chosen car and compete on one of the many obstacle courses around the track with the aim of parking their vehicle in the highlighted space to complete the challenge in the quickest time.
But that's not all, there's also the Destruction Mode for absolute carnage. If you're a Top Gear fan, it's well worth checking out.
You reverse, swing the wheel, wait til you feel a bump, go forward swinging the other way until you bump or ideally break glass, reverse again swinging the other way until the car is stopped by the car behind. Go forward gently while straightening up. Open your door to see if you're within 3 feet of the kerb. Lock up and walk away quickly.
What's to learn? Posted via the Android Central App

Is there a section where you get to cause outrage by "accidentally" saying something racist into the mic? Or a section where you have to avoid rocks being thrown by Argentinians because you had to be an inflammatory, insensitive dick? Or do you get to shun and ridicule someone you've worked with for years for writing an autobiography where they admit who they are? If not it isn't a very realistic top gear game... More seriously, a parking simulator? Is it April? I don't drive, but I'm fairly certain parking isn't the fun part... Unless it's the American usage. Wubba lubba dub dub!

Yes. Those registration plates in Argentina were "coincidental"; and the childish, hurtful attacks on Ben were just a game.
A trio of Richards with Wads (of BBC funded cash). How can I make that shorter? Posted via the Android Central App

Good, good, let the butthurt flow through you. We all care deeply. Posted via Bacon on CM11S

Haha you appear to have mistaken my sardonic critique for me being offended, I'm actually amused. Act like a prick get pelted with rocks, that's awesome! Wubba lubba dub dub!

More people need to use the word sardonic. The world would be a better place. Posted via Bacon on CM11S

Thank you. Can I come over for a hug and some more butthurt??? wtf.
Comments are for crazy people. Posted via the Android Central App

I figure I'll give this game a shot. Love the show! Posted via the Android Central App on a LG G Pad 8.3 Google Play Edition

Sounds like a Richard Hammond gag. Didn't he do that with an Alfa once? When does the motorhome racing app come out?

Seriously? Posted via Android Central App
Android Central Newsletter
Get the best of Android Central in in your inbox, every day!
Thank you for signing up to Android Central. You will receive a verification email shortly.
There was a problem. Please refresh the page and try again.