Watch our OnePlus One video review and relive all of our coverage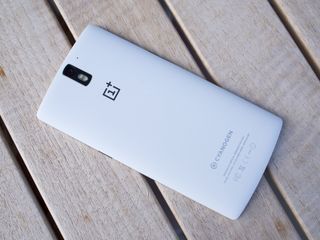 We reviewed two seriously big (figuratively and literally) phones this week, with the first out of the gate being the OnePlus One. After spending quality time with the device, going through software updates and putting several thousand words down for our full review, we're proud to say we have a pretty comprehensive look at the device available.
Hit the break to see all of our OnePlus One coverage, including our review, discussion happening in the forums and some other noteworthy posts that we did along the way as we evaluated the phone. You can of course catch our condensed video review above as well, if you're more of a visual learner.
More OnePlus One goodness from around Android Central:
Your top OnePlus One questions, answered
Andrew was an Executive Editor, U.S. at Android Central between 2012 and 2020.
I miss the days when 4.3-4.7 inch phones were big. Seems like I have no choice but to get a Moto X, other phones are too large. Posted via Droid Razr M on The Android Central App

I really like my x but I don't terribly mind the Nexus 5 and lg g2 device sizes. I haven't played with a G3 yet. Posted via Android Central App

G2 is too big for me. Held one before, it's too wide to hold one handed easily.

To be honest the G2 is pushing it for me. I have one and love it buy cannot imagine going any larger. I think 4.8/5in would be perfect for my hand size. Posted via Android Central App

The G2 seems perfect for me. But yeah I agree with you the perfect phone size seems to be in the 5 in. area. Anything bigger seems like overkill. My wifes Nexus 5 feels amazing!! If it had a little more weight to it I think it would be perfect.

To A895 ...I went from a tad under 5" Galaxy S3 to my current daily driver Note 3 with 5.7" screen..it was a lil hard at first using it one handed but after the first week its natural for me to type & navigate one handed. Its also crazy to grab my S3 now... Im like damn this phone is small.lol I couldn't go back to it now as a daily driver...im so used to the Note that every phone smaller is awkwardly small to me

Good for you. I have small hands and I could never use a Note 3 one handed.

Lol...I actually think my hands are small also but seriously I just rest the bottom right corner of my phone in my right hand for typing.

I actually can't do that. Handled a Note 3 before, have to use two hands every time. Posted via Droid Razr M on The Android Central App

Xperia Z Compact series....?

Yup... Moto C and iPhone for me. I want a phone not a tablet.

How can they be stereo speakers of the are at the bottom?

Technically stereo because there are 2 distinct speakers. As I note in my review I'm reluctant to call them true stereo when they're so close together.

Its actually good for speakers to be at the bottom. ..if they're on the back or front and you have your phone laying on a table or bed against the speakers the sound gets muffled. ..being on the bottom keeps the speakers open

unless they are on the Note 3, those speakers just suck...

Agreed N3 speakers are horrible Posted via Android Central App

Good and bad. I cover my g2 speaker up all the time playing games, kind of bugs me. Good though at work, because i can play music with my phone in my pocket and still hear it. Posted via Android Central App

Galaxy s5 is actually OK obviously not HTC quality but theyre not tiny and there's some richness to the sound Posted from my Nexus 7 2013 or Samsung galaxy S5

My Note 3's speaker sucks..I have Viper4Android and it still sucks with optimization. ..louder than stock but still tinny when listening to music or videos...on the other hand a decent set of earbuds + Viper4Android will blow your mind compared to the same earbuds without Viper..I used to praise CM's DSP but once I got Viper ill never say another good word for DSP.lol

The s5 isn't bad but the note speakers need a ton of help. I hope it is one of the things they change on the note 4....that and bring on youm Posted via Android Central App

Its sickening how bad the Notes speaker is for a $700 device..my damn S3's speaker is better! Also pretty pissed at the chrome bezel. .I use an Otterbox Defender for work but soon as weekend hits I clean the phone & swap on my Spigen SlimArmor View. ..well a piece of the bezel near the volume rocker broke off putting the Spigen on! You gotta take the back battery cover off for the s-view to work so I guess the bezel caught the Spigen & snapped the f#ck off...like wtf! Im pissed..now im swapping from a work only Defender to a "clean" Defender on weekends. .but that white Spigen SlimArmor is soo sexy on my white Note3 it sucks not to be able to use it anymore

there is nothing...nothing at all that I can say but +100 I did the same with my SA View, I had insurance so they fixed it but I was still pissed...and yeah they speaker blows. I am not expecting boomsound but S3 sound would be great...

Unfortunately I pay cash for my phones because I always void warranty with rooting & flashing to my lil hearts content so im beat.lol I actually still have the piece that came off & have been contemplating super gluing it back on...then I can use the Spigen again but id have to dismantle the case put the phone in the silicone then attach the plastic after...pain in the butt!

I root and romantic all the time... I just make sure that my issue is software related... And that is easy to come by Posted via Android Central App

@NoNexus Autocorrect fail hahaha

Note 3= straight touchwiz ... Nasty .
One plus one= cm ....good Posted via Android Central App

My T-Mobile Note 3 is my daily driver & im running X-Note international so I have a quicker & smoother Touchwiz than stock & also has theme support, but im running GEL with Xposed & XGEL & Unicon for icons..Straight Cyanogen mod sucks...im running SlimKat on my S3..I wont even flash CM on either or my phones..too many bugs...X-Note is the best rom for the Note 3 & SlimKat is my favorite for my S3

If you like barebones crap, cm is for you. I love the features on the note
Posted via Android Central App

Concur. Almost all the stock apps are terrible. And what's the point in all the power a new phone has if your gonna strip all the stuff that could use it? There was a time all the bloat caused actual problems, not so much now. Posted via Android Central App

But the features do not work well

Then your doing it wrong. The 'smart stay' and stuff like that can be hit or miss, but everything else works like a charm Posted via Android Central App

I'll take my note 3 with hyperdrive over cm anyway it's smooth everything works and I enjoy my 8_9 hours of screen time and 27 hours of battery life Posted via Android Central App

That's right! ... ( 0ppo F5) ...

You guys are devoting too much time to a fly by night company. I have never seen you write up a ZTE phone like this POS Posted via Android Central App

I had a cap ZTE phone once. I went to clean the screen and Windex got all under the glass and stained it terribly! ZTE SUCKS! Galaxy S4

Don't EVER use windex on a screen... Horrible idea. Posted via Android Central App

I had a Nokia candy bar phone 10 years ago. I dropped it in the pool and it never worked again. BOYCOTT NOKIA!

yeah if it had the reviews of this vaporware phone, you would have known better

Difference being this is a pretty good phone and a lot of people are interested in it.

Whats funny is what's going to happen if this company goes belly up lol Posted via Android Central App

I might even switch to an iPhone because the sizes are getting too big... Posted via Android Central App

To Dizfunctions.....BLASPHEMY!!!!!!!! I hereby ban you from using an android for the above comment posted by yourself! With all the power vested in me by myself of course...Apple. ..HUMPH!!

Why getting? There are great phones now that 5 inch like the s5 that will good for updates for 2 years current phones won't be out of date for a while so you can enjoy what's on the market now Posted from my Nexus 7 2013 or Samsung galaxy S5

bye...iMore will welcome you with open arms...

Thing is, all of you people complaining about sizes getting too big aren't buying the few phones out there that are made with smaller sizes in mind, which tells the manufacturers that there is no demand for such product. Instead of complaining about the big phones, go buy an Xperia Z1 Compact or Moto X.

How is everyone rooting your Note 3. I've tried the Kingo root app a thousand times but it does not work. I have the AT&T SM -N900A model running Kitsap 4.4.2. Thanks for your help. Posted via Android Central App

I'm really interested in this phone, but I guess I'd rather wait for the next iteration of the nexus line or whatever google choose to call it now Posed via Nokia 3310 smartphone
Android Central Newsletter
Get the best of Android Central in in your inbox, every day!
Thank you for signing up to Android Central. You will receive a verification email shortly.
There was a problem. Please refresh the page and try again.