Oddworld: Stranger's Wrath makes its odd way to Android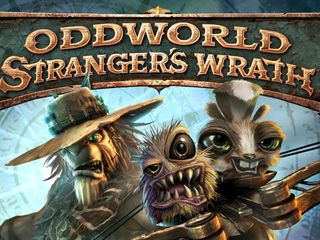 Oddworld: Stranger's Wrath, the acclaimed action-adventure game from developer Oddworld Inhabitants, is now available for Android device owners, via the Google Play Store, for $5.99. The game was released for iOS devices in late November.
Oddworld: Stranger's Wrath was first released for the original Xbox console in 2005, and was the last game in the series from Oddworld Inhabitants. Developer Just Add Water created a graphically revamped version of Oddworld: Stranger's Wrath that was first released for the PC in 2010 and was later launched for the PlayStation 3 and the PS Vita consoles.
The game itself is a great mix of fantasy and Wild West themes as you control The Stranger, who tries to capture outlaws and collect bounties. Here's a quick rundown of the features:
Fully configurable touch-screen controls let you move & re-size individual buttons to suit your play style
Scalable virtual joystick for fine tuning sensitivity of movement
Explore living towns, lush forests, and massive industrial facilities
Seamlessly transition between first-person shooter and third-person platfomer
Scour your surroundings for live ammo
Work with a range of strategies to surprise, stun, lure, blast and bag devious outlaws
Meet incredibly odd, funny and smack-talking townsfolk, enemies and natives
Fight dozens of varied bosses with outlandish arsenals and outrageous names
Complete "twin-stick" HID gamepad support, including specific control setups for Shield, Moga, XBOX 360, PS3/PS4, and many more
Intuitive touch controls + a redesigned mobile interface make playing & navigating a breeze
Incredible visuals that harness all the advanced graphics capabilities of today's mobile chipsets
A hilarious script, theatrical soundtrack and compelling storyline with a shocking twist
English, German, Russian, French, Spanish, Italian, Portuguese, Finish, Swedish, and Polish language support
Leaderboards, Achievements and Cloud Save
Money well spent. I'm the kind of guy that stops a microwave at 1 second to feel like a bomb defuser.

Support for Android TV/Nexus player? At work, so can't verify from here (Play Store is blocked).

I'll verify when I get home, and if so, it's bought. Developers who put this kind of effort forth deserve to be paid. I just got my Nexus Player and currently have 3 paid games (Soul Calibur, FF3 (previously purchased), and Beach Buggy Racing Premium). Android users really need to get behind quality paid titles to combat two things; the "freemium" model, and developers choosing iOS over Android. I'm hoping that Android TV adoption over the next year also encourages higher quality games with a console-like feel.

I can't agree with this more! People (at least me) would gladly pay $5 for a good quality game rather than get nicked and dimed on a "freemium" game....and plus, who doesn't like Abe?!? Support your local bands/microbrews/developers! Posted via the Android Central App

So, is this a direct port over from the OG Xbox then, or are there new levels? (I didn't see any new gameplay scenes in the trailer, but it has been a while too.) Loved that game!

I'm so happy it supports gamepads. Posted from my Motorola Moto G

Yes please and thanks. I can never get enough Oddworld

Link no longer works. Was it removed from the play store?
Android Central Newsletter
Get the best of Android Central in in your inbox, every day!
Thank you for signing up to Android Central. You will receive a verification email shortly.
There was a problem. Please refresh the page and try again.