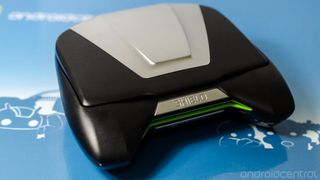 The NVIDIA Shield is not the first Android handheld designed for gaming. We've seen Archos try its hand at a small-form tablet with gaming controls, MOGA and others have created accessories that will transform your smartphone into a gaming unit, and using USB host with a game controller can make plenty of phones or tablets into a great on-the-go gaming rig. We'll try to forget about the Xperia Play. Sony sure did.
But NVIDIA has done something different. The Shield isn't an Android device that also plays games pretty well, it's a gaming machine first and foremost. Every design decision, every hardware part, every component was chosen and used to try and offer the best gaming experience you can get from an Android-powered device. You'll be able to pick up your own NVIDIA Shield starting today (July 31). Preorders are shipping, and units are available for $299 at NVIDIA.com (opens in new tab) or Newegg.com (opens in new tab), or at a SHIELD Experience Center in select GameStop, Microcenter, Canada Computer locations in the U.S. and Canada. Now the real question is -- did NVIDIA succeed at making the Android game system everyone has been waiting for?
Editor's note: This review was co-authored by both Jerry Hildenbrand and Kevin O'Quinn, Android Central's resident NVIDIA "champ." Kevin is a known hardware junkie, and provided input about the hardware and specifications from his perspective.
Pros
Shield is very well-built and designed. The controller offers a point of integration that hasn't been possible in previous Android devices. Add in a rich catalog of very inexpensive, quality game titles and this is the holy grail of mobile devices for any gamer. The screen is very nice, and the system is fluid and everything runs really well.
Cons
It's a bit bulky for those looking for something ultra-portable. It's also a bit of overkill (and out-priced) for the casual gamer, and folks looking for a general purpose device would be better served with a more "normal" device like the Nexus 7 or a comparable tablet from Samsung.
The Bottom Line
The NVIDIA Shield isn't going to appeal to a wide audience, but I don't think it was designed to do so. It's clear that NVIDIA had one thing in mind when the built the Shield, and that was to create a top-of-the-line gaming device that runs on the Android platform. NVIDIA certainly succeeded, and for anyone looking for the ultimate Android gaming system has found it in the Shield.
Swipe to scroll horizontally
NVIDIA Shield hardware
After you get used to the idea that big and bulky isn't necessarily a bad thing, Shield is actually really nice to hold and use. It's conspicuous, anyone can see you're not as concerned with crunching numbers or reading reports as you are with collecting coins or killing mutants. While work could be done with the Shield, it clearly wasn't designed for productivity.
The unit is nicely balanced, and the full range of ports you would expect on any Android device are present. Take a look at the rear of the Shield, and you'll see a USB port for charging and connection to your computer, a 3.5mm audio jack (with microphone input), an HDMI output port, and a microSD card slot. NVIDIA sent us a 64GB SanDisk Ultra SDXC card to use with our Shield, and after formatting it works without any issues — though applications can't be installed to it.
You'll also see an air vent on the rear, as well as one on the very front. The Shield actually has a fan to keep things running cool when needed. You'll never know it's there, because even when maxing out the system resources with a long session of playing Tegra 4 optimized games, you can't hear the fan unless you have your ear to the back vent, and there is no vibration when it's running. I actually questioned if it did have a fan, and had to talk to an engineer at NVIDIA to double check. It's that quiet and vibration-free.
The top of the lid is removable, and you can buy interchangeable "badges" that easily attach using a magnetic connector. NVIDIA sent us a spare black badge, and a silver colored one that matches the accents of the Shield is included. Once you open the lid, you come to the fun part.
The screen
Shield is equipped with a rather nice 5-inch, 1280x720 HD multitouch display that checks in at 294 dpi. This means that text looks crisp, and detail (important in HD gaming) is clear and refined. The viewing angle is superb, and the screen is easy to see and use at any angle thanks to the hinged clamshell design. A big part of great gaming is how well the screen performs, and NVIDIA has done an excellent job delivering a beautiful screen that's easy on the eyes.
That said, the sort of games you're going to be playing on Shield are begging for more real estate. You simply cannot properly appreciate all that graphical goodness on a 5-inch display. Maybe not even on a 7- or 10-inch display. That's the trade-off you get for mobile gaming.
The controls
The most important parts of any handheld gaming device are the game controls. How well they are designed, how easy they are to use, and how complete they are can make or break the experience. I'm happy to say that in this area, NVIDIA has outdone itself.
In the center of the controller area are the necessary Home and Back buttons we see on all Android devices, as well as a start button, a volume button, and a multi-function Shield button. You use this Shield button to power the device on and off, and to have quick access to your TegraZone game library from any screen.
You also have a full console-grade controller with two joysticks, a D-pad and ABXY buttons. On the rear of the unit, you'll find left and right bumpers, as well as left and right analog triggers. These controls have an excellent feel, with just the right amount of travel in the joysticks. The buttons are clicky, and don't push too deeply into the controller body. The D-pad is easy to move with just your thumb, and offers a confirming click in all eight directions.
NVIDIA carried the Shield prototypes with it to several trade shows to get feedback from professionals in the gaming industry, as well as users, to get the controls just right. It worked, and you're left with something that will remind you of a great controller for any console or PC game.
In addition to the controls you can see, the Shield also has built-in motion sensors including a six-axis gyro and accelerometer. Not all third-party games can take advantage of the included controller, and those that need motion sensors to play have them in place.
The speakers
A great gaming experience needs high-quality audio. Luckily, the Shield is equipped with a very healthy set of high-fidelity speakers that deliver rich, full sound. The audio system is a custom, bass reflex, tuned port that NVIDIA says "provides fidelity and dynamic range never before experienced on a handheld device." We're not going to argue, because these are some pretty incredible sounding speakers for as small as they are. NVIDIA tells us that the depth of the SHIELD device itself allowed them to port the speakers and put them inside a miniature enclosure that makes them sound fuller. This means they will have a much better response on the low end, and provide an excellent sound experience.
We say they're right. Not only do games sound awesome, with the growl of an engine or the wailing of a zombie resonating out of the device in full stereo, but things like listening to music or watching videos have excellent sound quality. Much has been said about the quality and volume of the HTC One's front facing Boomsound configuration, but the Shield sounds better — louder and clearer. You really can hear and feel the bass.
Build quality and materials
The Shield looks great and is designed well. The outside of the unit is covered with a soft-touch coating that makes things easy to hold and pleasing to the touch, with glossy black plastic, matte silver plastic, and NVIDIA green plastic accents.
The small touches — like the textured rubber top of the joysticks and curved concave D-pad — are also great. A lot of time went into making the Shield comfortable to use, and it shows. It's not a light device, checking in at 579 grams, but it is nicely balanced and the adjustable screen angle makes it comfortable to use while sitting, standing, or laying back in bed or on the couch.
Specifications
With these specs, you probably have an idea in mind of how the Shield runs. If that idea was fast, you're right-on. Everything is zippy and fast, and the basics — Wifi, GPS, gyro sensors and accelerometer — all seemed to work just fine. Battery life is surprisingly good, and you'll get plenty of mileage between charges even while playing 3D games and streaming video or music. Having a huge battery (28.8 WH at 5 volts is 5760mAh) helps here, and any optimizations NVIDIA has done with the Tegra 4 are surely at play.
We do have to note here that NVIDIA has sent us a new unit and updated the software since we first started testing things out on the Shield. We're not seeing any performance degradation with the new gear and software build, but we're going to keep a close eye on things for the next week or so. If there's anything to update, we'll revisit it.
The Shield camera
Android software
Shield runs a mostly "stock" version of Android 4.2.1, with the biggest visual changes being the addition of the NVIDIA button and integrated TegraZone experience. You have your standard five home screens, the same stock widgets, and the same Google applications you would expect from a more standard tablet. Of course, the controller has been tightly integrated into the build, and your joysticks can select items and act as a mouse pointer.
You won't be surprised by much of anything. You can still install apps from Google Play, you can watch videos on YouTube, or listen to music with Google Play Music or Pandora, but you don't get the same experience because of the clamshell design and big controller body. Typing anything is especially frustrating with the on-screen keyboard.
Where the shield excels, of course, is gaming. Games designed for a controller play really well, and having the screen and controller body as one unit brings a different experience compared to using a separate USB or Bluetooth controller and your existing phone or tablet.
Gaming
As mentioned, this is where Shield excels. Games that have been optimized for the Shield's controller and the Tegra 4 are an experience you just won't find on any other mobile platform. You have complete and total control in a way that's just not possible with a touch screen device, and other USB or Bluetooth controllers aren't supported nearly as well as Shield-optimized games are. A great example of this is in a game like Shadowgun from Madfinger. It's really fun on any modern Android device. It's more fun when using the Tegra-enhanced version on a Tegra-powered device, but it's amazing using the Shield to play the newly optimized update. The textures are better, the physics are better, and having the controller support is incredible. As an example, I was able to go through the game on easy difficulty in just a couple hours, because I had precise control over everything John Slade could do. Now I'm enjoying playing at a higher difficulty -- something I couldn't do without the controller support.
Of course, many non-shield games play wonderfully as well. Not every game studio has built its games to be compatible with a device that appears to be in landscape mode when it's not, but the ones that have work as well or better than they do on any other Android device. Games with touch-based controls take a bit of getting used to because of the way you hold the Shield, but it's an easy learning curve.
A lot of people hate on NVIDIA for offering a premium experience — its Tegra-optimized games — over another company's hardware, but I think that's misguided. NVIDIA's developer program seems like a very good thing, and the optimized games it busts out certainly look and play better than offerings from anybody else — including Apple. I support open standards as much as the next guy, but I can't sit here and say that Tegra games aren't just better than the competition — because they are.
NVIDIA also introduces a new way to game with the Shield, streaming games directly from your PC. Get a box that meets the minimum specs (​Intel i3 or AMD Athlon II X4, 4GB RAM and a supported NVIDIA graphics adapter) and you can stream games that are playing on your more powerful gaming computer on the Shield while kicked back in your favorite chair, or where ever you are most comfortable. We've got the gear to have a good look at the PC streaming side of things, and we're going to write it up separately. That is, once Kevin O'Quinn runs out of lives and finds time to write it up. He's having a blast!
Conclusion
We've had a look at what the Shield does well, now the important part for many — should you buy one?
That depends on what you want to do with it. If you want an Android to surf the web, message your friends or play a few casual games on, look elsewhere. The Shield can do all these things, but other devices do it as well or better, are more portable and cost a little less money. Likewise if you're just looking for media consumption. The Shield has a great pair of speakers, and music and video play just fine, but I think doing either just works better with something like the Nexus 7.
Having said that, maybe you're the kind of Android user who loves to play big, immersive games. The Shield was made for you. You'll get an experience like no other, with titles built especially for the device that play as good or better than they do on any of the current-generation consoles. This is an area where NVIDIA is really pushing forward, and we love what they've done in this space. Add in features like PC game streaming (yes, we have everything you'll ever want to know about that coming soon), and you've got a complete gaming experience like no other. You'll definitely get your money's worth from the purchase, and considering the low cost of the games compared to offerings from Microsoft and Sony, it's a bargain.
I'll be picking up one of my own just to play Riptide GP 2 on.