Nobex Radio review - a BlackBerry port with its work cut out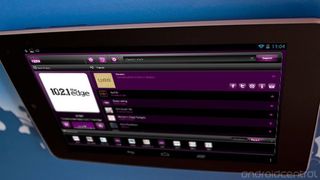 Earlier this summer Nobex Radio made its way onto Android after establishing itself as pretty much the only radio streaming application for BlackBerry. For the low, low price of free, users had access to thousands of traditional radio stations through a categorized, searchable database. No matter what the station, Nobex provided a listing of the songs that have been played recently, allowing you to look back and share particularly good tunes that come up. For $3.99/month, users can get in on the premium service, which provides access to stations outside your country, skips pre-roll audio ads, and a handful of other features.
Style
Nobex's user interface is still suffering some growing pains in its move from the PlayBook. Both the tablet and smartphone versions of the app have a significant lags in responsiveness and a general lack of Android-friendly design. The layout is still sensible enough, and the purple color scheme sets a very groovy mood, though the bouncing audio bars that are little more than a looped animation don't feel particularly necessary.
Function
The quality of the audio playback is really good and easily on par with anything I would be enjoying with another service. Of course, after living with digital streaming services for awhile, it's a little weird going back to radio, complete with segments interspersed with chatty DJs, obnoxious ads, and call sign sound bytes with goofy sound effects.
You can share songs out to Facebook or Twitter, though the app boots you out to the browser. There's no tie-in with the system-wide share menu, and the only e-mail link sends details of a track to the address you registered with. Other links kick you out to YouTube for a search for the track, and another goes to last.fm for artist biographical information.
One of the things that really bugs me about the whole track identification system is that for some stations it only kicks in once the song's over. This means that any album art showing on the main screen is for the last song, which is confusing and not particularly helpful. The spot Nobex takes in the notifications area only shows the current station, but it would be great to see that what's playing from there and maybe some playback controls. Speaking of which...
Nobex Radio is significantly hurting for playback control options. In-line headphone controls don't work, there's no home screen widget, and no lock screen controls. The notification area only shows For any music app, these are essential. Even for a free app, missing a lack of convenient controls can be a dealbreaker.
Pros
Cons
Interface lags
Clunky usability
Bottom line
Free, streaming music is hard to complain about, but after getting acclimatized to standard digital music streaming services like Rdio, Slacker, and Songza, an app that showcases traditional radio feels just a little anachronistic. Besides, there are plenty of interface and usability issues that need to be worked on before Nobex is any kind of ideal music experience on Android. At the very least the audio quality is solid and there's a good selection available.
Android Central Newsletter
Get instant access to breaking news, the hottest reviews, great deals and helpful tips
Simon has been covering mobile since before the first iPhone came out. After producing news articles, podcasts, review videos, and everything in between, he's now helping industry partners get the word about their latest products. Get in touch with him at simon@futurenet.com.
Simon, Nobex has been around a lot longer than the Playbook. It used to be on my phone, too. Interestingly, TuneIn Radio, while newer, seems to have become more user friendly at doing the same thing. And, like Nobex, started on the Blackberry phone. Thanks to the Playbook being able to use converted Android apps, it's available on all three platforms, as well. EDIT: TuneIn is not available on the Playbook as a native or working Android app conversion. But, the website (tunein.com) works through the Playbook browser.

I waited a bit to mention this thinking that someone would notice but, I think you unintentionally put a screen capture of Jetpack Joyride in the article. Generally speaking, good review though. I'm personally using TuneIn Radio myself and am happy with it so far except that I get annoyed at the number of stations that are supposed to be available but are AWOL when I try to connect to them.

Bah, glitch in our image uploading system. It doesn't like duplicate filenames, apparently. Thanks!

Can anything good come out of Waterloo, Ontario?
Android Central Newsletter
Get instant access to breaking news, the hottest reviews, great deals and helpful tips
Thank you for signing up to Android Central. You will receive a verification email shortly.
There was a problem. Please refresh the page and try again.