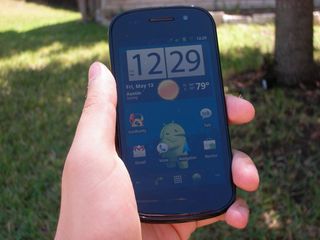 The Nexus S 4G is like the younger, faster brother of T-Mobile's Nexus S. It can do just about all of the same things, but is better at wind sprints, so it made the varsity team first. Otherwise, we're looking at the same beast on a different carrier.
How does that stack up for Sprint users, though? Is the Wimax-infused phone of yesteryear worth picking up? Or is it worth holding out for the newest phones on the horizon? (I'm looking at you, HTC EVO 3D.)
Buckle up, keep your hands, feet, and other objects inside the ride at all times, and join me after the break to find out.
Nexus S 4G Specs | Nexus S 4G Forums | Nexus S 4G Accessories
Initial hands-on
The hardware
If you've ever seen or held the Nexus S, the 4G variant feels identical. Side-by-side, screens off, they're indistinguishable. It's got the same rounded corners, same slick plasticky battery cover, and same bizarre capacitive button order.
The Nexus S 4G is sporting a 4-inch display, same as the Nexus S, but bigger than the 3.7-inch display found on its predecessor, the Nexus One. It's also rocking a Super AMOLED display instead of the Nexus One's AMOLED display, but the resolution is the same at 480 x 800.
The display is, quite frankly, superb, as anyone who has ever owned/used/seen a Super AMOLED display could probably attest to. The colors are vivid and crisp and the viewing angles let you rotate the phone to some pretty strange angles and still get to see the action on the screen. The screen is pretty reflective so it runs of the risk of becoming a mirror outdoors. But in my experience, I didn't notice the colors getting washed out too badly. The biggest obstacle to overcome then is to hold the phone at an angle so you're not reflecting the sun.
The display also appears to be curved in the middle (dubbed the Contour Display) and while I found it didn't offer any challenges in touch responsiveness, I'm not sure I would attribute it to any benefits other phones don't have. On the plus side, if you put your phone screen down on a surface (why would you do that?), the screen will sit just above whatever it's resting on. Other than that, the Contour Display doesn't seem all that revolutionary to my eyes.
Gone are both the notification light and trackball that were on Grandpa Nexus, and as for notifications, well, there's nothing. That can actually be really frustrating if your phone is on silent mode, but fortunately, thanks to some enterprising devs, backlight notifications via the capacitive buttons is only a custom kernel away.
The earpiece is both small and unobtrusive, but is clear and loud when you're on the phone. To its left is a light sensor (welcome) and to its right is a 0.3 megapixel (VGA) front-facing camera. A VGA camera seems like a bit of old hat in the sea of 1.3 megapixel cameras out there, so I can only wonder what Samsung's motivation was when they decided on VGA. In the grand scheme, it's not a terrible camera, and it functions fine for things like front-facing pictures or video and also gets the job done on Google Talk Video chat.
The Nexus S 4G is a thin, lightweight phone, weighing in at 4.6 oz and measuring in at 4.88 x 2.48 x 0.44 inches. It's pretty commendable that Samsung made such a powerful phone so small and light, and it really just feels right in your hand. The first thing I noticed when I took it out of the box was how much lighter it was than my EVO 4G. It sits nicely in hand, in pocket, or on belt. For purses and back pockets, you'll have to ask someone else. Point is, the device feels good and isn't so big it'll turn people away. Samsung struck a good balance between "still big" and "hulking behemoth that turns people away."
The bottom bezel holds the microUSB port, a pinhole microphone, and the 3.5mm headphone jack. The left bezel has the volume rocker by itself and the right bezel has the power button, in typical Samsung fashion. The top bezel is actually empty, except for a small slit in the battery cover that lets you take the battery cover off.
Flip the Nexus S 4G onto its backside and you've got the worst a pretty bad fingerprint magnet in the form of an incredibly plastic battery cover. The cover itself isn't designed poorly, I just imagine what things would be like had Sammy opted for a matte finish or (gulp!) something like an aluminum battery cover. It fits well onto the rest of the phone but the fingerprints just drive me up the wall.
The top left corner of the backside has a 5MP camera with flash and then the speaker. The speaker puts out a decent amount of volume, but it's fairly tinny and not loud enough to wake up yours truly, so use it as an alarm with discretion. I'm sure this is personal preference, but if you use your speaker for anything important, I'd check this out before committing it to anything.
Pop open the battery cover and you'll be greeted by a 1500mAh Li-ion battery and no microSD card slot. As mentioned in the initial hands-on video, Samsung forewent the microSD card slot so they could add NFC capabilities to the phone. To make up for it, the Nexus S 4G has 16GB of internal storage built right in.
What's under the hood
The Nexus S 4G is running Samsung's own Hummingbird chip, which is an ARM Cortex A8 CPU with a PowerVR SGX 540 GPU. The whole thing is clocked at a chipper 1 GHz that feels as fast as anything else out there. As mentioned before, Samsung packed in 16GB of storage total, split up into 15GB "USB storage" (acting as the microSD) and 1GB for app storage on phone.
I know a single-core processor at 1 GHz might seem a bit outdated, in a world where we're quick becoming accustomed to dual-core titans as the new mainstay, but I want to reiterate that nothing about this phone's speed feels remotely sluggish or old. Some people love benchmarks and some people think they're a waste of time, but I ran some of the standards I could find, mainly to illustrate how potent the GPU arm of the Hummingbird is, but also just how powerful overall.
Nexus S 4G Benchmarks:
Neocore: 55.5 FPS
Quadrant: 1330
Linpack: 13.282 MFLOPS
NenaMark1: 52.1 FPS
Fps2D: 54 FPS, deviation: 6.98
The software
There's not a lot that can be said about the software. It's vanilla Android. In fact, it's pure, unadulterated vanilla Android. This is as stock as it gets, and you know what? I like it.
By this point in time, though, some of Gingerbread's luster has rubbed off, and it's not the groundbreaking thing it was when the Nexus S came out. Still, as Jerry pointed out, plenty of phones out there aren't coming with Gingerbread, so you've got that much.
As for pure vanilla Android, it comes with 2.3.4., so you're game for Google Talk video chat, if that suits your fancy (and it does mine). You're also free of bloatware completely, which is something I usually have to get rid of by hacking my phone nine ways to Sunday. Wireless tether is still built into the OS, and in my experience, it worked. Kudos to Sprint for not pulling that out.
Screen transitions are quick (thank the Hummingbird for that) and the cool, 3D Rolodex fade-in of the app drawer is still smoother than I've seen on any custom launcher. Essentially, if you've used any vanilla phone (and I know they're getting harder to come by), strip away all of it's associated bloatware, make it speedy, and you're now running the Nexus S 4G. Otherwise, that's it.
The cameras
I feel like there's not a lot I can say about the cameras I haven't already said. The front is a VGA (0.3MP) camera that does what it needs to do, albeit being lower resolution than we're accustomed to. The rear camera is a 5MP shooter that takes some pretty stellar pictures.
There are a few marked improvements over the Nexus S camera (and Jerry's quibblings about it), like the addition of an "auto" setting for the flash. On the other hand, the movies still only export in a .3gp format, so it's a give and take. The resolution also still tops out at 720 x 480, which is what it is.
That being said, I'll let the results speak for themselves.
I also think the rear camera is vastly improved over the Nexus S (jittery doesn't really come to mind), and the mic is fairly capable in its own right. On the river video, you can hear both the cars from the access road and the water trickling. Just make sure to watch the rear cam on 480p to get the clearest extent of what the camera can do.
Hackability
The Nexus S 4G is part of the proud family of phones that are unbelievably easy to unlock. A little knowledge of ADB here, and fastboot oem unlock there, and you're good to go. You can even lock the whole thing back up with fastboot oem lock if you're in need.
That being said, the Nexus S 4G has a few, shall we say, quirks, when you're trying to get it's final drivers installed, but lucky for all of y'all, we've got the whole writeup incoming.
Battery life
For only packing a 1500 mAh battery, the Nexus S 4G really gets things done. I tried to simulate an average user, checking emails, making some voice calls, sending text messages, etc. While I was pretending to be an average user I was also gallivanting about, doing speed tests and using the Bluetooth to send files from my phone to my computer.
Still, despite everything I threw at it, the battery kept humming along, happily and efficiently. I'm sure I could have pushed the battery a little farther before I took these screenshots, but I thought they were sufficient to make my point.
In short, battery life on this phone is great. Again, your mileage may vary depending on what you do and how often you do it, but the typical smartphone user, I think you'll be able to get through a full day rather easily before you've got to toss this back on the charger.
The WiMax
I know this is a big selling point of the phone, so I've dedicated a whole portion of the review to it. I know some people cried foul at the lack of a proper speed test in the initial hands-on, but to be honest, the speeds were so dismal, I figured something was amok and further testing was needed.
I'm also an HTC EVO 4G owner (rooted and running CM7) so I decided to speed test both of these phones against one another to see what the speeds are like around these parts. What I encountered was a strange phenomenon where the EVO consistently beat the Nexus S 4G in speed tests, almost by as much as 2 Mbps, even when the phones are right next to one another.
I'm curious if a software update can remedy the Nexus S 4G's seemingly subpar 4G speeds, or if you're stuck with what you've got. I should also point out that if you're not running speed tests, you're probably not going to notice. Surfing the web, watching videos on YouTube, and otherwise consuming lots of data at high speeds still feels worlds faster than on 3G, but it is curious why there's such a dramatic difference.
As with all of Sprint's WiMax, building penetration is still an issue, as evidenced by the fourth speed test on video. This usually brings both download and upload speeds screeching to a halt, but usually not to a point where your phone is constantly searching for a signal. If you're outside, expect almost full coverage, as long as you live in a coverage area. Raw numbers aside, it still feels like the Nexus S 4G performs.
The wrap-up
The Nexus S 4G is, for all intents and purposes, a killer phone. How killer, however, remains to be seen. It brings the best (at the time) of Samsung's hardware and Google's software into one package, adds in Sprint's 4G, and gives it to you in a light, attractive package.
Does that make it worth buying, though? With phones running the Tegra 2 processor already out, can the Hummingbird stack up? Is the 4" vibrant enough, especially with Super AMOLED plus?
This is just one reviewer's opinion, but yes. If you're dying for an upgrade on Sprint's network, this is the phone to get. It feels like it runs circles around the EVO, plus the screen is much sharper and doesn't get washed out in sunlight. If you can wait, the EVO 3D is around the corner.
If you're a developer on Sprint and want a newer-generation phone to hack, this must be your go-to. In the era of locked and signed bootloaders (and HTC jumping into that game), making sure your phone is always running the latest version of Android and is yours to tinker with makes this phone your best friend.
Overall, the Nexus S 4G is a solid piece of equipment. It's nothing totally Earth-shattering, but it's definitely a notch above a lot of offerings out there, plus its got 4G. The Nexus S was is a great phone and now has been enhanced a bit, making it that much more attractive. Sprint finally let a Nexus phone on their shelves, and if it sounds like your cup of tea, I wouldn't wait on it.