A new look at the newly official NVIDIA Shield [video]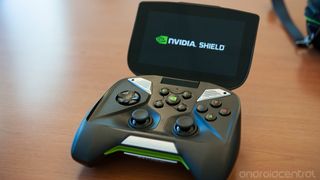 It's coming this June for $349, and we've got your first look at the refined NVIDIA Shield with stock Android
Easily two of the more exciting announcements to come out of CES 2013 this past January were the Tegra 4 mobile processor and graphics platform from NVIDIA, and its "Project Shield" handheld Android gaming controller. Combining some of the most powerful mobile processing graphics available with a traditional gaming controller -- and a 5-inch, 720p display for good measure -- we finally had the potential for some real console-style gaming on Android.
The big question, of course, would be the price. Today, that's been answered. Shield -- having dropped its "project" designation -- will retail for $349, a bit lower than what many of us here had expected. But "we're not selling Shield at a loss," NVIDIA told us from its headquarters in Santa Clara.
However the math works out, what you get is a highly capable mobile gaming system that in fact can best consoles in some areas.
We got a new look at NVIDIA Shield, with its refined hardware and expanded gaming roster.
The changes to Shield from the prototypes we've used a few times the past few months are subtle, but important. The dual analog sticks have more rubber on top, for better grip, and NVIDIA's scooped some more plastic from the well in which they sit, the better to position your thumbs in. The D-pad has been redesigned (NVIDIA made clear what we saw in January was more of a placeholder), and the hinge has been made more robust. The triggers on the underside of Shield have had some work done as well.
It's still a bit of a novelty to see active cooling in a mobile device, but the air intake (in the front) and exhaust ('round back) are as stylish as they are functional, and they've been redesigned a bit, too, it seems.
Shield runs Android 4.2.1 at the moment. It's conceivable it could see Android 4.2.2 by the time it launches in June, but NVIDIA didn't seem to be too concerned about that, and neither are we. The major functionality -- gaming -- is all there. Shield runs "stock" Android, but NVIDIA's TegraZone curated app space is downright beautiful. Some thought was put into that UI. From there, you can play your Shield-optimized games, purchase new ones, and (if you have the proper NVIDIA graphics card on your PC), use Shield to control games being played on a PC gaming rig. The latter feature will launch in beta. We've used it twice now, and it's surprisingly lag-free, though it does have the occasional connection hiccup.
Shield will come preloaded with a couple of games -- Sonic 4 Episode II, running at a ridiculous 60 frames per second, and Expendable: Rearmed.
We'll have lots more from Shield as it gets closer to launch.
Image 1 of 20
Get the Android Central Newsletter
Instant access to breaking news, the hottest reviews, great deals and helpful tips.