Need For Speed: Hot Pursuit, exclusive to Xperia Play ... for now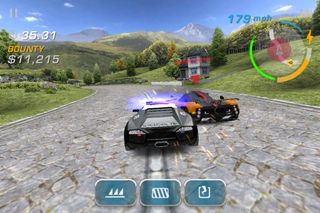 The latest mobile version of the long running Need For Speed franchise is now upon us, and for the time being at least will be exclusive to the Sony Ericsson Xperia Play.
Hot Pursuit is now available through the on board games store, and we were treated to some hands-on time this evening at a Sony Ericsson press event in London. First impressions are pretty good. Anyone familiar with the series will feel right at home, but for those new to it; you drive a selection of some of the worlds most exotic supercars (and some not so exotic) trying to speed away from the Police using all manner of underhanded tactics to shake them off such as oil slicks.
Or if you're a more law abiding citizen, you can turn the tables and play as the Police and use your stinger strips and and roadblocks to stop the fugitive.
Controls on the Play are really nice, very responsive and graphically it isn't a bad looking game when you see it up close. There's also plenty of variety with 20 cars and 24 events to choose from.
Android Central Newsletter
Get instant access to breaking news, the hottest reviews, great deals and helpful tips
What happened to the library of PlayStation games that were supposed to come to all android devices?

I'm wondering the same thing- I've had the Xperia PLAY ("PlayStation phone") since it launched in Australian and we still have only nine PlayStation/PSOne games available, with no information on additional titles coming! What makes it workse is that fact that it is common knowledge Sony Ericsson have interally verified that the Xperia PLAY ("PlayStation phone") is capable of running the PSP (PlayStation Portable) versions of LittleBigPlanet, God of War and Invizimals, yet at the time of writing, there is no sign that these games will be made available to the public...

If you havn't already got it, use fpse playstation one emulator here: https://market.android.com/details?id=com.emulator.fpse&feature=search_r...
It ran all the games I tried on it perfectly, and I believe it supports xperia play buttons after you set them up.

Err? Exclusive meaning Exclusive in Android? Coz iOS has this game for more than 6months.

Why are we always like 1 year behind iOS games? iOS has already had Need for Speed Shift 2 for at least a month now, and we're only now getting Need for Speed Hot Pursuit, the previous game...and it's currently exclusive to the Xperia Play. C'mon EA.

One would think with Android's market share, they would treat crapple like a red headed step child not Android.

yea but with apple they only have to develop it one time and it will work on all devices. not so with android.

EA is probably had enough with android, because it seems to be a major pain in the ass for them. NFS Shift constantly has had problems on different devices, got really bad market ratings as a result, etc.

You can get this on the HP TouchPad already also.

that's funny i have it on my evo 3d works great looks good

how did you get it to work on the 3D? i really want to play minecraft on my 3D. sure wish they would release it. anyone seen it work on anything other than the XP?

Firstly, the Xperia PLAY ("PlayStation phone") does NOT have an "on-board store"- it links to the Android Market, the PlayStation/PSOne section of the Android Market (closed to non-PlayStation Suite devices) and individual developer's stores (usually Web-based)... In the case of Need for Speed: Hot Pursuit, the game is only available through Electronic Arts Web-based store (actually, you download them game from their Web-store, and then purchase it in-app). Anyway, until this game is made available through the Android Market, I won't be buying it for my Xperia PLAY ("PlayStation phone"), as much as I want to... Games in the Android Market have reviews, comments, ratings, support links and downloadable updates - things that are all missing from games purchased elsewhere!

All the EA games check for updates each time you launch them. If you unistall it or wipe your phone all you have to do is download it off the EA site again and it will recognize your phone so you don't have to worry about re-purchasing. Although I would rather have the purchase thru the market myself, EA games simply aren't making it there. Battlefield, Dead Space, D.A.R.K, and now NFS all work great and are far less buggy then most the games on the market. Plus, you'll be waiting awhile. I got battlefield back in July and it finally showed up in the games launcher half way thru August, and even then you could only purchase it thru vCast which would be way worse.

What device do you have? I didn't know that battlefield was released on android. Where or how did you get it? Thanks

Hi I'm new to new tech, but can enyone help me root me phone its a HTC wildfire. Any help would help thank you.

Hi I'm new to new tech, but can enyone help me root me phone its a HTC wildfire. Any help would help thank you.

Any ideas for new games not many work on HTC wildfire. Thank you
Android Central Newsletter
Get instant access to breaking news, the hottest reviews, great deals and helpful tips
Thank you for signing up to Android Central. You will receive a verification email shortly.
There was a problem. Please refresh the page and try again.