MyFitnessPal adds premium subscription option for $9.99 per month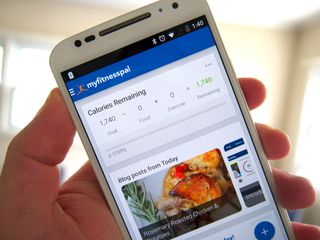 MyFitnessPal Premium runs $9.99 per month, or $49.99 a year, and removes advertisements, adds premium content such as original recipes and meal plans, and lets subscribers jump ahead in line for customer support.
Additionally, MyFitnessPal has added more granular controls for tracking food intake with an updated nutrient dashboard that allows users to change the default display to what is most important to them. Users can select from a few different modes (heart-health, carb conscious, and macronutrients), along with the added ability to track macronutrients by either gram or percentage.
This is the first big move for MyFitnessPal since Under Armour acquired the app earlier this year. If you're interested in checking out MyFitnessPal Premium, you can check out the source link below for the full breakdown and how to get started.
Source: MyFitnessPal (opens in new tab)
No way would I pay $10 a month for that. Maybe $1 a month.

Same here. I've been using the app since 2010 and love it, but not at that price. Posted via the Android Central App

Ass Posted via Android Central App

Sara Posted via Android Central App

Net Flix vs My Fitness Pal. No Brainier !! See ya My Fitness Pal.

Looks like they're wanting to push people towards the yearly subscription.

Hui Posted via Android Central App

Hi Posted via Android Central App

I wouldn't pay a sub for anything other than an MMO on a PC. I am still using Office XP...

Anything that requires continued work for maintenance, I'm all for subs. For programs/apps like this are written and done with, no way would I pay monthly.

Wonder how surprised they'll be when no one takes them up on it?

Been using this for years with Ad Away on Android and Ad Block on Chrome. I've always wanted to purchase the app to support the company since this is the best app of it's kind out there. That said with this pricing model they've decided to adopt they can blow themselves. Looks like I'll be sticking to using the app and blocking their revenue stream.

$10.00 a month ! I won't be able to buy my Crispy Cream Doughnuts Pure Insanity,that what it is. The world has gone mad !

Lol no thanks. It looks like everyone else is saying the same. Posted via the Android Central App

If I still used the app I would NOT mind paying a subscription, but if those extra features aren't super special they're going to have a tough time selling people on ten bucks a month. Haven't really looked into what the extra features are but I can't imagine they'd be worth that. Posted via the Android Central App

myfitnesspal has ads? I've never seen them. I guess my adblocker is doing its job.

I don't use an ad-blocker and I never noticed them. I think I have a built-in ad-blocker in my cerebral cortex.

Yeah bro, depriving devs of income, badass. Posted via the Android Central App

I always buy an app if there is an ad-free version, but 10 bucks a month for an ad-free experience? No thank you.

Useless, I might as well join weight watchers.
I'll stick with free version Posted via Android Central App on 1+1

Take that $120 you aren't spending and go see a nutritionist.

They should have two options: $5 to get rid of the ads
or
Monthly subscription for all the other stuff + no ads.

You just knew this was coming with Under Armour at the helm.

Another over-priced product from Under Armour? That never happens!

I see no reason to spend $50 a year on this app. I use it everyday and would be happy to throw some money their way for the quality app that it is but not $50. They need to have some options for people that want to get rid of ads or only want some of the premium features. I'm still not sure I've seen ads though. If I do they don't bother me I guess. Posted via the Android Central App

It's $9.99/mo, not $4/ mo. Posted via the Android Central App
Android Central Newsletter
Get the best of Android Central in in your inbox, every day!
Thank you for signing up to Android Central. You will receive a verification email shortly.
There was a problem. Please refresh the page and try again.