Monument Valley 2 is available for pre-registration in the Play Store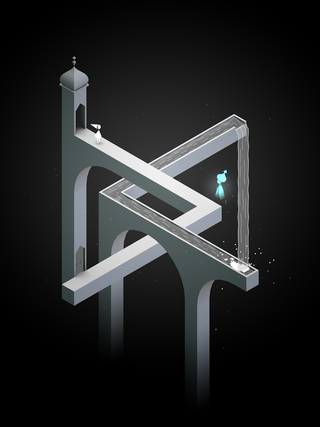 Since its release, Monument Valley has been known as one of the best puzzle games on iOS and Android. The game centers around moving a character through a living M.C. Escher painting and isn't subject to in your face advertisement or micro transactions like most mobile games.
Apple featured Monument Valley 2 at this year's WWDC developer's conference, and the game will soon be available to Android users. Android Police reports that users can now pre-register for the game through the Google Play Store (opens in new tab).
Pre-registering won't make the game release any faster, but users will get a notification on their device when the game is available. There's no word on pricing information, but it is likely to cost the same $4.99 it is on the iOS App Store.
Are you interested in playing Monument Valley 2? Let us know down below!
Android Central Newsletter
Get instant access to breaking news, the hottest reviews, great deals and helpful tips
Loved the first one. This makes me want to revisit it.

Same. It'll be an instant buy for me.

Absolutely will be an instant buy for me. I hope the game is a little longer this time, or they have more expansion content to buy. I realize that each level gets a lot of thought and must be a nightmare to design, but I really can't get enough of this game and would buy all the expansions if the developers put them out.

I emailed them soon after the original released to ask if they were continuing the 'saga' and they said they had no plans for another one. This announcement makes me so happy! Love the game, still play it from time to time and can't wait for the second now.

The alt-right is busy producing their own version: Confederate Monument Valley.

Let me know when that app is available. I am not fan of Confederate anything but I am certainly not afraid of my or any other past. History is meant to be learned from every side right or wrong. This is the slickest slippery slope, you start down this one you can just start burning books and jailing those for free speech right now.

I wonder why they released a new app rather than releasing new content via IAP in the original game like they have in the past. Regardless, I'm all over it. I hope it's a little more challenging than the original, but even if it's not, if it's as enjoyable as the first, it'll be well worth the purchase.

It's a very different storyline. The first featured a princess, Ida, searching for something. This features two characters: a mother, Ro, and her child. I'll bet this new one doesn't have any crow people. Also, the first one got a lot of complaints for having Forbidden Shores be an IAP rather than at no additional cost. (Some people are adamantly opposed to *any* IAP, regardless of how much it brings to the game.) Also, the first game would be unnecessarily huge (in storage) and require downloading again if this was an IAP to the first game rather than its own game; I think Forbidden Shores made the size about 70% bigger.

Ah, that makes a lot of sense. The negative reaction to charging for Forgotten Shores was completely ridiculous. As far as I'm concerned, when you buy a game, you're owed periodic bug fixes, and updates to ensure that it continues to work on new OS versions. Charging for new content (and Forgotten Shores was a LOT of new content) is the way it should work. And dammit, I'll miss the crow people.

Will happily snag a pirated copy just to piss off the dev who is a notorious Android hater. He releases his games on Android ages after the iOS version then goes complaining that it doesnt sell.. flock this clown.

its an awesome game and unfortunately this is a problem with many devs. I'm not gonna say such harsh things as you but I agree that this is a problem. Constantly trying to (still in 2017) convince iphone users of how good Android is and the legitimacy of the of the OS and they show me popular apps they've had, and gotten bored with already on iPhone, only to see it in the play store a month later with little or no fanfare. This is a fast paced market and if you hesitate to develop cross-platform youre either dumb, lazy or an Android hater.

That attitude is exactly why popular games get released on iOS first.

Sorry pal but you're mistaken; it's not about the money, it's about the attitude.
I don't mind paying for games.
Not even those that are considered expensive for the platform. Just bought Metal Gear Solid 2 HD no later than yesterday.
But as long as Android is going to be a second thought for him, this particular dev ain't gonna see MY money, that's what I'm saying.

No. Tom is exactly right.

"I'm pissed that this dev thinks android is for pirates, so I'm going to pirate his app to show him he is wrong..." Yep, I'm still on the interweb.

I had this on my iPhone a while ago. It's hard enough to make it frustrating instead of enjoyable. But, that may be what some want.

I'm still not done with the first one lol. UT I'm definitely gonna get this.

I'll pick it up when it goes on sale from either Google or Amazon.

Absolutely Loved the first game as well as the additional levels.
Eagerly awaiting the new game..
Android Central Newsletter
Get instant access to breaking news, the hottest reviews, great deals and helpful tips
Thank you for signing up to Android Central. You will receive a verification email shortly.
There was a problem. Please refresh the page and try again.