Milestone 3 gets a complete run-through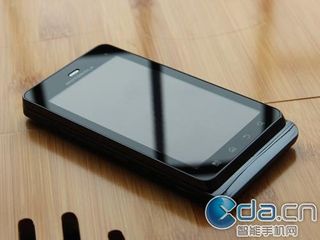 Although the device has been caught on camera more times then we can count now -- its never been quite caught in quite such detail. Despite it not being the U.S. version, the Milestone 3 -- which may or may not come to market as the Droid 3 -- has just received a total break down of its screen, specs and even benchmarks courtesy of the folks from XDA.cn and it now we can confirm all those specs that have been rumored in the past.
4-inch qHD Display
8MP Rear Camera (1080p video capable)
VGA Front-Facing Camera
1500mAh Battery
Dual-Core OMAP 4430 processor
512MB of RAM
Updated MotoBlur
We're guessing those specs won't meet the expectations of the hardcore users out there but when this thing comes to market, we're sure it'll still sell quite a bit. You can jump on past the break for some more image of the device, benchmarks and more.
Source: XDA.cn; Thanks, everyone who sent this in!
Android Central Newsletter
Get instant access to breaking news, the hottest reviews, great deals and helpful tips
I'll pass on this definately....

Of course you will because you are on sprint and since this phone isnt coming to sprint it's common sense.

Why cant this be a Lte phone.... Is it really that much to ask for a physical keyboard and lte ?

At this point it really is too much to ask for because the problem is with the amount of space the keyboard takes up.

Then how did HTC put a 4G antenna in a thin landscape slider with the Evo shift?

I had high hopes for Tegra 2 but imma wait & see

Before you go chasing a buzz word like Tegra 2, look up the specs for this proc. I think it will out perform the Tegra 2.

Yea , you are absolutely right , it does out perform the Tegra 2
But i kinda liked the "Tegra Zone" games

Are those Specs final ?
Man , I hope not
We need more RAM , 512 ain't gonna cut it

forget LTE, forget Tegra2, forget everything else when all you have is a despicable 512MB RAM. I love my OG Droid but the 256MB RAM has always been a pebble in my shoe and Im sick of it. The D2G packed 8GB RAM, and a yr later we're back down to 512MB ?!?! are u kidding me ?!?! Im tired of waiting and for this phone. 512MB is my dealbreaker.. i find that even worse than a locked bootloader. A device can still be rooted w a locked bootloader, it can still be ROM'd w a locked bootloader. It can't be overclocked but what can I do w a supe'd up phone that I cant doesnt have the memory to handle it.

Um, it absolutely did not have 8GB of RAM, that's internal storage.

The Droid 2 also had a 512MB RAM
the 8GB was the ROM (Internal storage) I just found out that the OMAP4430 CPU supports DDR2 RAM which supposed to be allot faster If you mean that you hate the 256MB ROM (Which is actually 130MB) (Internal Storage) ,
well guess what , I hate it more than you do ! even though I love my OG MileStone I hope the Droid\MileStone 3 have 16GB of ROM (or at least 8GB) Man i hate the "Low Storage" icon

I googled the "Dual-Core OMAP 4430 processor" What I've found is , this : - CPU :
Dual Core 1GHz - GPU :
PowerVR SGX540 @ 304 MHz - RAM : DDR2 512MB Are those Specs true ? http://en.wikipedia.org/wiki/Texas_Instruments_OMAP#OMAP_4

Sure, it's 512, but it's DDR2, so it'll at least be faster RAM.

512MB on my Nexus S and have no problems.

same here , 256MB on my OG MileStone & have no problems Its just that , when you look at the Atrix & its 1GB RAM , its kinda sad to use 512MB

The 1GB RAM for the Atrix is misleading as it is really only using 512 MB RAM for the phone, the other 512 MB is reserved to run the webtop dock.

Yea , I agree with you on it being misleading , but it runs 800MB for the phone & 224 reserved for the WebTop , until you start the WebTop mode , than the WebTop uses more RAM (allot more RAM)

Thats "3D MOTOBLUR" right ?

Pass..... I find other OS more attractive lately..... we'll see.... definite fail here tho!

So , lets look at the improvements : 4-inch qHD Display Vs. 3.7" TFT Display
8MP Camera with 1080p recording Vs. 5MP Without HD
VGA Front-Facing Camera Vs. None
1500mAh Battery Vs. 1400 mAh
Dual-Core OMAP 4430 processor Vs. OMAP3430\OMAP3630
512MB DDR2 of RAM Vs. 256MB DDR1\512DDR1
All Black Vs. BLK&GLD \ BLU&SLVR
5 raw Keyboard Vs. 4& D-PAD \ 4 Raw

It's a nice upgrade for people coming from an original Droid whose contracts are coming up for renewal. If you're someone who wants a keyboard your not going to find a better choice on Verizon right now. For those of us that want the highest end of everything and lte to boot we will wait forcthe Bionic.

Or a highest end of Tech. for a GSM phone

This phone puts the X2 to shame.

I love my droidx1, but I used to have the OG droid-- still think it was a gorgeous phone. Wonder what this will be like? Much like my OG droid, I will have to hold this one and see it up close to really now. But won't be leaving the DX1 for this . . .

This would be one killer device if it had more ram and the LTE radio. With those added specs Verizon wouldn't be able to keep these on the shelf. It has a perfect size screen and probably the best sliding hardware built. Why the hell no LTE??? Doesn't make any sense.

This would be a great device if it were 4G LTE!!

If u look at the spec sheet of the Milestone 3 at the site then it shows that the cpu is a Nvidia Tegra 2 and not an Omap 4430, so does the Milestone 3 have an omap or nvidia cpu?Can someone please clearify this.

Why do the two quadrant results have different status bars? Are they both from the milestone 3?
Android Central Newsletter
Get instant access to breaking news, the hottest reviews, great deals and helpful tips
Thank you for signing up to Android Central. You will receive a verification email shortly.
There was a problem. Please refresh the page and try again.