Microsoft made Android Windows-friendly — but the work is far from done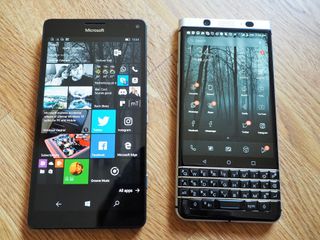 For Windows 10 Mobile users, it has been a painful couple of years. After months of virtual silence, Microsoft unceremoniously announced it was leaving its phone users high and dry, as Windows 10 Mobile entered maintenance mode. No more features are planned for Microsoft's zombie phone platform, save for security patches to support the company's dwindling mobile business portfolio.
Thankfully, for those invested in the Microsoft ecosystem, its support of Android is fairly good. The clean and speedy Microsoft Launcher app make it easy to access all of your services at a glance. Cortana can replace Google's own assistant, and you can set up and sync Microsoft Edge as your browser, too. OneDrive, Office, OneNote, and Office Lens are available in force, and even Xbox has an app.
However, for users switching across from Windows 10 Mobile, there are still a few services and apps that I've missed. Here are just a few.
Photos
Although OneDrive has a dedicated Photos section and can handle your camera backups and other folders, a dedicated app that mirror's the features and content on the Windows 10 Photos app would be a welcome addition, replacing the default gallery on Android or Google's own Photos app.
The OneDrive app for Android, when set up properly, will match the contents of your Windows 10 Photos app as long as you're syncing in a chronological timeline. However, the editing features, including some of the more powerful ones that feature inking and video clip editing are missing on Android. It would be nice if we could get a dedicated app that would allow us to edit or continue editing projects across both PCs and phones, syncing via our Microsoft accounts.
Movies & TV
This is a fairly big, continuing oversight that might be linked to licensing issues. However, if Microsoft is still serious about its digital movies and TV business, an Android (and iOS) version is an absolute must-have.
On Windows 10, Mobile, and Xbox One, you can view your movies and TV purchases at any time, and on Windows, you can download the media for offline playback, which is great for long commutes and other situations where you might not have a larger device in hand. Why this isn't on Android already is a mystery, but as Microsoft cuts the head off its mobile efforts, the fact we can no longer access our digital content on the go is supremely annoying.
Xbox
While there already is an Xbox app on Android, it's painfully slow, with needlessly long transition animations. Messages on your own account and any Clubs you're part of load at a snail's pace, and the app generally feels unresponsive and, well, strange compared to similar tools. This could be a byproduct of how bloated and overly complex it is, attempting to incorporate tons of features, but then if it is, the experience overall is degraded as a result.
Microsoft might benefit from splitting up the Xbox app between its different use cases. For example, a dedicated app that handles Xbox clips, editing, and downloading, with a separate speedy app that handles messages and Clubs. As it stands, Discord's speed and usability will continue to steal communication share from Xbox Live for external use. This needn't be the case.
SMS sync/calling for PC
Cortana for Android is supposed to notify you of incoming texts and missed calls on a synchronized Windows 10 PC, but in my experience, she only works about 30% of the time for this feature.
At CES 2018, Dell revealed an exclusive tool for its upcoming PCs, that would allow a full-blown companion experience for users of its computers on Android. Full app mirroring, calling, SMS, and more, directly from a UWP app to your phone. Naturally, for those of us not using Dell PCs, at the very least, reliable SMS and calling between a Windows 10 PC and Android should be a baseline feature at this point. Cortana has simply proven to be unreliable, in my experience.
What else?
There's a range of other features I miss from Windows 10 Mobile as a Windows Phone refugee. Most of them were offered by UWP apps like MyTube, offering background YouTube audio, for example. I also miss live tiles. While interactive, Android widgets are ugly, non-standardized, and rarely fit the look and theme of your phone. Also, while this doesn't necessarily affect me as a Blackberry KEYone QWERTY keyboard user, I've heard complaints that Microsoft's SwiftKey Android keyboard is but a shadow of Wordflow on Windows 10 Mobile.
If you already made the switch, what apps and services from Windows 10 Mobile do you find yourself missing? Let us know below.
Get the Android Central Newsletter
Instant access to breaking news, the hottest reviews, great deals and helpful tips.