Microsoft and Google hug it out, agree to withdraw regulatory complaints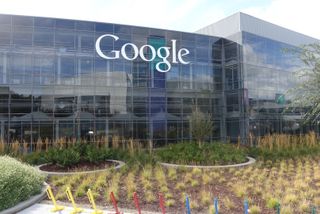 Are Microsoft and Google entering a new era of cooperation? A new report states the two companies are going to work together to resolve any issues among themselves before bringing in outside regulators.
The report says this development has been in the works for some time and reflects the more cordial relationship between Microsoft CEO Satya Nadella and Google CEO Sundar Pichai. It's certainly a far cry from Microsoft's previous public efforts to go after Google for its search and ad policies under its now discontinued "Scroogled" campaign. Microsoft has also recently ended its membership of two groups, FairSearch and ICOMP, that publicly supported antitrust actions against Google's search business.
I don't see any pigs flying? I think they are 21 days with this April Fools joke.
http://giphy.com/gifs/fox-foxtv-newgirl-zN3IyVQag8smY

At the time this was posted, it was the 22nd april in australia. Posted via the Android Central App

I've always wanted to ask an Aussie, how does the future feel? Lol Opinion expressed from a Moto X Pure

Ok that's racist. I'm not offended since im half australian half european I think sydney is 16 hours in front of america. Posted via the Android Central App

I'm awake at 2am posting these replies lol
Its the 23rd now...
:D Posted via the Android Central App

It's not that different really. Though the flying cars are cool Blackberry Priv
Nvidia Shield "Portable"
Sony Xperia Z3 Tablet Compact

I read that article vigorously. Posted via my LG G5

Lol Posted via the Android Central App

Sounds like MS made cuts to their legal department along with the phone division. Not enough lawyers to file all those suits anymore, lol. Hopefully they spend that money improving W10

Of course, now that they've sicced the EU hounds on Google to do their dirty work for them, they can sit back and play nice...

Hey Apple and Samsung, take note of this sentence
"Our companies compete vigorously, but we want to do so on the merits of our products, not in legal proceedings."
Save some of those lawyer fees and subtract them from product costs?

I was thinking the same thing. Too many lawsuits bouncing around...

I was rooting for those crazy kids. See what we can accomplish when we put non Americans in charge? Haha! It's best to assume I'm being sarcastic. if I'm ever serious I'll type "/s" to make it clear.

Americans not suing each other? What is this April fools? Posted via the Android Central App

I will strike you down you insufferable Gungan scum. I hate Gungans. Posted from the Star Destroyer The Finalizer in General Hux's bedroo above Moraband.

Maybe we will see Google Apps in the Windows store? I can only hope... Posted with the Nexus 6, Nexus 5, or Surface Pro 3

This has been my hope for the longest time now. I tried out W10M and loved it, but I couldn't stay with it since I am so ingrained in the Google-verse. I would still gladly use Google apps on a W10M phone and finally be completely happy.

I agree. I have used windows phones and have liked them, but I too am in too deep with google services that I can't use a windows phone at this time. Also, I won't use any third-party apps to use google services.

There are some third party YouTube apps in the windows store that are in my opinion a lot better than the official YouTube app on android Posted via the Android Central App

Hey go on youtube, search "How do i download android apps on windows 10 mobile" and there a good method if ypu wish :D Posted via the Android Central App

That's very outdated, the latest W10M builds don't have Android Runtime thingy in them, so you cant install android apps anymore.

I done it this morning and my brothers 540 was updated before i done it. It works fine... Posted via the Android Central App

Windows 10 will need more users first in order for Google to develop apps for the platform. Microsoft could at least develop apps for Chrome OS and Fire OS for Amazon.

200+ million isn't enough? Remember, a Windows UWP app can easily address all form factors - Desktop, Tablet, and Phone. It's not volume that keeps Google from developing for W10. It's strategic with the platform overlap and enterprise targets. As well as Eric Schmidt's institutionalized deflections of his Novell miscues towards Microsoft. Posted via the Android Central App

I was on windows central 5 mins ago and this same article has over 70 comments now. Most of them are talking about google apps on windows store and they are saying that google is afraid of Windows 10 mobile beating android as most of the features on w10m come from the pc version. As windows is the largest pc os, windows phone could easily beat other os' if the app lack problem is solved. I REALLY dont think google apps are coming to windows phone... Posted via the Android Central App

If you think about it, Google does have a major hand in Windows Phone/10 stunted growth since their apps are among the most popular and desired. No Google apps(especially YouTube, Maps, and Gmail) means less people are likely to use your platform. Posted via the Android Central App

Microsoft should do a better job helping Google develop apps for Windows. Google doesn't want to waste their resources on an unproven platform. 1 Billion users is a long way to go.

They at least did make a YouTube app but Google wanted Microsoft to pull it. Posted via the Android Central App

True, i downloaded it but it was just a link to youtube.com on internet explorer. Posted via the Android Central App

That was the result after Google blocked it. The MS developed app had an embedded player, local playlist management, etc. Posted via the Android Central App

The google app itself is the only google app on the store. They never updated it so we get a blue square with a little white "g" on it. Posted via the Android Central App

Microsoft needs to do something with Google. I read a report yesterday that said their phone sales are down 70% from last year. That's walking a very thin line. Posted via the Android Central App

That would be a big deal if they were trying to sell phones. They aren't trying to sell phones right now, they've almost completely pulled out of the phone market on purpose. They have more important things to focus on, and they want to give OEMs some breathing room to grab more of the WP share Posted via the Android Central App

it is down around 40% and they themselves said it this year their major focus will be for the windows 10 and not for windows 10 mobile. But many leaks on evleaks twitter account say that they are preparing for something big "mind blowing" and will change everything next year and that might be the Surface mobile.

On windows central, people are saying google is gonna backstab microsoft in the end... Posted via the Android Central App

So maybe Microsoft comes out with its own Android, and perhaps its own Android development IDE that uses C# instead of Java, and maybe its own line of Microsoft Android phones? Since Windows phones have failed to take off, Microsoft may be considering such a scenario as an alternative strategy for success in the mobile phone space. And since Google has become Microsoft in the Android arena, Microsoft's entry into that arena would be a welcome event. But maybe I'm reading a little too much into this. Speculation is fun.

People are saying wp has failed and the 650 is the last lumia. They are also saying that in 1-3 years, microsoft will launch a rumoured "surface phone " to fix the hardware side of things, but not software. All this in hard ware is a rumour, and there is no word on software changes. The lumia 650 came out 2 months ago... Posted via the Android Central App

Hmmm, maybe they feel sorry for Google getting in the crosshairs of the EU:)

Clever plan Microsoft, wait til after EU probes and formally charges Google with Android antitrust do you suddenly decide "well, our job of complaining against Google is done guys. Let's end our lawsuits and let the EU handle the rest from here". Lol Well, after all the lobbying Google did against MS during the IE charges in the 2000s, karma hits them almost a decade later. Posted via the Android Central App

Seems like a win for Microsoft. Now that they wrangle not 1 but 2 antitrust suits from the EU against Google, they will refrain from complaints. Google is in a world of **** in Europe now and will be for years with the trouble started by Microsoft complaints and eaten up by the EU.. While still good overall (lawsuits are crazy nowadays and stifle innovation) , 2 years ago this news would have been much more helpful for Google.

Now that the EU is down Google's throat it makes sense for Microsoft to play the nice neighbor. Microsoft is all like, "Mad at Google for taking all of our customers? Nah, we're good buddies with Google. The EU thing is totally not fair." All while winking over at the regulators in the EU.

Just make a surface phone running full windows 10. Surely the mobile/Intel processors are faster than Pentium processors? Posted via the Android Central App
Android Central Newsletter
Get the best of Android Central in in your inbox, every day!
Thank you for signing up to Android Central. You will receive a verification email shortly.
There was a problem. Please refresh the page and try again.