Madden NFL 19 for PlayStation 4: Everything you need to know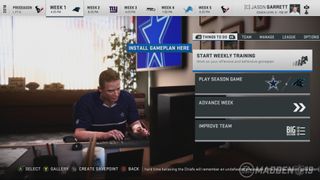 Madden is back, and EA has made a lot of changes this year to make the annual purchase worth considering. We're here to tell you everything that's new in Madden NFL 19, with big changes to gameplay, franchise mode, broadcast graphics, and an all-new Longshot story mode to spend your time with. This is everything you need to know.
August 7th, 2018 — It's Madden season!
Madden 19 is now available for those who pre-ordered the Hall of Fame edition. For $79.99, you'll not only get early access to the game, but additional packs to use in the game's Ultimate Team mode. You can buy the game on Amazon right now and still get access ahead of Friday's general release.
Stay tuned to Android Central as we provide additional coverage on Madden NFL 19, including guides on how to get started on Madden's Ultimate Team mode, as well as some gameplay tips to help you win more games.
July 19th, 2018 — Madden NFL 19 cover star revealed
EA has announced the cover star for the standard version of Madden NFL 19. It's Pittsburgh Steelers wide receiver Antonio Brown, who is making believers out of everyone with his consistency and rare skillset week in and week out. Here's what he had ot say about the pick:
Terrell Owens remains the cover star for those who pre-order the $80 Hall of Fame Edition.
What's Madden NFL 19?
Madden is the annual NFL football franchise and the only game of its kind on the market. It features all 32 NFL teams, their players, and even some Hall of Famers and legends in some modes. The game aims to deliver a deep, satisfying gameplay experience for casual and serious football fans alike.
Longshot story mode returns
Let's begin with Longshot, the story mode of Madden that was introduced in last year's version of the game. Longshot followed Devin Wade (Quarterback) and Colt Cruise (Wide Receiver), two college players who find themselves on the road to the NFL draft.
You help guide the two to the promised land by helping them land on a show called The Longshot. While football ability was a big part of getting them to the big leagues, it was also your decisions off the field which determined your success. The two eventually get drafted to their respective teams, and it's happily ever after.
Except, that story mode is back for Madden 19, and it matures with the continuance of their stories. They're no longer prospects, but actual NFL players, and that comes with a whole new set of challenges.
While we don't know the specifics of the story just yet (except for the fact that Devin Wade starts his career with the Dallas Cowboys and Colt Cruise is in the wind), EA has mentioned that this year's Longshot will have a bigger emphasis on actual football gameplay. This means that player skill will be even more important. And both on-field and off-field happenings have been heavily influenced by actual NFL goings-on.
Once the story mode wraps up, you'll be able to use Wade and Cruise in modes like Franchise and Madden Ultimate Team. The previous game also had other celebrity characters such as Dan Marino, Chad Johnson (Chad Ochocinco), and Mahershala Ali, all of whom could also be played. We don't know if this year's game will have more guest appearances.
New gameplay features
Madden 19 is getting a wealth of new gameplay changes this year. The bulk of the changes deal with player motion. EA has added all new animations and a more realistic physics engine to make player movement feel as real as possible.
One of the biggest things working toward that goal is managing your player's Acceleration Burst, as it will determine the kind of running you can do. The faster you move, the less drastic your directional changes can be. You'll need to slow down if you want to make wide, sweeping turns and cuts. That doesn't mean you can't fake out a defender while going full speed - you'll still have your special ball carrier moves to help with that - but it's going to be harder. It adds a nice risk vs. reward element to the core gameplay experience.
This system lends itself to several subsystems, too. A new one-cut move for running backs allows you to take a sharp cut into a new direction as long as you time the new Acceleration Burst mechanic right. Defenders can gain access to the same ability to help shut that move down.
There are other many cool gameplay changes, too. You can now branch special moves together in fluid motion, so the ability to juke into a spin back into a juke is a thing. It'll likely be difficult to pull off, and it's probably mostly dependent on the attributes your player has.
A new hit-the-hole mechanic allows you to find your way through the clogged up line of scrimmage with the flick of an analog stick. Hit the wrong hole and you're just as likely to be tackled where you stand.
You can even push the pile as the running back, giving you the ability to let your big linemen up front do the dirty work to pick up a tough extra few yards when you can't find your way through the line.
In the passing game, defenders and receivers will enjoy a more realistic suite of animations, reactions, and moves for reacting to the ball. The goal here is to give players more control over the outcome of a catch. EA admitted in the past that the jump ball situation can be a bit pre-determined, so this is something fans should be happy to hear.
On the defensive side of the ball, you'll see fine tuning to AI and logic for several formations, including Cover 2, Cover 3, Cover 4, Tampa 2, and more. An entirely new formation that features three safeties out of its five defensive backs is also being added, and it comes with a whole new suite of plays of its own.
And on the fun side of things, touchdown celebrations are coming back! It's not that we haven't had celebrations before, but they weren't emphasized due to Madden's need to adhere to the NFL's strict public image. But the NFL famously loosened restrictions on player and team touchdown celebrations last year, so Madden 19 will allow you to take part in interactive celebrations using your right analog stick.
There will be generic moves such as a spike or a dance, but you can also pull off a Player Signature move, if available. If you're feeling especially competitive, you can even steal the signature move from a player of the opposing team to rub it in real good. EA is planning on updating the game with new celebrations as the year goes on, too, so you'll have a chance to see some of the new moves that are sure to pop up each and every Sunday.
With all these great additions comes the need for updated controls. Thankfully, EA has already given us the layout of what to expect so you can start adjusting your muscle memory.
Franchise mode revamped
Many Madden fans have been complaining lately that the game's franchise mode has largely gone untouched for quite some time. The minor adjustments year-to-year end with Madden 19, apparently. Franchise mode was a big focus for EA this time around, with a nice mix of both cosmetic and functional improvements to make it feel fresh.
For starters, team and coaching schemes actually mean something now. While players had specific archetypes they could fit into before - such as being a strong-arm quarterback vs. a mobile one - the designation never translated into anything meaningful. In Madden 19, that trend is bucked thanks to an archetype-based progression system.
Instead of using experience on individual player attributes and stats, you now gain skill points that can be used to improve your character's rating for any given archetype. Each skill point jumps the player up an entire level in their overall rating, and their underlying ratings - such as short throw accuracy or play-action pass for a quarterback - improves as well. You can choose to upgrade a player at any one of his possible archetypes.
You'll want to focus in on a specific archetype, though, because coaching schemes now play a part in just how successful your players can be. Players who fit into your coach's scheme will earn even more experience, so it'll be easier to get them playing to their fullest potential.
You can change your scheme whenever you want, so if you notice you've been acquiring a lot of players that can play well into a particular scheme then you can make a change to maximize your team's effectiveness. Players who fit into your scheme will have a purple puzzle icon on their player card, so it'll be easy to spot the perfect fits for your team at a glance.
Keeping with improvements to roster management, the addition of new specialist positions is sure to delight. You can now place players into roster spots for positions like 3rd-down running back, slot receiver, or nickel corner. These positions are used in several formations and require players with specific skill sets, typically increased speed or strength.
In previous Madden games, these adjustments required in-game substitutions, but you can now call plays and rest easy knowing the game will automatically substitute the right player in for the play you called. To support all of this deeper player scheme stuff, there are as many as 11 new attributes that'll help differentiate players on the field even more.
Player development is also getting a facelift. There are now four different levels of progression speeds: normal, quick, star, and superstar. These ratings change more frequently than in the past, but the superstar rating is now reserved for the most elite players at each position. Expect just a few players in the league per position to be able to hold that classification.
Those players also regress in skill more slowly than lesser ones, so getting a superstar at a core position on your team figures to be a solid ongoing goal. There's a chance to draft a player with any of these development traits from the beginning of their career, but finding a superstar is going to be extremely rare. It'll reward players who do their homework to find the best player available in the annual draft.
Speaking of that draft, you can always get by just fine with the draft classes generated by the game. That said, Madden 19 now gives you the ability to edit or import custom draft classes when scouting begins in week 3. This is a huge boon for players who want realistic NFL draft classes, or for those who just want to have a little fun editing the player names and attributes.
You can reward your best players with Team Captain patches, a nice way to recognize your team's most influential talent. It won't do anything from a gameplay standpoint, but it's cool that this recognition system is finally represented in Madden.
As you do your daily bidding, you'll see several new 3D environments based on your current task. If you're talking to players, you'll see them getting ready for gameday in the locker room. If you're going over the game plan, you'll see your coach typing away at his desk. And if you've won a Super Bowl, you'll also see that trophy sitting somewhere in his office.
The love extends all the way to draft day, with the banquet hall showing each team's picks up on the big viewing board. Drafted players will be shown in the uniform of the teams which drafted them as their stats are revealed. It should help franchise mode feel a lot more alive than the static 2D menus of old.
Upgraded presentation
Gameday presentation is getting some nice touches this year. EA is continuing the rollout of their highly detailed stadium exteriors. They scan these exteriors with a technology that lets them easily recreate the stadium and surrounding areas in high detail. This year, there are scans of the stadiums for the Buffalo Bills, Chicago Bears, Tampa Bay Buccaneers, Kansas City Chiefs, Miami Dolphins, Atlanta Falcons, New England Patriots, and Tennessee Titans.
Pre-game, halftime, and post-game broadcast graphics are being given the 3D treatment, too. The halftime show, in particular, is interesting, as it will feature more "around the league" talk to help you keep up with the rest of the league.
For commentary, a new story development feature will allow Brandon Gaudin and Charles Davis to talk about stories about things happening in your game and season. They'll do things like refer back to a time when your running back had a 1,000-yard season, and when they note that 100 yards should be doable for him in a game they'll make comments about whether he can reach that goal according to what's going on in the game. This should make commentary feel less canned, a common complaint from Madden fans over the years.
Madden Ultimate Team changes
Madden's bread-winning mode, affectionately known as MUT, is getting some changes to make the game mode more accessible for everyone. This card-collecting mode lets you acquire and upgrade players for use in real competitive games. A big part of the mode is upgrading your cards and finding better players either through packs, solo challenges, or the auction house.
This year, player upgrades are getting easier. Instead of moving cards in and out of collections, you upgrade a player by applying "Training," a new currency type that exists for the sole purpose of upgrading. You can apply those upgrades by looking at the cards themselves, making it a far less painful experience compared to the menu hopping that we used to have.
Another issue MUT fans have dealt with over the years is having to build their teams according to player chemistry, a mechanic that gives you boosts for having players with the same chemistry rating. The problem is that players had to forego using their favorite players in order to get these bonuses. Power is being given back to us in this regard, as one of the features of player upgrades is a chemistry slot that you can use to slot in any applicable chemistry rating you want.
Other MUT changes include weekly solo battles and daily challenges that will give you nice coin, experience, and training bonuses for defeating CPU-controlled teams, the ability to play three-versus-three mode against the CPU, and streamlined player lineups to ensure everyone on your team contributes to your overall chemistry.
Pre-order bonuses
Ready to pre-order Madden 19? You can get the standard edition for $60, but there are no bonuses to be had.
The $80 Hall of Fame Edition features Terrell Owens on the cover and grants you access to one of five Hall of Fame players for your MUT squad, including Terrell Owens, Brian Urlacher, Rod Woodson, Dan Marino, or Terrell Davis. You'll also get 12 Gold Team Fantasy Packs, an elite version of the standard Madden 19 cover athlete (not yet announced) and two All-Madden uniforms. There's also the added benefit of getting the game three days early, on August 7th.
When can you play it?
Madden 19 launches August 10th for PlayStation 4, Xbox One, and PC. Buying the Hall of Fame Edition will let you play three days earlier, on August 7th.
Updated August 2018: Madden is now available! Find out how you can play early.
Get the Android Central Newsletter
Instant access to breaking news, the hottest reviews, great deals and helpful tips.