LG Watch Urbane 2nd Edition specs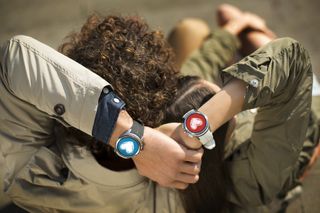 LG has been a leader in the Android Wear space for a while now, and their latest effort re-establishes that dominance in a big way. The Watch Urbane 2nd Edition looks nice, offers features no other Wear watch is offering, and includes some hardware under the hood that will make a lot of people look at their existing watch and consider upgrading.
Here's what's going on inside this tiny wrist computer.
| Category | Features |
| --- | --- |
| Size | 44.5mm x 14.2mm |
| Color | Space Black, Opan Blue, Lexe White, Signature Brown |
| Display | 480 x 480 resolution 1.38-inch P-Oled (348ppi) |
| CPU | 1.2GHz Qualcomm Snapdragon 400 |
| RAM | 768MB LPDDR3 |
| Storage | 4GB |
| Battery | 570mAh |
| Sensors | Gyroscope, Accelerometer, Heartrate, Compass, Barometer, PPG, GPS |
| Network | Wifi, 3G, LTE, Bluetooth 4.1 |
One spec you'll find absent from this list is the strap size, and that's because it's not replaceable in this generation of Watch Urbane models. LG has baked the antennae needed to make this watch do some of the mobile radio things into the strap, so removing it would obviously cause problems. As long as you are happy with the strap included with the color options LG has made available, this is shaping up to be an impressive addition to the Android Wear lineup.
Russell is a Contributing Editor at Android Central. He's a former server admin who has been using Android since the HTC G1, and quite literally wrote the book on Android tablets. You can usually find him chasing the next tech trend, much to the pain of his wallet. Find him on Facebook and Twitter
More interesting to see if the LTE requirement is phone or just data (i.e. tablet vs regular phone). I'd hope it's just data.

Sadly, their promo video features hip folks talking to their watches...

Wow...nice battery and screen. This one sounds intriguing

So what do you do when the strap is worn? The rest of the watch looks great, but I have got real into getting the quick release straps for my ZenWatch and making it look like a new watch when I feel like it.

Curious what quick release straps you have been getting. My Zenwatch is wearing a bit

Just search on Amazon for quick release watch band. I've picked up several leather and steel bands.

I hate proprietary straps. It definitely limits what you like. I'm a mesh strap type. That might actually be a deal breaker for me. Why they needed to put the radios in the strap is odd. Thanks for the info Russ. Do you know what charging type it takes? I didn't see it unless I'm overlooking it. Posted via the Android Central App

My guess is to minimize some of the size in the actual watch. The bigger battery takes up extra space there

Yeah. I probably would get over it cause the leather strap looks nice. Iono, I wish they have more insight on availability as I had planned to go pick up the Huawei today. The Urbane looks to be more future proof, however if the Huawei actually does have speaker, I'd survive. But this is bigger and more my size I like. Posted via the Android Central App

I'm waiting till they put a camera on it. Posted via the post master.

Samsung already that and it was a bad idea. Posted via the Android Central App

Maybe it didn't catch on because you had to have a samsung phone?

Huawatch ... ( 0ppo F5) ...

Why doesn't anyone use the Snapdragon 410 (or 210 maybe...?) in their Android Wear watches? Better performance and, more importantly, less of a drain on the battery. Sony Xperia Z2
Nvidia Sheild
Xperia Z3 Tablet Compact

Want.
Hopefully the price is fair

so will this work on Verizon?? or we don't know yet Posted via AC app on my X 14

Or will this work fine without a data plan? Like will it work like a normal Android wear watch?

It will probably be $500+ even with the regular silicone strap but may be worth it. Pair this with a T mobile wearables plan for $15 and you are good to go. AT&T needs to now come up with a similar plan.

How has no one commented on the built in GPS? Finally a smartwatch worth buying to replace my Garmin for tracking my runs. This is the spec I've been waiting for.

Sony smartwatch 3 has GPS. Posted via AC app on my X 14

Wonderful bit of kit. Great design, great build quality, feels solid, works incredibly well. This is my fourth GSM smart watch & the best, by far. It's as close to perfect as any tech I've bought, and I've been buying tech for 50 years. Just damned awesome.
Complaints? Needs wireless charging. That's all.
Android Central Newsletter
Get the best of Android Central in in your inbox, every day!
Thank you for signing up to Android Central. You will receive a verification email shortly.
There was a problem. Please refresh the page and try again.