LG V20 camera review: Twice the fun, twice the disappointment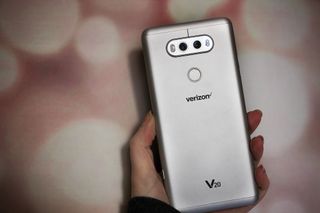 The LG V20 scored particularly well in our initial review. Our own Andrew Martonik crowned the V20 as a phone that's properly equipped for power users and while that still rings true, we're shifting gears to take a closer look at its three cameras.
The V20 promises to equip you with the appropriate hardware and feature set necessary to shoot, snap, tweet, record, and everything else you need to broadcast your life to the world. And while it does manage to stay on track with its objective, don't rule out buying a dedicated camera just yet. I spent a week with the LG V20 testing its various camera features. I made Snapchat Stories, recorded video, and shot long exposure shots with its manual mode. Here's a look at what LG's not-quite-a-flagship is capable of and what you can expect from it if you were looking at the V20 as your next camera phone.
Not a substitute for the real thing
The LG V20 doesn't boast too many new camera features over its predecessor, the G5, nor is there much differentiation from the first-generation V10. The V20 heralds a similar setup: dual 16-megapixel and 8-megapixel wide-angle rear-facing cameras paired with a 5-megapixel front-facing camera equipped with a wide-angle mode. The main rear-facing camera also employs a hybrid auto focus system that combines laser, phase-detect, and contrast auto focus. There is an additional focus tracking mode available in the camera settings.
Image 1 of 13
I had a mixed experience with the V20's primary 16-megapixel camera. While the camera produced photos that were high-resolution enough to crop and edit for social media, there wasn't much consistency in terms of photo quality.
More often than not, I found myself relying more on other apps to make the V20's shots look good everywhere else and I hardly felt confident enough to directly post to the internet without some prior tweaking. The V20 also struggled to consistently expose the right parts of each scene and this was particularly frustrating because photos with blown out scenery typically don't edit so well, even with simple filter effects.
The V20 is also a finicky low light performer. Its primary camera shoots at an aperture of f/1.8, so it works fine in dark restaurants and poorly-lit bars. As you can see in the example above, if you're holding the V20 still enough, it can capture the scene with enough detail. However, like its performance in daylight, the photo quality was extremely inconsistent.
There were several instances that photos looked too grainy to lighten after the fact. It's hard to focus the V20 in darker environments without the aid of the manual focus mode and I later discovered that many of the photos that looked fine in the Gallery app were too blurry to even bother stowing away as a memory when viewed on a larger screen.
Thankfully, the V20's primary camera sensor works well with third-party apps like Snapchat and Instagram. My snaps and stories were crisp and clear each time. The only bummer is that you can't switch between cameras in third-party applications. I can't tell you how many times I wanted to use the wide-angle lens for landscape and group shots. One of the drawbacks of a dual-lensed camera phone is that it's only available to the native camera app.
Image 1 of 2
Image 1 of 2
The 8-megapixel wide-angle lens has its drawbacks, too. First off, it shoots at an aperture of f/2.4, so you won't get the same low-light performance as the primary camera. Second, there's a bit of fish-eye distortion that occurs in landscape shots, thus making the photos harder to crop and edit after the fact. The wide-angle mode is fun if you're shooting action shots or streaming video, but it likely won't be your first choice if you're serious about smartphone photography.
Manual mode for the masses
In spite of its finicky low light performance, I was quite pleased with how easy it was to use the V20's manual camera mode. The on-screen controls are both responsive and identifiable. There's also an auto-exposure lock feature, which I used to "cheat" my way through manual mode. I'd tap it to automatically adjust the exposure levels, and then I'd go in and manually adjust the other settings based on how it looked in the live preview. This proved especially helpful when auto shooting mode had trouble adjusting levels, like when the sky would appear overexposed.
Image 1 of 6
I also like that you can manually adjust the levels for the included library of filters. I had fun making moody scenes with the black and white filter options and turning my cat into a vintage model with sepia filters. You can also use the manual mode with the wide-angle lens though the results won't be as crisp.
As an aside, I found that because its manual focus is digital rather the optical, the setting does not pair well with a clip-on smartphone camera lens.
Image 1 of 2
The V20's manual mode allows you to shoot in RAW and JPEG at the same time. If you shoot with a filter on, however, it will only save it in that manner in JPEG. That leaves you with a clean photo to take into an app like Adobe Lightroom. Don't bet on any post-processing applications to make just any photo look better, however. In the bar scene I shot above, you can see that despite my best efforts, the original picture was too noisy to tweak.
About those selfies
The V20's 5-megapixel front-facing camera is not as feature-packed as the back lenses, though when you switch over to it you'll still have access to all the other camera features in the app so that you're not constantly jumping around the interface. There's also a front-facing flash option, which places a background behind the viewfinder to brighten up the screen and illuminate your face. If you need to fit more friends in, there's a wide-angle shooting mode that's available, too. You can record front-facing video, Snaps, and Full HD videos, as well, and use any of the included filters to your liking.
Unfortunately, the manual options are not available for your selfies, so if you're looking for more accurate nighttime exposure, you'll have to flip the entire phone over and have someone else adjust it on the other end.
Image 1 of 2
Oh—and beauty mode is still weird. I like that it blurs out any blemishes, but at full capacity it makes me look like an alien.
Shaky video, anyone?
The advertising surrounding the LG V20 makes it seem like this is the ultimate content creation tool. But after a week with the V20 as a video camera, I'm dubious about whether it's apt enough to produce a short-length feature like Joseph Gordon-Levitt would have us believe.
The V20's 16-megapixel and 8-megapixel wide-angle cameras are fine for shooting casual video to share to the web, but like its point-and-shoot abilities, there's an element of inconsistency that's ultimately frustrating. For instance, LG hails the fact that the V20 utilizes Qualcomm's digital image stabilization system, but it's not that impressive.
Just look at how shaky the video is above. I was merely holding the V20 with my dominant hand while walking through downtown San Francisco. The device's video recording capabilities are better when it's on a tripod to stabilize it, or if you're recording while standing still or sitting down. I much preferred the "strafing" effect of the Pixel XL's video capabilities than the V20's apparent "shake it till you make it" motif.
The V20 also boasts a manual mode for video recording. The shutter speed tops out at 1/30th a second and you can use the various included filters and tune each manually to your liking. If you're really going for it, you can also pair a Bluetooth microphone and control its pickup right as you're filming, but be forewarned: the V20's microphones are incredibly sensitive. I know Bay Area Rapid Transit is loud and screechy as it is, but I was hoping that the V20 would have been able to equalize the recording on its own.
Fun stuff that's built in
I've already covered some of the LG V20's extra camera features and most of them were included in last year's LG V10. The benefit of the added features means you don't have to worry too much about downloading a third-party app that can string together video collages or trim a video.
However, I hardly think to myself, "Oh! This moment is worth shooting with the V20's Story mode!" To that end, the V20's extra camera abilities are a fun novelty at the beginning, but you'll soon find that most moments in life happen too fast for you to bother setting up one of these camera modes.
Is it worth buying?
I've always thought of LG's marketing behind the V-series as a bit of a gimmick in the sense that there are still too many limitations to smartphone camera hardware to truly consider it as an alternative to a full-size digital camera. But I also feel like LG isn't advertising this device to the right audience.
The V20 would be best suited for a teenager or young adult — a Millennial, if you will — who wants to get creative but who isn't too keen on wielding the same phone as the rest of her schoolmates. And while I appreciate that the V20's 16-megapixel rear-facing camera is higher resolution than some of its competition, I much prefer the performance of the Galaxy S7 and Pixel XL's 12-megapixel cameras.
I echo the sentiments of our original review of the device: The LG V20 offers very little "wow" factor in terms of its video and camera capabilities.
Android Central Newsletter
Get instant access to breaking news, the hottest reviews, great deals and helpful tips
Florence Ion was formerly an editor and columnist at Android Central. She writes about Android-powered devices of all types and explores their usefulness in her everyday life. You can follow her on Twitter or watch her Tuesday nights on All About Android.
See this video for a much fairer and unbiased, in depth look at the top of the pack. https://youtu.be/pBEQEKlgXNU

Top of the pack of what? Phones that take subpar photos... Wait, let me go visit the V20 forum picture thread... Okay, some of the pics in the forum thread are on par with my 3 year old Note 3... Most weren't. Maybe the device needs an update? Anyone who thinks the V20 takes better pics than the Note 7 or S7 never used the 7's.

Hold on..... *Popcorn is almost done*

Key the "these writers suck and have no clue what they are talking about" LG lovers that think this is the best camera in the world. Gets monster drink....

Sadly I think the review is correct. The auto modes on the V20 are inadequate and LG failed in that regard. They are relying on people tweaking manual mode each time they take a pic. For most people, a phone camera is a convenience item and quick pictures in auto-mode with quality are important. No excuse to not have the same quality level for auto as the other devices.

Partially correct. She was right about the stabilization. https://youtu.be/pBEQEKlgXNU

I agree with you. Sometimes manual adjustments before shooting can mean a misses great picture.

The v20 is horrible to me I traded my 7 edge fir it and after getting fisheyed pictures with wide angle lens and over exposure with the regular lens unless I used Manuel focus I return it and got my s7 edge back.

Oh no Gator! This phone doesn't come with an app drawer. People have to download it themselves from the Play Store if they want it. How are people going to get around this "problem"? Download something from the Play Store to get what they want? Who the hell is going to want to do that? These phone manufacturers are so unreasonable asking us to download an app aren't they? Lol. Do they think that Android smartphones are made to be customised and have apps downloaded onto them. Oh, wait....

LoL!!!! I'm not buying this phone. But yeah, you can turn the app drawer on or off. They did away with it when the G5 launched but then brought it back in an update.

It has an app drawer in the settings that you don't have to download!

Overall I enjoyed the camera when I had this phone, but I agree about consistency. Most of the time I would get a good pic, but not every time.

I am in the return window for my Pixel XL and was debating playing with the V20 again and possibly trading in the Pixel, but I keep reading the "Meh" reviews about the V20. Someone described it as, "not your dream phone, but a phone that you could hold onto until your dream phone comes along". I'm sticking with the Pixel. It's bad ass.

Just because something is priced at $800 or more doesn't make it actually worth it. People seem to confuse price with quality when advertising can put lipstick on a pig.

Which phone are you referring to? V20?

I took my v20 back I couldn't stand the camera and the wide lens was to distorted and fisheyed fir me. I have the 7edge now and it works almost like my note 7

Well, I'm probably in the camp of this phone being the phone for people who are serious about control over their camera. Most flagships allow you to control white balance, shutter speed, ISO and exposure compensation for stills, along with RAW capture, but very few flagship phones allow you to do the same for video, let along controlling the shutter speed and audio settings such as a low-cut filter and adjusting gain. From my experience, I find that LG's automatic mode is capable of good shots, especially for quick snaps, though it falls behind some other phones in terms of speed and consistency in some cases. But where the V20 really shines is giving the user a bevy of controls for that fine tuning. What's interesting is that if anyone remembers Pocketnow's video of the ZTE Axon 7 Mini unboxing, that entire video was shot on a V20, and I was surprised when JCB mentioned that in the V20 Real Camera Review as I didn't notice too much of a difference compared to his usual Samsung NX mirrorless. Is the V20 perfect? No, of course not. But when it comes to control over your camera for not only photos but video, I don't think many phones come close. In short, it's a camera designed for shutterbugs in mind, while also getting good results for the average user. Average users might prefer the cameras on the S7/iP7/Pixel, but shutterbugs will find the amount of control on the V20 a big thing to have. I think LG has to work on its software processing and speed, though, for those times when you decide to use it as a typical point-and-shoot. TL;DR version: Galaxy S7/iPhone 7/Google Pixel for standard shooting when having a fast camera that gets a nice shot consistent without much effort is critical. V20 if you value control. Also worth mentioning that the V20 uses a Sony IMX298 as its main camera sensor, which is a 1/2.8" 16MP sensor with PDAF and shoots in a 4:3 ratio. The maximum bitrate for video capture is 64Mbps. Also would like to point out that LG needs to improve video for the G-line. I'd like spot metering and a simple exposure compensation slider, please.

Whole heartedly agree. In the Pixel vs V20 camera comparison the V20 fell just slightly behind in stills. Slightly. And manual mode blows everything away. As far as the video stabilization goes I agree with the writer here. I do not like the heavily underperforming "Steady Record 2.0" and the OIS still needs improvement. Also what many reviewers consistently overlook is that this phone is targeted at the people who have time and want to tweak the settings. This phone is the closest thing to a DSLR in that respect. I really hope LG at least issues a software update for the EIS+OIS combo but for stills and the shooting experience as a whole, not just point and click, there's not one other phone I would choose over the V20.

I just think people don't get it!
This phone isn't for your everyday average user, it for people who like to setup a shot and tweak the settings to get the best shot. For some strange reason people want it to be another Samsung galaxy note, but its not! Most people who buy the V20 do not want the galaxy experience and vice a versa, they are two different phone's with two different ways of doing things and its ok! The problem is...that most of the reviewer's have never played with an LG phone or have never purchased one at all! So they feel that since most phones operate in the same way, they can't truly grasp the concept of a phone that you have to put some work into. I don't know of any videographer, or photographer that shoots in just manual mode. Then it says plain as day that its for the content creator and not point and shoot creator! But what it tells me more so than any thing is that most people only want what's familiar, and not what's foreign unless its an automobile! We live in a world where we are so quick to say how open to change we are, but are we? So essentially we are ok with having different manufacturers make the phone's, but they should all be the same. We finally have something that gives us the freedom of control to choose and now that's a problem! Take the V20 for what its worth! If you've been hinking about learning and don't know how to shoot in manual mode then maybe this phone is for you. What better teaching tool to have because it shows you in real time so you can see the change in front of your eyes! So please stop trying to make this phone a Samsung or a pixel, because its not! It's a unique opportunity to find out just how creative you actually are!!

I am totally crazy over the V20's manual mode and because of that I'll likely use it as my "fun shots for Instagram" device. But at the same rate, I can't suggest you go out and spend full price!

Hmm. Did you tweak the Video Stabilization settings? Unlike Pixel, only in 30FPS does the gyroscope kick in, but you must turn it on. Also, some people want a bigger screen and a different version of Android than what is on Pixel. The fact you still cant sort contacts by phone number on a Google device is ridiculous. I just don't agree with your assessment and I have both devices.

I never realized you can't sort by number....but then again, why would you want too? (just asking). I prefer lastname/firstname

So, if you have Google Plus like I do and am a Verified Google User, I literally have THOUSANDS of 'Contacts'. There is NO WAY to change this in the Pixel XL. NONE. It was maddening. The fact that Android still cant do basic crap an iPhone did almost TEN YEARS AGO blows my mind. This is why I support 3rd part OEM's like LG & HTC. I just cant deal with Samsung and their utter crap QC. Those devices REALLY slow down over the course of a year or so.

It only does so in 1080p30?

Yes, that is correct. The Qualcomm EIS only works at 30fps 1080p. You can do 60, but only can use OIS, not *BOTH* which this device is the first of its kind to do. :-)

I'm right there with you. The automatic mode leaves a little to be desired, but this phone wasn't advertised as a quick snap/selfie shooter. It was advertised on how well you can control the camera to get the shot YOU want, not what the software thinks you want. To that end, the phone does the job very well. When I think of a "content creator," I don't think point and shoot. I think of posing the subject as you want, making sure lighting is what you want, picking out a specific angle to shoot from, then taking several shots with various camera settings to get exactly what you're looking for. Sure, that isn't how the majority of people use their phones, but that's not the impression I get from their marketing as the target audience anyway. That's where most reviews are failing; they are judging the phone compared to the masses, not necessarily by it's intended purposes.

Your 2nd paragraph was brilliantly stated. Most people buy/use a phone's camera to get shots of events that are happening in the moment....birthday's, anniversaries, sporting events, concerts etc. I am tired of these "the camera isn't professional enough"......my response is....."try making a phone call from your Canon DSLR"

I can't speak for Canon, but my 10yr old Olympus DSLR sucks for phone calls. And that big lens hanging off the front kills any chance of holding it between your ears and shoulders. Geeze, what we're the designers thinking!

I like the phone and camera. I came from the LG G4 to the Note 7 and then traded it for the V20 (because I like the 5.7" screen). I haven't messed with the camera enough to say "yea or nay" about it. What I have have used of it, I like it and find it easy to use. I am no "geeky" pho-tog...I am a "point and shoot". I don't do selfies like the younger crowd (i.e. millennials)....I have probably taken 50 selfies in 6 years. I guess it depends on what you are going for and wanting.....if you want the professional quality...invest in a a DSLR camera and learn how to use it....if you are wanting quick pictures for posterity's sake.....then this is a great option.....again, I think you have to learn how to use any technology to the achieve the best results.

I think all modern day smartphone cameras
Get the job done. Are some better than others , sure, but the difference is not that great unlike two or three years ago. It's human nature to think what you have purchased is the best. By the way you have me beat by 49 selfies. I wouldn't care at all if my phone didn't have a front camera. Emoji and selfies must die.

Exactly. Every modern smartphone camera gets the job done. People are nitpicking about barely noticeable differences because they need to know that their phone has the best camera so they can get a pat on the back. Bottom line: you're not getting a bad camera. That's all that should matter. If you want the best camera, get a dedicated camera.

I agree. Like I said, if you want a camera that does everything....get a DSLR camera and learn how to do it. My hobby isn't camera's...it is guitars and trap shooting...I would rather spend my money on that. This phone gets the job done. If I want to take the time to learn the intricacies of the phone's camera....I will learn....just don't have the desire at this time.

I take selfies during the holidays'. My 25 year old daughter takes in 6 hours of selfies, what I have taken in 6+ years. How many people want to know: 1. What I had for dinner
2. What I look like when I am at a concert or sporting event. Answer........NO ONE.

I think it depends on the situation. All cameras have weak points. The Pixel has lens flaring and lots of noise in low light. The V20 cleans up that noise and gives a cleaner overall picture. Stabilization is better on something like the Pixel in good light, but it's a choppy, noisy mess in low light. In that instance, I'd rather have slightly shaky video from the V20. Low light shots are also often better on the V20 in low light because of hand shake that the Pixel does not compensate for, due to a lack of OIS. i've watched/read all of the camera comparisons. There is a lot of back and forth between the iPhone 7, S7, Pixel, and V20. I think it really all boils down to what conditions you shoot in the most and what your priorities are. And camera is really only one piece of the puzzle. I'll never own a phone without tap-to-wake again and I find the second display much more useful on the V20 than the Google Assistant on the Pixel, but those are my preferences. Some people really want a removable battery, MicroSD storage, and an IR blaster and for them, the camera is much less of a factor in their decision. No phone will ever be perfect. It's about the compromises you can live with.

I'm not going to argue but I'm not sure where you are getting low light performance on Pixel is sub par. In fact it is one of the best.

There are plenty of video reviews that demonstrate this. GSMarena has one, as does Pocketnow.

I can list three times as many that says the opposite. We will disagree which is fine.

Erik has a point, there's FAR more praise of the Pixel's low light performance and evidence that it's great than there is evidence of the contrary.

I mean, people are going to believe what they want to, regardless of what their eyes tell them. Here's a video that very clearly shows the noise issue: https://www.youtube.com/watch?v=0jGZGAPX4Mw The camera portion of this (very good) comparison shows the weakness of the Pixel in low light: https://www.youtube.com/watch?v=6_qmF77on7o But, as I said, fanboys will only believe what they want/need to, so I don't bother arguing with them. There are numerous other examples, but you can find them yourself. What CAN'T be disputed is that this camera has weaknesses just like every other camera. And if you don't believe that, you need a serious reality check.

Here is Anandtech's camera portion of the review, calling out the Pixel as having worse low-light performance than the S7. http://www.anandtech.com/show/10753/the-google-pixel-xl-review/4 That's it. I'm done. I made my point. My intent wasn't to turn this into a "prove it, I don't believe you" argument. I was merely saying that no camera is perfect and they all have weak areas.

They didn't even use the strong point of the phone, hdr+. Trust me I'm no fan boy of the pixel. If you look at literally any of my posts in the matter you'll see I'm one of the few apparently that really dislikes it. I just feel it's disingenuous to claim it doesn't deserve the praise it gets for the really good video stabilization and magic of hdr+.

Note that Pocketnow's review had many of their shots that weren't shot with HDR+ enabled. The Pixel's camera is designed with HDR+ in mind. That's why it's enabled by default. I understand why JCB did so and I'm glad he praised HDR+, but maybe he can follow it up with the same shots shot in HDR+?

I feel like if camera is really as important as people want to make it out to be, they should really start carrying around dedicated camera. I buy phones as a package, not as a camera. I haven't been unhappy with any phone's camera I've had and I'm not a pretend photographer either. Any flagship will give you a good camera.

But that's the whole point. People want their phone cameras to be good enough to sometimes leave their point and shooter at home and be confident enough in getting satisfying photos on the fly. If phones are our small computers, the competition will not allow subpar performance in any area. If you don't get it right, someone else will.

But these phones are good enough to leave the dedicated camera at home and none of these flagship phone cameras deliver subpar performance — they're all great packages, none are perfect. People will complain that a great camera is number 2 or number 3 rather than being number 1. These aren't complaints about a bad a camera. These are complaints about a great camera not being the best. And if people are going to nitpick about their great phone camera not being the best, then they need to lug around their dedicated shooter. That's the point.

LG owners will probably be upset about this, but as one of them myself I had higher hopes for the camera than what I've seen so far. Outdoor shots have been decent enough, but I do notice some of the downsides the article references. For the money, I was expecting a better camera experience for sure. I think the S7/Note7 spoiled everyone

Yeah, the V20 is one of those phones that performs alright in auto mode but with user involvement, becomes great. Thing is, it should also have a great auto mode for those times when you need to point-and-shoot. I think Samsung, Apple and Google nailed that well. LG wins for control but its auto mode could do with more polish. The V20 is a perfect fit for someone like Juan Carlos Bagnell, though, being a sound director and camera snob. So while the V20 is appealing to content creators and certainly wins for control, I think LG should also think about a spruced-up Auto mode so that it's more consistent and reliable in order to stay competitive with its similarly-priced rivals. My 2 cents.

Auto Mode HDR and the pics that came out nice you put through Snapseed. They look amazing.

Then if you are not a content creator and use manual mode what is the real problem?
The camer is as good as the person setting it up and if you wanted a pristine camera on your cell phone why didn't you stick with the S7? Once again, content creators not Samsung wannabes.
I am not trying to be mean but if i didn't know how to drive a manual transmission car why would i buy one and then complain how the shifting isn't smooth as my automatic?

I had a quick spin comparing a LGV20 and my (now replaced) Note 7 in a store a few weeks ago and the inconsistent camera is the #1 reason I didn't get that phone. (#2 was the screen not nearly as colorful or sharp). In so-so lighting the V20 had trouble focusing and just wasn't as sharp at the Note 7 (now have the S7E, same camera). On paper, the features are great, but I wouldn't want to spend a bunch of time in manual mode trying to adjust what the auto mode can't get right for a ton of spur of the moment shots...

Thanks for the review, Flo. I respectfully disagree. I have been using the V20 for two weeks now and recently tried the Manual mode to snap some pictures outside of the trees and leaves. I thought the camera was fantastic! Excellent photos and very responsive.

Everyone has different experiences! Thank you for sharing yours.

I could give a flying f' about the camera - I'm not part of me me me pay attention to me narcissistic ***** generation that is worried about gender pronouns and invading my comfort zone. I just wanted one with a long lasting battery. Sure you can pop in another battery if you have a charger dedicated to the spare battery and remember to charge it and bring it with you and you can feed it like a steam locomotive but I'd rather have something like the Lenovo P2 at half the price, same size but with an OLED screen AND a 5100mah battery. Sure it won't have the ultimate recording dunsel but hey Taylor and Adrianna can be recorded with the old equipment we have at the studio connected to a real mic. But I suppose for people who want to bore their remaining friends to tears with pictures of every meal they eat, here's a picture of me going to the mens room, here's a picture of the plumbing in the bathroom, here's a picture of me taking a peace symbol selfie with some random person I'll tell you was amazing although we never spoke again... Are you paying attention to me!?!?! - the camera is important. Of course if you want to take pictures fit for the Getty Museum you could just pack a f'n camera. This is an article about a PHONE right? Does it make phone calls? How's the reception? How long does the battery last when using the PHONE? Sorry if the integrated waffle maker and belt sander aren't as good as dedicated devices for those purposes. Here is a newsflash for you - you might want to write this down. Unless you are Kristen Kreuk taking nude selfies - no one wants to see your pictures.

Sooooooo, I take it you do not take a lot of pics. That's cool. Interesting pull for the actress, but yeah.

I bought the V20 for screen size and extra features that LG packs on their phones. Removable battery and SD card are perks, too. The camera is the last thing that I care about.

You might wanna read the full LG V20 review instead of a dedicated camera review. Dumbass.

"Here's a look at what LG's not-quite-a-flagship is capable of ".... What does this even mean? Despite the fact you don't believe the cameras to be the perfect seflie takers, doesn't mean the phone isn't LG's current flagship device. You really don't sound like you know what your talking about. It would be nice to get your definition of "flagship", so you can actually read this garbage comedy.

This is a typical Flo article. If she doesn't like something, she'll get agitated and go way overboard with her criticism and say stupid stuff like this. Why Android Central decided to hire her is beyond me.

Interpretation: "I don't agree with some things Flo said therefore I don't like her. Therefore I will insinuate she lacks integrity and should be unemployed." Better version: "I am frustrated by how often I disagree with Flo. My experiences are very different from what she writes. I am not sure i can trust her reviews."

It's not that I don't agree with her. In this case, it's that based on the commonly accepted definition of "flagship" what she said is totally untrue. Go to any other of her articles and you'll see the cringe-inducing biased and immature style of writing I'm talking about.

Why are people so obsessed with their smartphone cameras? The question we should be asking is whether or not the camera sucks, not whether or not it's better than some other phone. No flagship phone is ever released with a bad camera, but people always need validation that their camera is better. Everyone wants to act as if they're professional photographers with their smartphone cameras. None of us are taking bad photos. Is it that serious that another phone takes slightly better photos? I don't buy phones based on camera so I've barely used the V20 camera (outside of Snapchat or Instagram) since I've had it, but am I unhappy with the few pictures I've taken? No. Would I be happier with the Pixel camera? No. Is every other feature that makes up a phone more important than the camera to me? Hell yes.

Because it's oftentimes the only camera I have on me and the only chance I have at capturing a memory and stowing it away.

Point is: every modern flagship phone is always good enough to capture every memory. This is nitpicking for the sake of nitpicking. It's implying that a great camera isn't good enough because it's not the best.

But the V20 camera is really good. Hell, most cellphone cameras are. My m7, m8, nexus 6, GS6 edge, moto x pure, and OnePlus3 all take great pictures. In this day and age, if you're not able to take a good picture, i hate to say it but it isn't the camera.

Your M7 and M8 do not take "great" pictures.

You sound super elitist and like one one of those people that complain and make statements "Supposed Flagship" that have zero fuc*ing merit. The Pixel XL is MORE expensive, horrendous bezels, huge software issues, no SD card slot and a SOC that's being mismarketed as an 821 when in fact it's an 820. Clock for clock.

I have a two word response for your opening question: New Father.

Everyone makes the assumption that any flagship phone has a bad camera. That is not the case. Every flagship phone has a camera good enough to capture every moment, even those of a new father. It may not be the best camera, but it's still a good camera that most people aren't going to have a problem with or notice a difference unless they're trying to scrutinize it. It isn't worse than every camera that everyone praised last year, so why treat it as such?

I'm not sure if you're directing that to me or now. I don't share the sentiment that the V20 camera is bad, I was only answering why some people think the camera aspect of the phone is important. My personal take on the V20, auto mode performance looks disappointing, especially for a phone whose camera was touted as a selling point, but the overall creative ability of the camera looks good. Outside of that it looks nice, save for that it actually has a worse DAC than the HTC10 and V10. All in all, I think they missed the mark on this one.

In no way, shape, or form does the V-20 have a worse DAC than the two phones you mentioned, or any other phone for that matter. And this from a V-10 owner. Measurably, and in listening tests, it is getting the best reviews I've ever seen from a phone in respect to audio quality, with decent cans. I'm not sure where you're getting your misinformation, but you're simply wrong.

There are quite a number of YouTube videos on the LG V20 cameras that are much more approving of them than this "review". Clearly these reviews on AC are biased toward the Pixel IMHO.

Certainly seems that way. It's a shame they can't seem to find anuone with a positive outlook on both ohones to compare them.

Not everyone at A.C fawned over the Pixel, just watch the MrMobile review.

Finally a solid review I can get behind and totally agree with. Returned mine and will stick with the 7 Edge until the Pixel XL arrives...

Camera is a VERY important part and I think most would agree. At least it is with me. Don't get me wrong though...battery and performance are right there . Look at it this way...those 2 will always be there...a great or special pic won't.

The camera on the V20 is actually very good. Not sure what the reviewer was smoking.

I'm surprised you didn't list more advantages of the wide angle selfies. I hate selfies in general, but the wide angle is so much more different. You capture so much more of the background and its more like someone holding the phone for you.

Seriously? According to your article The v20 isn't really good enough to be a flagship phone, the videos shot for the commercials probably weren't done on the v20, and the only people who should buy this phone is teenagers and millennials. Well your entitled to your opinion... about it but I do question the quip about wither the videos shot for the commercials and ask for a better explanation on the remark... Also.. Is the phone you are basing the review on purchased outright by you or a pre production one that was sent to AC for evaluations?

I agree. She's patently full of BS. Juan Carlos shot TWO full reviews on a V20 and NO ONE knew, including the Pixels, lol!

They weren't really reviews. One of them was an Axon 7 Mini unboxing and the other was a Galaxy S7 vs. iPhone 7 comparison. But that was impressive, though. He probably already has all the experience and gear, but it was mighty impressive to see a phone capture all that footage and I didn't notice that much of a difference compared to his usual NX.

OK, I used 'review' as the average joe wouldnt get what I was trying to say otherwise, but you are correct :-) I agree with you about the NX comparison and Ive talked to Juan recently on Twitter and he really likes the V20. I know I love mine and had the Pixel as well. I just couldn't get over that horrible 'Assistant' and design. Gods, that phone looked like another 'Sprint' exclusive HTC mashup POS.

I think a huge point most reviewers miss is it it fun? As a hobby photo enthusiast, I am always shooting in manual on my DSLR. I shoot the same way on my phone, the LG V10 for now. 98% of shots are in manual and the few I shoot in auto I'm satisfied with. Sure you can get slightly, ever so slightly, better pictures with some of the competitors but none of them provide as fun an experience as what LG provides with the V20. This is the phone for those people.

Meh. You can have fun without shelling out $800.

I'm not saying you can't. I'm just saying LG is the only one who provides the kind of shooting experience you get with a V series device. But clearly your mind is made up and that's cool too.

There are manual camera and/or camera modes on other devices and even devices running other OSes. You don't have to waste money on the V20 for fun. Why not use that money to buy an entry-level SLR, if you want that kind of fun. The Images, even in auto mode, will blow this phone away into the stratosphere.

Wow. Does AC offer jobs in exchange for box tops? You're just as bad as the "phablets are too big for my hands" dbag...

Meh. How much is a Pixel XL again? Hahaha. This is comedy!

Meh. I can read honest reviews by actual tech people elsewhere.

Mathematics and algorithms are where it's at now. Google's engineers are leading the pack with the Pixel...

Exactly. Their software writers did an excellent job.

LOL. They didnt do shi*. It was Qualcomm's coding. Its in the basecode! How hard is it for you guys to Google stuff, or even better yet play with the devices yourselves? Half the shi* on AC is utter garbage and wrong. At least they don't copy and paste the press releases anymore since Phil got busted doing that and taking money.

I do know for a fact that the "Everyday Spectacular" commercials featuring Joseph Gorden-Levitt were filmed with the V20. lol

"LG's not-quite-a-flagship" Come on... what entitles you to say that? The V20 has top of the line specs and just because its camera isn't Note 7 caliber doesn't mean it's not a flagship. Flo, it's time for you and your writing to grow up. You are one of the most biased writers I've ever seen. If you don't like a phone, you always go overboard and search for any way possible to bash it, even in ways that aren't relevant. Because of this, you always end up saying stupid stuff like this. Android Central/Mobile Nations, why did you hire her? She was already like this for other websites she wrote for before you picked her up. Get her to clean up her articles and remove bias from them, it's becoming very annoying!

Andrew Martonik's V20 review was a bit biased and snarky as well. It would seem Android Central does not like LG phones.

The Note has it's fanboys. The V20 is not a note replacement, because it wasn't designed to be. It's LG's best phone. Great camera, great audio experience, fast UI, and a nice looking 2nd screen.

How can you say it has great audio when the DAC in the v20 is literally worse than that of the v10 and HTC10?

Because it is great. Want to test it against an Apple or Samsung product? Go right ahead, you'll be amazed. I didn't say the V10 or the HTC 10 were bad. In fact im getting an HTC 10 next week too. Can't wait to play with that phone again.

I suppose it could be perspective. I just find it really odd if not disappointing that the V20's DAC is actually worse than its predecessor's.

It is not WORSE, it is a different technology. All good, no reason to TRIGGER!

The V-20 DAC consistently measures better than the phones you mention in multiple reviews posted this month. It scores incredibly on listening tests, too. If it's DAC is worse, that would be news to ESS technology, huh? Stop spreading lies.

Man, you sound like an LG infomercial.

I wonder why it was called that... It's not like it has a compromise that is reflected in its price point or anything.

I think the camera is great...no problems at all.

Cut the price 300.00 or more, maybe I'll get one

I wouldn't hold my breath for that price cut. The V20 is priced like every other similarly spec'd phone out there.

Yea, and while your at it, I want a Porsche 911 Turbo for the price of a Hyundai Elantra! Dude the Quad DAC and flagship internals make the phone worth the Verizon and T-Mobile price with their incentives. AT&T and Unlocked price, yea its a little steep.

no one cares if you have one or not.

If you want to take stunning pictures, buy a freaking digital camera! The V20, and every smartphone out there with a camera, are PHONES first, and cameras second. Most take decent, or even good pictures, sometimes, but their primary function isn't to take world-class pictures. That's what digital cameras are for. *Rant over*

The best camera is the camera you have on you. Some people care more than others about that being top of the line. There's phone for every lifestyle, and that's ok :)

In 2016 all flagship phone cameras a great. The new Honor, the OP3, the HTC 10, GS7, iP7, V20, G5. All of them are fantastic. I think the problem is that most people don't know how to take good pictures in the first place. Everyone wants a race car but no one is qualified to drive one. So they blame it on the car instead of their bad driving.

Has anyone tried a different camera app? I know it loses the wide screen, but do the other apps auto mode work better than LGs?

Pretty disappointing for a device that put all its eggs in one basket, (camera), and still failed.

It hasn't failed at all. Most of the media coverage on the V20 has been pretty unfair. The V20 is a fantastic device with differentiating features and a unique camera experience. Just because it isn't a Samsung or a Pixel it must be disappointing? Not at all. I agree about the video stabilization needing some work and stills can be inconsistent at times but the camera is too rate and rivals anything on the market.

With the few pictures I have taken thus far, a quick 30 seconds in Snapseed and I'm very happy with the Auto HDR abilities of the V20.

I have both the Pixel XL and the LG V20. Both are good phones. What I can not understand is the amount negative reviews I keep hearing about the V20. I consider myself more of a power user and I do slightly prefer the V20 over the Pixel only because of my needs. Again they are both great phones and don't understand why the V20 catches almost all negative reviews as if the reviewer is being paid to promote the Pixel XL which I know is not the case. You should try the V20 for yourself because the reviews I am seeing from major android sites are not giving the V20 a fair shake. Don't take my word for it or anyone else. Go to a store and check them out for yourself. I understand different needs for different people, but the bogus reviews have to stop.

Agreed. The V20 is a great phone. Sure it's not waterproof but i'd take it over any Samsung any day of the week.

I too love mine so far. I am very happy upgrading from the V10.

The thing is, I have been in the stores and the V20s are not there to mess with!

My wife has the V20 and it's a great phone. The camera does like over exposing (nothing a software update couldn't fix) but for the most part it's a solid device. The 2nd screen is pretty cool, and the device just seems to fly for the most part. It doesn't feel as blazing fast as my OnePlus 3, but it's definitely a solid device. Also battery life on the V20 is pretty great too especially for a device with 2 screens. That being said I don't think it's better than my OP3 overall, which makes me wonder if all of these other guys are just charging 2x too much or if OnePlus isn't charging enough. In fact I dare to say that only the Pixel could claim that crown.

Glad I'm not the only one that feels their OP3 is better than most flagships out there, for half the price. People talk about the OP3 as a budget phone but I actually consider it an upgrade from my S7, and did not switch to it because I was financially constrained.

I had bad luck with an LG washer once. Perhaps the reviewer did as well and they are taking it out on the V20. <wink>

Did you buy another LG washer to replace it? If not, Case in point.

In fact, I *DID* buy another LG washer and so far the new one has been great. Problem is, it cost twice as much as the first one.

Turn on HDR and watch the V20 match the Pixel in terms of photo performance.

That could be true, LG line of phones in the past have not all been positive. Not so with the V20.

It seems to me LG would have been better off not including the second camera. That is what seems to cause many of the problems. Also I have heard that turning off the qualcomm's EIS solves the shaky video problems. I have the phone, but have not taken enough photos or video to have an opinion.

I had the LG G4 before I had my Note 7's...when it was time to trade it in, I went with the V20 because I like the 5.7" screen. I did have a bad experience with the G4 after the MM update.....laggy, crappy and extremely HOT....I mean, almost MELTING temperature. I had to routinely turn off the phone or hold it up to an air conditioner to cool it down....so far, the V20 is acting and behaving GREAT. The camera is great so far!

I am curious how DxoMark would rate the V20. The more reviews the better. I am just getting into using mine and don't feel up to commenting yet.

I've only just started shooting with the V20 and agree that it's photo software needs work. Buy this phone if you are an audiophile.

How long before it develops the bootloop problem? That's all we need to know...

The only thing missing to the auto mode is an exposure adjustment dial. Although they do have to dial down the default spot metering too. HAY LG, PUSH OUT A SOFTWARE UPDATE TO ADDRESS THESE TWO THINGS. Sorry for yelling.

You want app drawer on V20??? 1. Settings
2. Display
3. Home Screen
4. Select Home
5. Home & App Drawer It's preloaded on "ALL" V20's........ Stop hating;-)

That's a lot of taps to get something that was taken away, but should have been enabled out of the box (not shouldn't be an option - period).

The people here to complain will do it regardless of how petty it makes them seem.

I have to really disagree strongly with the author of this article. I'm a 25 year pro photographer, I've had my stuff in magazines. and one of my favorite places to shoot is San Francisco. So I think I know what I'm talking about when I say that the LG V20 camera is a huge step into smart phone creations. With one of the highest resolutions for a smart phone and an aperture of 1.8, USED PROPERLY, LET ME SAY THAT AGAIN, USED PROPERLY. The V20 camera with render out some fantastic shots. The fact that you can use the RAW feature the V20 offers, allows for correcting just about any mistake you might make with Light Room (my favorite) or just about any decent photo editor. Also i would like to point out that her video of walking down the street jumps around just as it should. Its not in a steady cam, so it wont be perfectly stable. I can shoot the same scean with my Canon 5D and get the same jumpy effect. So I'm not sure what she was trying to prove with that video. I could go on and nit pick her whole article, but lets just say the LG V20 has the full capability to turn out great pic, wither on auto or manual, as long as its used PROPERLY.

Well you have skills that most of us do not.
All of these camera reviews have the average Joe in mind.

As far as what she's getting at with the jumping video footage while walking , just watch how much better the pixel handles that and tell me she doesn't have a strong point in that regard.

I am going to go old school on you youngsters. My reference point for smartphone cameras are the old Polaroid instant cameras. This is basically all we had back in the day before digital cameras. Nothing like going out to Kmart and picking up some film and flash bulbs. Lol. I have photo albums full of these . They are not even close to the worst smartphone cameras nowadays quality wise. You have no idea how well you have it. Now get off my lawn. I also had to walk to school and back up hill both ways.

Fortunately, those days are over. The benchmark for "good enough" is a lot higher then. Point and Shoot Cameras still outperform smartphones by a decent clip, while giving you incredible zoom. If you can buy in the $300+ range, no smartphone is better - none. And you should be able to do that, if you're buying $800 smartphones ;-)

I refuse to believe those days are OVER!! :)

Thanks for the review. Having purchased the V10 due to the hype about the camera, I am now sadly dissappointed as the shutter lag is terrible, the low light settings are terrible. Would I buy another V series...only if major improvements. So thanks to your review, Ive saved myself the trouble!

As an owner of a V10 despite a display retention issue, I'm not too surprised that the V20 isn't that big of a differentiator from the V10. Hell, I caught on to the shaky video used in Joseph Gordon-Levitt's V20 commercial straight away, basically telling me that the V10's quirk with shaky video is still present. To be honest though, I think the V10 and V20 truly are at their best when used for content and media creation, just not for regular average joe consumers who mainly use a phone camera to take selfies or quick images of moments deemed worthy of being saved. As with the V10, the V20 will shine with a tripod and gimbal, especially for video.

You're not much of a photographer.

A bit of tweaking and my V20 camera is about damn near perfect. I expect some of the minor issues to be addressed in upcoming updates like they did with the Korean version. I don't use video that much, but it was pretty easy to get the stabilization working with the right settings.
Ugh, please tell me they are not actually paying idiot reviewers like 'Florence Ion'...
What a superb, all-around phone (for people with a bit more on the ball than 'Florence').

Soooo you think i'd be swayed away just because the phone doesn't excel in the camera department..Wait.that's it??? Shoot if that's the case this sounds like my dream phone! Coming from two Samsung devices (Note 5, S7 edge) there were a ton of stuff i didn't like. Bartender i'll take a V20 please!

I must be one of the few that sent my pixel xl in the return window for the v20 I think the pixel xl is a solid device but its not my type of device. The v20 take awesome pics in my opinion and so does the pixel xl (besides when you get a lens glare) but I did notice if I leave HDR on and not auto with the v20 the pics come out much better but now that I learned how to use the manual controls pictures are coming out amazing but to say this phone is not flagship is nuts it uses some high quality matetials to make it durable but light in the hand but that's my opinion

Let the hate continue lol

I actually owned the V20 and agree with the article. The camera does leave a lot to be desired for not just me but my wife as well. Overall the phone is a good phone, but the auto mode on the camera needs a lot of work. I found myself having to go into manual mode a lot to get a good shot l. The only problem is you cannot do this for every shot or you will miss it. A lot of grainy out of focus or over exposed pictures in auto mode. I will admit that the my now RIP note 7 and S6 edge plus spoiled me when it came to snap and shoot cameras. I recently try sold my V29 and "downgraded" to the Note 5 and the auto mode works like a champion.

Must defend the V20's honor. lol.

I think most people are leaving HDR mode on auto and not always on with the v20 it makes a big difference when you have HDR "on" and not "auto" but i get every one has there cup of tea and pixel just didn't satisfy me coming from the nexus 6p but the v20 is for me

I agree.
I also did the same thing in settings for HDR and I also returned my Pixel XL. I just miss the AMOLED display. That's it. Other than that, I *love* this phone with 96GB of ON BOARD storage for $200 less than a Pixel.

Here's the thing, the V20 has given us the control back and people are complaining how its photos are not as good as others in auto mode. But i have never heard LG say that the V20 has the best camera and photos! What they say is that if you are a content creator then maybe its for you! Most content creators know about iso, shutter speed, white balance and so on, or they are willing to learn and what a great phone to show you how in real time. So instead of saying that it's not a Note7 or a pixel which i'm glad that its not!, this phone gives me the creative decision to choose. As i said before...i am not going to buy a car with a manual transmission if i don't know how to drive one, then complain about how shifting isn't a smooth as my automatic.

ProCam 4 and Lightroom on an iPhone. There are comparable Manual Cameas on Android, and Lightroom exists there as well. Microsoft has decent manual controls on Windows Mobile. Even the RAW images this phone takes are awful. It has nothing to do with controls. People complain about the output because it's mediocre. It's that simple. The Pixel camera is overrated, but for those who shoot predominantly on Auto, the HDR+ will placebo its faults. LG is marketing this phone to a non-existent niche. There are no "Professional Smartphone Photographers." The people willing to put that much work into using a camera already have superior P&S, SLR, or Mirrorless cameras that they will use, instead. I have no clue why they didn't just use a secondary telephoto lens. The distortion on that wide angle lens is awful, and it's a solution looking for a problem... The wide angle FFC is a bad idea, IMO; especially since it distorts heavily, as well.

I sell phones for a living. There is definitely something going on with the LG V20 camera when in auto mode. It is definitely not up to par to the V10 camera and none of us can figure out why. I'm not sure if they changed the laser autofocus or what? I was all set to upgrade my V10 to the V20 but I have since changed my mind.

Has anyone at LG acknowledged this? Do we know if this is a real thing?

Just go into camera settings and turn on HDR. Voila, problem solved. That's what Pixel does, it shoots EVERYTHING in HDR.
You can leave the rest of the settings on Auto. I have noticed an uptick in quality. LG by default rarely uses HDR.

"LG's not-quite-a-flagship..." Seriously? It has the same processor, more storage, a bigger screen, and more extras than any other phone by any other manufacturer. Perhaps the author of this hit piece is not-quite-a-professional journalist. This is a camera review. I get that you found the camera lacking, but the snark is offensive to those who have chosen this phone for the sum of its parts, not just its camera. Besides, I find the camera to be fantastic. Does it work differently from those offered by Samsung and Google? Yes, but that's not necessarily a bad thing. Android offers choice. I choose the V20.

I also thought that line was pretty odd. It's a flagship. Period. The end. Odd.

Couldn't agree with you more. This phone rocks. Not LG's fault the "not-quite-a-professional journalist" is also a "not-quite-a-professional photographer".

That thing takes some TERRIBLE Pictures!!! Be honest LG V20 owners... Your phone sucks. Admit it.

The V20 camera sucks at being a Pixel camera. Happy? On its own, it's comparable to other FLAGSHIP phone cameras on auto and vastly superior in manual mode. If you demand the most highly reviewed point and shoot cellphone camera on the market, buy the Pixel. If you want an excellent point and shoot cellphone camera with undeniably the most flexible manual options, buy the V20.

The Auto is horrible. It auto exposes everything, has issues focusing, records some of the most awful noise unless you get geeky with the settings, and has horrible video stabilization. The noise reduction is way too much in this devices, and it tends to oversaturates everything while consistently blowing out highlights. It has a lot of trouble dealing with mixed lighting situations, where lights of different colors are in the frame. It tries aggressively to make one white, even when it may not be, which screws up the color temperature of the entire image. The camera on this phone is mediocre by flagship standards. Just cause they gave you a decent manual mode doesn't mean this device meets the benchmark. You're better off buying a Lumia 950 or even some older models if you want good video with great sound and good image quality. Probably cost half the price, at this point. Prosumers aren't really that concerned with the OS the device runs, as long as the output it worth it. Worrying about that other stuff is for the pretenders.

https://www.youtube.com/watch?v=6DsKf03nV0U

Krystal Key's reviews are hardly the benchmark of objectivity (far from it) and a lot of her conclusions defy all manner or rational thinking. I wouldn't be linking this as some endorsement of the phone. Most half-decently intelligent human beings are likely to shake their head through her videos. The image samples are bad, and the clearly doesn't use HDR in scenes that are pretty obviously calling for it. Also, she completely ignored "authenticity" when judging the issues. Everything is about the colors of the sky (even when the sky has nothing - at all - to do with the photo (other than "being in it"), to be frank) and other things... Her conclusions stretch the boundaries of logic. She will look at a quarter of a square inch of the photo between two branches and be like "this one wins it for me, because I can see the blue in the sky"). These videos are hilarious, and watching them is a bit of a guilty pleasure of mine. I always have to see how she'll up the ante on this, over and over again.

A strange review indeed. It seems like you chose the worse samples ever. This is a well known camera that goes on par with Pixel and latest iPhones. I have checked the sample photos of other V20 reviews out there, and the photos are breathtaking for a smartphone camera. Not sure what happened here...
Android Central Newsletter
Get instant access to breaking news, the hottest reviews, great deals and helpful tips