LG V20 camera review: Twice the fun, twice the disappointment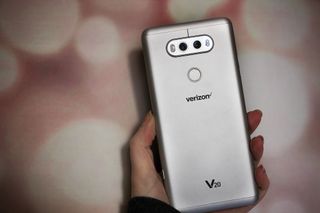 The LG V20 scored particularly well in our initial review. Our own Andrew Martonik crowned the V20 as a phone that's properly equipped for power users and while that still rings true, we're shifting gears to take a closer look at its three cameras.
The V20 promises to equip you with the appropriate hardware and feature set necessary to shoot, snap, tweet, record, and everything else you need to broadcast your life to the world. And while it does manage to stay on track with its objective, don't rule out buying a dedicated camera just yet. I spent a week with the LG V20 testing its various camera features. I made Snapchat Stories, recorded video, and shot long exposure shots with its manual mode. Here's a look at what LG's not-quite-a-flagship is capable of and what you can expect from it if you were looking at the V20 as your next camera phone.
Not a substitute for the real thing
The LG V20 doesn't boast too many new camera features over its predecessor, the G5, nor is there much differentiation from the first-generation V10. The V20 heralds a similar setup: dual 16-megapixel and 8-megapixel wide-angle rear-facing cameras paired with a 5-megapixel front-facing camera equipped with a wide-angle mode. The main rear-facing camera also employs a hybrid auto focus system that combines laser, phase-detect, and contrast auto focus. There is an additional focus tracking mode available in the camera settings.
Image 1 of 13
I had a mixed experience with the V20's primary 16-megapixel camera. While the camera produced photos that were high-resolution enough to crop and edit for social media, there wasn't much consistency in terms of photo quality.
More often than not, I found myself relying more on other apps to make the V20's shots look good everywhere else and I hardly felt confident enough to directly post to the internet without some prior tweaking. The V20 also struggled to consistently expose the right parts of each scene and this was particularly frustrating because photos with blown out scenery typically don't edit so well, even with simple filter effects.
The V20 is also a finicky low light performer. Its primary camera shoots at an aperture of f/1.8, so it works fine in dark restaurants and poorly-lit bars. As you can see in the example above, if you're holding the V20 still enough, it can capture the scene with enough detail. However, like its performance in daylight, the photo quality was extremely inconsistent.
There were several instances that photos looked too grainy to lighten after the fact. It's hard to focus the V20 in darker environments without the aid of the manual focus mode and I later discovered that many of the photos that looked fine in the Gallery app were too blurry to even bother stowing away as a memory when viewed on a larger screen.
Thankfully, the V20's primary camera sensor works well with third-party apps like Snapchat and Instagram. My snaps and stories were crisp and clear each time. The only bummer is that you can't switch between cameras in third-party applications. I can't tell you how many times I wanted to use the wide-angle lens for landscape and group shots. One of the drawbacks of a dual-lensed camera phone is that it's only available to the native camera app.
Image 1 of 2
Image 1 of 2
The 8-megapixel wide-angle lens has its drawbacks, too. First off, it shoots at an aperture of f/2.4, so you won't get the same low-light performance as the primary camera. Second, there's a bit of fish-eye distortion that occurs in landscape shots, thus making the photos harder to crop and edit after the fact. The wide-angle mode is fun if you're shooting action shots or streaming video, but it likely won't be your first choice if you're serious about smartphone photography.
Manual mode for the masses
In spite of its finicky low light performance, I was quite pleased with how easy it was to use the V20's manual camera mode. The on-screen controls are both responsive and identifiable. There's also an auto-exposure lock feature, which I used to "cheat" my way through manual mode. I'd tap it to automatically adjust the exposure levels, and then I'd go in and manually adjust the other settings based on how it looked in the live preview. This proved especially helpful when auto shooting mode had trouble adjusting levels, like when the sky would appear overexposed.
Image 1 of 6
I also like that you can manually adjust the levels for the included library of filters. I had fun making moody scenes with the black and white filter options and turning my cat into a vintage model with sepia filters. You can also use the manual mode with the wide-angle lens though the results won't be as crisp.
As an aside, I found that because its manual focus is digital rather the optical, the setting does not pair well with a clip-on smartphone camera lens.
Image 1 of 2
The V20's manual mode allows you to shoot in RAW and JPEG at the same time. If you shoot with a filter on, however, it will only save it in that manner in JPEG. That leaves you with a clean photo to take into an app like Adobe Lightroom. Don't bet on any post-processing applications to make just any photo look better, however. In the bar scene I shot above, you can see that despite my best efforts, the original picture was too noisy to tweak.
About those selfies
The V20's 5-megapixel front-facing camera is not as feature-packed as the back lenses, though when you switch over to it you'll still have access to all the other camera features in the app so that you're not constantly jumping around the interface. There's also a front-facing flash option, which places a background behind the viewfinder to brighten up the screen and illuminate your face. If you need to fit more friends in, there's a wide-angle shooting mode that's available, too. You can record front-facing video, Snaps, and Full HD videos, as well, and use any of the included filters to your liking.
Unfortunately, the manual options are not available for your selfies, so if you're looking for more accurate nighttime exposure, you'll have to flip the entire phone over and have someone else adjust it on the other end.
Image 1 of 2
Oh—and beauty mode is still weird. I like that it blurs out any blemishes, but at full capacity it makes me look like an alien.
Shaky video, anyone?
The advertising surrounding the LG V20 makes it seem like this is the ultimate content creation tool. But after a week with the V20 as a video camera, I'm dubious about whether it's apt enough to produce a short-length feature like Joseph Gordon-Levitt would have us believe.
The V20's 16-megapixel and 8-megapixel wide-angle cameras are fine for shooting casual video to share to the web, but like its point-and-shoot abilities, there's an element of inconsistency that's ultimately frustrating. For instance, LG hails the fact that the V20 utilizes Qualcomm's digital image stabilization system, but it's not that impressive.
Just look at how shaky the video is above. I was merely holding the V20 with my dominant hand while walking through downtown San Francisco. The device's video recording capabilities are better when it's on a tripod to stabilize it, or if you're recording while standing still or sitting down. I much preferred the "strafing" effect of the Pixel XL's video capabilities than the V20's apparent "shake it till you make it" motif.
The V20 also boasts a manual mode for video recording. The shutter speed tops out at 1/30th a second and you can use the various included filters and tune each manually to your liking. If you're really going for it, you can also pair a Bluetooth microphone and control its pickup right as you're filming, but be forewarned: the V20's microphones are incredibly sensitive. I know Bay Area Rapid Transit is loud and screechy as it is, but I was hoping that the V20 would have been able to equalize the recording on its own.
Fun stuff that's built in
I've already covered some of the LG V20's extra camera features and most of them were included in last year's LG V10. The benefit of the added features means you don't have to worry too much about downloading a third-party app that can string together video collages or trim a video.
However, I hardly think to myself, "Oh! This moment is worth shooting with the V20's Story mode!" To that end, the V20's extra camera abilities are a fun novelty at the beginning, but you'll soon find that most moments in life happen too fast for you to bother setting up one of these camera modes.
Is it worth buying?
I've always thought of LG's marketing behind the V-series as a bit of a gimmick in the sense that there are still too many limitations to smartphone camera hardware to truly consider it as an alternative to a full-size digital camera. But I also feel like LG isn't advertising this device to the right audience.
The V20 would be best suited for a teenager or young adult — a Millennial, if you will — who wants to get creative but who isn't too keen on wielding the same phone as the rest of her schoolmates. And while I appreciate that the V20's 16-megapixel rear-facing camera is higher resolution than some of its competition, I much prefer the performance of the Galaxy S7 and Pixel XL's 12-megapixel cameras.
I echo the sentiments of our original review of the device: The LG V20 offers very little "wow" factor in terms of its video and camera capabilities.
Get the Android Central Newsletter
Instant access to breaking news, the hottest reviews, great deals and helpful tips.
Florence Ion was formerly an editor and columnist at Android Central. She writes about Android-powered devices of all types and explores their usefulness in her everyday life. You can follow her on Twitter or watch her Tuesday nights on All About Android.