LG sells 59.7 million smartphones in 2015, two flagships slated for this year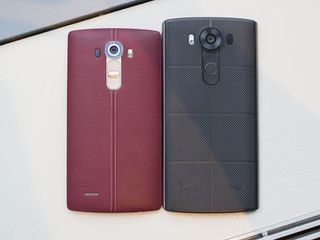 LG has announced its quarterly earnings for Q4 2015, recording 15.7 smartphone sales during the period, which brings the total number of sales in 2015 to 59.7 million. That's a minor increase from 2014, where the South Korean manufacturer managed sales of 59.1 million.
Revenue from the mobile division for Q4 was 3.78 trillion won ($3.26 billion), an increase of 12 percent from Q3 2015. LG attributed the increased sales figures to improved sales in North America. LG Electronics as a whole recorded revenues of 56.51 trillion ($48.8 billion), and an operating income of 1.19 trillion won ($1.03 billion) for 2015, both down from 2014. The vendor chalked up the slowdown in cumulative sales figures to "sluggish global market demand for TVs and softer growth of smartphone market."
Looking forward to 2016, LG has mentioned that it will launch two flagships, along with affordable handsets aimed at emerging markets.
Source: LG
Harish Jonnalagadda is a Senior Editor overseeing Asia at Android Central. He leads the site's coverage of Chinese phone brands, contributing to reviews, features, and buying guides. He also writes about storage servers, audio products, and the semiconductor industry. Contact him on Twitter at @chunkynerd.
So what was the operating income for their mobile division? Posted via the Android Central App

No breakdown of figures for the mobile division. LG did say that its overall margin increased due to higher sales in North America and "better cost efficiency."

Just found this on The Verge:
"Worse yet, whereas LG was squeezing out a small profit from its mobile division in 2014, last year's total was just south of breaking even, with the fourth quarter resulting in a $37 million loss." http://www.theverge.com/2016/1/26/10832150/lg-q4-2015-earnings-flagship-... Tbh who is surprised.. Unfortunately the smartphone race seems to be impossible for anyone else than Samsung and Apple..

The smartphone market is just too saturated. And believe me when I say that both Apple and Samsung are feeling the pinch, the latter more so than the former. Not as much as all the smaller ones, but they are feeling it.

The verge, ha,... Ok Posted via the Android Central App

I had a cheap LG from Walmart/Straight Talk a few years ago. Was pretty decent for ST but no memory to speak of. Then my new dog thought it was a chew toy. It still worked!
I'm looking forward to the new ones so I can get the G4 at a good markdown. Sadly, no V10 on Sprint. Posted via the Android Central App

I think they're running a special right now: Up $200 off the G4 when you trade in any working smartphone. (with new line or upgrade) Minimum trade in: $100

Picked up an unlocked version of the G4 two weeks ago on Amazon (retail packaging). Around $350 and I plan to keep it for about two years, so I am still beating the AT&T Next plan for any of the phones they were offering, including the G4!!

Imagine if LG could somehow make their software user experience enjoyable. They could be a serious challenger to Sammy. They actually learned their lesson when they took away the removable battery and expandable memory in the G2. So it is obvious they listen to the paying customers. Posted via the Android Central App

I'm glad it looks like they're moving the buttons to the side, and like you said, hopefully they'll improve their software. Of the skins I've used (Moto, TouchWiz, Sense) LG's is the worst.

I put Nova on mine. It made it better but I find it somewhat unpleasing to look at sometimes. The performance on mine was all fine. They need to work out the UX design.

Nova is always a good bandaid, but like coolbreeze said, launchers can only do so much. I'm getting the impression the G5 will experience a major overhaul, so hopefully the software will make a significant change.

I hope so, too. They need to reduce the DPI of the UX like on the Note 5. It's just too big.

The DPI they use is hideous. Like senior citizen poor eyesight hideous. A launcher only does so much. Posted via the Android Central App

640DPI. Yeah, that's too damn big. Seriously, they need to make it smaller. It's just too big. So much valuable screen-space is wasted because the DPI is just too high.

Action Launcher for me. Very smooth experience. Took me away from Google Now Launcher. Posted via the Android Central App via the LG G4

Same here, the desktop icons are half the size of the hideous Google and LG ones, once adjusted.

I actually prefer the buttons on the back. You rarely even need to use them and it prevents me from accidentally hitting them when I pick up my phone.

not quite. I have the G4 and the thing I hate about it is when I haveit on the counter and want to raise the volume. Sure, I can double tap, swipe my lock, then swipe down to see the volume bar and increase teh volume when I hear my favorite jam. Or I can grab the phone, turn it over, or pick it up, and raise the volume. O I really wish I could do that from the side volume bar liek other phones. Now when its in my hand, yes the back buttons are nice... but I miss the side buttons.

You could just leave the phone facedown and a win-win since the speaker is on the back you get a clearer sound and be able to press the volume rockers when needed. I'm a runner and even though i could use the volume rocker on my bt headset i put my phone in a fitletic belt with pouch unzipped so that i have direct access to volume buttons on back if needed. it's perfect. i hear the G5 is doing away with it and i can live with that if the rest of the phone is cool and some new design to make it worth losing it.

Yes, on my older note 2, i would hit the power button or volume rocker about half the time and sometimes not realizing it. That's bad if your going to the movies.

Yup now I got used to it the side buttons now feel uncivilized.

2 flagships and a lower end device ... take note HTC. LG got it right with the v10 and I think the g5 is gonna continue the momentum. moving the buttons to the side will attract more buyers, and hopefully they'll improve the software.

"LG has announced its quarterly earnings for Q4 2015, recording 15.7 smartphone sales during the period..." I don't know about LG, but the way things are going for HTC, 15.7 smartphones in a quarter might be a healthy sales increase! I kid, I kid!

That's almost 18 smartphone.

Like I said below, I'd hate to be the poor guy who bought 0.7 of an LG smartphone.

59.7 million phones sold is certainly nothing to scoff at for a company as small as LG in terms of market share. Of course, both Samsung and Apple sell in the triple-digit millions, but then, those 2 are already the smartphone juggernauts.

LG isn't THAT small of a company on the Android market. Don't forget the USA does not reflect at all the world market.
In Europe, for example, LG is the 4th or 3rd largest mobile OEM already (haven't checked lately but they were getting very close to Sony who was n. 3 the last time I checked and had already surpassed Microsoft). Posted via the Android Central App

I meant worldwide. They're not THAT small, but in comparison to the top 3, they're pretty small potatoes.

This isn't that bad. Everyone in the Android space (except Huwaei and maybe Asus) was treading water this year. 1. Economic downturn in China.
2. Qualcomm 810 overheating issues.
3. Lack of real updates to phones, providing no reason to upgrade other than to get a new OS. (And even for the "new OS" part, since Android 4.4, the software has performed quite well, so getting a new version of the OS isn't as important as it was in the Jellybean and prior years.) I mean, not offering more than 3 GB of RAM seems to have hurt these guys. Offer a new 64 bit OS, but package it with the same amount of RAM that devices have had since 2013. They didn't even bump up the RAM when the 810 problems forced OEMs to underclock it or ditch it altogether and go with the 808. Now that the Galaxy Note 5 FINALLY went to 4 GB of RAM, LG and HTC will follow Samsung's lead (as always) providing better hardware specs. (For some reason, the idea that LG and HTC should actually be trying to BEAT Samsung by offering BETTER specs is alien, even offensive to them. Fortunately the Chinese manufacturers have had no problem with actually trying to win the specs race, or at least offer some new hardware configuration options, such as more RAM but with cheaper components to try to increase performance while controlling costs.) Also, as the Snapdragon 820 will actually provide a significant performance boost over the 805, that plus the increased RAM will give people who own older LG phones an actual reason to upgrade. Another thing that will help LG: finally giving up on the LG G Flex. Looks like they are going to replace it with the LG V10 for their second premium offering. It was good that LG tried to innovate with the G Flex, but unfortunately it was innovation that no one wanted. Had LG not come out with the G Flex last year - which did not sell and cost them money - they would have turned a profit, not to mention avoided that embarrassing overheating bad PR.

As a former flex 2 user, 5.0.1 and that unbridled 810 killed the phone. On 5.1.1, the phone flies and doesn't overheat. It's a great spare or cheap flagship these days. Posted approved via Moto Maxx

Best Phone around 200 dollars posted via the LG Flex 2

Oh and ergonomically nothing beats the Flex . It's still the Ferrari of smartphones and nothing beats it. posted via the LG Flex 2

I don't disagree about the G Flex 2 being a good phone. The problem is that it was a good phone that nobody wanted and didn't sell, which cost LG money. People didn't want a curved screen. They wanted more RAM to take advantage of a 64 bit processor (future-proofing) and they wanted better software updates. Good products is one thing. Good products that people actually want is another. Another thing: marketing. If LG marketed their phones in the west half as well as they marketed their TVs, they would sell twice as many. The same goes for Sony, whose US smartphone marketing is almost nonexistent.

Yeah but is 3GB RAM (Flex 2 US Ver.) not enough?
Even the 2GB EU Version is running lag free and "buttery smooth".
It's even DDR4 RAM I count myself a heavy user so this should be very well enough for the average Joe. posted via the LG Flex 2

Not surprised with the 2 flagships. G5 and V11. That's easy to guess.
I doubt however that it will help them if they keep their strategy of only releasing phablets. As the iPhone 6/S, the S6 and Sony's Compact line sales have clearly shown, there is greater demand for smaller phones. LG is the only relevant OEM that doesn't offer one. So maybe they should think hard about that. Posted via the Android Central App

I'd like a G5C As in an actual smaller G5 that has the same hardware as the regular G5, only smaller and with a 1080p display.

Yes, I got it that the C stood for "Compact" as in Sony's Compact line ;) And I wholeheartedly agree.

So LG G5 and V11? Posted via the Android Central App

Not so sure about the V11 name. There were no V1-V9 phones that I'm aware of, so it's not a sequential thing. What would you call it's successor though, V10 (2016) would be a crap name. Posted via the Android Central App

V12. I'm guessing it's a car engine thing, so V12 would be next, and V16 in 2017. After that, they're pretty much out. But 3 years of a naming scheme is more than a lot of OEMs manage to stick with. If they wanted to make a smaller one they could go with V8 or V6. Posted via the Android Central App

I'd honestly call it the V20 Nexus 6

Agreed Posted via the Android Central App

Flex 3 !!!! posted via the LG Flex 2

I would like to know how the V10 is doing saleswise, i love mine

Fairly well in the US based on recent reports. Posted via the Android Central App

LG really does make great phones. They cram everything into them and give you the least compromises. I think their biggest issue is advertising. If they pushed their phones as hard as Samsung does, they'd sell much better.

Agreed, love my v10. No compromises. Posted via the Android Central App

Sooooo when will marshmallow be coming to the v10 Posted via the Android Central App

I hope soon..... :) Posted via the Android Central App

Lol you think it's bad no wait till Huawei Xiao no ZTE and all the other Chinese go to work on the western markets then they'll really feel the screws.

My toe nail is Falling off.. Posted via the Android Central App

As a lg g3 owner I'm ready for the next upgrade. (this was my first lg phone and I have really enjoyed it) had htc Evo4g, then evo lte. Loved both of those phones but the mega pixl drove me away to try something else. As much as I want to jump on the next lg g5, I'm ready to see if htc will do anything special this year. But, regardless of eager for lg5 as well. My new quandary is I may for the first time hold off because of what a lg V11 may bring.
I've never been a Samsung fan but have considered a note series. Posted via the Android Central App

Its amazing .but Here ( http://www.geeksjar.com/how-to-switch-from-iphone-to-android-without-los...) i was searching abou my phone and then found this i wana clear that is it right to make my phona as this

Yeah and only two carriers have Marshmallow........ US Cellular and Sprint....... That's pretty lame! Come on AT&T Posted via the Android Central App

Let's get marshmallow and kill our batteries faster. I am loving lollipop on my G4. I can squeeze out 5 hours of sot.

How do you do that? I only get 2 1/2 hours screen time Posted via the Android Central App

I have stuff turned off, screen at 50% and lg access which lets me turn off things in apps that I download like keeping the app awake. That kills the battery if it is still on.

As someone with a g4 and having marshmallow you do not want it... Battery went from amazing to garbage. I had to try that deleting Facebook thing to fix it Posted from my LG G4

I just read another article that Oppo sold 50 million devices.... Is LG not selling enough? I know LG sells globaly but I don't know if Oppo sells only in Asia Market. It seems to me a low number for LG compared to others manufacturers. Posted via the Android Central App on Moto G3 16/2 on $35 Cricket wireless plan.

Oppo sells a lot in China. LG does not.

2016 is feeling like a breakthrough year for LG. Posted via the Android Central App

I really hope there are successors from the Flex Series. The Flex 2 is selling really well especially since you can grab this 2015 flagship around 250 dollars. Since Android 5.1.1 , it's a beast.
The Snapdragon 810 paired with 3GB/2GB DDR4 does it's job really well and webrowsing is awesome.
The Samsung Galaxy 6 and the LG Flex 2 broke the ice for such fast RAM in smartphones. ( download the Blackberry Keyboard APK from XDA forums for maximum experience : ) Especially the LG Quick Circle Case is stunning. (Had to order it from US to Europe. Getting accessories for the Flex 2 here in Europe is hard) But was worth the 14.95 shipping :)
There are even apps for the Circle and nice watches. missing Rolex:/ posted via the LG Flex 2

Here's hoping for a one hand friendly g5 Posted via the Android Central App

"LG has announced its quarterly earnings for Q4 2015, recording 15.7 smartphone sales during the period" I'd hate to be the guy who got the 0.7 smartphone.

after the hardware debacle of the G4, only time i've ever had a phone fail on me, i don't think i'll go for another LG phone. just lost too much.
Android Central Newsletter
Thank you for signing up to Android Central. You will receive a verification email shortly.
There was a problem. Please refresh the page and try again.