LG G5 owners, how's the Nougat update treating you?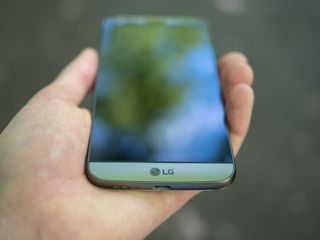 The LG G5 wasn't exactly a smash hit, nor did its modular "friends" ecosystem take off. But it's a solid phone in itself, and one of the few released in 2016 to offer a removable battery. It's also lightning fast, with one of the best phone cameras to date, in the form of a 16-megapixel main camera and 8-megapixel wide angle shooter.
And the G5 gets even better this winter thanks to a relatively speedy upgrade to Android 7.0 Nougat. LG's home market of South Korea already has Nougat on the G5, and the update has since started to trickle out to parts of North America and Europe.
While LG's UX hasn't changed much, the Nougat update brings redesigned quick settings, overhauled notifications, proper split-screen multi-window support among other improvements.
If you're rocking an LG G5 with the latest Android update, we want to know what you think! Has your G5 stood the test of time, or are you running into problems after upgrading to the latest firmware. Some G5 owners on the Android Central forums are noticing a battery life hit after taking the over-the-air update, while others are seeing a slight improvement.
Whatever your impressions of Nougat on the G5, be sure to share your thoughts down in the comments. And head on over to the G5 forums for more discussion on the phone's latest firmware upgrade.
Get the Android Central Newsletter
Instant access to breaking news, the hottest reviews, great deals and helpful tips.
Alex was with Android Central for over a decade, producing written and video content for the site, and served as global Executive Editor from 2016 to 2022.
Don't know. Still waiting for my H850 in the UK to get the update.

If you install LG bridge on laptop you can have the update, I've had it for over a month

That didn't work for me, I had to wait it out and only got the update last week through my phone.
LG bridge I tried every day but never worked and always said my phone was up to date.

Check for the update manually and the update will be provided. I set my phone on automatic update and I waited for the nougat for eternity but the moment I went for manual update, it came up.

Is there any G5 users? Didnt know

Yes I do its a great phone... If you have a case for it.

Yup. Purchased a nice Fosman clear case. She looks like an iPhone but with the customization and power of Android. The G5 is a great phone. Also the Nougat update makes the notifications more functional and I like the split screen.... Performance seems the same.

I gaming and gpu dependent games its so much nicer.

Didn't the G5 have split screen before Nougat though?

For some reason (perhaps anticipating Nougat release) LG removed it from the G5. Worked well in G4.

It didn't have it unfortunately. I use it quite often now that's it's available. Definitely one of my favorite newer features.

My thoughts exactly Airiartev! Besides the cheap LG throwaway phones, I've personally never seen another human use an LG phone outside a store. It's always Apple, and Samsung, with the occasional Motorola and HTC phones.

I used to use Samsung, When the G3 came out the specs were better than it's samsung competitor. I bit the bullet and gave it a shot. Immediately impressed with the screen quality, and other features. Had a friend who got the G5, we tested the cameras with basic settings. LG at full zoom could still see small text clearly, samsung was blurry and jagged (maybe difference in screen resolution). Waited for G5, slide out bottom seems moot to me, but like the phone overall. Blazing fast, showed a few friends and they all have them now too.

Faster better batterie life but even this the cameras have great hardware they need better noise consolation and proceeding for low light. The shutter speed is slow in these conditions and often too slow to reduce noise. They also have to optimize add loading so the page downy move as your reading on some websites. Also the heating problem isn't just fixed but it it easily beets out other phones that it isn't even considered an issue with. Also in testing the batteries life beets out the galexy s7 edge "exonous variant" in battery life except when gaming. Also the performance is better go big applications on the g5 that are more graphic oriented because the gpu is eather better or better optimized. I could go on and on but Ile stop here.

After reading that, it looks like it may have messed with the keyboard too...

That's hilarious. It hurt my brain reading that.😂😂

Sorry didn't check for mistakes.

Noise consolation. Lol. There, there don't worry about the noise, it'll be okay.

I was late comer to the G5 (after not being able to get a Note 7 for which I had waited). Initially I was severely unimpressed by the performance of the G5... Poor Battery Life, I mean it Was miserable. I was just about to return it to T-Mobile when Nougat hit. Manit has been a real improvement in the battery life department. I was getting around 2.5 to 3 hours of SOT, I now get over 4. I may have a had bad installation with the initial software because I doubt that sch a drastic improvement would come from Nougat, but I must say that I'm thorughly impressed with the phone now. AND with HDR turned on this camera is AMAZING. I think that it is better than my S&7 Edge when using HDR. MY ONLY REAL GRIPE --- NOUGAT could not fix this horrendous design. I'm still afraid to take the case off in fear of upsetting my kids with the back of the phoen ---- UGLY. Phone is still pretty freaking awesome.

Overheating also stoped and my batteries life is way better then that and I can get about 2 hours of high intensity gaming witch is insane. Also it dose this with so little heat its barely notisable when it used to be unconftebull to hold after 20 min. Probibly a mix of a clockspeed adhustment / switching between cores more apropreately and the graphics update and optimizations that come with nougit.

I know the US carrier variants have gotten Nougat, but last I checked, the unlocked US model G5 was still on Marshmallow with the July security patch. Curious to know if that is still the case.

It's coming to Canada and china. Sorry don't know ware you live. Also its out in India I think. Also it will probably be pushed and out soon because of the malware thing, the updates security won't allow it. P.S. get excited for it! Its great! To know my opinion I have a berry long comment near the top.

As I stated in my comment, I was referring to the US models.

No we are still waiting in india for update. Had been using galaxy devices for long before lg g5. Bought this after note 7 fiasco. Presently thinking should have gone for s7 since at least samsung pushes updates to our poor third world countries on par with rest of the world. Never going to buy lg again.

No, the US unlocked RS988 still hasn't gotten it even though 4 of 5 US Carriers have, including US Cellular(check the lg g5 subreddit and the lg g5 forum here).

Yeah that's where I last checked since I was tempted to get the unlocked US G5 during the Black Friday/Cyber Monday discount. After I read it was lagging behind in updates, I decided to pass up on it.

Love the new look to the lock screen notifications and the new notification shade. My G5 has always performed great, I've seen no difference in that regard. Same with the battery. Love that the themes work with launchers!

Big ndffrence especially in gaming but the UI changes don't matter to me unless they allow the app drawer to scroll down. That's why I use nova launcher but the things I do see are amazing. Read my comment above for more.

I already did. All of them.

Dude, just giving my two cents. I wasn't replying to your comments.

Can't wait for google assistant in 7.1.1 update! Also who eylce dislikes the lg g6 being like every other phone next year , all glass and no removable battrie if they do this they should mama another small version of the v sixties phone so we get the amazing lg features.

Also I used to have an iphone 5s. It kind of sucked and the speed it is great but slows down every update and the gpu slows down so much over time compared to other products. I don't know why it's so bad. Also the interface is annoying. The speed increase and other improvements that come with most of lg's software updates are so refreshing. The customizability is also, and this is for all android phones... Obviously. Lg is now making the phone more stable, it is now so stable in fact I sometimes fell like it's an iphone tuning google now launcher. Also the hardware may not be able to take a betting, but it's got a nice screen that may be ips but is berry nice and not oversacherated with an always on display. It also has great cameras that mad need some software optimization and a low light or high quality mode to reduce noise in low light and it has some features that are just amazing. You can't call it a bad phone when Samsung's user interface lags when the lg g5 is competing on the level of the pixel for speed and wining against it in the way of stability. You really can't judge this phone on a single video or river. I agree with you, I won't get any "friends" but other then that as I said way to many times, slap on a case and its at the top.

Updated last week and am quite unimpressed. Among the issues: 1. Battery drains faster with no other changes
2. WiFi constantly turns on while auto-rotate turns off for no reason whatsoever
3. Shows "slow charging" and to switch to factory charger. It IS the factory charger and still charges fast despite the errant message.
4. A Google search yesterday (for "oil prices" of all things) got flagged somehow and I had to do a ReCaptcha because of "excessive requests" from my device. It was my first search of the day and I have NEVER seen this happen before. I run good AV/firewall/malware software too. It scared me enough to do a full factory reset and switch from Chrome to Firefox.
5. Most importantly: IT KILLS FOXFI DEAD. So if you enjoy using your phone as a hotspot when you travel you are totally screwed. Unless you want to pay your carrier, in this case Verizon, another $30 a month for hotspot service. In my case Nougat makes this otherwise decent phone a shiny ****. I have to have hotspot service for work as WiFi networks are often few and far between. I can't do spreadsheets and presentations on a phone. I already spend $300+ a month with Verizon on three phones (all grandfathered for unlimited data) and REFUSE to pay another $30 a month to enable my phone to do what it easily does for free. Bottom line: If I could roll back to Marshmallow I would do it in a heartbeat. At this point I may downgrade my phone instead as the few Nougat trinkets aren't worth losing the connectivity I depend on. /rant (you asked)

Who's your surface provider? They may have done their own tweaks to the software because mines great! (I'm on version)

I am noticing done battery drain issues as well. I'm wondering if a reset will help? Did the upgrade but would a fresh install do the trick?

Yeah, I don't own a G5 but these issues seem to happen to some Android devices out of the box or after an update. A factory reset usually takes care of the issues, at least in my experience. If a factory reset doesn't help, your device may be defective, in which case, you may want to return it, exchange it, or send it in for repair if it's still under warranty.

Not sure what you or your provider did to your phone update. I'm on TMo, not one of the issues you noted and quite frankly, no issues as all to report. Plan to rock the G5 for a while, nothing out there seems to be an improvement over it.

G6 sounds promising. But the prices now are crazy.

I have not had the same issues other than the spell check not working really well. Sometimes it works and sometimes it doesn't.

y2kgts, did you factory reset your phone after the update? It is quite common in Android phones to need to do that after a major update. Use LG's backup service to SD card, factory reset, and then restore from SD. It saved a crazy about bugs for me.

Hahahaha, didn't know there were still LG users, LG have some of the worst phone on Android and the G5 being the worst phone of 2016 is a sad reflection of LG as an OEM.

In a case its fine but the software is more stable then the pixle... The g5 also beets it when opening big apps and again, every update the speed, graphics optimixation, stability, and even the overheating which is now something of the past improves. They may not have great modularity and it may not be the best build quality, but theirs so much more to love as long as you slap on a case.

It's not really the worst, TBH. There are worse ones out there.

Glad you took the time to post your thoughts, I just don't share them.

This is the best camera phone and i love the design.if u hold in the hand it looks beautiful.it may be not popular but its best.

You don't need FoxFi with T-Mobile. Consider a change.

You don't need FoxFi or a hotspot add-on plan with an unlocked device on any carrier and usually unlocked devices get updates faster, but in the case of the G5, updates aren't coming very fast for the unlocked version, but you still wouldn't need FoxFi if it's unlocked anyways.

Couldn't tell you. The US unlocked RS988 still hasn't gotten the update despite 4 out of 5 US cell carriers getting it(verizon, sprint, t mobile, us cellular). Additionally their customer service makes ridiculous claims like unlocked phones can't be updated, or individual cell carriers will OTA a factory unlocked non carrier specific update, or to check with Google for the update. I emailed the staff some info about this since it seems like they might be ignoring their own factory unlocked device less than a year after release(we're still on the july security patch)

Honestly I noticed the battery life is just slightly worse. Just slightly. By the end of my work day, I am usually at 75% and now it is around 69 % to 70%. However I carry around a spare battery so that isn't a major issue. Other than that the changes are very positive. Like a lot of phones with an 820 Snapdragon, it is pretty snappy and responsive but with the Nougat update it is somehow even smoother! The drop down interface is a bit easier and feels a bit more stock. Overall I like it. As far as android upgrades it was pretty seamless.

My battery life was at roughly 80-75% after work now it goes to 60% or lower w/out much usage.

I have the G5 on Nougat using T-Mo service and i think nougat makes the LG experience better than marshmallow
-noticed battery life has significantly improved
-UI is a little smoother and quicker
only gripe is this is how the G5 should've performed out of the box when it debuted 6 months ago

This probably came from chip optimisation / adjusting the clock speed and how it changes and when.

Also that was an update that made batteries life much better by tweeking the clock speed but on that version it was to low and the nougit update made the clock speed and what cores your using allowing good speed and battery life.

Mine works great! Especially after the update. Noticeble improvements to the camera, speed of phone and battery! Plus it's nice to say you have the latest update when the Galaxy s7 does not. :)

WiFi and especially GPS issues (where it does not log on to sat) GPS is super irritating! I need it daily ! Thinking about a wipe. NOT COOL!

Look on XDA, I started a GPS thread when my G5 started dropping. I got mine replaced and after that one had issues too, I got T-Mo to switch me to an S7,

My WiFi drops completely 4-5 times a day. Only reconnects after restarting the phone. Also running nougat on my oneplus2 and have no issues with WiFi. Although battery life on my G5 seems slightly improved.

Count me in with the slight battery improvement people. I'm not a fan of the new notification tray. It actually reduced functionality for me. Now takes more clicks to get to settings. Otherwise I'm still living the phone. Just bought my mom one and wife just got one. That removable battery is a must.

The lg g6 may be a glass build so no removable batteries :( If its true they should make a small version of the v siries.

UK G5 battery a lot better on 7.0 not noticed any problems.

Good but battery life seems worst since the update..But I'm happy other than that..Love the multi window feature

Everyone with worse battery life should do a factory reset..

Received the update Tuesday midnight,enjoying the new improvements ,but battery draining like crazy,hope they can fix that with a new update.So far it's great except for the battery.

I wouldn't know...AT&T you know how they are about updates

Love my LG G5 and Nougat. I did a Factory reset and everything is running great. 3rd LG after 4 Samsung phones not looking back. Getting 3.5hrs SOT and 18hrs before plugging in.

Love my LG G5 and Nougat. I did a Factory reset and everything is running great. 3rd LG after 4 Samsung phones not looking back. Getting 3.5hrs SOT and 18hrs before plugging in.

Had the update on an unlocked UK (three network) LG G5 for about a week.
Good to see split screen back (odd how LG removed it from the G5 as it worked fairly well on the G4). Obviously embedded in the OS now so better implemented.
The phone was quick before so no noticeable improvement.
Battery life seems better.
Not sure on the notification grouping (as a feature rather than implementation). It's tidier but slower to read notifications. Kinda defeats the object. I end up using my Sony Smartwatch 3 for notifications instead (side gripe : why can't I dismiss all on the watch?)
Apps work as well as ever. Overall a clean and tidy update. Feels like Nougat is really Marshmallow plus.

interesting, that's not my experience at all. Apps crash a lot more frequently after the update on my G5 :(

@iampav. Was the G5 a phone supplied by 3?
I'm with them and when I check for the nougat update via the phone settings it comes back "you are using the most current blah blah blah"
Most annoying.

Have to say, it wasn't. It was a third party (buymobiles.net) that did 3 contracts. Model number comes up as LG-H850, Software version V20a-EUR-XX if it helps. Reckon it's unlocked whereas not sure if 3 phones are unlocked by default. You could go crazy checking for an update when you know it's pending!

Three saying their phones aren't locked are only partially telling the truth.
You can use other network sims but and here's the kicker
They lock the phone to ensure their bloatware isn't removed.
I cannot access the clear cache as its locked. If it was a true unlocked phone this wouldn't be blocked.
Way to go Three.

Interesting, I'm also on three in the UK and I haven't had the update yet

Small aside, unsure whether connected to update or not but GPS has started to suffer from major drop-outs. On LG's advice, I've performed a hard reset without any luck. They said it's a common issue - this model's bootloop equivalent? I've now reported it to LG and am waiting for a response hopefully for repair or replacement.

I like the UI of Nougat, but it is very buggy on my G5. apps crash more often and I have UI glitches from time to time compared to pre-update. I'm not sure why people hate on the G5 so much. I got it a couple of months ago for a little under £400 with the B&O DAC and headphones and overall it's an amazing phone. Very fast, gorgeous screen, perfect size, charges to full in about an hour and lasts me all day with mobile data, wifi and bluetooth always on. In good conditions it's camera is better than the iPhone 7 (did some comparison shots with friends) and the wide angle lense camera is brilliant for travelling. It is not without it's flaws like any other phone, but because of the bad reviews it's price is now so low, that I find it to be the best value for money you're gonna get. The modules are garbage. I used the B&O DAC for a while and even though it did slightly improve quality, it increases thwe size of the phone to the point where you can no logner use it single-handedly + it looks ugly. If they make the G6 non-modular and water resistant the phone should be great!

I agree and every update it just gets better. I mean it crashes but it takes a long time now. Its better then before but not perfect. They will probably get it their after a while after seeing how much they improve their phone every update.

I don't know. LG refuses to update the US unlocked model RS988. Worthless piece of junk. Wish I never bought it.

Did it get the update yet? I just ordered a RS988 but don't want it if it's not going to get 7.

I had to reset my phone and not it works great !!!!!!!!!!!!!!!!

I dont know. My RS988 still doesnt have the update. Customer Service said this model wouldnt get the update but thats just the typical support knowing nothing important. In any case I just got an Apple Watch Series 1 on a serious discount. I'll likely switch to an iPhone with the next update. My only wish is to get a taste of Nougat on my G5 before I upgrade.

I am on AT&T and have yet to get the nougat update does anybody know when we will get it?

I have Tmobile and received it before the holidays, you should be getting it soon, but brace yourself it is not fun.

UK on Vodafone. Received the upaste in mid December. Battery life was worse at start but resetting a few times some app updates and a clicking on the Qualcomm smart for location sensing now seems a bit better. Otherwise no real difference i normal use. New features not that obvious

I love the nougat. Even the marshmallow wasn't bad at all. The only problem I got was that Barclays Bank of England failed to run on the nougat.

My h831 variant on bell Canada received the update a week ago . Seems like battery is a little better but other than that not much change. Phone was super fast become so I guess it's good nothing got worse. Was hoping the virtual buttons would look like the pixel ones but eh If it ain't broke don't fix it . Still a great experience for me. I am running the BlackBerry Hub + suite and love the BlackBerry virtual keyboard

I loved my phone until this update! Now my phone is having a harder time finding data signal, Google maps super slow and clogged, plus no app folders! But honestly the worst part is no one in any Sprint store has been able to help me return to the old system. In Santa Barbara n Santa Cruz an Oakland, no one has been able to help me. I want my old g5 back..It was perfect.

I feel the same way!!! I can't stand it!! I don't know what to do either :( LG won't help me, Fido won't help me...
I can't afford a new phone but I literally CAN'T stand this phone...

Using my G5 on Fido network in Canada. No issues at all after the upgrade, first the LG apps wouldn't update, but a restart of the phone did the trick. Battery life has improved for shure, other then that not much difference.

My LG G5 runs great before and after update!!! The most underrated phone on the market!!! Can't wait for the G6.

I really REALLY don't like this update. I never noticed updates much, or cared but this one I CAN'T STAND!!! This may be ridiculous, but I HATE the new style emoticons, I hate the new pull down menu how you can't scroll side to side you have to pull down the whole menu to get to the other icons and the look of it is awful... you can't press and hold on the square to get to the settings option for anything. AND my battery is dying SO fast.. I was quite happy with the phone well mainly just because of the camera... and I just signed up for a 2 year contract. Now what am I supposed to do..

Agree the square buttons was great for setting options now its nothing. I also was furious they removed the keyboard themes. One thing i loved about LG was the customizing, now I hate it, oh yea and my battery life is ridiculous. I will need to start walking around w the charger smh.

I'm surprised there isn't a backup file created when the update was applied, so you could roll back. Reading from the so many hit and misses, I'm gonna wait tbh. I'm running rooted stock rom with fluence patch, so will probably wait till the community iron out the kinks and give options to change the menu system etc.
Hope you figures your's out, because tbh it's been a surprisingly good phone otherwise.

I'll wait a while, as the update seems to be hit n miss. My existing setup runs smooth and fast, which is rooted stock rom and fluence patch.
Te community are working out the kinks and change some of the options LG has decided to code in. Sometimes I wish companies would ask their customers via a demo screen shots or something on that nature.

For me alls work ok, except Bluetooth; my Bluejay X2's headset intermittently goes mute, I believe it's only for the media sound. The headset is still connected, so the player app in the phone keeps playing. I have tested all solutions found on the net, restoring network connections, repairing the headset and even doing a factory reset; problem still remains. Sometimes the headset can work find for 1-2 days and then the problem reoccurs; once it started this will happen within 0.5-1 minute after reconnecting the headset. Often does not help to restart even. So if anyone have any tip on how to get rid of this problem, it would be much appreciated.

I don't like this update to be honest.. it's full of bugs, one main bug is the LED notification light is not working for all the third-party apps despite the fact that I turn it on inside the app.. also it made the phone a little slower.. that's totally sick.. they should fix those bugs asap or release the newer version of it as it should fix all the bugs.

This update is horrible. Crippled a couple of apps, needed to uninstall and reinstall them to get them working again. Example was iheart. Would open but would skip through a bunch of songs without playing anything or disconnect after every song when connected to bluetooth. No issues since reinstalling. Messaging tiles now extremely slow when typing. Either misses a bunch of letters or when trying to back space deletes the entire message. Seems to work ok from the pull down menu. Extra steps to unlock my phone??? Used to have lock pattern and notiication on one screen, now I have to swipe away the notification screen to even unlock my phone. Redundent. Same with pull down menu, used to be tiles I could scroll through, and the setting button was available as soon as I pulled down from the top. Now I have to pull down, then hit the arrow for expanded view, then I can click settings. Again another step. I also don't like the look of the new icons. Not a fan of the back button flipping from back, to down depending on the tasks, like putting away the keyboard. Used to be able to set just the keyboard to dark, now have to change the theme of the whole phone. Manageable, but took some getting used to. Unfortunately being an ATT subscriber I could not stop the update. Further research online seemed to confirm this. Just tried clearing all of my message threads as it seemed slow, froze up the message app, and had to wait for a not responding prompt to close it. Upon reopening it, it was blank and froze again immediately. Did a reboot, was able to open app again, needed to try deleting all again as task didn't complete. My favorite, is plugging in the phone only to see it say slow charging, and directly under that state fast charging. Every single time I plug it in. If I unplug it and plug it right back in it just states fast charging. Can't say 100% but seems to charge correctly regardless of the notification. Lastly the wifi seems to be slower to disconnect when it has a poor signal and switch to data.

Man, you need a factory reset.

I HATE the new update as well! I DID a factory reset, and NOTHING CHANGED! I am BEYOND pissed off and aggravated! Any possible suggestions?

Hi,
I only got my "Nougat" update last week and I wish I never bothered. It is absolute garbage.
I have the LG G5 of course and now after the update it kept turning off randomly and for no reason.
Some apps didn't work and some apps had disappeared (well the icons did) and some icons had changed to just the android man.
I had to literally delete many apps and reinstall to get them back.
Every time I lay my phone down anywhere it just turned itself off after a while and I couldn't get it back on because the phone was vibrating when I tried to unlock it with my finger print. I tried again and again to unlock it but the screen stayed black and suddenly stopped vibrating. I think it was not recognising my finger print but sometimes it would and other times it didn't.
Eventually I had to take the battery out in shove it back in again to get the darn thing working and turned on but only to go off again after a couple of hours.
In the end I was going to throw it against a brick wall but I decided not to and I went ahead and uninstalled many apps I wasn't really using much but nevertheless I still liked the apps I uninstalled.
Your right it never cured the phone turning itself off. I then had an idea to disable the finger print to unlock my phone but still use it for my bank and PayPal etc. This has indeed cured the random turning off of my phone so it was the finger print thingy causing these problems.
I still don't like "Naugat" and I really wish I had not bothered with the update. I was patiently waiting for it too as I think EE UK was maybe the last to update it's phones.
Anyway it is working now but I would sooner go back to good old Marshmallow.

you have posted 100% exactly what i felt.