LG G5 and friends: In pictures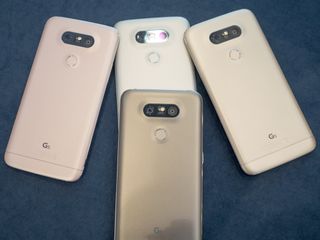 The LG G5 is finally official, and we've already gotten our hands on LG's latest flagship smartphone. There's a lot to digest this time around: An all-new metal design, a smaller form factor, volume buttons on the side, new modular add-ons and a host of "friends" — accessories designed for easy integration with LG's latest phones.
Read on for a complete photographic tour of the LG G5 from all angles, along with LG's first raft of "friends" for the device.
The LG G5
Here's an exhaustive photo gallery of LG's 2016 from just about every angle imaginable. Enjoy!
Image 1 of 3
Image 1 of 6
Image 1 of 2
Image 1 of 3
Image 1 of 5
Image 1 of 2
Image 1 of 3
Image 1 of 3