Lenovo Yoga Tab 10 HD+ review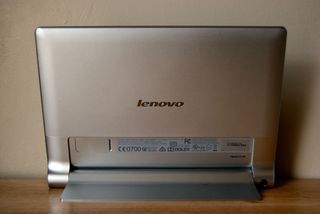 Lenovo's Yoga Tab proves that tablets haven't reached their ultimate form factor just yet.
For as fast, powerful and portable as they've become, tablets haven't necessarily been on the cutting edge of hardware innovation. In terms of developing fresh, exciting form factors and features, manufacturers typically focus on smartphones with which to step outside of the box. With tablets, on the other hand, they have found their comfort zone – outside of Samsung's push for more and more size options and software features, we haven't really seen that much innovation, at least in terms of hardware, since Android tablets entered the market a few years ago.
Enter the Lenovo Yoga Tab, a device that bucks that trend. Lenovo first introduced the Yoga Tab back in 2013 and since then it has undergone a few revisions before landing at the latest iteration, the Yoga Tab 10 HD+.
Yoga Tabs are known for what Lenovo calls their "Multimode Design" – in short, rather than housing its battery behind the display, the Yoga Tab features a battery cylinder and kickstand. This not only keeps the Yoga Tab remarkably thin, but it also allows it to take on various forms, from "Stand" for watching movies and video to "Tilt" for typing and gaming.
I spent a month with the Yoga Tab 10 HD+ and found that a tablet doesn't have to be jam packed with bells and whistles and top of the line specs to be truly innovative.
Hardware
The true selling point of the Yoga Tab 10 HD+ is its hardware design, which is unlike anything else on the market today. It looks radically different than your typical 10-inch tablet, and it functions quite differently too, but all in an approachable, non-radical way. This tablet is different without being polarizing – one of the true tests of innovation.
First, there's that cylinder. It adds a whole new component to the standard tablet design and, as stated before, it optimizes the Yoga Tab for three distinct usage modes. Thanks to its built in metallic kickstand it can hold the Yoga Tab upright without the worry of the device tipping over. It also adds a perfect amount of tilt when placed on a flat surface that allows for comfortable typing. And thanks to its ergonomic design, it contours perfectly to your hand, allowing for one of the most comfortable one-handed usage on any tablet I've ever used.
And what's even better about the Yoga Tab's cylinder is that it isn't just wasted space: it houses the tablet's massive 9,000 mAH battery, the power button and headphone jack, and a pair of front-facing stereo Dolby Digital Plus speakers, which are capable of full, rich, loud sound with deep lows and crystal clear highs. In other words, the cylinder allows for the Yoga Tab some to have some seriously impressive hardware components without compromising the thin, sleek design.
Aside from that signature cylinder, the Yoga Tab 10 HD+ is pretty much your typical 10-inch Android tablet, albeit a very thin one. It measures just over a tenth of an inch thick and it's crafted from a gorgeous and sturdy silver or gold plastic that's both durable and lightweight.
The tablet's body houses the microUSB charging port and the volume rocker. Beneath the kickstand you'll find a microSD slot capable of holding up to 64GBs of internal storage.
What gives the Yoga Tab its 10 HD+ moniker is, you guessed it, a 10.1-inch full HD 1920x1200 display. Outside of Samsung's latest Tab Pro line, the Yoga Tab has one of the nicest displays you'll find on any Android tablet today. Colors are rich and accurate and viewing angles are superb thanks to the tablet's IPS technology. And Lenovo's Adaptive Display technology works remarkably well by adjusting brightness, contrast, and colors to fit your surroundings, which keeps the display looking great wherever you are. Simply put, this thing is stunning.
What's on the inside
The Yoga Tab 10 HD+ is capable of some seriously impressive performance, thanks in large part to well optimized and powerful components. Take the Snapdragon 400 processor, for example: clocked at 1.6 GHz, it may not be the fastest or latest Snapdragon on the market today, but paired with 2 GBs of DDR2 RAM, it keeps the Yoga Tab moving smoothly and efficiently even under heavy usage. Paired with that gorgeous display, and innovative viewing angles and usage modes, this setup lends itself quite nicely to things like gaming, document production, photo editing and video processing.
The Yoga Tab 10 HD+ also ships with the standard guts we take for granted like an accelerometer, compass, ambient light sensor, Bluetooth 4.0 connectivity, and Wi-Fi 802.11 b/g/n. Unfortunately, the Yoga Tab does not have LTE radios, a bummer for those looking for 24/7 connectivity.
Finally, there's that 9,000 mAH battery. It's rated for up to 18 hours of usage by Lenovo, but in real world terms, that claim (mostly) holds true. I was able to get more than two fulls days of light usage, like web browsing, music streaming, and social meda out of the Yoga Tab. When using it for heavier tasks I typically had to plug in at around the 14 hour mark. All in all, you'll easily get through a full day on a single charge, and will likely make it into the late morning/early afternoon of your second day depending on your settings and usage habits.
Software
What I really liked about Lenovo's other line of tablets, the A series, is that the company, in large part, kept its hands off of Android. There were a few tweaks here and there, such as Lenovo's signature removal of the app drawer in favor of a scrolling homescreen experience ala iOS, but in terms of the core Android apps and navigation, things were pretty much stock. I'm sad to say that this isn't the case with the Yoga Tab. Aside from a few tweaks here and there, this is very close to a Android experience; unfortunately, Lenovo wasn't so restrained this time around. Make no mistake about it: this is a skinned version of Android 4.4.2 KitKat if there ever was one – Lenovo has covered just about every corner of the OS with a coat of its own paint.
But all is not lost. There's actually few tweaks that Lenovo did quite well, like the Samsung-esque multi window, for example, that supports up to four independent panes for some seriously intense multitasking. And the core apps like the calendar, gallery and camera, while skinned, function quite nicely. On the other hand, Lenovo's custom SHAREit, SECUREit, SYNCit and SNAPit apps leave a bit to be desired and are outperformed by better third party alternatives.
What's missing from the Yoga Tab are software features that are going to make you say "wow." Samsung and LG have conditioned us to expect a Swiss Army Knife tablet, capable of controlling your home, tracking your eyes, sensing your movement and more. The Yoga Tab simply isn't that kind of device.
One more quick note on software: the Yoga Tab 10 HD+ ships with Jelly Bean out of the box, though Lenovo has already released its update to KitKat, available upon powering up the tablet for the first time. Lenovo has been great with updates and, with fingers crossed, we hope they continue the trend.
Cameras
The Yoga Tab 10 HD+ features an 8MP main shooter with auto focus and a 1.6 MP HD fixed-focus front-facing camera. I found the placement of the camera on the cylinder to be a misfire -- often, my hand naturally rested atop the lens, and orienting the tablet for a nice shot felt awkward.
The optics here are capable of producing shots more than suitable for social media and online viewing, but don't expect anything extraordinary – like the plethora of tablets that came before it, the Yoga Tab simply wasn't made with photography in mind. Shots tend to be grainy, washed out, and noisy, and odds are your smartphone is capable of producing much sharper, vibrant stills.
The bottom line
In the past year of reviewing various Android tablets, I've become pretty blasé about them, unable to shake that feeling that if I've seen one, I've seen them all. Thankfully, the Yoga Tab 10 HD+ has snapped me out of that funk.
With its refreshing design and hardware, the Yoga Tab 10 HD+ is the first Android tablet I've used in very long while that doesn't feel like a rehashing of the one before it. It's fresh, exciting, and innovative without abandoning the basic principals of Android tablets. It's fast, long lasting, well built, and eye catching, all in addition to a slight variance in hardware that makes a massive difference in usability and design.
The 10-inch display is a high point, as is the thin aluminum design, while both of the cameras and a lack LTE fall into the "Cons" column. All in all, though, the Yoga Tab's strengths outweigh its weaknesses.
Perhaps what's most remarkable about the Yoga Tab 10 HD+ is its price tag. For just $349, you can snag a well-built, well-equipped tablet that performs almost as nicely as it looks. If your heart's set on LTE connectivity or a slew of software features that integrate your tablet into your digital life, you'll have to look elsewhere, but for everyone else, the Yoga Tab 10 HD+ is simply one of the best pieces of hardware money can buy.
Image 1 of 7
Get the Android Central Newsletter
Instant access to breaking news, the hottest reviews, great deals and helpful tips.