Lenovo Mirage Solo hands-on: The first Daydream headset that doesn't need a phone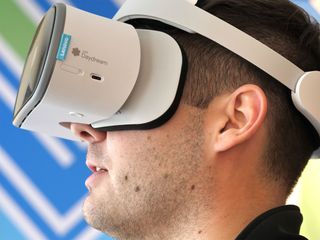 You can do a lot with Daydream today, but it has been clear since Google's last developer conference that the company had greater ambitions for its nascent VR platform.
Using a lot of the spatial logic the company gained from Project Tango, Google announced an expansion called Daydream Standalone. The goal was a headset that didn't need a phone because it had its own hardware inside, and instead of standing still like you would with Daydream this headset would allow you to safely walk around.
We learned recently the first Daydream Standalone headset would be made by Lenovo instead of HTC, and now those plans have turned into something real. Meet the Lenovo Mirage Solo, the first Daydream Standalone headset.
Lenovo's design for the Mirage Solo is wildly different from the all fabric all the time design Google has taken with Daydream up tot his point, and with good reason. This headset contains its own display, battery, cameras, and controls on the side of the headset. That means it needs to distribute weight a little differently in order to avoid feeling too front-heavy.
This is accomplished with a halo-style head strap, similar to what is used with a PlayStation VR and most Windows Mixed Reality headsets. Because the headset is a little larger and heavier than a Daydream headset, this more structured head strap makes the Mirage Solo much more comfortable. And best of all, the is design doesn't apply any pressure around your eyes.
This particular Daydream Standalone headset is almost entirely white plastic, including the inside. The white plastic on the inside isn't usually done with VR headsets, because the white can reflect light that sneaks in through the nose gap or through the sides. With black material that light is a lot less noticeable, which is why it is more commonly used. In our brief time with the headset it was clear the white amplified the light leak enough to be noticeable, but the seal against your face is enough that we didn't experience it much even in a brightly lit room.
Image 1 of 5
Like those other halo-style headsets, you can quickly put the Mirage Solo on and move around without worrying about the headset sliding around. That's a big deal in this case, because you're going to want to move around a lot more than you would with a normal Daydream headset. Google's "WorldSense" capabilities in Daydream Standalone means you are going to be dodging, jumping, and ducking as you interact with new games design for this all-new experience.
The Mirage Solo promises PC-class tracking, but in the demos being offered right now, you're not doing much in the way of walking around. That doesn't mean you won't be able to; in fact, in our tests, it was clear Daydream had a sort of boundary system where you needed to recalibrate if you stepped out of bounds. It's not quite as safety-focused as the digital walls you see in a Rift or a Vive, so questions remain about what the software will do to keep you from walking into walls.
Not every app and game you explore in this headset is going to offer that WorldSense capability, at least not initially. Google promises all 250+ Daydream apps and games from the existing headsets will be available to use in this headset at launch, complete with a Daydream Controller to explore those apps, but those are not WorldSense experiences. For that, Google promises a showcase will be available at launch. Since the headset is powered by the Snapdragon 835 with 4GB of RAM, it's clear these new WorldSense experiences are going to be quite different from what we're used to seeing in Daydream.
While headphone jacks are disappearing on phones, making the latest version of Daydream through the Pixel 2 a little more complicated in the process, Mirage Solo comes with a jack on the side. It sits opposite the USB-C port used for charging. You're going to need headphones, since there are no speakers on the headset, and if you decide wireless is the way to go it supports Bluetooth 5.0 as well. One thing you won't need to worry about is storage; Lenovo has included 64GB on board like you'd expect with any decent phone, and there's a Micro-USB slot onboard to expand as high as you like. Combined with the USB-C port, you will also be able to add videos to your headset whenever you choose.
Finally, the battery. Google's whole vision for Daydream has been to make it possible for people to enjoy VR for longer than you would a simple Cardboard experience. With a phone, you're still limited by the desire to use your phone as an actual phone either before or after a VR experience. Mirage Solo packs a 4,000mAh battery, larger than you'll find in most phones, and with the supposedly lightweight Daydream OS version of Android, that battery is expected to deliver up to seven hours of use.
If you've been waiting for something a step above Daydream without sacrificing portability, this is it. Google and Lenovo plan to make the Mirage Solo available for under $400 in the second quarter of 2018, and so far it looks like the headset will only be available in the one color.
Sign up for Black Friday email alerts!
Get the hottest deals available in your inbox plus news, reviews, opinion, analysis and more from the Android Central team.