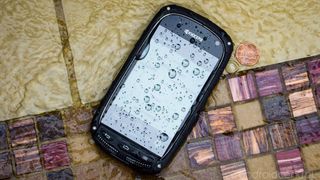 Sprint has a long history of offering capable Direct Connect and Push-To-Talk devices to a specific set of customers. The Kyocera Torque is the logical progression of these phones into 2013 with a capable set of internal components, wrapped in gratuitous amounts of hard plastic and rubber to make it water, dust, shock and vibration proof -- all running a lightly skinned version of Android.
There are certainly sacrifices made in terms of usability when it comes to making a phone next to indestructible, but those of you looking for these features probably know that going into it. Read along with us after the break and see how the Torque can make you consider that tradeoff for a rugged phone.
Pros
The Torque has notably good build quality, and is water, dust, vibration and shock proof. The software is near stock Android with few Sprint customizations. Several features such as Direct Connect and a hardware speaker phone button will be useful for someone looking for a rugged phone.
Cons
Sprint's 3G network can be frustratingly slow even at its best, and LTE is nonexistent for most that will buy the phone. The software is nearly stock, but will likely never see an upgrade past ICS. Waterproofing hinders the visual quality and touch responsiveness of the already low resolution display.
The Bottom Line
If you're looking for a Direct Connect or rugged phone, the Torque is on the short list of choices. If Sprint is your carrier, there's really no other device to consider for PTT. At $99 on-contract or $349 subsidy-free, it's not a bad deal either.
Swipe to scroll horizontally
Kyocera Torque hardware
The Kyocera Torque is all about being tough, but there's a quality set of internals to back up that rugged exterior as well. We've got a 1.2GHz dual-core Snapdragon S4 Plus (MSM8960) processor, accompanied by 1GB of RAM and 4GB of internal storage -- expandable by SD card. The display is an IPS panel at just 480x800 (WVGA) resolution, but at 4-inches diagonal that really isn't an issue. The Torque has an extremely large battery weighing in at 2500mAh, which is also removable.
Considering the price and potential buyer of this device, that's more than enough processing power to keep users happy. If there's one gripe to be had it has to be with the storage, which at 4GB is just too little to be comfortable with without adding your own SD card.
Build Quality
This rugged device not only looks the part with its tough rubber exterior and locking battery compartment, but also lives up to its looks with some seriously strong construction. The rubbery black exterior of the Torque makes it very easy to hold in the hand, aided by the fact that it is relatively small by today's smart phone standards with a 4-inch display. When trying to manage a phone in harsh environments, keeping the device small enough to use one handed for all actions is key.
The sides of the phone are wrapped in an extremely hard plastic shell, and although there is a line going along the sides rest assured that the phone is indeed sealed against water. The left edge holds a volume rocker and large yellow Direct Connect button, while the right holds just a dedicated single-stage camera key. Moving to the top, you'll find a center-mounted headphone jack with a waterproofing rubber door over it, flanked by the power/lock key on the right and dedicated speaker phone button on the left. The bottom has a simple micro USB port with a similar rubber flap as the headphone jack to prevent water and dust from entering.
The back panel is made out of a more flexible and rubbery plastic, which helps provide a lot of the grip on the device. The plate is removable, but locks into place with a metal ring at the bottom. Removing it reveals that aforementioned 2500mAh battery, as well as spots for the SIM card and SD card underneath. The battery cover snaps in firmly and has a large red rubber gasket to protect the battery compartment, which is extremely important to keep dry.
Click images to enlarge
The front side of the phone has a notably large lip around the screen with a metal ring sealing it all together. It certainly gets in the way -- especially when typing -- but you'll just have to get used to it if you want a rugged, waterproof phone. At the bottom of the screen you'll find hardware back, home and menu keys along with two large speaker grilles, which are extremely loud.
The entire phone feels as solid as it looks, which is something you'd expect from a rugged device but not a device costing just $99 on-contract. It's a somewhat liberating feeling to use a phone that you're in no way worried about scratching, dropping or getting wet. This is truly a communication device that isn't meant to be flashy or svelte. Ergonomically, the phone is very easy to hold, regardless of the chunky-sounding 14mm thickness. Most of the ease of use can be attributed to the 4-inch display, which keeps the entire package small -- the top-mounted power key was never an issue to push. The one gripe to be had about the overall design is the Direct Connect button, which is too easy to accidentally hit.
Display
Yes, the Torque has just a mere 480x800 display, but at this 4-inch size we don't think that's a problem. What is a problem, however, is the overall quality of the panel. The IPS display has a noticeable grain to it that goes beyond just a mediocre resolution. We're not sure if it's due to some of the waterproofing or simply just a poor panel, but viewing angles and clarity are severely lower than any other modern phone on sale today. The effect is most noticeable when viewing white or light colors, where the screen almost looks dirty or like it has a film over it. While the display's brightness is as high or higher than other phones, it still fails to provide good clarity in bright sunlight -- something that certainly will be on the list of a rugged phone user. For the average consumer that is looking for a rugged phone this probably won't be an issue, but it's something that can't be unseen if you're used to the latest 720p and 1080p phone displays.
The waterproofing may also be to blame for a lack of touch sensitivity on the Torque's screen. While it may not be drastically less responsive than any other phone, the combination of lower responsiveness with a physically small display and thick bezels can make for a frustrating typing and navigation experience.
Radios
The Kyocera Torque is equipped with Sprint's 3G (CDMA) and LTE networks, although you'll be disappointed by the former and hard pressed to find the latter. Here in Seattle we saw some of the highest Sprint 3G speeds we've ever seen, topping out near theoretical maximums at 85ms ping / 2300 kbps down / 890 kbps up late at night. During the day speeds are a bit more troublesome, at about 95ms ping / 950 kbps down / 500 kbps up. While you can get most things done on your phone with these speeds, that's just not fast enough in many cases to handle multitasking or streaming. None of this would really be much of an issue if LTE were more widely available, but we were unable to test it anywhere in the state of Washington.
Mobile networking aside, the Torque is equipped with the standard array of sensors and radios -- Wifi, Bluetooth, GPS, accelerometer, etc. -- including improved location information provided by special Qualcomm "IZat" software. NFC is present here as well, located in the removable back cover.
Calls were clear on the Torque, which can come at a surprise at first considering there isn't an actual "speaker" at the top of the screen. Kyocera is using what it calls "Smart Sonic Receiver" technology to send sound out of the phone and into your ear, which it says helps with call clarity and volume in noisy environments. Whatever they're doing, it works. Calls sound just as good as they would from a regular speaker, and that's one less point of entry for water on the face of the phone.
Battery life
With its 2,500 mAh removable battery, you're not going to have any issues keeping the Torque alive through a hard day's work. Even with heavy use, there was no dramatic drain on the battery in our time with it. Use cases can of course vary wildly, but with such a large battery, relatively mediocre specs and low-res screen there's not much there to drain it. A constant connection to Direct Connect or Sprint's LTE network will negatively effect it, of course, but that's why you've got so much extra battery to spare in there.
Kyocera Torque software
Launcher and interface
The Torque is running a nearly stock version of Android 4.0.4 Ice Cream Sandwich, and only has a few tweaks to the software that are aimed at the type of user that needs a rugged phone. Because it has Sprint's Direct Connect, there are slight changes to the dialer and settings to support it. There are also a few different settings improvements with features like Eco Mode and MaxiMZR that can help make the most of your battery based on your usage.
Aside from these few small tweaks, we're looking at a basically stock launcher. You have five home screens, sparsely loaded with commonly-needed apps. The lock screen as also very similar to stock, but with a dedicated ring to launch directly into the camera.
Bundled apps
Similar to other mid-range Sprint devices, the Torque comes loaded with a sparse set of included Sprint apps. The default home screens are loaded with some stub apps that simply take you to the Play store for a download, and there are maybe a half dozen other apps in the drawer from Sprint. Again we're looking at solid apps that are aimed at the target market for this phone -- Eco Mode, Direct Connect, Polaris Viewer, a Flashlight, and Lookout Mobile Security. Swype is included as the default keyboard, although a stock ICS keyboard is also available.
The rest of the customization and apps can be found via Sprint ID and Sprint Zone, which is where we'd like to see them stay. Sprint has done a notably good job at staying reserved with the bundled apps, while still offering the ability to customize the phone if the user prefers.
Performance and usability
Daily use on the Torque lined up well with any other mid-range ICS handset. Other than the slight issues with touch sensitivity, the software performed very well. This could be a function of the lower resolution screen not being very demanding, but we didn't find any hiccups when navigating through the interface, using apps or performing basic tasks.
Kyocera Torque cameras
Pictures
The Torque packs a standard 5MP autofocus camera around back, with a regular set of features. The camera takes acceptable pictures, which ended up being surprisingly clear considering the price of this phone. Although it adds a bit of processing time to taking shots, I found no downside to keeping things locked in HDR mode. The dynamic range of the camera is quite lackluster to start with, so you'll need HDR to make images "pop" a little more. There is also a dedicated macro mode available, but I had a hard time getting good results with it.
Rear camera samples (click to enlarge)
The camera UI is simple and useful, although it isn't the best around by any stretch. You get all of the regular camera settings -- such as picture modes, different effects and HDR -- but they're all hidden behind a settings button so you're at least two taps away from simple things like switching the shooting mode. More advanced settings such as image quality, exposure and ISO are hidden behind the same settings button.
We would prefer if a few of the more commonly used settings, like switching to panorama and HDR, could be pinned to the main interface or accessed in an easier way. There is also no tap to focus available, so you're stuck focusing wherever the camera feels like (usually dead center of the frame).
Video
The camera mode can be enabled in one tap on the camera UI, and although it can do 1080P is set to 720P by default. That's probably a good thing considering the extremely small amount of included storage on the device. If you want to record more than just a few minutes of video here and there you'll need to grab an SD card.
Front camera
Around the front of the phone, there's a 1.3MP camera on the top right corner of the screen. We generally frown upon using the front facing camera for anything but video calls, and we're going to stick with that stance here. The camera will do the job if you need to check your hair on the way into the office, but don't expect miracles with the stills from it.
Front facing camera sample
The bottom line
As far as rugged devices go, the Torque limits the number of modern smartphone amenities that you need to give up in order to have a phone that can survive just about anything. In contrast to previous devices in the genre, the Torque has a capable set of hardware and software that would make all but advanced users very happy with the experience. Small issues of touch sensitivity and network speeds aside, there's hardly anything to complain about here even if this weren't a device you could hit with a hammer and not be worried about it.
We don't expect anyone to jump away from their thoughts of a Galaxy S4 or HTC One to consider buying it, but for the user that has a specific set of needs the Kyocera Torque is a rugged phone worthy of consideration.
[gallery][/gallery]
Sign up for Black Friday email alerts!
Get the hottest deals available in your inbox plus news, reviews, opinion, analysis and more from the Android Central team.
Andrew was an Executive Editor, U.S. at Android Central between 2012 and 2020.