Jumping from BlackBerry to Android? Here's what you need to know!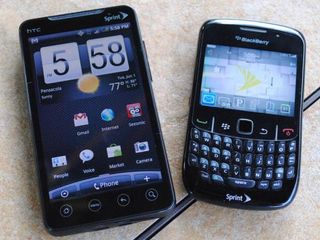 Getting a little tired of your BlackBerry and looking for a change to Android? You've got questions, we know. How smooth will the switch be? How do you move your contacts and e-mails? Can you find all the apps you need? Will the change be hard to adapt to?
Just a few months ago, I was in the same boat, getting bored with my BlackBerry Storm 2 (which was not my first BlackBerry). And after talking to friends who grabbed the Motorola Droid, I began to research Android for myself. Immediately, I jumped into the Android Central forums.
Let's take some time to go over the conversion process, what you will need to know if you're coming over from BlackBerry, and some other information to help make the transition an extremely smooth process.
Getting started from BlackBerry to Android
For many of you, the BlackBerry may be the only smartphone you have ever known. For years I had personally experimented with Windows Mobile, Palm, and BlackBerry OS, so change was not something I feared, as long as the new phone the same functionality I used daily. I took a look at my standard use, what features I used regularly, which ones I used on occasion, and which features were neat extras to have. This is where I began my research, and it's a great place to start here.
Transferring your contacts
One of the most important things for many of us is our contacts. If you have switched devices before, you know that having your contacts transferred for you at a retail store can be time consuming (and annoying) But it can be pretty easy in switching from BlackBerry to Android.
The first step in this rather easy process would be to create a Gmail account if you don't already have one. Why do you need to do this? Android requires -- note how we put that in bold italics -- a Google account in order to activate the phone. Once your new account is created add it to your device, then download Google Sync on your BlackBerry, which syncs your contacts and calendar into Gmail. The backup process can take some time, depending on the size of your phone book. But once you sync that new Gmail account to your Android phone, it will now pull all of your contacts, e-mail and calendar to the device. Rather simple, huh?
All about e-mail on Android
If you're a (former) BlackBerry addict, you're an e-mail addict, plain and simple. So how does Android handle e-mail? You have a couple of options, but Gmail is the best, and easiest. In fact, we're just going to come out and say it: If you give yourself over to the Google experience, it's going to make your life a lot easier.
I realized that the Gmail experience Android offers was going to be far superior to what I was getting on my BlackBerry. But the drawback to this was that the rest of my e-mail accounts (using POP or IMAP) might have a much slower delivery time. But I had already began using my Gmail account as my primary, so this wasn't very bothersome.
To some this may present an issue, because your primary account may be a Yahoo or Hotmail account. But any fears diminished when Jerry showed us How to use Gmail as a Push Server, bringing nearly all my e-mail accounts to a push-style.
But back to gmail. While gmail use on BlackBerry has gotten a lot better recently, it's just not the same as the proper gmail sync on Android. With Android, you get full access and control over your e-mails, including labels and starred items. Need to search for an e-mail? It's unsurpassed on Android. This is huge, as I have various folders set up for different purposes and try to keep up on maintaining organization of the inbox, which until just recently was not possible on the BlackBerry.
Point is, gmail is where it's at with Android. We use it. You should, too.
What about calendars and Exchange support?
We'll hardly be the first to say it: Exchange hasn't been great on Android, though Google's giving it a good beefing up in Froyo. HTC has it built into its Sense user interface, and it's not bad.
The calendar situation's much of the same. If you do everything through gmail, well, again, you're going to be just fine. You may see a few hiccups with Exchange, but it's not a total deal-breaker and should get better soon.
Replacing BlackBerry Messenger
OK, this is going to be a tough one, we admit. BlackBerry Messenger is a chat client that is tied to your individual BlackBerry PIN, and will only work for chat among BlackBerries. It's a shining feature, and millions rely on the real-time chat to connect with friends and coworkers. So, once you move to Android you have to give up your BlackBerry Messenger contact list, or do you really have to?
While, yes, you will no longer have BBM, Android devices offer Google Talk, which is a Google-based chat client. Honestly, it's rather surprising how many of your BBM contacts will also have a gTalk name, since Gmail has become one of the most popular email extensions used. The Talk client, like BBM, will run in the background if you wish, but a nice feature that it offers that you won't find on your BlackBerry is the ability to sign out of the service. While yes, this may be something rather small, it is great to be able to just sign out, and escape for a little, because no matter how addicted you may be, everyone needs a break.
What's great about gTalk is that no matter what platform any of your friends may be on, there is generally an application that will support it on their device, as well as computer based applications, which makes it easy to keep in touch with everyone from just about anywhere. Go ahead, pick a BBM contact and ask them if they have gTalk, I am sure that most of them will respond with yes, especially since I was able to get every contact from my BBM list on my gTalk list.
Finding new applications
One huge gripe of many BlackBerry users is that App World stinks, and often times people will go without an application, or wait to find an alternative method of installation so that they don't have to bog down their device by installing AppWorld. With Android, the Android Market is built into the phone is very clean looking, doesn't slow down, or freeze your device, and rather easy to navigate. Updating applications on Android is definitely favored over the BlackBerry, since you don't have to reboot your device each time. And if you wipe your device, or get a new one, you don't have to enter activation codes on all of your premium applications. Because your applications are tied directly to your Google account instead of a PIN, activating them on a new device is a breeze -- all you have to do is download them, no pesky PIN changes, or activation codes needed.
The use of Google Checkout is annoying to some, but personally I find it to be very easy, as you can just input credit card information one time. It's securely stored and then is automatic for future purchases.
For the most part there comparable Android apps to replace what you're leaving behind on BlackBerry -- and often times they're better.
The greatest thing about the Android Market? You can purchase an application, give it a try, and get your money back if you don't like it and uninstall within the first 24 hours. While this is only allowed once per application, it is a great feature. Free trials on every paid app.
Update: Google has changed this policy. See this post for more details.
Customizing your device with ROMs and themes
Often times the first thing someone wants to do with a new device is personalize it, change things around, change ring tone's, and call it their own. Half the fun of owning a Smartphone is the ability to be able to do all these fun modifications, and more, so can they be done on an Android? Sadly themes are not quite as common on the Android as they are on a BlackBerry, there is no application that allows the average user to input some custom icons, change font colors and sizes, and even add cool animations if they wanted to. With your BlackBerry you are able to choose from hundreds, if not thousands of customized themes for your device, while with Android you will find far fewer of these per device. While this may sound like an immediate drawback, the difference in the OS, with the various home screens, the integration of widgets at different sizes, the ability to add shortcuts and folder keep it feeling fresh everyday. What is the best part of the Android themes you may ask? Oh, yes, well you don't have to set up your icon configuration and redo widgets and folders and all that jazz upon loading a new theme.
In the BlackBerry community, it seems as though users are always looking for a leaked OS, or a new hybrid to load on their device, usually just so they can stop complaining about one flaw, and start complaining about a new bug. When reading about Android OS's, their releases and their version of hybrids, it became rather obvious that official releases were about as appealing to many as watching paint dry. The large part of the Android community strives from developers taking the source code from Google, compiling and optimizing their own version, which they call a ROM. In addition to all the standard features, many developers take their releases to the next level and add additional features, like 360 degree rotation, custom scripts to remove applications, ability to run applications from SD card, and many more. Unfortunately, in order to run custom ROM's, the device will need to have root privileges, which at the time not every device has. This process can be a bit risky, but just like loading a leaked OS, there are plenty of great walkthrough's, and an amazing community of people here that are always willing to help in your time of need.
What are all these Android versions?
Now it's time to decide which device will best fit your needs. Reading about the various versions of the Android OS could be a rather daunting task, as there are a few different ones, and they are geared towards use in different purposes. The choice between stock Android, Sense and MotoBlur can be the hardest choice out of them all. While all of these run off the same base of Android, give most of the same functionality, each of them is geared towards a slightly different crowd.
Many are used to the look of the stock Android OS, since that is what has been seen commonly ever since the G1 was released. The look of the stock Android OS is somewhat plain, in comparison to the others, but for some it offers maximum functionality. Since this version is not bogged down with an overload of social media widgets, the basic, straightforward look and feel is one that is preferred by many. Devices running the stock style of Android will allow owners to add customer launchers, change their home screen style with the use of some applications, and overall allows for the most customization. Some examples of devices that run this style of Android would be the Motorola Droid, Nexus One, G1, and some others.
The new HTC Sense interface for Android (read our full review) is built and geared a little more towards a simple user experience with a very straight forward look and feel that just about anyone can adapt to. With Sense comes a bottom style hidden dock that will allow you to change settings, open your application drawer, as well as access your phone functionality right from the home screen at any time. One of the biggest draws towards the Sense user interface is the amount of widgets that are included, and how well they function and integrate into daily life. Some of these widgets include the infamous clock and weather icon, the contacts widget, which offers integration of social networking to your contacts, as well as a great music widget. While these are only some of the widgets available, each widget will suit the needs of individuals differently, but they are certainly one of the greatest features. Unfortunately with the Sense UI, themes are non-existent, and the only way to change the complete appearance of the device would be to flash to a new ROM, if one is even available. Currently, devices like the HTC Droid Eris, HTC Droid Incredible, HTC Hero and others are running the older version of Sense UI. And many who have tried it have fallen in love with it.
The final variation, MotoBlur, is one that is geared more towards social networking, as it has all of the widgets like Facebook, Twitter and others right on the home screen. Having these widgets readily available on your home screen will allow you to read and update statuses on all your favorite social networking channels. Currently MotoBlur is laid over Android 1.6, which is a slightly older build of Android, which does not offer all of the features that other devices running 2.0 or 2.1 will have, such as live wallpapers, pinch to zoom, and Microsoft Exchange Support.. The current selection of MotoBlur devices is limited to the Motorola Backflip, and the Motorola Devour. But new devices like the Flipout and possibly the Droid 2 may update Motoblur to something more usable.
Final Thoughts
It is very hard to cover every aspect of the conversion process, and there may still be a few questions left unanswered. Our forums are full of great information, with tons of amazing members who are always around to assist with any issues that may come up. In addition to the forums, check out the information packed How-To section, which is being added to regularly with information that is useful whether brand new to the OS, or an experienced Android developer. If the time has come, and thought's of leaving your BlackBerry behind for something new have began to take over, have faith that your decision is one that is leading you to another great OS, that will offer an extreme amount of features, applications and more.
Jared started off writing about mobile phones back when BlackBerry ruled the market, and Windows Mobile was kinda cool. Now, with a family, mortgage and other responsibilities he has no choice but to look for the best deals, and he's here to share them with you.
I found myself in the same boat earlier this year. I was a loyal blackberry user and all but refused to switch over to the Android platform. I was very very tempted by the Droid but was worried about email. After doing my own research and stepping out on faith I went ahead and purchased the Droid and it was the best decision I ever made. I fell in love with the phone in about a week. When I had T-mobile service I had a G1 before and it didn't really wow me like it did everyone else. I later purchased a My Touch 3g and it somewhat wowed me but not like my Droid did. After months of the Droid I caught wind of the Incredible and that was an even better experience with the Android platform. As soon as I got settled into my Droid Incredible I see there was a new device on the horizon...the EVO 4G. Needless to say I jumped ship Sprint for a lower bill and a better device. Out of all the devices I have had this EVO is hands down the best phone I have ever used. I can say that with the upmost confidence having used everything from a V60 to you name it.

So...you buy 4 top of the line smartphones within a 1 year period, and then you switch to Sprint "for a lower bill"?

"Upmost confidence"? Dude how much Viagra have you been taking? I think you might need to contact your doctor. PS - It's "utmost"

After 2 years of using BB I finally got sick and tired of terrible WEB experience which BB generally offers and I purchased Nexus One directly from Google. As an IT consultant by trade I always test equipment before going "live". Unfortunately my tests revealed rather poor performance of gmail "push" functionality on N1. I run side by side Bold 9700 and N1. Same wireless carrier (Rogers in Canada) two different SIM cards. There is almost 20min delay in "push" email being delivered on Android based N1 in comparison to BB. I was unable so far to resolve the issue. If you need fast email experience looks like Android is not a solution.
Also if you have anything but perfect 20/20 vision you will be disappointed to find out that Android email font size is NOT adjustable. Huge overlooking by young geeks from Google. WEB experience is in my opinion the best out of all mobile devices I have ever used.

This has not been my experience at all with the N1, however I am on the Bell Mobility network. I've observed that my Gmail notifications show up as soon as mail arrives in my account (the delay, if any, is less than a minute from when I see the mail in my Gmail Web window). I have also set up a Mail profile to connect with my work email (Exchange), and that can be set to check as often as every 5 minutes. It's not exactly push email, but that's certainly fast enough for my needs. It's likely the delays you are experiencing are a network issue and have nothing to do with the OS or hardware. I agree that it would be nice to have control over the font size of emails, but it really hasn't been a big issue for me. Maybe this will be addressed in an update?

Actually, the font size IS adjustable in email...by Android email I'm assuming you mean Gmail... On the opening Gmail page (which generally is your inbox), just click your MENU, MORE, SETTINGS, and there is an option there: MESSAGE TEXT SIZE. You can choose from Tiny, Small, Normal, Large, or Huge.

My story is somewhat similar to yours. I was also a loyal BlackBerry user but my friend were teasing me for using such an outdated phone. So I finally said goodbye to my trusty BlackBerry torch and hello to new mighty Xperia Z1 Android. Now I'm loving every bit of my new Android smartphone and no regrets switching to Android. I easily transferred my contacts and sms messages from BlackBerry to Xperia android with the help of Mobile trans program: http://www.iphone-to-pc.com/transfer-data-from-blackberry-phone-to-iphon... It's a good program to transfer your contacts and sms from Blackberry to android phone.

I just switched from my Curve 8330 to the Evo and I cannot stress enough the ease and simplicity with which I transitioned because of my having a Google account. Using Gmail, Google Voice, and Google sync (on BlackBerry) essentially means I never have to worry about transferring info from ANY old device to a new one EVER. The only things about BlackBerry that seem to work better are Facebook notifications (and how they're organized) and battery life (while running many backgrounded applications).

agreed. had a blackberry for years and was getting tired of it. I punched in my account and within literally seconds all my contacts were there. Facebook totally agree as well. I find I'm having to run both friendstream and the facebook app to have about the same functionality.

There are a few things minor things that I miss about my old Blackberry 8330. - Customizing the number of times ringers vibrate per notification.
- The supply of accessories, I know that will change soon.
- BB messenger - you just gave us a fix for that I know I can probably find an app in the market to cover other items I have been missing. The transition of my contacts and calendar was easy since I used the BB desktop and had everything synced with Outlook. HTC sync uses the same interface so it took just a few minutes to transfer. I'm enjoying every moment of my new android world

Gtalk doesnt have the little R and D's like BBM does there has to be a third party app out there that works cross platform and that mimics BBM. Any ideas people?

It's called cnectd. It's cross platform for Android, Blackberry, iPhone, and Symbian. It's in beta right now, so it's a little buggy, but it has the potential to be a really good im program. There was a blog about it on crackberry a while back. Here you go.......http://crackberry.com/cnectd-cross-platform-bbm-alternative-beta-now-ava...

try pmessenger. it's in the market.
i've never used it but i believe the idea is that each user gets a pmid# which can then be used with the app across different operating systems. i believe it works on android, iphone & bb. not sure about webos & palm? don't know if it has the R&Ds either, sorry.

This was a great article, can't wait to fully make my switch to Android!!

i'm an ex-crackberryer and i'm so glad i made the leap from my shitty storm the to droid and the android platform. seriously is night and day.

2 words: Dual processors
I'm sold

is there a jumping from Prē webOS to Android/EVO article?

BlackBerry sucks so much. Yes they were the first to offer a smartphone experience but dear God, update that OS! It's the same thing since they first made it in 1999. It would be like using Windows 98 now but just sugar coated with updates, it's still the slow, laggy system that nobody bothers with anymore. Yes that sound a little extreme but when business owners and companies are switching to Android and even iPhone, what does BlackBerry offer? An email exchange client that all smartphones cover already? I can say I used to be a BlackBerry Curve 8330 owner and I will never go back after using that phone for a year. Android on the other hand, wants to be current by adding in new, exciting to use easy features with every update. No wonder Verizon blew off the Storm 2 when the Droid was being released. Anybody see a commercial for the Storm 2 at all till the phone was out for over a month?

Although I agree that the Blackberry OS is outdated compared to the other smartphones out there, i recently bought the Droid Incredible and it has it issues as well, WAY LESS THAN MY STORM, but there's some. It all depends on what you are looking for. I really wasn't a touchscreen person and here's one example why. My battery was low on my Incredible, like 20% nothing too crazy, and all of a sudden my screen start just sliding to the right for no reason, i couldnt hit the phone button on the screen to call anyone and it just became unresponsive. At least with my BB 8830 i could have still made a call out because it's not completely reliable on the touchscreen. My point is that if your looking for a consumer phone, with social apps, and dont need a keyboard...yes my Incredible is that phone, but if your looking for a business workhorse, an excellent messaging phone, you are better with keyboard, and dont want to murk up your screen with fingerprints, then blackberry's are the way to go.
But i do love my Incredible!

I was windows mobile, then blackberry now going for the EVO. I have been with Sprint for 10+ years so no problem there. Here's what i would miss most since i use my phone for work and personal. Tour can go anywhere i've used it in china, Singapore, Taiwan, Japan etc, so i will probably keep my device for the next trip and activate it just for that. Microsoft Office Communicator on the BB is awesome, i use that for work way more than BBM. I have been looking into VPN on EVO and using the MOC Web client as I dont believe a native client exists, that i can tell. I have seen some remote desktop clients which is promising but gotta have the VPN!! Email will be pushed from Gmail, Hotmail and Exchange! What i hate about the BB is the usual: Trackball on BB Tour, Web Browsing is horrible, etc I am pretty much making the jump but this article is helpful. Gmail vs Hotmail is a non-issue as i use both but Exchange is the big unknown for me, but since i've seen email on other Android phones around the office i am very hopeful.

Try Logmein .com it is something we use at work and has been pretty good. They have a free version that i use to be able to connect to my family members computers when they have a problem. So far it has worked really well.

I am so ready to jump ship from blackberry!!! The OS feels ancient and the platform is just too boring for me. Coming from an iPhone 3G, my 9700 gives me a really boring user experience. I want an android phone but at&t just sucks at getting decent android phones, and Verizon is just too expensive for me. The new iPhone 4 looks good but I am tired of apple and their BS hardware and software policies. I want a Dell streak but it ships with android 1.6 which is a big downer for me. I want a phone with 2.1 minimum if not 2.2, but it looks like google has yet to get their act together with Android and will continue with their broken platform. This is really annoying and I can't help but feel helpless as I write this comment. Oh well i guess my upgrade that I have been saving since January will go towards a shiny new iPhone since android is letting me down on at&t.

Wow man you just got a problem with everything dont you. Any thing else you want to nitpick on? How do you figure android is broken?

Sorry did not mean to come off like that. I just think that Android should bring its latest and greatest to its phones if they are compatible which most are, but this is not androids fault its the carrier's fault. Well like I said I want Android and I want it bad so I will more than likely wait for that Shiny Dell Streak.

Get an AT&T banded Nexus One! Next to my old Bold 9000, this is the best phone I've owned. Oh, and I am running 2.2 no problem.

I am really tempted but I am hoping at&t upgrades the Nexus within this year, which probably wont happen. never hurts to dream though! :D

Android recently made some security upgrades in recent incarnations that help it play nice with exchange. So if that's what your worried about I wouldn't. I'm sure there is an article that can explain more.

I made the jump from BB to Android myself finally. Can't believe what I have been missing. I feel that the OS is way better than that boring crap RIM is putting out. I owe my buddies for the jump..thnx guys. Only thing I might miss is the infamous bbm. Going from a BB Tour to DInc is like night and day.

The only thing I really really really miss about my blackberry, (I hope Google or an app developer reads this). Is that my evo only let's me assign custom ringtones to gmail, text, and voicemail, not to any of my other personal or work email accounts..........my blackberry let me put a different custom ringtones to each of my 6 accounts.

In regards to MotoBLUR devices: you completely overlooked the CLIQ and CLIQ XT.

Ex-Crackberry addict...represent.

EVO is looking really good rite now. Especially since my unlocked BlackBerry 9550 is on the fritz. Courtesy of either T-Mobile or RIM smh. I miss Android anyway.

Well u guys ain't gonna regret the switch to the EVO, that phone is the sh I t

Surprised you missed this one, but if you're using Outlook (with or without Exchange), install Google Calendar Sync & you've got full synchronisation between Google Calendar & Outlook http://www.google.com/support/calendar/bin/answer.py?answer=89955 I've been using it for a week and am very happy with it.

Great article.... but it leaves us with some still unanswered
questions:
For those of us using Outlook Tools, for everything but email,
what about NOTES and TASKS (in addition to Contacts and Calendars)? We've also heard of some cases where android falls over when
the number of contacts gets in the above 2000 range. Any and all suggestions and help will be appreciated.
Feel free to post here or email me directly. Thanks
Bob

I read the article due to the fact that I went the opposite way and 'switched' from Android (Nexus One 2.2) to a Blackberry Bold - but when I say switched, I have both phones and swap between them on a weekly basis (variety is the spice of life)? There are pros and cons about both OS or the phones that run them. There are features that I love on the BB and android and now, don't want to give either of them up. BB, first of all - i'm a music fan - I love that BB has a graphic equalizer, Stock android players do not. I've tried paid music player apps on Android, but the apps are packed with bugs and hang ups.
BB, BBM - a great feature and I love it
BB, it just feels quality - I adore the manual/qwerty keyboard - I race around it so easily and SMS/emails are a breeze
BB, longer lasting battery life Android, Nexus One - beautiful phone, amazing screen and fully adjustable
Android, the choice of apps but I realise that 95% of them are useless but there is the occasional hidden gem.
Android, 5MP camera and multi-media
Android, constantly evolving and in my eyes, winning the OS war against all others Going back to music - Android has Amazon MP3 and BB has 7digital. Both adequate for my purpose and both are cheaper than ITunes!! 7digital has a nice user interface whereas Amazon MP3 seems to have more choice and most tracks/albums appear to be cheaper. If I download MP3s on either of my handsets, I simply switch the Micro SD and it captures all my purchases. Only drawback? No Video or film downloads as yet. Maybe i'm just greedy and want the best of both worlds? I know that I prefer BB and Android over the other OS (i've tried them all) and as I do have a very short boredom threshold with gadgets/phones, I don't see any reason why I need to choose one or the other! I change between my two phones as and when I feel like it. I know I enjoy the experience regardless.

Who needs BBM when you have Android-Town? HAHA!

This is really convenient. For the past couple of weeks I've been following this site in hope of maybe switching over to android from blackberry. Went through all of this stuff, sorting out emails and contacts etc, and I'm all ready to make the switch. The stuff on forwarding other emails to my gmail account was especially useful, working great now. Will be ordering my HTC Desire very soon!

Beingg a recent switcher from my bb tour to a motorola droid, I find it sort of easy to transition since I've had a google account (since I had the first iphone). Its an awesome experience with endless possibilities. I honestly miss bbm the most,but I still have my tour. Keep as a backup/use when I travel over seas.

There isn't a SINGLE thing I miss about my BB. Nothing. Zero. Nada. Nice writeup Jared.

I loved my bberry and was forced to swap by my carrier when ny storm 2 went faulty and they couldn't get a replacement
I picked the desire and apart from really missing bbm and the email side of the bberry I absolutely love Android I also found that forwarding ny mail to my googlemail keeps me pretty connected

Well, I have 3 phones, talk about being a maniac! And two lines with AT&T.
I have a BlackBerry 9700, Nexus One, and an iphone 3G. Pretty much the 9700's sim stays in place. I have been switching out the other sim between the N1 and the iphone 3G, although lately I'm using the iphone as an ipod Touch with wi-fi.
I really enjoy using the N1. I've resolved the battery issue with an extended battery, which is the same size as the standard battery thank god so no bulk to the gorgeous device. I love the fact that it's unlocked. I have the huge flip clock widget with the weather, so it feels somewhat like the Sense iu. It's just very customizable. Boot up time is ridiculously short, and as has been mentioned before, with a gmail address you're set and ready to go instantaneously.
I'm not quite ready to give up my BB, but the time is coming. Yes, the new operating system will bring it more up to date, but I've been a loyal crackberry person for years now and I'm (almost) ready to jump ship permanently.

If you use Outlook, a quick way to move Contacts, Calendar and Tasks from Outlook to Google is O2g: http://www.o2gsync.com. It's a one step process and it formats phone numbers correctly for Android phones. Tasks are put into the Calendar, because there is no native Task App on the Android phone. O2g supports Outlook 2010 64-bit.

im glad i switched from blackberry to android, the evo is such a huge step up from a weak ass curve 8330. my only complaint is the address book set up i guess im confused as to why my facebook friends have been added to the phonebook as well

>>>Unfortunately with the Sense UI, themes are non-existent, and the only way to change the complete appearance of the device would be to flash to a new ROM, if one is even available.>>>>>>>>>>>>>>>>>>>>>>>> What do you mean themes are non-existent? Is this claim from an old article?

This is not from an old article. Yes, some themes are available as stand alone, that is true, but they aren't able to just be downloaded and installed, you need to be rooted, have another program and understand how to do it. With a BlackBerry you download and select, very simple to achieve, not the case on Android

i create a user name just so i can reply to this, but android has the ability to theme by changing the home launcher with 3rd party apps, like GDE, OpenHome and a bunch of others

I went through 8 BB Tour phones since last July and finally got an Incredible and am HAPPY AS HELL. I will never touch another BB ever!!!

I switched from the Blackberry Tour to the HTC Incredible. There are too many things to list that make the Incredible a far more enjoyable phone and Android a far more enjoyable user platform and many have already been named above. One key thing for me was that I wanted to get to a larger screen and the Storm 2 was not going to be it (I had the first Storm and that turned me off the phone forever). However, there are some things that seem downright odd to me on this phone. 1. GChat only has support for ONE account. It uses your original gchat account and that's it. The GChat application for Blackberry at least let you choose which account you'd like to use. This bugs me because I like the official gchat application but can not use it for IMing with my other gmail/gchat account. 2. Picture storage. Good grief, there is no great way to make albums or move pictures on this thing. I had to go into the root directory of the card to create folders that would be seen as albums. That's sort of nuts. And it really surprised me that I couldn't just create albums on the fly while viewing pictures. Having said all that - I am a huge gmail user and this phone could not be better suited for me...right now. :) I'm sure I will be jumping around but most likely sticking with Android as I like google products. When google takes over the world, I hope I am recognized as one of their most loyal. ;) -R.

Android does sync with Exchange, however, if you use email subfolders, the phone will not alert you when it receives incoming emails to those subfolders. If you have emails that route to specific subfolders based on your Exchange Rules (Setup in Outlook's Rules and Alerts) they don't automatically show up or alert you on the phone. On your Android phone, you have to browse to those specifc subfolders and refresh it. Currently, only emails in the root inbox folder is synced in real time and has alerts. The only solution I found is to use a 3rd party app like Touchdown.

You know when I read this I thought it was me writing this but then I realized it was you b/c you have the Android. Me I'm waiting for an Android I can see in the daylight & as up to date as possible. Now we all should know which one I mean & today is the day it was announced. If all that's said & shown is true then I too shall become an 'Android".

I'm a current Storm 1 user and my wife has the Curve 8330. My contract is up in October and I am leaning strongly towards Android for my next device. Here are my two cents: 1. You need to take the comments of those switching from the 8330 with a grain of salt. Switching from an 8330 to an Evo or Incredible is the equivalent of switching from a Civic to a Ferrari. The Curve is the entry level bare bones BlackBerry. I'm not trying to make excuses for BlackBerry, but if you want a real comparison to the top of the line Androids, compare it to the top of the line Blackberrys like the Bold or Tour. 2. BBM is great in that it provides (at least to me) a similar experience to sms and mms without additional add-ons to my cell bill. But since my wife is the only one in my BBM list, I don't think it will be too hard to get over this one. 3. In my eye's Android and iOS have smaller hills to climb than BlackBerry and WinPhone. Both WinPhone and BlackBerry have their major footholds in the commercial arenas and need to make major cultural shifts to please the consumer market. Microsoft realized this and that's why they started over with Windows Phone 7. BlackBerry is starting to realize this but is bogged down by years of technical debt. Adding exchange support and security features to iOS and Andriod are not trivial by any means, but they already have devices that people want and are quickly adding support for features that IT needs. 6. Love the fact that Google Nav is included. I'm already paying more for a phone than I did my GPS, plus a monthly contract that could by a new GPS every other month! Why should I pay another $10 a month for turn by turn directions? 5. There are many other problems I have with my BlackBerry personally. UI is ugly in comparison (Especially on my wife's 8330), they have pretty much abandoned my Storm 1 since Storm 2 was released, not enough memory for more than a few apps, app store sucks, SurePress on the Storm 1 sucks (Storm 2 is a little better), web browsing definitely stinks. Thats my 2 cents. Can't wait to see what devices come out for the holiday season.

My Storm finally took a dump and verizon is giving me either a Storm 2 or an Incredible (the squeaky wheel gets the grease). So... I have read all of this and still cant figure out email... I do not want to give up my msn account and not sure what gmail is and what you all are saying..... HELP I dont text, listen to music, or videos- I need email because of my business and get 50 google search results daily. More info needed.... thanks

I tried out the Nexus One this past week in an effort to move over from my BB Bold on the AT&T network to something with performance and features to blow away the iPhone. I must say I am very impressed with the 1ghz snapdragon processor and the ease of use for the phone. Each day I was amazed with more undiscovered features and the power of Android OS. The only problem I kept having with the HTC phone was constantly dropping calls especially in areas where I have traditionally had strong signals over the past 10 years with AT&T. Two of these places were at home where my BB carries 2 to 3 bars at any given time and at work with 4 to 5 bars since the AT&T tower is literally within sight of our building. At home I had to wonder around the yard for even 1 or sometimes 2 bars and inside the house only had one spot where I could leave the phone and walk around with my jawbone icon to talk on the phone. At work the signal went from a full 4 bars outside to 1 or no signal as soon as I walked in the building. This presents a problem when this device is first a phone and then an organization and entertainment device. I called tech support 3 times at Google that led to switching the band settings to 3G only to a factory reset of the phone to no avail. The Google techs acknowledged the problems some are having with signal issues and even seemed annoyed by it from all 3 techs but when I was transferred to HTC for a defective product return they seemed surprised by the issues (typical isn't it?) and could only offer sympathy and say that since I only had the phone for a week that they would send me a label for return and a full refund. That was decent of them and I applaud the best efforts of customer service from both Google and HTC. My question is this.... Is there anything on the unlocked Android market that can have the same lightning speed processor, awesome Android OS, yet have an outstanding phone signal so that I can enjoy the same reliability with ol' faithful BlackBerry even with its senior citizen OS? LOL I am new to Android but understandably hooked. Do I need to wait until around Christmastime to see the latest and greatest Android phones to blow my mind or does something exist to satisfy my impatience? Any advice is appreciated... Thx :)

I am currently preparing to cross over from the Storm I (9530) to the Verizon Android X next month. My wife currently has the BB Curve. Other than slow internet service and RIM basically abandoning the first generation Storm I am quite happy with my experience. The Android just seems to be the logical next step when it comes to being a touch screen aficionado. I hear some voicing their concerns about making the jump and I just wanted to touch on them. Blackberry Push Email: my co-worker just crossed from the Tour to the HTC Android. With a Gmail account, you get comparable email responsiveness. We tested the speed and I observed equal performance. I have my Gmail account synced to my Storm and it runs great. I expect no difference when crossing over to the Android. I have already installed and ran Google Sync. BB Messenger: there seems to be a cult-like attachment to BBM. Sorry folks, Ive used BBM and its just a basic messenger application. On my Storm there is absolutely no difference between SMS texting and BBM chat. The format is absolutely the same and its been my experience MMS photo sharing is significantly faster than sharing files on BBM. Now I can BBM chat with one friend in Saudi Arabia but we have done that a total of two times. I have 17 contacts in BBM and SMS chat with them more. So the loss of BBM argument has completely no traction in making me stay. Facebook: I must concede fully that BB performs much better when it comes to Facebook responsiveness. Google definitely needs to tweak FB for Android and I hope it happens sooner rather than later. I admit I am a FB geek and its a wonderful app for keeping in touch with friends and family and sharing photos. However, 99% of my FB activity from the celly is uploading photos on the fly. With the 8mp camera on the Android X my experience only gets better. Many of the other wonderful features on the BB, such as alert profiles and exceptions, can make a difference for some but I don't utilize them. Admittedly, this might make a world of difference for some. However for me, I see only positive outcomes in moving over to a newer phone with a bigger display, faster internet browser, better camera, 1 Ghz processor, and the list goes on. Sure I love my BB and there will probably be certain qualities I will miss. But what I won't miss is RIM's proclivity of releasing OS builds that simply have no business in one of their phones. Anyone who has owned and tweaked their Blackberry for optimal performances knows the angst of praying for the next beta / hybrid OS build. The OS building that came on the Storm when it was first released (4.7.0.67) was simply a pariah in the BB community. Well, that's my take as one planning to make the leap to the Android X.

So this might be a dumb question, but I "sync"-ed my Blackberry to my gmail account, but I don't see any of the contacts or events. Is there something else I have to do?

Great article! Google sync handled all my contacts and as far as BlackBerry Messenger I am using LiveProfile it very similar.

Question: I have ordered the Droid X, Its not here yet... but its ordered. I currently use the Storm 2. I need to transfer my "Messages" box to my droid. I have a google account and 2 Pop accounts setup by means of a domain.. not hotmail etc. I hear the google sync stuff will not transfer this for me.. so what other options do I have.. I have emails in my message box from years ago that I have saved for "CYA" purposes...

I am in the same boat, a current BB user and somebody who absolutely needs a physical keyboard. However with the Desire-Z from HTC coming up featuring a real keyboard and improved sense interface with Android 2.2. it is really between this phone and the new Blackberry Torch 9800. Now in the Torch the web browsing issues have been solved with O.S. 6, I hear that the Web Kit browser is even better than the iPhone browser which until browsing with the Firefox browser on the Nokia N900 was the best mobile browser I had ever tried. However, I have no doubt that browsing on Android will be a similar experience and I already use Gmail so the switch should be easy. The only big issue is BBM. BBM is a very useful when meeting new people and wanting to keep in touch (much lower barrier in exchanging a PIN instead of email adress or phone number). However, I am still really considering the Android because its hardware and software is far superieur and it is even cheaper than the Torch. Just staying with a lesser phone for just BBM does not make much sense to me. There are some great chat alternatives to BBM, LiveProfile was mentioned and there is something called WhatsApp and both work on iOS as well as Blackberry and Android 2+. However, the WhatsApp seems to hang a lot and is a paid app (not expensive but that still is a constraint) and the LiveProfile is still not open to public I think its in Beta. Once a good app conmes that allows cross platform chat which is not tied to a specific email service such as Gmail I think it would be the icing on the Android Cake, at least for me. I am gonna keep an eye on LiveProfile once they go live...

this really helps, just left Blackberry yesterday...still feels like I'm cheating. The Droid Charge is a sweet phone, and I'm sure the memories and headaches from my Storm 1 will fade away

omg this is exactly what i needed. I dumping my torch and getting a nexus. I have owned 4 blackberries and after 4 phones and no major changes I taking a break. android seems the way to go! maybe when rim comes out with something super then i may switch back!

Nice article. I'm suffering major BB (Curve 9700) withdrawal! Had my Berry for 3+ years. I now have a Mytouch 4g after dropping my Berry and breaking the screen. I panicked off course - lol. I let Tmobile talk me into jumping into the Android pool. First, a LG Optimus T. After a couple of days it overheated to the point that it lost most of the colors in the display. And it had no LED or camera light (of course I took it back). Now have the Mytouch. So far good. Lots of bells and whistles, fast and sturdy. Not crazy about having to use gmail as my main mail source, but ok. I liked having a keyboard I can touch. :) And the battery drain is infuriating! I charged my BB 'maybe' every other day! The Android, after a few text and a 15 min. call the battery is already depleting. blah.
The other reason I was so addicted to my BB was because of an app called BeBuzz (or BerryBuzz). Yes silly I know. But it was awesome!
Now of course my luck-- Android does not support the app. :-( and there is nothing equal to it at all. Amazing that these 'newer' phones have such limited LED display/hardware/software. I am not sure why.
I am going to give my Android another week before I lose the option to return or exchange it. But exchange for what? Wait for the Blackberry Curve Torch? Or try another Android? All I want is a well made phone with customizing LED. Is that to much to ask? :)

Hi everyone! I don't pretend to be a phone guru. The Blackberry I owned was a curve 8530 on Boost. The best thing about the phone was the email. In the middle of my house I have no 3g data connection and have to rely on my FIOS wifi. My friend had the same phone on Verizon wireless and had 3g coverage in the same area. I won't sign up with Verizon and their rip off data tiers. I now own an android on Sprint. I would only own a Blackberry on Verizon because their network is fast enough to handle the differences in the systems. Does this make sense? I am a computer orientated person. I'm getting used to the Android.
Thanks. Patti

i want to transfer contacts and calendar but I can't find googlesync in my app world

Great article Jared!
I was on the same boat and I jumped from Curve (and an old Palm) to Nexus S. Soon I realized that I desperately needed my tons of memos in MemoPad and contacts. But the problem was that I neither used Outlook, nor I wanted my data in the Google cloud. After some research I found an app called B-Folders. It runs on the phone and on the desktop and encrypts and sync memos, contacts, task etc. Initially I manually entered some of the stuff, but recently I got an update with a BlackBerry import facility. All my memos, contacts and even tasks are transferred from a backup and available on the desktop and phone – encrypted and locked. I believe it will help other security freaks to make the switch http://www.jointlogic.com/b-folders/use/switching_from_blackberry_to_and...

Just saw this 2can app added to the android market place. It seems to do what the editor is talking about, but much easier. Blackberry, goodbye :) https://www.androidcentral.com/e?link=https%3A%2F%2Fwww.anrdoezrs.net%2F...

you can use bluetooth pairing and transfer all your contacts from blackberry to Android

Hii.
I lost my bb curve 8520, I have my contacts backup on blackberry protect, how do I transfer this contacts to a new Android phone...
Thanks
Android Central Newsletter
Get the best of Android Central in in your inbox, every day!
Thank you for signing up to Android Central. You will receive a verification email shortly.
There was a problem. Please refresh the page and try again.