Joe Mobi launches for Android devices - Build a customized Android app for your Wordpress blog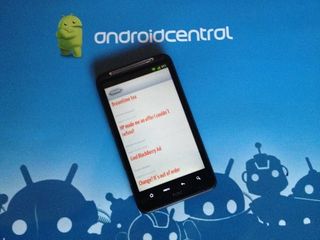 If you run your own Wordpress blog, chances are you're using the Wordpress client to go ahead and access your blog on-the-go. But what if you could have your own, customized app built the way you wanted, branded and it had the capability to be shared with your readers. Would you use it? I'm sure a few of you out there would and that is exactly what Joe Mobi is offering.
While still running in beta status for now, the folks from Joe Mobi have gone ahead and launched their Android set up for Wordpress blog owners. Now, you can build a customized app for your blog and have it work on Android or BlackBerry devices. You can brand it with your own logo and icon, pick your own colors and more.
The service is free and when all is said and done you get a neatly packaged .apk to install for yourself and a link for which you can share with your readers. It's a pretty unique service and one I think a lot of people who run a Wordpress blog can make use of. You'll find their full press release past the break and you can hit the source link to get started on your own app today!
Source: Joe Mobi
JoeMobi launches for Android devices
Now bloggers on the WordPress platform can build a customized BlackBerry AND Android app in three easy steps
Guelph, Ontario – November 9, 2011 – Bloggers who have been using JoeMobi to create their very own customized BlackBerry app within minutes can now reach the even bigger audience of Android devices users too.
Since JoeMobi launched in September, WordPress blog readers have been using it to view 21,000 pages on their Blackberry phone or tablet devices. The benefit to WordPress bloggers is they can customize it so the app takes on the look and feel of their blog, all within a few minutes.
"JoeMobi allows bloggers to get prime real estate on their readers' mobile devices," says Kelly Brooks, president of SpeakFeel, the mobile marketing agency and product development firm that built the app. "We expect significant and rapid uptake with bloggers whose blogs appeal to the fast-growing audience of Android users."
JoeMobi gives bloggers a customized app that readers download to their device and use to read and interact with the blog. The blogger simply downloads the free plugin to their WordPress site from the official WordPress plugin directory, logs on to joemobi.com, registers their site's URL, and chooses the logo and background colors for the app.
New to the JoeMobi Android app is search functionality of keywords or phrases within the blog. In another important evolution, the JoeMobi Android app picks up the categories from the Wordpess blog and runs them as tabs across the top of the app.
As with the BlackBerry version of JoeMobi, Android users can also post responses and comments to blog posts directly from the app, including on WordPress blogs that use the Disqus comments platform.
"These changes make an even more authentic experience for readers viewing their favourite WordPress blog on their mobile device," says Harry Scanlan, director of mobile technology and partner at SpeakFeel. "And opening up their blog to the massive Android market with their very own branded app could be a game-changer for WordPress bloggers."
JoeMobi is in beta and available for free to build Android and BlackBerry apps. Soon, sites built on the open-source Drupal CMS will be able to use JoeMobi too.
"Not far off is functionality that will allow bloggers to turn their JoeMobi-powered app into a revenue stream," says Noel Webb, vice president and chairman of SpeakFeel. "JoeMobi is earning coveted space on Android and BlackBerry devices. It won't be long before we're helping bloggers monetize this real estate."
JoeMobi is yet another in a series of apps built by SpeakFeel over the past year – both for consumers and for corporate clients.
SpeakFeel produces enterprise-level mobile applications for Fortune 500 brands and the agencies that manage them. Their services include mobile application development for BlackBerry, iPhone, iPad, Android OS and Windows 7, mobile web, mobile analytics and all of aspects of mobile marketing. SpeakFeel works with corporate clients and national advertising agencies to develop mobile solutions. The company is also developing internal products for consumer distribution. For more information please visit www.speakfeel.ca or www.joemobi.com.
Get the Android Central Newsletter
Instant access to breaking news, the hottest reviews, great deals and helpful tips.