Jared's most-used apps of 2011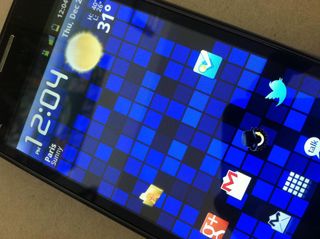 Applications come and go on a daily basis, some for testing purposes, others because they are new and shiny and well I think I have to have them.
Only a few applications make the daily use category, so hit the break to find out which those are!
1. Twitter for Android
Twitter for Android has gone from a client that I wouldn't consider even installing on my Android device to my daily driver on Android for a few reasons. First, the implimentation of push was a huge factor in the decision, and the redesign didn't hurt the case either. There are so many options, each offers one thing the next doesn't, but I find a happy medium with Twitter for Android
2. Gmail
The Gmail experience on Android nearly beats the PC experience for me, and for that it must rank well on the list of apps. It allows me to keep organized while on the go, allows me to find old emails, along with pushing my new ones to me, nothing more I could ask for.
3. Smart Keyboard Pro
Keyboards may not be as important to everyone as they are to me, but for me I need a keyboard that is responsive, accurate, and customizable. I find a pretty happy medium of them all with Smart Keyboard Pro, the ability to add and change themes on the fly is a huge plus, and I find it to be most accurate with my typing.
4. Beautiful Widgets
Sure they don't do much, they tell you the time and the weather but I'll be damned if they don't do it in some serious style. I love a nice simple clean look and I can usually find a Beautiful Widgets skin to match my mood for the day.
5. Google +
Eventhough it is still relatively new, Google + has made a huge impact in social media whether everyone likes to admit it or not. Google is focusing hard on it and its integration into other Google services, and nothing beats how easy it is to communicate with others.
6. foursquare
I go through phases in which I like to use foursquare, and other times where I don't particularly see the point, but one thing is for certain -- it offers some great perks. Now having teamed up even further with American Express there is the ability to save some good money by using the American Express card and checking in to where you go.
7. Astro File Manager
We are geeks and we love to mess with things, right? One thing I wish was built into more Android OS versions was the ability to navigate files, move them on the SD card, and rename them, but luckily Astro does a great job at all of this. I can move files, rename them, send them, back applications up and more all through one simple app.
8. Launcher Pro
I am pretty particular about my home screen set up and I usually don't like it to look like everyone elses, which is part of the reason I love Launcher Pro. I have used it for a long time, gone through many different docks and icon configurations, and love every widget that it allows to be used. The ability to resize widgets (without needing Android 3.0 and above) is simply awesome and I love being able to scroll through the docks.
9. Light Grid Live Wallpaper
Most of the time I like to go with a solid black wallpaper, keep it simple and I notice it helps (a little bit) with battery life, but when I want to switch it up I always head back to Light Gride live wallpaper. I love the ability to customize the wallpaper, the shapes, sizes, speed, color and more and the developer tends to release some pretty awesome holiday packs.
10. ROM Manager (Root)
Personally I am a huge fan of ROM Manager. The ability to look in just one place instead of diving through all the various forums to keep up with ROM's for my device at the time is a huge benefit to me, and the ability to download, back up, and flash right through the app is awesome.
The list is pretty simple, and doesn't contain a lot of craziness but most of that is due to being able to accomplish my daily tasks and more through the stock Android applications. There are other applications that I play with, some of them remain for the off chance I may need them, others are just removed after trying them out.
Get the Android Central Newsletter
Instant access to breaking news, the hottest reviews, great deals and helpful tips.
Jared started off writing about mobile phones back when BlackBerry ruled the market, and Windows Mobile was kinda cool. Now, with a family, mortgage and other responsibilities he has no choice but to look for the best deals, and he's here to share them with you.