Inside Google Chrome for Android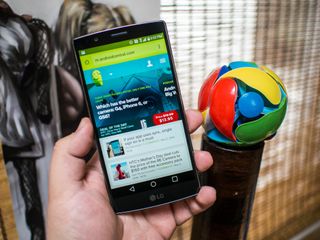 Google has been changing the very nature of the web browser for a long time now. There are a lot of features we take for granted, both on mobile and desktop browsers, that exist because of Google Chrome. While the desktop version of Chrome is busy trying to be an entire platform that extends well beyond what we consider a web browser, Chrome for Android is a continued effort towards Google's vision for the modern web.
For some, that means a whole lot of unnecessary features that either need to be disabled immediately or is cause for choosing another browser. For other, it's the next step in how our mobile devices interact with the web. Let's take a look, and you can decide which kind of person you are.
Chrome for Android is all about giving users the closest thing to a desktop browsing experience as possible, and it has been that way ever since it was first rolled out in February 2012. The browser was the first on Android to handle complex web forms and in-line video on most sites without some kind of workaround, and has grown to be capable of running full HTML5 games and apps in-line. Much like the desktop version, Google keeps Chrome on a tight release cycle, pushing out new features and improvements to existing features every six weeks.
As browsers go, most of the things you do with Chrome are industry standard now. Navigation, data saving, and bookmarking features all work exactly as you'd expect. Incognito mode can be activated to access sites without being tracked. You can sync Chrome to any other device running Chrome, and in doing so gain the ability to access a tab that is open on your other devices without having to touch that device. Passwords can be saved to your Google account for quick login to sites you frequently go to, and when using the actual browser you can zoom in and out with a single finger instead of pinching like most other browsers.
You're also getting the full Chrome experience when using the mobile version of the app, which means things like HTML5-based access to the camera and microphone, pop-up blockers, and native language translation to and from dozens of languages is included. Some websites even work with Chrome to be able to push notifications to your phone like a native app, but this is a lot less common for now. More importantly, many of these features are set to ask before activating, and can be adjusted to operate in either full auto or turned off completely.
The most controversial feature to Chrome right now — due largely to it being something new that is on by default — is the ability to make browser tabs function like apps in the multitask panel for Android. This means when you want to switch between an app and Chrome, you're only interacting with that one tab and not the entire browser. You don't lose any of the basic Chrome functionality, and you can treat your browser tab like a separate task instead of part of a larger bundle of tabs. It also means you've got two or even three times as many active tabs in the multitask panel if you're the type to use a lot of browser tabs, which is why the feature can be disabled (just look for "Merged tabs" in the Chrome settings). Love it or hate it, the feature is a big step forward for Google as they try to make websites just as important as apps moving forward.
While the core Chrome package is all about providing the most stable overall experience while pushing the envelope on what's possible — something they document quite thoroughly with Chrome Experiements — you can also work with Google on trying our brand new features in Chrome Beta, or even get in on the bleeding edge of unfinished features with Chrome Dev. The pace Google's Chrome team operates at ensures you can enjoy one or all of these experiences and never get bored, if that's your thing.
If you're an Android user who is deeply embedded in the Google ecosystem, Chrome for Android is a no-brainer. It's Google's browser, which is awesome for Google users, but if that doesn't apply to you this is probably not the best experience out there. If you're using the desktop Chrome as well, and enjoy the multitasking integration, Chrome for Android feels like a complete thought that isn't easy to replace.
Get the Android Central Newsletter
Instant access to breaking news, the hottest reviews, great deals and helpful tips.