HTC Themes, icon packs, and copyright infringement: the situation one year on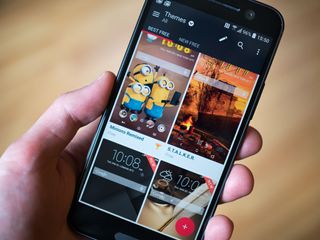 HTC Themes are thoroughly customizable, which is great. They're not all-or-nothing like the all-or-nothing kits offered by Samsung. You can choose your own colors, your own images, your own icon pack, and build the theme you want. You can even break them free of the traditional home screen grid on the new HTC 10. The problem is, an unfortunate amount of the material in the HTC Theme store wasn't uploaded by its creator.
And when those rightful owners have come calling for their work to be taken down, they haven't gotten much from HTC.
In Sense 7 last year, HTC introduced HTC Themes, allowing its users to customize their phones and to build and share their own themes through the store. I'm all for customization, especially allowing people to create their own when the offered themes fall short (I'm looking at you, Samsung).
Because you could build your own themes using anything you wanted, that offered much more freedom to users. In a service with user-generated content, such as Themes and icon packs, it's impossible keep it from being abused in a few cases. We're beyond that few at this point.
Sense Home doesn't support icon packs from Google Play, only from HTC Themes. So users began extracting icon pack apks and uploading them to HTC Themes, without the creator's consent. Hundreds of paid and free icon packs were put up, and downloaded tens of thousands of times. This meant that even if HTC Themes didn't have Google Play support, users could still get all the great packs they were looking for. Materialistik. Stealth. Glim. Royale. Sense users could still use them; their developers just didn't get paid for it.
Now, as HTC Themes are only available on HTC phones, it took a while for some developers to notice their work had been stolen. Developers are still noticing the theft to this day, and new packs are being copied and uploaded. It's often a matter of hours after a new pack is published in Google Play before it can wind up on the HTC Themes store.
HTC claims they have four methods for reporting IP violations. However, two of those four methods require an HTC phone: using the report button in the HTC Themes app and in the Feedback section of the same app. Lacking an HTC phone, most developers effected don't even know there is a report button at all. The other options for making a claim are to email either HTC Themes at gp_theme@htc.com or HTC Legal at Global-Copyright@htc.com. In the communications between HTC's social media accounts and developers, users would sometimes be directed to these emails, but were often told to other accounts instead, such as the North American Marketing Team and the HTC's US Copyright office.
In a response to our questions about the IP violations, HTC stated that they respond to claims of copyright infringement within one week. They also claim that repeat offenders lose the ability to upload content on the HTC Themes store. Sergejj Osmakov has been responsible for hundreds of packs and dozens of claims over the last several months, and has been mentioned by name in posts by several developers bemoaning the situation. He is still actively uploading packs, including packs created as recently as last week.
@_AndroidAlex_ We're working towards a solution. If you or anyone you know has experienced this piracy, please DM us.@_AndroidAlex_ We're working towards a solution. If you or anyone you know has experienced this piracy, please DM us.— HTC (@htc) February 19, 2016February 19, 2016
Developers have cried out about this before. Late last fall and in the beginning of 2016, developers would post and reshare their outrage over their work being stolen. And HTC would put out a tweet or a reply telling developers to email different accounts for Copyright or Marketing teams. They said we're looking into it. There are still being packs uploaded today. PLAY, which was released by Tha PHLASH last week, was up on HTC Themes within three days. We happened to be talking with him when he found out. He was not a happy camper.
Months of emails, tweets, and posts across several networks left developers like Tha PHLASH and Maximilian Keppeler with nothing but a few form responses and instructions to email differing accounts, emails that more often than not were not responded to. A few lucky developers managed to get icon packs taken down for a time, but they returned with determined regularity. The vast majority of inquiries and emails about improperly uploaded icon packs were not answered, and that silence told most developers enough.
Kevin Aguilar was one of the developers who didn't even see a point in contacting HTC after seeing the response other developers got, like packs that were uploaded again and again. This view was only strengthened when he looked into the Terms of Use for HTC Themes and found this clause at the beginning of the User Content section:
This throws a few wrenches in when it comes to developers trying to get their work removed. HTC's abdication of liability minimizes the legal recourse available to developers if/when requests to take down the work are ignored. While there are IP takedown guidelines in those same Terms of Use, they are harder to find, developers often aren't told what pieces of information they need to supply for a takedown request, and many requests never see a response. Some have simply given up, accepting that there's nothing to be done.
"So a few developers aren't getting paid their 99 cents for an icon pack. So what?" Well, that one dollar may not look like much, but for packs that have been downloaded hundreds or thousands of times, that's thousands of dollars down the drain. Remember PLAY? In less than a week, it deprived PHLASH of over 500 downloads, or roughly a thousand dollars worth of sales. Add up the revenue lost by Coastal Images, who has quite a number of packs on the site, and it is easily over $15,000. That's assuming all of those people would have paid for it through the Play Store, of course, but it's clear these losses aren't nothing.
Icon pack developers already face some interesting challenges. Icon packs are, quite simply, a luxury app. You don't need them to get anything done (except avoid looking at some of the particularly garish app icons that may have come with your phone). Getting traction for an icon pack is a serious accomplishment, imitation is flagrant, and getting someone to invest even menial amounts in the icons they'll spend days and weeks perfecting is a hard ask to most Android users.
It's bad enough that their apps are given away in piracy-friendly APK sites across the web. To have it happen on an app that bears HTC's name and logo is just wrong. Better enforcing (and better informing developers of) the Copyright takedown procedure hiding in the Terms and Conditions of the HTC Themes store would be a nice start. Allowing HTC Themes to take advantage of the Google Play icon packs so users won't turn to pirated packs as their only option in HTC Home wouldn't hurt either.
For every single developer I spoke to, they all believe it's too late to make a difference. They've resigned themselves to their work being stolen and their profits being hobbled by piracy. And even as we wait for the HTC 10 to hit stores, we have to wonder if the treatment of user-generated content on Themes will be an indication of how it's handled on HTC's other platforms.
Get the Android Central Newsletter
Instant access to breaking news, the hottest reviews, great deals and helpful tips.
Ara Wagoner was a staff writer at Android Central. She themes phones and pokes YouTube Music with a stick. When she's not writing about cases, Chromebooks, or customization, she's wandering around Walt Disney World. If you see her without headphones, RUN. You can follow her on Twitter at @arawagco.