How to purchase in-game items for PlayStation games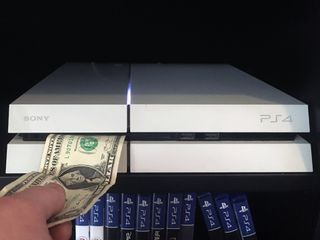 (Image credit: Android Central)
No matter your feelings on the matter we are living in the age of in-game items. There is a veritable litany of items to expand or change the way you interact with games. From game breaking weapons to aesthetic changes like character skins, there may come a day when you want to purchase some items for a game on your PlayStation 4. Here is as simple overview of how you may go about doing that.
Directly from the PlayStation Store.
From the main page of your PlayStation, select PlayStation Store.
Once in the store move your cursor up to Search and select it.
Start spelling the game you want to buy items for with the letter bar on the right. Once your game pops up, select it.
On the game page, choose Add-Ons in the lower right.
You will then be presented with a list of add-ons and in-game items available for that game. Select the one you want.
Next, you will see an overview of that item. To purchase it, select Add to Cart.
If you are ready to pull the trigger on your purchase, you will then choose Proceed to Checkout.
You have one more chance to back out. If you're still sure, select Proceed to Checkout one more time.
Once you finish your purchase, your items will show up automatically within your game.
From inside your game.
Every game is different so I can't tell you exactly how it will work in every instance. However, most developers will give you an option somewhere near the main menu of the game to purchase items. After all, they want you to dump some more cash on all those sweet sweet in-game items. If the in-game advertising works and you find yourself falling down that rabbit hole, it's pretty simple. You will select the item you want and it will automatically dump you out of the game and back into the PlayStation store where you will finish your purchase.
Buying in-game items is dangerously easy these days. Many developers love these little micro-purchases as it only serves to bolster the income of individual games. The ease with which these purchases can be made can make it a slippery slope. Make sure to buy only the things you really want.
What in-game items are you buying?
Why are we reviewing PlayStation 4 games on Android Central? Let us explain.
Get the Android Central Newsletter
Instant access to breaking news, the hottest reviews, great deals and helpful tips.