How to filter restricted content in YouTube search results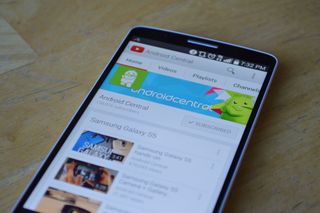 It's dangerous to go online alone. Take this.
YouTube is the world's largest video site because it allows anyone to quickly and easily upload videos. YouTube is great for sharing family videos, reporting on things happening in different parts of the world, and so much more. While YouTube is great for most people, sometimes you'll want to avoid the more explicit content that is uploaded. Luckily, YouTube has allowed you to quickly and easily filter out restricted content on your Android device.
The following instructions will walk you through step-by-step on how to turn on and off the SafeSearch filter.
How to filter out restricted content in YouTube search results
Open the YouTube application. It does not matter if you open the application in your app drawer, YouTube widget, or on one of your home screens just as long as it is the official YouTube app.
Tap the on the overflow menu button which looks like three dots in the top right corner of the application. This will open a drop-down menu.
Tap the Settings button.
Now in settings, you tap on Search to locate your search specific options.
At the bottom of the list, tap on the SafeSearch filtering button and a pop-up dialog will appear.
In this pop-up dialog you will be able to select "Don't filter" or "strict" depending on what you want to appear in your searches. If you are looking to keep out all restricted content from your search results, make sure to select "Strict."
Just by doing those quick six steps you will be able to make sure that you or anyone else using your device will not see explicit content when searching for a video on YouTube. You are able to go back and toggle SafeSearch on and off whenever you want.
Get the Android Central Newsletter
Instant access to breaking news, the hottest reviews, great deals and helpful tips.