How to edit and share an HEIC photo with Android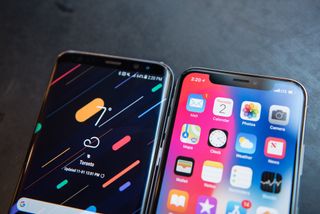 HEIC, otherwise known as HEIF, is the high-efficiency image format that Apple has been using on its newer iPhones to save on internal storage space. Because of the unique way the format compresses images, the MPEG group that developed it says that you can store twice as much information in a photo using HEIC versus a JPEG of the same file size, meaning your photos can take up way less space without losing out on any quality.
As great as that sounds, HEIC isn't supported on most devices just yet. Even though Apple was the first to implement the format on its phones, it took months after rollout to be able to even view HEIC photos on a Mac. On the Android side of things, you can view HEIC images directly within Google Photos, but you can't edit them within the app — and many default gallery apps can't even get that far. So what good is a format like this if you can't do anything with the images?
While you're still going to have a better time editing HEIC photos in iOS (at least until your phone gets updated to Android Pie, with full support for the format), there are still ways to go about it on your favorite Android phone. Here are the best methods that we've found.
Snapseed
The easiest way to edit your HEIC shots directly from Google Photos is through Snapseed, Google's own image editor. In fact, if you have it installed on your phone, Google Photos can directly forward you into Snapseed from your image through the overflow menu. If you've never used Snapseed, the interface can seem a bit complicated, but it doesn't take long to become a natural with the swipe-heavy UI.
From the Looks tab (which you'll see by default), you can choose from a number of presets like Smooth, Accentuate, or Faded Glow. If you know how to get your desired effects on your own, though, you can jump into the Tools tab and find a long list of photo editing features — there are a whopping 28 tools at your disposal, each with its own set of settings. The best part of Snapseed is that despite being an extremely powerful photo editor, it's completely free to use.
Prisma
Remember when Prisma was super popular a few years back? It's still alive and kicking with great photo filters that help turn your photos into interesting works of art, and it's unfazed by HEIC. Toss your iPhone or iPad shots into the editor just as you would with any other photos, and you'll immediately be able to apply any one of Prisma's powerful presets.
The downside to Prisma? It's mostly a paid service — you can make edits in standard definition for free, but should you decide you want HD processing or an ad-free experience, you'll have to shell out $1.99 each month or spring for an annual subscription for $18.99. Don't get too comfortable with the free trial, either. Prisma only grants you three days to try its premium services before you're automatically charged for the year.
As fun as Prisma can be, though, Snapseed is still probably your best bet, since it doesn't cost anything and still offers advanced editing tools.
Luma
On top of Snapseed and Prisma, I tried plenty of popular photo editors like Instagram, VSCO, and Lightroom CC — none of which natively support HEIC. If you prefer one of those editors to the two I've presented, you may just be better off converting your HEIC shot into a JPEG, then choose whatever photo editor you like. For that, Luma is a great tool. Just load your HEIC image through the file browser, then tap the image icon in the upper right from the viewer to save it to your gallery in a much more widely compatible format.
Luma is supported by ads, but if you just can't stand the occasional popup, you can tap Info in the upper right corner and donate between $1.99 and $4.99 to the developer to remove ads and show your appreciation.
Download: Luma HEIF Viewer and Converter (free)
What do you use?
Have you been using one of these apps to edit HEIC images, or is there another app that we missed? Have you ever run into this problem before, or has it been a non-issue for you? Let us know in the comments!
Get the Android Central Newsletter
Instant access to breaking news, the hottest reviews, great deals and helpful tips.
Hayato was a product reviewer and video editor for Android Central.