How to clear your Google Play Store search and apps history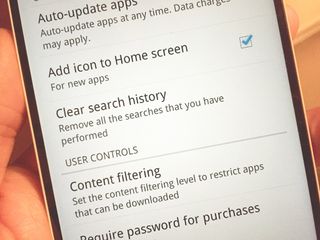 For whatever reason, from time to time you're probably going to want to clear out your search and/or your apps history from the Google Play Store. It doesn't take long for you to create a pretty sizeable list and it can quickly get out of control. Fortunately, like so many other things, Google makes it incredibly simple to clear things out.
Here's how you do it:
Open up the Play Store app on your phone or tablet
Slide out the menu from the left hand side
Open "Settings"
Under "General," tap on "Clear search history"
And that's literally all there is to it! Clearing out your list of apps is a little more involved as there isn't a way right now to clear out all your purchased/previously downloaded apps in one go. But it's easy to get rid of things you don't want to see anymore:
In the Play Store app slide out the menu from the left and tap "My apps"
Next to apps that aren't currently installed on your device you'll see a cross in the top right corner of the box
Tap the cross and the app goes away.
Clearing out your apps can take some time if you've downloaded a ton, but again Google makes it pretty straight forward to get rid of what you don't want.
Get the Android Central Newsletter
Instant access to breaking news, the hottest reviews, great deals and helpful tips.
Good god do we really need an article explaining this? It's beyond basic.
No wonder iphone users think we're morons. Posted via Android Central App on the behemoth that is the note 3

Some people are perfect and look at others as morons. I think it's great that they do this for people that are new to Android. Simplicity is what attracts people that are not technologically inclined to IOS. >I'm the kind of guy who stops a microwave at one second to feel like a bomb defuser.

Exactly Posted via Android Central App

Lol! @ feeling like a bomb defuser... I always try stopping it at 0.001 seconds so only one beep screeches through your ears not four. They should put a silent mode on these things.

Once they've mastered that, advanced users can employ side-to-side swipes to navigate to additional home screens. ;) On a serious note, you can remove paid apps from your list, and they remain marked as paid if you browse or search for them in the play store. I always wondered about that - lots of apps I've bought in the past that I don't use anymore, but don't necessarily want to give up the ability to use them in the future some time.

It's just a simple tip/trick. Don't like it, move on to something else that interests you.

Yeah, because everyone has been using Android for years....

This article was actually useful so I know that there is no easy way of "bulk remove" the apps from My Apps. There are hundreds of useless stuff in there and clicking X, then ok, and waiting 3 seconds for each one of them is not gonna do it. It was possible to select multiple apps and remove them all at once on a previous version of the Play Store, but they have made it worse now.

This article is for those who are maybe new to the Android system, or are just new to smartphones period. Cut people some slack your blood pressure will thank you...

Exactly! Gotta start some where. Posted via Android Central App

While we are on this topic, I really wish Google would bring back the list of purchased apps. I've lost track/forgotten about half the apps I've paid for over the last few years. I'm sure there are some gems I haven't seen in a long time. Posted via the Android Central App

Go to the Play Store in a browser, then to apps, then click the gear in the upper right hand corner of the page (just beneath the share button). Choose "My Orders" and it'll list every purchase you've made through the Play Store and former Android Market. I see Root Explorer was the first app I ever purchased... ahhh, the good 'ol days!

Real late..but how do you get rid of you history. I deleted out of google play but it is still showing up when I go to the website. Posted via the Android Central App

I'm new to this app, anyone have any suggestions. Anything in perticular I should know or do? Thanks, Laurie

"It's beyond basic", well I am beyond that. I greatly appreciate articles that teach the simple lessons. The ones that should be in the book, but aren't because they talk about apps that aren,'t theirs. You talked straight Google Play--it's simply ridiculous not to publish stuff. BTW I am not a moron. Don't pigeon-hole me. And don't insult me either. It's just rude.

Anybody knows where google play store chronology file is stored in android? I mean.. is there a file where i can read the list of all my search with hour and date? If there is this file where is located and how it's called? Help .... Thank You