Here's how POCO was able to launch the Snapdragon 845-powered F1 for just $300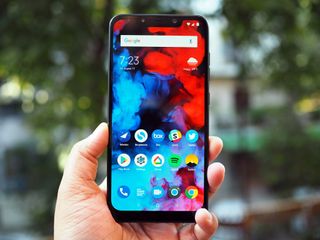 With so many diverse options in the smartphone segment, it's hard for a new player to stand out. However, Xiaomi's sub-brand managed to do just that. When POCO unveiled the F1, it did something that I thought wasn't possible anymore: take Indian consumers by surprise. India is one of the hardest markets to sell a phone — there's no dearth of choice across any given category, and the average Indian customer is inherently price-conscious.
So when POCO announced that the Snapdragon 845-powered F1 retails for just ₹20,999 ($290) in India, it set off a cavalcade of excitement that I haven't seen for a long time. The only other devices that evoked such enthusiasm were the Xiaomi Mi 3 and the OnePlus One. The POCO F1 shares many similarities with those devices: at its core, it makes flagship-level hardware accessible to a more mainstream audience.
To put things into context, the POCO F1 costs ₹14,000 ($200) less than the OnePlus 6 and an incredulous ₹46,901 ($660) less than the asking price of a new Galaxy Note 9. You can essentially pick up a Pixel 2 XL and a POCO F1 for the amount you'd shell out for a Note 9 in India.
Devices like the POCO F1 don't come around often, so I talked to POCO's head of product Jai Mani on how the brand pulled it off. Mani said that the goal from the beginning was to launch the phone at the ₹20,000 figure, and that the main challenge to hit that price point was the currency fluctuation against the dollar. The Indian rupee is currently at its lowest point in a decade, and that makes things harder for brands like POCO, which have thin margins to begin with.
POCO had to make several cost-conscious decisions to get to that price. Mani said his team initially mulled the idea of an AMOLED display for the device, but had to ultimately reject it as it wasn't feasible in terms of cost. Another feature that didn't make the cut is NFC. Its omission isn't a huge deal in India, but it makes a difference in markets like the UK, where contactless payments are ubiquitous. The choice of materials also made a tangible difference, as a polycarbonate back costs much less than a glass-based design.
The factor that played a key role in getting the POCO F1 down to that $300 figure is Xiaomi's supply chain. POCO was able to leverage Xiaomi's existing infrastructure to bring down the R&D costs for the F1. The F1 uses the same IR-based face unlock as the Mi 8 — hence the reason for the notch on the display — and the same 12MP IMX363 rear camera module as the Mi Mix 2S. The 20MP front camera module is also identical to that of the Mi 8, and by reusing components, POCO was able to save a lot of time and resources in tuning the cameras for the device.
Another area where Xiaomi's infrastructure paid off is with the Snapdragon 845. Mani said that Xiaomi is one of Qualcomm's largest customers for Snapdragon 800-series chipsets, so the company was able to source a large volume of the processors at a "great" price. Same goes for memory — POCO wouldn't have been able to offer LPDDR4X RAM or UFS 2.1 flash storage as standard were it not for Xiaomi's scale.
The main components in terms of cost are RAM, flash storage module, display, SoC, and camera, with Mani saying that these five components make up a huge chunk of the price of the phone. Sourcing these components directly from Xiaomi ultimately made all the difference for POCO as the company wouldn't have been able to launch the F1 at such a competitive price otherwise.
It's not just during the manufacturing where POCO benefits from Xiaomi's scale. POCO is using Xiaomi's logistics and distribution network, and more importantly, its service centers — with Mani noting that doing so "saves us a lot of money." Xiaomi now has over 1,000 service centers across India, and POCO customers will be able to access that same network for after-sales service.
What's interesting is that POCO is selling the F1 in decent volumes — there were over 75,000 units up for grabs during the first sale last week. POCO says it will continue to make a similar number of units available in future weekly sales. All units sold in India are being assembled locally at Xiaomi factories, and that also makes a difference when talking about pricing.
Furthermore, POCO is adhering to Xiaomi's goal of not exceeding 5% in profits from hardware sales. By selling at near manufacturing cost, POCO is able to effectively undercut every other company, a strategy that Xiaomi has used to great effect in the past. That's why it's unlikely we'll see anyone else offer a Snapdragon 845 phone for $300.
POCO F1 review: Incredible performance at an unbeatable price
Get the Android Central Newsletter
Instant access to breaking news, the hottest reviews, great deals and helpful tips.
Harish Jonnalagadda is a Senior Editor overseeing Asia at Android Central. He leads the site's coverage of Chinese phone brands, contributing to reviews, features, and buying guides. He also writes about storage servers, audio products, and the semiconductor industry. Contact him on Twitter at @chunkynerd.
One correction - The Poco F1 does not use the same display as the Mi 8 SE. The Mi 8 SE has an AMOLED display but the Poco F1 has an LCD.

Right. I meant to say display configuration with the cutout. Thanks for pointing it out.

Don't let it happen again! Lol

Never ever ever ever ever! Lol

There is little diferemtation in phones today. The notch creates news. XL the same. Nothing more. As for next generation. I'd say a folding screen will sell. It's coming...

"the same 12MP IMX363 rear camera module as the Mi Mix 2S" So... the same sensor as the Pixel 3... on a $300 phone.

Meh. Modern phone cameras are increasingly relying on software to make the real difference so I doubt this phone has anywhere near the performance of the Pixel.

It's a great achievement and should definitely be applauded. That's all I have to say really. People may scoff at some of the cost cutting but ultimately you get what you pay for. If you want OLED and NFC you'll have to pay more. I wonder what Samsung's profit margin is on the Note 9 🤮

I understand your disgust at Samsung, but they have to provide service centers and advertising and support of a global presence that even Poco's mother company Xiaomi doesn't have. Also the Note9 is a luxury device so there's that. The Note9 has it's more main stream siblings. It's just not intended for everyone from it's inception, it's like Xiaomi's own Mi Mix line of phones is way more expensive than that Poco. So you shouldn't honestly compare them. It's like if you take the iPhone X with the same internals as it's siblings but costing way more. If you are poor you buy SE, you don't go for the halo device. Halo devices show the best the company can do and fetch the highest profit from those who dare decide to be seen with them. We see this in other industries too like motor industry. The top end versions never have the best value for money proposition, in fact they are usually the worst on that. But they add glamour.

Would be a great back up phone wish it was coming to the US.

Part of me is thinking Qualcomm is dropping 845's below mass purchase pricing to boot. Like they have an ample supply of new SOC coming sooner then expected in yearly cycle.

Probably losing market share to Kirin, Exynos and Mediatek. Not losing revenue, in the current market their revenues will always increase, but the percentage of devices equipped with Snapdragon is declining. Alternatively as you say, 7nm production could be going better than expected, especially if the roll out of the Kirin 980 is anything to go by, so they've got more SD845 stock to sell than they planned.

It's not about the soc, or the display, or the materials used.....it's all about marketing cost....and when u don't pay for marketing, u save money....point blank period

Why can Xiaomi buy the 845 in bulk when you hear phones sold in the USA have to pay a percentage of MSRP to Qualcomm?

Here in South Africa the Poco costs ZAR7,999 (US$525). It's still a steal with that SoC though.

Why not get it off Aliexpress with free shipping? I prefer the Xiaomi Mi 8 though... I got it for $400 6gb/128gb with Snapdragon 845, similar performing camera to the s9 and display that beats the Oneplus 6, plus their MIUI 10 is a revelation... Takes the best of IOS and Android pie and makes it better. Check out the reviews and camera comparisons and then check out MIUI 10.

Looks like a lot of compromises were made. But it's perfect for the Indian Market, and I wish them success for all the hard work and risk they put into bringing a grade A mobile processing device to market at that price point. The thing about the Galaxy Note 9 that appeals to many like myself is that it doesn't compromise. It's an all-you-can-eat high tech buffet.