Star Wars: Force Arena hands-on preview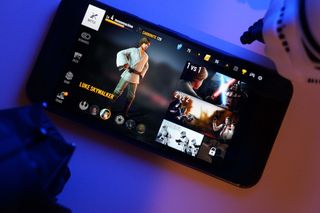 It's a great time to be a Star Wars fan, with Star Wars: Rogue One hitting theaters and the recent resurgence in amazing Star Wars video games. The latest offering for mobile gamers is Star Wars: Force Arena, an action-packed real-time strategy game that puts you in control of a leader for either the Rebel Alliance or the Galactic Empire. I've spent the past few days going hands-on with a pre-release version of the game, which combines gameplay elements from Clash Royale and MOBAs, and sets the whole thing in a galaxy far, far away.
Now I'll admit right off the top that I'm predisposed to adore this game as a huge Star Wars fan. Clash Royale also ranks as one of my favorite games of 2016, so Force Arena basically had my full attention from the minute it loaded up. Just like Clash Royale this is a deck building game with the battles set in iconic Star Wars locales, the divided arena guarded at each end by turrets and connected by two lanes. But instead of being an omnipresent figure casting troops cards onto the battlefield, you're thrown right in the mix as a legendary character from the film franchise, fighting for the Rebellion or the Empire in both 1 vs. 1 and 2 vs. 2 online battles. The goal is to get past your enemies turrets and destroy their shield generator, so that your aerial assault team — Tie Fighters or X-Wings — can blow this thing and go home.
The playable heroes i've seen in action so far include Luke Skywalker, Princess Leia, Han Solo, the Emperor, Darth Vader, Boba Fett — y'know, the usual suspects. Each hero has their own special abilities that you'll want to carefully consider before building your battle deck around them. To control your character in battle, tap around the battlefield to move and tap on an enemy troop to focus your character's attack.
There will be over 80 characters included in the full release, from new faces from Rogue One alongside fan favorites from The Force Awakens and the original trilogy. You'll likely have to discover most of them via card packs unlocked for free, won in battle, or purchased from the in-game store.
After completing the short tutorial and receiving your starter battle decks from the complimentary card packs, you're ready to pick a side and hit the battlefield. It's surprising how well the MOBA and Clash Royale gameplay styles mesh into something that feels fresh-yet-familiar, and an ideal fit to harness the full scale of the Star Wars universe. Seeing Luke Skywalker running into battle towards Darth Vader as Stormtroopers and Rebel fighters exchange fire feels as epic as it should. Having the option to switch between the Rebels and Empire as you feel fit also adds an extra layer of depth and replayability.
An official release date has not been set, but if you're excited to check out Star Wars: Force Arena, you should definitely sign up, which will help you out with 10,000 bonus credits among other rewards. Expect the game to launch globally in the coming weeks.
Get the Android Central Newsletter
Instant access to breaking news, the hottest reviews, great deals and helpful tips.
Marc Lagace was an Apps and Games Editor at Android Central between 2016 and 2020. You can reach out to him on Twitter [@spacelagace.
Hokey religions and ancient weapons are no match for a good blaster at your side, kid.

You don't believe in anything do you???

Kid, I've flown from one side of this galaxy to the other. I've seen a lot of strange stuff, but I've never seen anything to make me believe there's one all-powerful Force controlling everything. There's no mystical energy field controls my destiny! It's all a lot of simple tricks and nonsense.

So you wait until the end of your article to say it's not available? How'd you get it?

Anyone else playing the Mortal kombat song in their heads? Imperial March and then... Dun dun-dun-dun dun dun-dun dun du-Mortal Kombat! And everyone looks around. Starring Blanka as emperor Palpatine, dahlsim as Obi-Wan, zangief as Chewbacca... Chun-li as Leia?

How much did you smoke this morning?

Too much I didn't even realize I was using street fighter characters.