Hands-on with the LG Optimus F3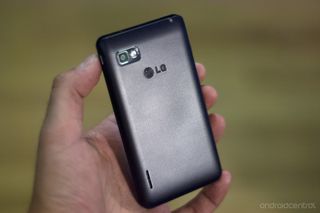 Sprint was on hand at last night's Pepcom showcase to highlight its next cream-of-the-entry-level-crop, the LG Optimus F3, available now for a mere $30 on contract. It's undoubtedly a starter phone, designed specifically with the blind and visually impaired thanks to its bundled Google TalkBack software. With extensive text-to-speech capabilities, the F3 is the go-to device for those looking for a budget-conscious, entry-level-friendly handset.
The F3 packs a 4-inch WVGA display, a 1.5 GHz dual-core processor, and Gorilla Glass 2, with a 2,650 mAh battery and Android 4.1 thrown in to spice up the spec sheet -- a bit under whelming for the power user yet totally respectable for the first-time buyer. I've said it once and I'll say it a million times: entry-level devices are becoming more and more capable, and the Optimus F3 is very much a well-made, albeit bottom-rung LG device.
The Optimus F3 ships in both silver and purple and is available now in Sprint stores and on sprint.com for $29 with a two year contract. Shots of the device can be found after the break.
On Sprint. Way to fail right out of the gate.

How is this failing? If I were on Sprint, this is the phone my wife would choose. Not everyone wants a flagship phone. There's nothing wrong with a carrier trying to cater to people who aren't us.

I'm not sure you fully understand how things work from an OEM perspective. A device acceptance/launch on ANY carrier is a win.

Sorry it's not in stores until August. Online and thru telesales now Posted via Android Central App

LG is only coming with low range smartphones; even the "high end" devices offered by LG aren't capable to compete with the other smartphones provided by Samsung, or by Sony. So, will the Optimus F3 manage to impress the Android users? – Definitely no! If possible I would choose V1 Viper instead, which by the way for an Allview product is quite impressive and comes on a low price tag too (http://androidflagship.com/540-allview-v1-viper-specs-features-price).

ummm....LG's only High end phone announced this year was the Optimus G Pro. and with a 5.5" 1080P screen, Snapdragon 600 processor, 2 GB ram, 3140 mah battery, and 13MP camera....i would say it could hold its own against the other big dogs. and that viper V1 phone.....seriously. i would take the Nexus 4 over that in a heart beat. same price, better specs, more consitent updates.

Entry level phones are fine with me. After having a couple big phones (galaxy nexus, lg optimus g, HTC one) with great specs I'm thinking about going back to a smaller phone probably around 4 inch with decent specs. I came to realize that I really don't use the phone fully anyway. Don't watch movies on it, don't play many graphic intensive games much tho they are on it, and I mainly use it for texting and Facebook. Needless to say I'm on the look out for a decent small android phone. Just bought a used lg viper for 80 dollars off Amazon to see how well it works. Glad that Sprint is offering these phone sizes. Just wish somebody would make a really good small android phone Posted via Android Central App

People shouldn't hate on these entry level devices. There are so many people out there that have flagship phones and don't know how to use them. I'm going to get some hate replies for this, but dumb phones for dumb people. Entry level devices help these people without breaking their pockets. And that's how we teach people how to work flagships. From the DARK AC App!

That battery is actually pretty sweet, plus a dual core 1.5 GHz processor... I'll take an LG entry phone to a Samsung entry phone any day. Posted via Android Central App

Just got mine today, rooted it, and ready to rock with 4G!
Android Central Newsletter
Get the best of Android Central in in your inbox, every day!
Thank you for signing up to Android Central. You will receive a verification email shortly.
There was a problem. Please refresh the page and try again.