Hale Dreamer dock with SmartSilence for Android review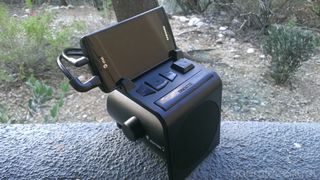 Sleep in peace knowing that the Hale Dreamer with SmartSilence will intelligently screen your calls to make your snooze as uninterrupted as possible.
If you've kept an eye on the blog the last few weeks, then we're sure you saw our entry on the Hale Dreamer dock for Android with the SmartSilence application and how the developers were looking for backers on kickstarter. Well, for those of you who showed interest, you'll be glad to know that we are back this week with a review on the pre-release hardware and software.
Visually, the Hale Dreamer for Android is everything you would expect from a standard alarm dock, with reliable functioning in mind. Centered around a single speaker with rubber nibs to grip the surface of your nightstand, the construction is sturdy and solid without excess frills or fancy features. On either side of the speaker, control nobs can be found; the left being brightness, and the right, volume. Atop the speaker you will find the dedicated snooze button, music controls, the SmartSilence switch, and three dock legs with rubber nibs to hold your device in place at a visually pleasing angle. The buttons protrude a very noticeable amount, eliminating the need to feel around in the dark, and they give a very nice tactile feedback when pressed. Rotating the dock, you will find that the back has two connectors, one for the audio jack and the other for the micro usb port. The small finishing touches for reliability here really pleasantly surprised us, such as the flexible metal casing surrounding the cables and the rotating joint of the usb port. This allows for crossing and adjusting of the cables without fear of shorting the wires, and can accommodate any android device regardless of the orientation or placement of the charging port.
The speaker is nice and loud, giving decent dynamics to most of any music that is played, although audiophiles could probably find a few faults. On the louder spectrum of things, the speaker can be found to occasionally crackle, however, we assume most people won't actually listen to their music that loud, in the house atleast. (the car is a different story!) The 3.5mm audio jack fits snuggly with no white noise or other noise disturbances.
The micro usb port feels very solid with 180 degree rotation, and fits snuggly into the charging port. The dock is supplied with about 2,000 mA of power, which is pretty standard for most devices and will charge the device without issue. However, the Droid DNA that we used to do this test run complained that there would be slow charging. This ultimately did not effect the use of the dock or the device, and was still able to obtain a full charge while playing Pandora.
The dock "legs" that hold the device in place are ideally shallow, meaning they do not take up much screen real estate, leaving the phone fully functional while docked. We personally would have liked the phone to sit slightly more vertical, but the added support from the gooseneck cables allows you elevate the device to your personal liking, while the rubber nibs on each "leg" keeps the device firmly in place.
Veering from the hardware side of things, the development team has put much thought into the software as well. Made up of two applications, Hale Alarm and Hale Speaker, they have managed to successfully deliver a pleasant user experience. Hale Alarm, the primary application, allows for the setting of alarm notifications and tones, SmartSilence settings and contact groups. It also offers a timer and lullaby option. Hale speaker, on the other hand, connects your device to the dock to allow for remote music control via the dock.
The user interface of both applications is pretty decent, combining a flat black background with standard white text, holo icons, and android blue accents with control tabs located along the bottom of the screen. Not the most innovative or fancy, but most definitely functional and easy to navigate. Ideally, we would prefer that the two applications be combined, but with the auto-update feature, maintenance of both applications is kept quite minimal.
We will take the time now to point out our most serious annoyance- persistent notifications. Once your device is connected to the dock and Hale Alarm has launched, a notification will appear in the your status bar. No big deal, right? Its useful to know that the dock is actually registering your device. However, it would be much more appreciated had the ability to swipe that notification from the bar be available. A second persistent notification can be found when an alarm is set. While not a deal breaker, it is most definitely something we can see many users finding annoyance in.
That being said, the software works exactly as expected, which is great at this stage of development. Hale Alarm allows for a decent amount of customization, with 8 clock templates ranging in both hue and font, 24HR time format, and custom alarm tones. Hale Speaker allows you to choose which music provider you would like to use with the dock, given compatibility. We personally used Pandora, in which we experienced no issue what so ever. The dedicated music controls allowed us to skip from song to song, while the hardware volume knob allowed for easy adjustment of the volume during nighttime use. One minor annoyance, however, was the small "pause" in music when receiving a text message, although the notification tone did not ring. The first few times, it wasnt very noticable, and we cant say for certain whether this is contributed to their software, Pandora, or that pesky Droid DNA. Other than that, we experienced no force closes, lag, or issues with the prerelease software and expect nothing but refinement in the final versions.
We're sure what most of you are curious about now, though, is SmartSilence, the innovative selling point to this dynamic duo. Does it work like advertised? Well, we are sure you will be glad to hear that it most definitely does. Tested over the last few days,we had numerous individuals call and text at various and sometimes utterly obnoxious hours of the night. With close friends and family set to Always Ring, all ungrouped contacts set to Auto Reply, and all unknown numbers set to Never Ring, we were pleasantly surprised to find that SmartSilence actually silenced the phone accordingly. The option to auto detect emergency is especially useful. If an unknown number calls atleast 3 times in a 5 minute window, the third call is allowed through as an emergency. These settings of course can be changed by amount of calls and the time frame. Those set to auto reply will receive the automated text message asking if there is an emergency (this is also customizable), in which they can choose to reply with E to have you alerted with a very identifiable notification tone and a pop up reading "YOU HAVE AN EMERGENCY CALL" on the other end. You can choose to quick dial at that point, to reach the contact. SmartSilence is especially useful if you have those pesky "friends" (read, awkward acquaintances that you don't really know very well, but they feel the need to call and keep you up-to-date on their every movement. Literally.) That way, should they really ever need to contact you in case of an emergency, they can. All other obnoxious calls to discuss the status of their favorite cat sweaters or most recent song discussing Arkansian BBQ will be sent into blissful oblivion while you catch up on your much coveted Z's. Hit the break to see some screenshots of Hale Alarm and Speaker hands on.
While SmartSilence is currently exclusive to those purchasers of the Hale Dreamer alarm dock for Android, there are plans in the pipeline to make this application available to the greater (Android) public.
Ultimately, we truly enjoyed our time with the Hale Dreamer and the developers behind this project. Always quick to respond to emails regarding operation, troubleshooting, and suggestions, we fully believe that this is one accessory that you would be wise to invest in. Any developer who designs around android compatibility and reliability deserves as much backing as they can get; after all, one of the biggest complaints about Android is the fragmentation.
Job well done, Hale Devices and Sonr Labs, we look forward to seeing more great work from you guys in the future.
Honestly, that thing is ugly as sin. Posted via Android Central App

I couldn't agree more. While I'm not fan of the super over styled iPhone docks this is just fugly as sin. I would ashamed to have this next to my bed. Unless I somehow get teleported back to the 80's in which case it will fit right in.

I don't get how it's so ugly. Maybe it's just grown on me, but it's just an alarm dock. I don't know how else it should look. Posted via Android Central App

For one, you have TWO cables wrapping around instead of ZERO. Also, this thing has zero polished styling. Style it better, have a fixed usb at top, and add Bluetooth for streaming, then you'd have something. Posted via Android Central App

The concept behind the design was to make it universally compatible with as many android devices as possible. With a fixed micro usb, devices that have the charging port in a different orientation or location will not be compatible. Bluetooth, while useful, also relies on compatibility and reduces reliability. For example, the droid DNA is wellknown for Bluetooth issues. Posted via Android Central App

For usb location, there are already a couple of alarm docks that have done this. The usb plug rotates for orientation. Ihome and Philips have done this. Posted via Android Central App

For orientation, but how about location? Some phones have usb ports up top, some down bottom, some along the sides. Assuming the usb is fixed in one spot with only a rotatable head, any devices that don't have the charging port along that side will be rendered incompatible. Posted via Android Central App

My last phone had its usb plug on top of the phone. I considered getting one of the Phillips alarm clocks, but my phone would sit upside down on the dock.

Hmm, I didn't think about usb at the top of a phone. Good point. Posted via Android Central App

Your sleeping, you wont see it even, who cares what it looks like as long as it can wake you up in the morning thats all that counts.

Uh, I like my home to look nice. That includes the bedrooms. Posted via Android Central App

Wow, I think we all know what not to get you for christmas. Posted via Droid RAZR M on the Android Central App

I think a lot of people care about how things look around their home, do you have the same attitude when it comes to sofas or lights? This looks like one end of an 80s ghetto blaster. Posted via Android Central App

Hi All, this is Joe from HALE. I'll address the cables below, as far as the aesthetics, the design we chose was definitely controversial, you tend to either love it or hate it. Folks that love it really appreciate that it's unique and given the world of undistinguished iPhone/iPod docks, we wanted something that stood out and articulated its point of difference. Obviously this is very subjective and I do feel badly that some of you on the list are really among those that hate it, but that's kind of the way it goes when you choose something unique, some will love it and some won't.

I am a backer and I think most of the intelligent community out there is going to realize that an alarm clock is one of those things that needs to be absolutely functional and reliable, whereas beauty and aesthetics take a back seat. I dont' think it's the most beautiful thing in the world, but the fact that you guys are foregoing sexy for sturdy, functional and reliable is a big plus in my book. Don't worry about these naysayers who won't get it because it's not pretty. That's not what an alarm clock needs to be. Keep worrying about function and get that spot on. Then maybe someday you can appease the vain with a svelte version.

Joe, I had an unrelated question. I just got the Hale Dreamer and love it. It works perfectly with my wife's phone (an older Motorola Droid) but it will not work with my new phone (Motorola Droid Maxx). I am running Android version 4.2.2. Do you know of any compatability issues that would prevent the software from allowing my phone to work with the hardware? Is there a patch or software update that will remedy this problem? Thanks in advance for any advice or information you can provide.

I disagree...sin has never been that ugly.
looks like a great idea and good execution. Just hideous though.

The way I sin is beautiful.

That was beautiful! Posted via Android Central App

First I thought I`m looking at BBQ grill.

that's one hell of a contraption. does it brew coffee and make flapjacks too?

I think I saw that in Doc Brown's laboratory in Back To The Future

I think I saw that in Doc Brown's laboratory in Back To The Future

I don't really see the need for this. I plug my phone in next to my bed at night. I already have an alarm clock on my phone...why do I need some huge device to set it on? If I want to listen to my music I can stream it to my chrome cast. Problem solved. Trying to solve a problem, that's not there. I wouldn't buy one. But hey if you like and it works for you that's all that really matters. Posted via Android Central App

There are always a few ways to go about things. I personally really enjoyed being able to plug my device into the dock, have it play music, screen my calls, and be absolutely certain that I won't miss my alarm in the morning. Headphones hurt my ears after a prolonged amount of time, and they tend to fall out of my ear once I'm asleep, rendering my alarm useless. Without headphones, I have to keep my phone on the pillow beside my head, risking the chance of me disconnecting it from the charger and the device dying and again missing the alarm (yes, that is a serious concern of mine). One way or the other, a dock is very beneficial for me, my preferences, and my sleeping habits. It won't be for everyone, obviously. SmartSilence is so easy, not having to worry about a phone call waking my son up unless it's of the utmost urgency. Posted via Android Central App

Its called choice my friend. More choices are(almost) always better. Unless you believe in Apple's philosophies. I don't believe Chromecast is necessary but I'm thrilled that Google came up with it because it means more choices and will keep people innovating.

Am I the only one here who still uses a normal alarm clock?

Same here I use a clock that tells me the time and has an alarm and that's all I need Posted via droid razr m

i have the Sony ICF-C414. love it.

I have and use a digital alarm clock. Can also see the time on it while in my room without waking my phone up and wasting battery life needlessly (I check the time a lot). Posted via Android Central App on my Motorola XT890 RAZR i

What happens if the power goes out? Will any alarm still wake you up? Or does the speaker require AC power to provide alarms? Might need battery backup, or have some way of using phone speaker for alarms if the power is out. And a true remote control would be nice, even as an option, a la Bose with their Wave Radio, so you can change music from across the room. Some people need to put the clock away from the bed to make them get up in the morning to turn of the alarm. Just saying. ;) Thus, a remote is nice. Head phone out jack would be nice, too, for times when charging during the day, so as not to disturb others or for higher fidelity.

Battery backup would most definitely be extremely useful, and is something I hadn't considered before. Posted via Android Central App

If the power goes out during the time the alarm would need to be sounding, then you have a problem, obviously, but over the years, the more common problem was the power going out in the middle of the night, and (for alarm clocks that had them) the battery for the back-up was dead, so that when the power came back on, the time was way off, and you missed the alarm anyway. With a phone as the "brains", this isn't going to be an issue. And if it's really important, you can always buy a small UPS to run the Hale from.

This is Alex from the video: We are going to set the app up such that the alarm will still sound even if you lose power. The real failure scenario is when your phone's battery also runs out before you wake up. This is less likely, but possible given that the Dreamer does not have an integrated battery - but still, you are more likely to wake up on time than with a traditional alarm clock, all other things held equal.

Wow that's a Galaxy S Captivate at work. Interesting to still see techy ppl using it.

Good eye. I actually just pulled it out of the drawer for a dust off, doesn't get much work in now a days ;) Posted via Android Central App

Wanna sell it? I'll give you 25 bucks for it.

That was a good choice to show compatibility though, kudos for that.

Lol, I'd like to keep it around as a back up if anything happens to my current phone. And it is an excellent example of compatibility. The usb is on top on the galaxy s, whereas on my DNA it is at the bottom. On my Stepdads HTC boost mobile device, it's on the side. The gooseneck cables and rotatable head accommodates them all. Posted via Android Central App

Can't blame a guy for trying to screw a girl. ;-) :-P

I think this would be better if they integrated Bluetooth for people who do have good Bluetooth modules and made the audio cable a standard short-length 3.5mm to 3.5mm going from the phone to the back of the dock. They should also have made the USB cable audio capable for people who can use that option. This would allow people to remove the audio cable completely if they don't need it. I have no problems with cables personally if they're plugged in all the time. The audio out on my non-speaker non-alarm dock can be run to a stereo or headphones if I desire but it goes through USB so there's nothing to it other than dropping the phone in and lifting it off. Even with this device going from two cables to just the one USB would be a huge step towards convenience. For people who still want it and don't have well appointed devices, the dual cables can be used. So basically instead of maximizing features they did made it cumbersome. I know it was for cost reasons but hopefully there will be enough people like you for them to finance a version 2.0 of this thing. As of right now it's a great effort but not quite what lazy and/or exhausted people have in mind when they think of an alarm dock. Requiring two cables to be plugged in and unplugged each and every time is asking a bit too much, IMHO. It's small potatoes when you do it once or twice for a review but doing it every morning and every night would get old rather quickly. I have a similar janky setup in my car because it's an older vehicle with a cassette deck only. I can't Bluetooth so I have to run one of those 3.5mm cassette adapters to the radio and my USB cable to the cigarette lighter. I don't always hook it up because it's kind of annoying. If the radio had Bluetooth I could just plug in the charger and that would go a long ways to reducing the nuisance factor...and if I'm not navigating I wouldn't even need the charger.

I have used it every night for the last week, not just once or twice for the review. While I may seem "cumbersome" by thought, it really isn't that bad. I plan purchase one for myself once the finished version is released. Posted via Android Central App

That whole comment was botched Smh Posted via Android Central App

I know what you mean, despite your grammatical shortcomings (comments are editable, FYI). You and I are probably pretty equal with respect to adaptability. I've been plugging my phone into the car when I need to nav and play music for quite a number of years now and I've grown accustomed to it. BUT...and this is a big tush...it would be much nicer and I'd get going down the road more quickly if I didn't have to. The same is said for this dock. Plugging in two cables is do-able, absolutely. But not having to plug in two cables is a lot more do-able. Convenience is what sells these kinds of accessories. You have to remember we're in a world of spoiled lazy people. Wireless charging is starting to come into its own now. Bluetooth is popular for streaming music in modern vehicles. People simply don't like cables anymore...not just because they have to plug and unplug but also because they're clutter. Clutter is out; sleek is in. The IDEAL device of this utility would be a wireless charging pad on top of a speaker that's connected via Bluetooth and an NFC connection to automatically fire up the alarm and screening app. Screw the past. Screw universal compatibility. Leave people with old and/or low end devices in the dust and go upmarket. If I was wealthy enough and/or not too lazy to get such a project going, I would do it myself.

Joe from HALE again, as mentioned above, here's the reasoning behind the two plug solution. #1 We wanted convenience, ease of use, and 99.999% reliability for an alarm dock, the consequences of an alarm dock not ringing is pretty grave and we just couldn't approach that level with any of the wireless solutions we tested. Bluetooth has gotten a lot better as we all know, but there are just too many failure modes to get to the level we wanted, too easy for pairing to drop, or fail up front, or even to leave off BT to save battery life, etc. Those two plugs are, as mentioned above, goosenecks and they stay where they are positioned, so you're not fishing around for a loose cable. We ultimately felt it was the most hassle free, reliable solution available. #2 Two plugs. As many of you know, Jelly Bean is the first version of Android that supports audio over USB, so for the 70% of Android phones in use, we were left with headphone for audio. A one plug solution is certainly something on the roadmap. It's worth noting that, as mentioned elsewhere, our competitors either use two plugs (iHome) or bluetooth (Philips). #3 Goosenecks (that's the term we use for them, they are those flexible snakelight type cables like USB LED lights). As mentioned elsewhere we chose these so that you could always have the phone in landscape orientation. USB and headphone plugs appear almost equally on all three sides of Android phones in use (newer phones have tended more, but certainly not exclusively towards the bottom side), so you really do need a flexible solution so you don't wind up with phones portrait, landscape (or yes even upside down). The goosenecks also allow angular positioning so that you can angle your phone up or down to whatever angle you want (if your nightstand is low/high, etc)

I'm still rocking mine. CyanogenMod FTW. Posted via Android Central App

I just dock my phone on my desk about 15 feet away in a normal charger and can still hear the alarm just fine. It has a headphone plug in the back if I wanted to run it to speakers/stereo. I'm one of the lucky billions with a USB port on the bottom though. People know to not call me in an emergency because I'm useless.

I suppose the phone's screen is supposed to function as a clock. Is there an easy way to turn the screen on without fumbling for the button on the phone in the dark? Did they include a "nightstand-mode" with the alarm app ala AlarmClockPlus? I'm typically an ignorance-is-bliss type when it comes to my alarm clock, but I also don't want it to be overly difficult to see the time. Also, are the cables long enough to support, say, a Nexus 7? I can see myself using this to watch movies on occasion too. Other than the lack of a battery backup, it looks like this is a well thought out product.

While still in the alarm app, the screen will stay lit, with the brightness being adjustable by a turn of a knob. I believe there is an update in the works for the option to wake the screen with the brightness knob if you cannot already. There are also different fonts and color options to stand out from the black background more, and an option to tap and have the clock go full screen. As for the nexus 7, absolutely. I have docked my nexus 7 with it quite a few times. It charges fine, but I have yet to try media output. I believe you would need Hale Speaker installed. I can give it a go if you'd like to know for certain. Posted via Android Central App