Google's iMessage competitor isn't Allo, it's texting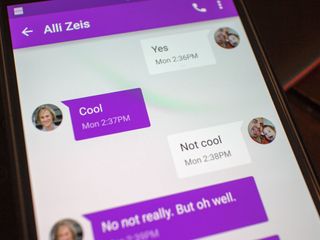 One of the main reasons the iPhone, and iOS, continues to be so compelling is iMessage, the thick blue bubble of exclusivity in the messaging space. Android users are left out, and will likely continue to be for the foreseeable future — despite the occasional rumor to the contrary.
But as Android users wait for that morsel of Apple, Google is taking things into its own proverbial hands by partnering with Sprint on what could end up being a viable competitor to iMessage on Android. Powered by Jibe, a company Google acquired in 2015, Google's RCS — Rich Communication Services — uses what's known as the Universal Profile, a set of features and protocols set by the GSMA aimed at standardizing the way carriers, manufacturers and developers implement native messaging. Essentially, Google is building WhatsApp and iMessage into its own native Messenger app.
The features are great: real-time typing indicators and read receipts; higher-resolution photos and video (goodbye MMS), seamless and bug-free group messages, and more. They're so great that they should relieve some of the pressure from Android users who want a seamless iMessage-like experience in the native Android SMS app. Some of the pressure.
There's only one problem: RCS in its current form is limited to Sprint, and only on through one SMS app, Google's own Messenger. Not only that, but despite the openness of Universal Profile and its, well, universal availability, its cloud-based backend is still controlled by Google. One could argue that as long as Big G decides not to make any big changes to an open standard (remember when Google forked WebKit for its own purposes?) and continues to work with manufacturers and carriers, things will be fine, but standards have a way of morphing over time according to business priorities.
Still, every U.S. carrier, including AT&T, which isn't actually on GSMA's list of supports, has agreed to transition their proprietary implementations of RCS to the Universal Standard by sometime in 2017. This should coincide with Release 2 of RCS's evolution, with the rollout of Messaging as a Platform, APIs, plug-in integration, improved authentication and app security. That means other app developers could build in RCS support.
But those compromises in authentication and app security — the lack of end-to-end encryption, for instance — have kept some providers and manufacturers at bay, and a comparison to iMessage less apt than it may one day be. RCS, for all of its inertia, is still a very nascent standard, while iMessage has been percolating for over half a decade, and has recently been updated to support apps, stickers and more. Then there's the $10 billion question: will Apple, even with iMessage, one day support RCS for its own text messages? Will the green bubbles be scoffed at less by iPhone users if they, too, get to see read receipts, improved group messages and higher-resolution photos and videos? Could those plain green bubble text messages one day, too, be sent over carrier's data networks using end-to-end encryption, making them impossible for the providers themselves to intercept and governments less able to subpoena?
All of these improvements will certainly help users, but is there a financial incentive? And what happens when Google decides to really make a go of Allo, its own closed, AI-powered mobile messenger with big plans for WhatsApp and iMessage? Allo has undoubtedly been a huge disappointment for Google, though based on the number of entrenched messaging platforms out there I wonder if the top brass really thought it would shake out differently. Even the average near-Luddite likely has at least two messaging apps installed on his or her device — WhatsApp, Facebook Messenger and maybe Skype, Viber, or Kik — and increasingly Twitter and Snapchat, even Instagram, are being coopted at private communication tools. It's increasingly difficult for a company like Google — GOOGLE, potentially the most powerful influencer of user habits in the world next to Apple — to effect real change in this saturated market.
That's why RCS is so important, because its success, should it come, will be accidental. But that success hinges on cooperation between competitors, and the ability for Google to stand back and let a product take shape in the name of altruism and open standards.
A few more thoughts for the week:
We're rebooting our Instagram account, with an emphasis on your best photos and plenty of Stories. Between Florence and I, you can expect a lot more social content and a bunch of really fun ways to interact with AC directly. Should be fun!
Speaking of fun, Modern Dad is really great, and Phil — who I promise will be back on the podcast soon! — is making all kinds of technology, from $50 tablets to $200 connected doorbells, accessible and super fun.
It's nearly CrackBerry's 10th birthday. Kevin Michaluk was the catalyst for a lot of us old-timers to get into tech blogging, and I couldn't be more proud of him.
My Toronto FC lost to Andrew's Seattle Sounders in penalty kicks in a frigid MLS cup match last night. I have a bunch of friends who braved the cold 'til the end, and while I'm sore over the loss, I'm even more so over the ensuing chirping I am sure to receive in the days ahead.
Speaking of losses, the Galaxy Note 7 narrative has reached its sad, glacial end. Starting next week, all U.S. Note 7s will receive a mandatory update bricking them. No more charging, no more cellular functionality. The sad part is that there are over 130,000 units still unreturned, even after all this.
No podcast this week. We don't usually skip a week, but when we do it's for a good reason.
Have a great Sunday, and we'll talk again soon!
- Daniel
Be an expert in 5 minutes
Get the latest news from Android Central, your trusted companion in the world of Android
Daniel Bader was a former Android Central Editor-in-Chief and Executive Editor for iMore and Windows Central.