Google Play Protect now widely available, keeping your phone safe from bad apps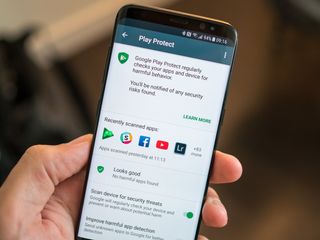 (Image credit: Android Central)
Google's new (and now properly branded) security system, Google Play Protect, is now widely available and should at this point be active on any phone with the latest version of Google Play Services. After a slow rollout with varied reports that Play Protect was available, as we look at our own devices here every one of them has it.
Google announced Play Protect back at Google I/O as a revamped and more consumer-friendly version of the old "verify apps" system, but with an identical goal: to protect you from harmful apps installed on your phone. Functionally, things aren't much different today than they were in the old verify apps world, meaning Google is constantly tracking apps to make sure they're all on the up and up, no matter what phone you have. But the aim of Play Protect is to let the user know what's going on with the scanning in a way that wasn't really available before.
You can find Play Protect by going into your Google settings, then Security and Google Play Protect. The interface is simple, and lets you know how many apps were recently scanned, when the scan occurred and how everything looks. A big green check mark will greet you if everything looks good. Eventually, this confirmation will be surfaced in the Play Store as well.
If your phone doesn't yet have Play Protect, don't think that your phone is left insecure — but once it does, it's worth poking around in the (admittedly simple) settings to see what it's all about. But the most important thing you can do is just keep that "scan device for security threats" toggle turned on. Google can't catch every malicious app, but it has historically done a pretty great job and now users have a better feeling for what's happening with app security on their devices.
Andrew was an Executive Editor, U.S. at Android Central between 2012 and 2020.
one thing i don't understand though (and i didn't see it covered in the article)... do i need / care about this if i only download apps from the Play Store?...i.e. if i've never sideloaded an app and never will? why would i need it then, if Google already verifies apps before it puts them in their Store?

You still want to keep this scanning turned on if for some reason a new app update arrives that somehow passed Google's initial scanning or there's some other weird API call in the app that later brings in something malicious.

gotcha. thanks for the reply!!

Can't find it in Android O Beta (Pixel XL)

It's there on my O beta on my Pixel XL

I found it after going to http://www.androidauthority.com/google-play-protect-rolling-out-788614/ On my Pixel it is at Google > Security > Verify Apps in my phone's settings

Got it on my UK Galaxy S6, Google services updated earlier today

Got it on my Blackberry Priv. It would be nice if the DTek app echo'ed this status to make it a more useful central place to check your security status. I already use Dtek as a quick way to change my app permissions, yes I know I can do it through settings etc but Dtek is a faster way to get to those settings.

I can't find it on my Moto G5 Plus

I noticed Play Services downloading in the notification bar earlier, but I wouldn't have known about Play Protect or toggled it on if hadn't read this. On the HTC 10, I found it under Settings > Google > Security > Verify Apps.

I've had play protect since like the week after Google IO. I just assumed everyone had it by now. I still haven't gotten the new translucent Google Feed though. I really want that.

On my S7 Edge it come under Settings > Google > Security > Verify Apps too.

"You can find Play Protect by going into your Google settings, then Security and Google Play Protect."
I went to Settings > Google > Sign-In & Security, and don't see anything there.
Also tried Play Store > Settings, and Google App > Settings. Still don't see it.
Am I missing something?
Android Central Newsletter
Get the best of Android Central in in your inbox, every day!
Thank you for signing up to Android Central. You will receive a verification email shortly.
There was a problem. Please refresh the page and try again.