Google Opinion Rewards pays you in Play Store credit to take surveys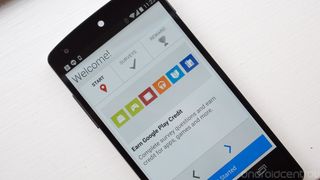 Answer a question, pay for that in-app purchase in Candy Crush
The Google Opinion Rewards app has just launched in the Play Store, and it may be a good way to build up your Play Store credit balance. The idea isn't new — after you download the app, you'll occasionally be asked to answer a handful of questions, and you'll be rewarded with money to spend on apps, movies, books and music in the Play Store.
Google says the surveys will show up about once a week, and you'll be notified on your phone when a survey is ready to be answered. The questions will be simple and range from things like "Which logo is best?" to "When do you plan on traveling next?" The app is currently U.S.-only, and it isn't clear how much Play Store credit you'll get for answering each survey.
You can download the app (from the Play Store link above) right now and answer a few questions about yourself, and then wait for the first real surveys to come in.
Source: +Google Consumer Surveys
Andrew was an Executive Editor, U.S. at Android Central between 2012 and 2020.
US only :( Posted via Android Central App

And it probably uses the demographics of 18-32 the most. Which is considered single young people with disposable incomes that are slightly more frivolous with money. Basically Ad agency's polls

Won't open on my Note 3 Posted via Android Central App

n4 here, stuck at the main screen. Outside US but using TunnelBear VPN. No luck.

N4 here has no issues Posted via Android Central App

I had no problems getting it set up on my N3. Posted via T-Mo N3

You mean you're going to pay me to provide information you most likely have access to already? Worth a shot at least. Once we see how much credit we receive, that will decide whether it's worth it or not.

One user over at droid-life posted he answered some short questions, maybe five I think, and got $1 for the play store.

I had the app since November and probably earned over $20. Some of those even if the questions don't apply to you answer yes and just guess your best through it. I was getting $1 every time that way. It's dropped since then. But worked for awhile. There was a gap where I didn't get any for awhile. I complained in the App Store and wasn't long and I got more.

I will download this app. I have no problem completing survey questions for cash, prizes, or Google Play credit. Posted via Android Central App, HTC One

Yeah, it'd be really cool to be able to buy some movies or shows in exchange for taking surveys. I already do something like this in exchange for ticketmaster gift cards

Elaborate! Posted via Android Central App

That's pretty kool! Posted via Android Central App

That's pretty kool! Posted via Android Central App

Good idea, disappointing it's only USA, is theirs the only opinion that matters? Posted via Android Central App

Its likely that the back-end system for those paying for the surveys to be taken is limited to US for now.

Yes Posted via Android Central App

of course dumbass usa is the the number one world power

Just did my first survey and got $1.00 credit.

So you could get $4 a month, $0 if you live in the UK Posted via Android central app on my rooted LG Google Nexus 4

It might vary depending on the type of survey and how many questions as well.

Ha i was just about to post this! i'm going to say this app is very much worth the download!

Force closes on my nexus 4 Posted via Android Central App

Why always US only! By the time UK get it the mighty has worn off by companies and they pay squat by then Posted via Android Central App

Novelty, not mighty! Posted via Android Central App

It's a US-based company and there's no need to worry about other country's laws, taxes, or money conversion, I would assume.

Google is a US company. Availability to other countries means more work with transferring currencies & taxes. Since this is a new service, they probably don't want to mess with all of that until they see how it goes over here first. Just take your healthcare & affordable college educations and forget about the few $ of Play Store credit we can get. Mmmm 'kay?

Healthcare I'll agree to, but our education is headed your way. Posted via Android Central App

lol dumbass usa has the best everything i thought that even to dumb ppl from other places would get that what ever then

Not available in my country,
:-[ Posted via Android Central App

Thanks, just started using it. Posted with my Moto X

Free money! my finger swiped this on the android central beta app

Wish it was available in Ireland Posted via Android Central App

Damn I wish I could get this in Canada. :( I would love me some free play store credits.

Me too. Posted with Samsung Galaxy Note 8.0

The first sample survey question Google gave me is "Do you approve or disapprove of the way Barack Obama is handling his job as president of the US?" The rest of the questions seems to be about my political preferences. I didn't know it was an NSA survey as well. :-S android central app

That's what I was thinking. Like why am I under scrutiny about my political preferences. Posted via Android Central App

One of the sample questions said that the Superbowl is watched by multiple people in a household and then asked me to type the number 3 "to make sure you are paying attention" :D i love Google's sense of humor.

Yeah, I got this same question twice. And was asked to provide a statement I would make to Congress if given the opportunity.

That was a sample survey to show you the different types of answer interfaces. i.e. short form comment, stars, multiple choice, etc.

And what about .apk for those, who are not from US? O:-)

I highly doubt it's going to work for you since it's based upon US Play Store credits. You can try, but i have a feeling it's not gonna work.

Just have a little faith! ;)

I just answered a survey and got $1.00 Google Play Credit.

Just got mine too. I'll take a dollar for 30 seconds of time. Posted via Android Central App

That's strange. I completed the survey and received $0. (I guess I didn't answer the political questions the way they wanted (just kidding))

Who on Earth would do that much work for just a few bucks? Not worth it unless if you're poor.

3 questions for $1 is much work? Go away dude. Posted via Android Central App

I answered 6 questions (Do I own a DVR box? Do I pay for cable television? What was the last thing I watched on TV?) Took all of 30 seconds for $1 credit. That's $2 a minute, or $120 an hour. Sure, I'll never get 120 surveys back-to-back where I could earn that much, but it's really not much work when you consider what you get back.

Haha I knew it would be US only as soon as I read the headline. It's ALWAYS US only. Posted via Android Central App

That's OK, we have to wait a year for UK TV shows to be available to us, if at all.

I'm a little ashamed at how excited this makes me...The math doesn't make sense...the avg. pay in US is about 30K~$15/hr~0.25/minute... It took me more than 4 minutes to set this up and take the survey... They somehow made me giddy by getting paid less than I do at my job...Oh well... free money! :)

Got a survey minutes after setting up. Took about a minute and got a dollar, not bad at all. Posted via Android Central App

Just grabbed a dollar for 20 seconds of my time.

Awesome. I signed up and took the free survey about myself and then didn't get anything. 10 minutes later, I got a notification for a survey which took literally 45 seconds to complete and got $1 credit. :)

Any idea on what the monthly take will be on this app Posted via Android Central App

Signed up fine but didn't receive confirmation that I am in the program. I guess they think I'm a freak since I named Walking Dead as my fav TV show, instead of sesame street. Oh well, not in the club I suppose... Posted via Android Central App on my white Nexus 4 with StraightTalk

I named Walking Dead as mine as well, but didn't get any confirmation. Its just the app, you won't get any emails unless you ask for them.

I wonder how long does it take. Been waiting all day for my official survey. Probably didn't help since one question asked "if you could say few words to Congress..." from which I replied short and sweet. "You Suck!"

Another US only thing from Google. Hugely disappointing. Posted via Android Central App

Just installed on my Beautiful GN3! Eat my dust foreigners! LoL!!!! BM me: 7B725FA9

Hell with getting free GP credit nd winning $5.00 per wrapper on the KitKat candy bars, there's no need to use the black market to get premium apps! Hhahahahahahahaa!

I set everything up then did the initial survey and got a weird message about there was trouble sending my responses. Using Nexus 4 inside U.S. Guess we'll see what happens... Posted via Android Central App

Getting that same message on my Nexus 7. Posted via Android Central App

Nexus 4 here first survey $1.00. Awesome. Posted via Android Central App

Funny, they asked if I bought a full sized candy bar lately and proceeded to ask me all about............ Butterfingers...... Posted from my Nexus 7 via Android Central App

Always US only... Posted via Android Central App

I just installed it, the test survey had me totally lost. It was asking me Political questions which, me not being political I had no clue. Had to Google it :P

Just got my 2nd survey today!!! Worth another $1 of my time! this app is totally worth it!!

2nd survey for me, hope they keep coming!

Google can make millions if they role this out world wide.... Posted via Android Central App

You mean they can give out millions if they ruled this out world wide.

I took 2 surveys and now I'm waiting to be approved. Probably won't be though. :-(

I can confirm... One dollar store credit for a three minute survey. Not quite the peanuts I was expecting. Posted via Android Central App

I just got $1 for one question.

Same here! A question about bottled water. Win. Posted via Android Central App

This app is horrible, installed since day one and have not received a survey while other users received plenty. So far, this app is just a waste of space.

Has any one else seen the amount they get for surveys going down? First survey was a dollar credit, second was $.35 and today got a third and the credit was only $.25 and it took over a week for the 3 surveys to come to me.

They're different amounts depending on survey length I suppose. I've had 3 or 4 surveys and I'm up to 2.73...I'm not complaining for probably a total of 5 minutes of my time.

Hi Andrew,
Two words... "Great Article!"
I had no idea that there were so many survey sites that are really legitimate.
I'm going to bookmark this page just so that I can stay up-dated.
Thank you, J.T. Smith

Finally, Australia is included. benefits of being a second rate first world country

Can you use what you earn on in-app purchases?

For the google opinion rewards how long do u have to wait for each survey

helloo im waiting for surveys me
Android Central Newsletter
Thank you for signing up to Android Central. You will receive a verification email shortly.
There was a problem. Please refresh the page and try again.