Google fined for collecting personal data with Street View cars in 2010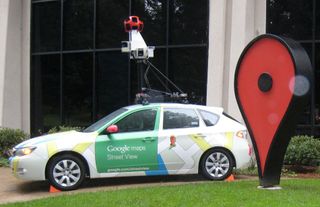 (Image credit: Android Central)
What you need to know
In 2010, Google's Street View cars collected emails and passwords from unprotected Wi-Fi networks.
Google's finally reached a settlement and has agreed to pay $13 million.
All of the data that was collected will be destroyed.
Google has finally reached a settlement concerning a privacy scandal that occurred back in 2010. Nine years ago, Google found itself involved in the "Wi-Spy" incident in which its Street View cars were collecting people's emails, passwords, and other personal data from unprotected Wi-Fi networks in homes the cars drove by.
Wi-Spy is said to have affected tens of millions of people, and while a San Fransico judge still needs to give final approval on the settlement, it'll see Google paying a fine of $13 million.
However, other than 20 plaintiffs that were part of a class-action lawsuit, none of the other affected individuals will be receiving a form of compensation. After legal fees, that $13 million is being divvied up between advocacy groups for consumer privacy.
Google says it'll get rid of any data it still has from Wi-Spy and work with people on how they can better protect their privacy, but all things considered, Google got off pretty easy. For some perspective, that $13 million isn't even one-sixth of the income Google's parent company Alphabet earns in a single day.
Google has yet to comment on the settlement news, but it's bound to be quite happy with the outcome considering the severity of the Wi-Spy fiasco.
Joe Maring was a Senior Editor for Android Central between 2017 and 2021. You can reach him on Twitter at @JoeMaring1.
Google's whole personal data collection program need looked at hard by people that can do something about it! ie, Congress, FBI, NSA or a good class action attorney.. enough with them violating our privacy already!!!

This happened in 2010,and they are GOING to delete whatever data they collected?! Are they really so stupid, that they collected data everyone else gets in trouble for, and saved it? Wow. Just, wow.

Back when they disclosed that this had happened in 2010, Google offered to delete the information they'd accidentally collected, once the questions of the relevant authorities in the countries concerned were satisfied and the potential legal issues were resolved. And in the countries where this was resolved years ago, that happened. Deleting information relevant to an ongoing court case before that court case concludes is generally frowned upon by judges.

Who does all this money go to when any company is fined? I hear about companies being fined all the time for doing bad things. It would be nice if the people who are actually the victims received the money!
Android Central Newsletter
Thank you for signing up to Android Central. You will receive a verification email shortly.
There was a problem. Please refresh the page and try again.