Google Fiber's 1Gbps Internet and TV service is coming to Huntsville, Alabama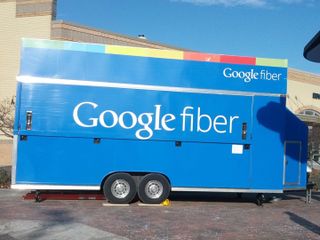 (Image credit: Google)
Google is expanding its Google Fiber 1Gbps Internet and TV service to another U.S. city. The company announced it is teaming up with the Huntsville, Alabama city government on the venture.
Most of the time, Google is in charge of funding and building the fiber network needed for any city to add Google Fiber service. In this case, however it will be different as the city's Huntsville Utilities will actually fund and build the network and lease it to Google for its services. AL.com reports that the first Google Fiber connections should go live in Huntsville by mid-2017.
Congrats Huntsville! Posted via the Android Central App on the Moto X Pure Edition

I'm very envious Posted via the Android Central App

Let's hope other municipality's jump in this way. Posted via the Android Central App

I live in Huntsville and I can't wait for Google Fiber. Posted via the Android Central App

Sorry, I read your commit and my first reaction was to HATE you...... damn jealously is a powerful emotion.

I want it, but it's not cheap is it? Right now I've got a deal on my internet, but if I didn't it'd be pretty expensive. Posted via the Android Central App

actually it is cheap compared to Verizon fios which for its fastest Internet which is 500 down and up is like 400 just for Internet. just Google fiber is like 120 for both Internet and TV, after you pay a one time fee of 300 for the Installation. so it's two times faster then Verizon and a lot cheaper. Posted via the Android Central App

Hmm, not bad, but unfortunately I'll never see it where I live. Posted via the Android Central App

Actually, you only pay 300 if you get the free internet. If you pay for both TV and Internet, or just gigabit internet, the fee is waived.

Then that's even better so then you only pay $120 a month. That's better than any cable company I can't wait for Google Fiber to come to LA like they're talking about. Posted via the Android Central App

OK moving to Huntsville Alabama.

come on please come to knoxville tn and take down comcast

Renegade... I don't think it's too far away from happening since Google is establishing a data center an hour and half down the road from you on the Bama/TN border. Hopefully, my neighborhood will be one of the first to get it in Huntsville!!

Tampa FL please - with Verizon selling their Fios customers to Frontier, I need another option. Posted via the Android Central App

Can't wait to drop Comcast and get some fiber... Posted via the Android Central App

I get to drive by the two apartment complexes in my area that have Google fiber and start longingly while I wait patiently. Posted via the Android Central App

Pretty sure they are looking at Louisville

First and most likely only time I'm actually jealous of something in Alabama.

So Confederates get to have better Internet than me?.
Why Google? Posted via the Android Central App

There are more Nexus lovers in the south. Posted via the Android Central App

So you really don't know much about Huntsville, do you? Posted via the Android Central App

Why Huntsville? Hmmmm, let's see. On Redstone Arsenal we have NASA, the space shuttle program was managed here, space station and the next Space Launch System (SLS) are managed here. The Missile Defense Agency is here developing systems to defend the US against ICBM attacks. All of the Army's aviation and missile programs are managed from here. The city has the highest number of engineers on a per capita basis in the country with six percent of the workforce, and also has the highest number of Ph.d's per capita in America. TechAmerica Foundation reported that Huntsville's concentration of high-tech workers is second in the nation to San Jose's Silicon Valley.

A couple of years ago, I would have been surprised at the choice until I learned more about it. Highest # of engineers per capita. With higher engineering salaries than national average and lower housing costs, it is considered one of the best cities for engineers.

I'd love gigabit Google Fiber, but to be honest, my 100/100 FiOS fiber is plenty fast enough. An HD Netflix stream is 5mpbs. I can support 20 simultaneously right now. I don't torrent movies but even if I did I could download the typical HD movie in 80 seconds. Even with AC Wi-Fi you won't likely get true 1000mbps over Wi-Fi, so Wi-Fi will be the bottleneck for wireless devices.

If all you do is stream Netflix, then no this isn't for you. Also, with 802.11ac wave 2 you can theoretically get up to 2.3Gbps.

I think it's healthier for my mind just to move these locations. Submitting resumes now.. Posted via the Android Central App

RIP Off...they are charging customers 100 a month and making you sign two year contracts! They are also IP blocking pirate sites and sending you warning letters or bills for downloads. Alot of people here in Austin want out!

Where are you getting your information I have friends who have Google Fiber and they have nothing but good things to say about it. It's $70 for gigabyte Internet and 120 if you want gigabit internet and TV. Posted via the Android Central App

I can't wait! I had a lengthy AT&T DSL outage today, as a matter of fact. I really hope that "Huntsville" doesn't just refer to the city proper and that Madison is included. Can't see why it wouldn't, what with the Arsenal here and all. Then again, I still can't get a pizza delivered in my part of Madison, so... Posted via the Android Central App

Hurry up and come here! So Comcast can burn in hell!

I'm SO PISSED Jk, congrats, ya bastards. Posted via the Android Central App

At this rate my city may have fiber in oh about 20 years. Posted via the Android Central App
Android Central Newsletter
Get the best of Android Central in in your inbox, every day!
Thank you for signing up to Android Central. You will receive a verification email shortly.
There was a problem. Please refresh the page and try again.