Google Chrome is the preferred browser of our readers, but it's closer than you'd think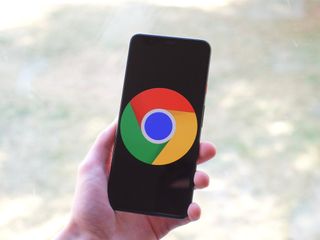 (Image credit: Joe Maring / Android Central)
What you need to know
We asked our readers which browser they preferred to use on their Android phones.
As expected, the top vote-getter was Google's own Chrome browser.
Several third-party browsers are virtually tied for second place.
When we asked our readers earlier this week which web browser they preferred to use on their devices, we didn't think the results would've turned out quite the way they did. Of course, Google's Chrome browser, the default baked into every Android phone, was the most popular choice, but there were several others you might not suspect which were not all that far behind.
As you can see from the chart below, Google Chrome took the top spot in our poll with nearly 28% of the vote. But second through fifth positions were virtually tied between Brave, Firefox, Samsung Internet, and "other." Finally, DuckDuckGo and Opera brought up the rear, each with around 5% of the vote.
Google has been under increased scrutiny for years about the sheer amount of data it collects on its users, so it's no surprise that privacy-focused browsers like Brave, DuckDuckGo, and even Firefox are becoming more popular. We also weren't surprised that Samsung Internet was virtually tied for 3rd place; after all, it is the default browser (featured even above Chrome) on many of the most popular and best Android phones in the world. Actually, we were kind of shocked that it was as far down the list as it was. Perhaps this has to do with the fact that it doesn't really have a desktop client.
As you might expect, this poll generated some interesting comments and feedback from our readers. Here is a sample of what they had to say.
Reader beno51079 said they use "Chrome, because of convenience and... cross-compatibility."
Reader Kincadium represented multi-browser users, saying that he mostly uses "Samsung Internet with a smattering of Chrome for sites that I don't feel like trying to remember the password for."
Even though it didn't receive as many votes as we expected, there was a lot of support for Samsung Internet and Microsoft Edge.
And the privacy advocates all had their favorites too:
On Facebook, Sebastian Rodger said (somewhat ironically) that he prefers Firefox. "The Facebook container is what made me switch to it. Perfection to limit Facebook trackers outside of the social network :)."
The poll is now closed, but we'd still love to hear what you think. So let us know what your favorite browser is and why in the comments below.
Jeramy is proud to help *Keep Austin Weird* and loves hiking in the hill country of central Texas with a breakfast taco in each hand. When he's not writing about smart home gadgets and wearables, he's defending his relationship with his smart voice assistants to his family. You can follow him on Twitter at @jeramyutgw.
I use Edge for the Bing points. For the small stuff I do the browsers all work the same for me.

I use Chrome. I like the cross-platform compatibility, it's pretty fast, the Google search engine does the job I need it to do. Actually, I tend to use Google's apps for nearly everything. They get the job done, and I honestly don't care if I'm being tracked.

I use Opera at the moment. As for why: well, everything pretty much. 1) It's very fast and smooth without stutter, it has a built in add blocker that works well. 2) a built in proxy that I can attest does the job at bypassing annoying blocked content. 3) a built in night mode (although tbf recent versions of Android have a built in one too, and you can download a third party app for this, but still it's good to see these features being offered from the box. It also let's you modify the screen dim and the intensity of the filter) as well as a built in global dark theme (will give a black background to any page it can, and so far that means everything.) 4) A pretty cool way of organizing bookmarks in the form of separated folders. 5) an intuitive UI that's easy on the fingers in the form of a bottom tool bar. The overall way every setting and ui placement is located makes using the browser pretty seamless. I could go on and on about it, it's just a good browser. I've used Firefox, chrome, brave, maxthon, Dolphin, UC, cheetah (is that still available?) and many others through my time as an Android user and Opera just blew me away when I installed it on a whim a few months ago. Vivaldi is pretty good too but I've found it stuttered a bit, as it gets better and gains new features I'll probably switch Opera for it. Only thing I'll say is I still to this day think Firefox is the best browser in theory due to its potential feature set with add-ons, I just don't like it's new UI, and for a time it actually stuttered on my previous phone (moto G 2015), so I switched it up to Chrome. And now I'm here with Opera. Currently on a moto G7 plus, Android 10.

Firefox and Edge are good as well. On a desktop I prefer to use Firefox. Chrome I find most useful to use on a mobile/smart phone.

Google Chrome is the default choice for most people because it's convenient, it's cross platform and doesn't suffer upscaling issues like Samsung Internet does which, that aside, it's a very good browser but I prefer Chrome.

I am an Edge/Firefox dude. Using desktop Chrome years ago I got hit with something uninstalled and haven't looked back. Because I am happy I haven't felt the need to try anything else.
Android Central Newsletter
Thank you for signing up to Android Central. You will receive a verification email shortly.
There was a problem. Please refresh the page and try again.