Google brings its parental control Family Link service to Canada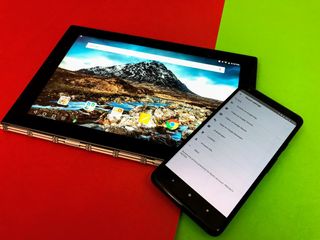 After debuting almost a year ago for families in the U.S., Google is bringing its Family Link service to Canada. Given that nearly half of grade four students in Canada have access to a smartphone during the day, Family Link's debut is coming at a good time.
The idea is pretty simple: kids want to use the internet in some form, be it on a smartphone or tablet, and parents want a way to control what their children do on those devices. Family Link is a service for Android and iOS (but it's better on Android) that allows a parent to create a Google account for their child and control almost every aspect of their experience, from the apps they launch to how much time they get to spend in front of it.
After downloading the associated app and setting up an account for your little one, Family Link allows parents to control the following:
Downloads and purchases.
What they see in search results through SafeSearch
App permissions that are being used.
Search and content filtering in YouTube Kids.
Account password management.
Screen time limits.
Activity settings for the account.
Giving account access to another family member.
That's a lot of customization, and the tools are especially well received given that, in the year since its launch, the conversation around kids and screen time has only intensified. (It's done the same for some adults, too.)
How to set up a kid-friendly Android device
Even without something like Family Link, Android has a fairly robust set of parental controls, and many manufacturers like Samsung take things one step further and bolster the built-in features with their own additional tweaks. But Family Link takes it one step further, by taking for granted the fact that many kids will be using, and want to use, Google services. This service puts the power in the hands of parents — and now Canadians can get in on it.
Daniel Bader was a former Android Central Editor-in-Chief and Executive Editor for iMore and Windows Central.
I can't get it to work, here in Canada. Has anybody had any luck?

I truly like Family Link but it needs some enhancements, like letting it work with ProjectFi. That's a biggie. And perhaps letting us choose what channels they can get on YouTube.TV.

Biggest problem is Google Play Games does not work with it and that is what kids want to use half the time and what I would like to limit.

Family link is the worst PoC software/service I have ever seen from Google. It says you need a phone running Nougat and latest play services for family link to work. But it will not work on any of my older (non-Google manufactured) devices with either stock nougat or lineageOS with latest play services. Also it will not work on chromebooks either.
Now that they are taking away supervised accounts from Chrome what are people supposed to do.
They will be better of to come out and say things will work only on Google branded devices, and we are pushing it only because we want to be a hardware company now.

Apparently Quebec is no longer in Canada (not supported, confirmed by customer service representative). Good to know!
Android Central Newsletter
Thank you for signing up to Android Central. You will receive a verification email shortly.
There was a problem. Please refresh the page and try again.