Gallery Lock review - where to hide pictures on your Android device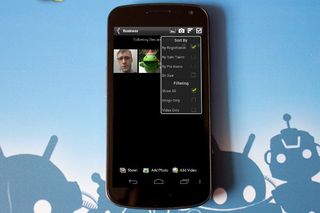 Do you have pictures on your phone that you don't want just anybody to see? Don't answer that, just plead the fifth. Gallery Lock is a free, secure app to hide your personal pictures from prying eyes. Tucked away behind a the phone dialler is a secret gallery that isn't viewable from other spots on an Android device.
Style
Gallery Lock's most stylish feature is launching the app from the phone dialler. That way you don't even have an icon showing anywhere for folks to wonder about. The novelty loses a bit of its shine since the primary means of adding new videos and pictures to the locked gallery is from the native Gallery app's share menu, which tends to be fairly visible. Users can also launch into the camera app from Gallery Lock to save new files directly into the protected folders.
The writing throughout many of the UI elements and help sections is poorly spelled at times which can be jarring if you're a wordy dude like me. Booting users out to Google Play for a review without any option to skip isn't particularly classy, either. For whatever reason, it reminds me every time I boot up that I can open the options menu with a long press.
Despite that, the user interface is functional, which is all one can hope for in an app like this. Folks looking for a rich, original image viewing experience can keep shopping - Gallery Lock Pro is all about security.
Function
Gallery Lock Pro definitely does what it says it does. Users can set up multiple folders full of pictures and videos that don't show up elsewhere on the phone. In order to gain access to the app, users must punch in a four-digit PIN code. Files can be viewed in gallery, list, or grid views, and sorted by date taken, date locked, file name, size, and filtered by image, video, or both. Multiple files can be selected at once for quickly unhiding, deleting, moving, or sharing. There's also some light editing thanks to a left/right rotation tool.
For some reason, there's an MP3 importer to have background music while you flip through your protected images. Why anyone would want this feature is beyond me, but at least there's a setting to hide the music player controls.
Pros
Smart, subtle way of hiding pictures and video
Cons
Conclusion
Those of us leading lives exciting enough to merit hidden photo folders will be really happy with Gallery Lock. There are a few features that could complete Gallery Lock, such as automatic cloud backup to private folders, which could enable another dialer hash code to blow up the app and wipe all hidden images with it, just in case of emergency. An SMS code to do so remotely would be even better, but now we're just in the realm of wishful thinking.
There's a free version that provides core functionality, and for $2.99, you get the stealth mode option to launch via the dialler, sharing pictures and videos, gets rid of ads, and a few other features. The upgrade process is a little wonky, and it can apparently be tricky making sure your existing hidden pictures don't disappear, but there are restore options that should work.
Android Central Newsletter
Get instant access to breaking news, the hottest reviews, great deals and helpful tips
Simon has been covering mobile since before the first iPhone came out. After producing news articles, podcasts, review videos, and everything in between, he's now helping industry partners get the word about their latest products. Get in touch with him at simon@futurenet.com.
I can finally hide all my nude pics...

Try LockCam. It directly save photo to secrete folder upon taking photo. https://www.androidcentral.com/e?link=https2F2F...

Will it stop the dropbox sync of that photo? Nothing worse than taking a "confidential" picture and having it unloaded to my work computer

You can set which Dropbox folders sync to your work computer via Preferences > Advanced > Selective Sync

All you need to do is put create an empty text file with a name of .nomedia (note the leading dot) in any directory and the gallery app as well as dropbox upload will not show those files. You will need a file manager to do that as well as look at these files. Simon: I'm pretty sure the music player is there to play the bow chicka wow wow music while you look at your hidden photos...

Its not even worth saving the picture (Nudity) if you have wife/girlfriend. Just look and then delete. Women can always find a way to find anything stored on your phone if really want to.

Lol, I keep my personal photos on photo video gallery locker it's better than all lockers
https://www.androidcentral.com/e?link=https2F2F...

Am I the only one that doesn't have pictures for something like this >:(

Why do people only think of nude pictures? Maybe you are a Brony in the closet and don't want others to see your captioned My Little Pony pictures... or your nerdy Comicon photos... or in a more serious note, clothing or hardware you've designed and don't want others to see.

Exactly. I need this to hide my Alf collection from cat people.

BAHAHAHA!!! I wonder how many other people got that. ROFLMAO

Those examples are fairly irregular. 99% of us just like to see titties. Lucky for me, my isheep wife can barely turn my phone on with no lock

Ok...I've already downloaded it and hidden the pictures I don't want others to see.

Talk about needing to hide stuff. Simon made his video Private! Must be good :)

I don't think you picked the best hide app on Android to review. Hide It Pro by Anuj Tenani on the Play Store is head and shoulders ahead of this app imo. It offers many of the same features, a very nice ui, offers dialer unlock, can actually be used as a functional audio volume manager and shows up as Audio Manager in the app draw and wheb sharing in the gallery.

Now if he could just change the name on the "Apps" & "My Apps" list it'd be perfect. I'd pay a couple bucks for that...no ads of course.

Yeah Hide It Pro is the best for situations like this

What sucks would be the fact you can not hide all the INSTANT UPLOAD photos on the GNEX, so annoying. Esp since its photos from every where.

Actually, I found that is you create a folder with the name "private" the pictures don't show up in your gallery. Easier than an app I think.

The conspiracy is that all these hide picture apps secretly update to a secret server. That's why Internet permission is required.

Does it actually hide them or does it just put a "." in the name making them still visible using a File Explorer App like so many Apps do that claim to "hide" Pics / Vids? Personally I use Photo Vault & Video Vault because they do truly "hide" them and don't just put a "." in the name.

I used to use Hide It Pro, but it just throws it into ProgramData/Android/Language/.fr/ If you have any third party app that scans for pics and videos then it will still show up.

i had use gallery lock photo on my s3.
nw my s3 broke down n the touch pad cant use d..
can i transfer all my gallery lock photo to my computer??
how to transfer?
i need take out all the photo before send it to service centre
can u teach me??

I installed the Gallery Lock to my android.
Moved pictures to "Gallery Lock" after which i move the app & data to my SDcard using "App 2 SD".
While browsing the SDcard, i saw the folder : data/galleryLock/protected
Click on it and all my pictures are there! Only the extensions are changed to *.GLK
Those pictures can be viewed by using XEE picture viewer.
You can also change the extension to *.jpg and open the file. So, for the users out there, Gallerylock is only to lock pictures in your android device. It still can be read elsewhere.

Another way I found for accessing pictures you want to recover is simply force stop this application. Once you open it up again, it will ask you if you want to recover pictures. Do this and the pictures will show up in a folder w/o a password requirement.

The file moves to phone storage from sd card after it is hidden

The file moves to phone storage from sd card after it is hidden: And the phone space getting less and less as you keep going the files to hide. How we can change the hidden files path to sd card rather than the phone storage. Thanks

gallery lock is a gud app.... bt weneva i unhide d pics....d position of pic changes...dat is it turns upside down....den i hv 2 again rotate it clockwise...plzzzz sum1 help me....is der any setting in d app...?????????

I have a updated my moto g to lollipop ...
BT Nw I couldn't open gallery lock stealth mode by *password options ....
Its stil installed...
Plz give me a solution ....

I just updated my moto g to android 5 lollipop ..
I hav enabled gallery lock stealth mode ..
BT after updates I couldn't open. .. App is still installed...
Plz help me... ..

I am having issues when going into my app. A popup comes up saying to use additional features in the light version it is necessary to install perfect applock. Then I can't into my pics. And then sometimes a popup will come on saying the I may have viruses on my phone and I need to be protected. Can this be fixed???

hai...i cant open my blocked photos after gallerylock uninstal.i tried with all your ideas thats are reinstall and back up,reset.....but still that photos are some other formate.i cant able to open.please help me

Hi,
Is there any app which installs in ext storage and does not use phone storage. Plz suggest
Android Central Newsletter
Get instant access to breaking news, the hottest reviews, great deals and helpful tips
Thank you for signing up to Android Central. You will receive a verification email shortly.
There was a problem. Please refresh the page and try again.