Gallery Lock review - where to hide pictures on your Android device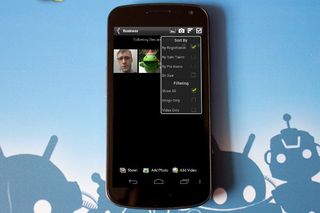 Do you have pictures on your phone that you don't want just anybody to see? Don't answer that, just plead the fifth. Gallery Lock is a free, secure app to hide your personal pictures from prying eyes. Tucked away behind a the phone dialler is a secret gallery that isn't viewable from other spots on an Android device.
Style
Gallery Lock's most stylish feature is launching the app from the phone dialler. That way you don't even have an icon showing anywhere for folks to wonder about. The novelty loses a bit of its shine since the primary means of adding new videos and pictures to the locked gallery is from the native Gallery app's share menu, which tends to be fairly visible. Users can also launch into the camera app from Gallery Lock to save new files directly into the protected folders.
The writing throughout many of the UI elements and help sections is poorly spelled at times which can be jarring if you're a wordy dude like me. Booting users out to Google Play for a review without any option to skip isn't particularly classy, either. For whatever reason, it reminds me every time I boot up that I can open the options menu with a long press.
Despite that, the user interface is functional, which is all one can hope for in an app like this. Folks looking for a rich, original image viewing experience can keep shopping - Gallery Lock Pro is all about security.
Function
Gallery Lock Pro definitely does what it says it does. Users can set up multiple folders full of pictures and videos that don't show up elsewhere on the phone. In order to gain access to the app, users must punch in a four-digit PIN code. Files can be viewed in gallery, list, or grid views, and sorted by date taken, date locked, file name, size, and filtered by image, video, or both. Multiple files can be selected at once for quickly unhiding, deleting, moving, or sharing. There's also some light editing thanks to a left/right rotation tool.
For some reason, there's an MP3 importer to have background music while you flip through your protected images. Why anyone would want this feature is beyond me, but at least there's a setting to hide the music player controls.
Pros
Smart, subtle way of hiding pictures and video
Cons
Conclusion
Those of us leading lives exciting enough to merit hidden photo folders will be really happy with Gallery Lock. There are a few features that could complete Gallery Lock, such as automatic cloud backup to private folders, which could enable another dialer hash code to blow up the app and wipe all hidden images with it, just in case of emergency. An SMS code to do so remotely would be even better, but now we're just in the realm of wishful thinking.
There's a free version that provides core functionality, and for $2.99, you get the stealth mode option to launch via the dialler, sharing pictures and videos, gets rid of ads, and a few other features. The upgrade process is a little wonky, and it can apparently be tricky making sure your existing hidden pictures don't disappear, but there are restore options that should work.
Be an expert in 5 minutes
Get the latest news from Android Central, your trusted companion in the world of Android
Simon has been covering mobile since before the first iPhone came out. After producing news articles, podcasts, review videos, and everything in between, he's now helping industry partners get the word about their latest products. Get in touch with him at simon@futurenet.com.