Update: Microsoft decides to make good after getting smoked in its own game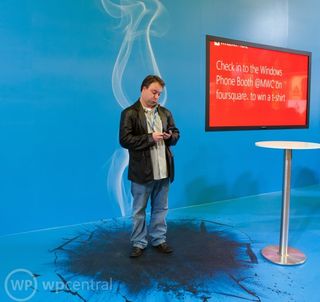 Update: And just as we suspected, Microsoft's decided to do the right thing. Ben Rudolph (aka @BenThePCGuy) just tweeted the following:
Wish it hadn't taken a public shaming, though.
Original: We've always watched Microsoft's "Smoked by Windows Phone" competition with a bit of amusement. On one hand, Microsoft hit a stroke of marketing genius here. (And lord knows it's had enough experiences in the opposite direction.) Put a Windows Phone up against anything else to see which can perform a specific task more quickly, and film it for posterity.
We've used Windows Phone. It absolutely can do some specific tasks pretty darn quickly -- often enough more quickly than other phones, and catching folks getting "Smoked" is YouTube gold. But it's also always been a bit of a techie carnival sideshow, albeit a popular one, as we saw for ourselves at Mobile World Congress. (No, I didn't actually get smoked, because I didn't belly up to that midway game.)
That brings us to today's tale. Skatter Tech's Sahas Katta writes that his Galaxy Nexus, armed with a couple weather widgets on the home screen, indeed was able to beat Windows Phone at its own game -- "bring up the weather of two different cities," Katta says. He had an ace in the hole: An option mod that bypasses the Ice Cream Sandwich lock screen and goes straight to the home screen when he presses the power button. The Windows Phone competition didn't have that, and finished "a split second later."
So Katta and his Galaxy Nexus won, right? Nope. the Santa Clara (Calif.) Microsoft store decided, after some gnashing of teeth, followed by some quick thinking, that it had to be to cities in different states. Oh. Good bye $1,000 custom laptop, hello "Smoked" pic of shame.
We're willing to bet Microsoft makes good here after this PR gaffe, and that some store employees might have seen better days. And let's hope Microsoft does it on camera, and posts it alongside its other "Smoked" videos.
Source: Skatter Tech, via WPCentral; more: Smoked by Windows Phone
Sign up for Black Friday email alerts!
Get the hottest deals available in your inbox plus news, reviews, opinion, analysis and more from the Android Central team.