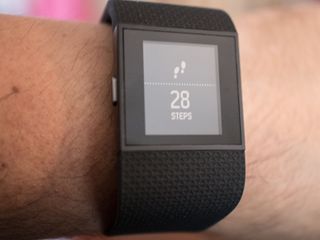 The Fitbit Surge is heading out now to select early adopters, bringing the best of what Fitbit has to offer along with a 24/7 heart rate monitor and smartwatch notifications. This isn't your standard Fitbit — the Surge is supercharged and ready to take on whatever activities you can throw at it. Rather than just giving you the standard fare of options like step count, calories burned and floors climbed, the Surge also adds in GPS tracking, multi-sport tracking, sleep tracking, phone notifications, music control and more.
We'll give the Fitbit Surge a good run or two (and maybe some yoga), then report back with a full review and all the details. For now, take a look at our quick unboxing to see what the Surge is all about. It's not yet available worldwide for everyone, but we'll be sure to let you know when you can get your hands on one.
By day, Adam is a writer for multiple Future Publishing brands with over fifteen years of experience. He's expertly researched and written hundreds of articles ranging from mobile phones to mobile homes to baby mobiles. By night, he's a gadget geek, avid disc golfer, 80s nerd, cord cutter, cook, husband, dad, and memory collector.
I'm interested in the water resistance as the website says it's rated for 5 ATM which would mean you should be able to take it into the shower or basic swimming. But you make it seem that it can barely handle splashes. Which is it? I'm seriously interested in this as it seems to hit all my basic requests unless it can't handle true all-day wear.

I have to look into it more — I'm seeing mixed things as well. I understood that it was waterproof as well, but now I'm hearing that it's not. Stay tuned — I'll see what I can find out.

Thanks, I appreciate it... Wish these companies would get their stories straight especially for a fitness watch.

I tweeted tech support about the waterproofing and they sent me to this link http://help.fitbit.com/articles/en_US/Help_article/About-Fitbit-Surge/. It basically says that it can handle running in the rain and even heavy sweat, but not showering or swimming. For me that's totally acceptable. It's nice to get it off for a few minutes when I'm showering anyways.

Sorry but my fitness watch, needs to be able to survive a dunk in the pool or washing the dishes, or even the shower. if a $20 timex can do it, so can a $250 fitness watch! To me this says we really don't trust our ATM rating but we needed to make it sound better. Look at these competing statements from Fitbit vs. Garmin both rated as 5ATM... Fitbit... "Your Surge is water-resistant. It is rain and splash proof and can stand up to the sweatiest workout. Remove before showering or swimming." Vivosmart... "vívosmart has a water rating of 5 ATM (50 meters)1, so you can shower or swim, worry-free". If this is true that you can't shower or swim with it, then I'll pass, even the Pebble does that.

This is really odd... FitBit says "Water-resistant to 5 ATM" here: https://www.androidcentral.com/e?link=https2F2F... Which means that it can be used in swimming/rafting/etc.:
http://en.wikipedia.org/wiki/Water_Resistant_mark However, they do say in the instructions included with the Surge that it should not be cleaned with soap and water... So maybe the issue isn't water, but the chlorine and detergents in a pool, and soap when showering or washing dishes.

Hey Adam, I'm excited about the Surge... just one question. It mentions that it can control music. Is there any way to load music files onto the device, or just control music through BlueTooth? I guess ultimately, the question is whether or not you can leave your phone at home when out for a run. It's great to see that the GPS is built-in, but unless music can be loaded and the phone isn't needed, the GPS may be redundant for many users. That doesn't mean it's not a great product, I'm still considering it, regardless.

I don't see any way to store music, just control it.

Can you investigate how good and accurate the heart rate monitor is while running or exercising and let us know. That would be my primary reason to go for this device. Some other heart rate monitors don't seem to work or take a few minutes to work while exercising. thank you!

This Posted via Android Central App

I ran with mine yesterday. The GPS seemed spot on. The HRM seemed, surprisely so, high with an average of 169 on an 8 mile run at a long run pace of 8:38. The Mio I tried a few weeks ago seemed low at 149 on a 5 mile run with a normal pace of 8:25. I want to try it with my Armour39 chest strap on the same run.

Yes, please do give us an update when you test it against a chest strap. Heart rate reliability on a run is also my main deciding factor on getting a Fitbit Surge.

I've ran with mine a couple times and while I didn't wear my Garmin HR strap, for those runs, they are runs i've done 100s of times wearing my HR strap (as recent as a week before), and I'd say my average HR was within about 2bpm of what my Garmin would have given me. As for the GPS, I did actually wear my Garmin watch (FR620) for the purpose of comparing the distances and over a 5 mile run, the Surge was about .05 shorter than my Garmin. I'd have to say I am extremely happy with the Surge thus far.

I had to run inside on the treadmill yesterday and the averages between the chest strap & the Surge were close (+/- 5bpm). I ran today outside in cold temps with 25+ mph head wind gusts and got the same result as the Mio Alpha under the same conditions, much lower than expected. It seems that I am probably not a good candidate for wrist-worn HRMs due to my Reynauds. I am going to run some more tests with the chest strap, but I think it is as good as the Mio units which everyone says is the best wrist-worn.

It would be great if you could measure/test the hr monitor accuracy ie by simultanously wearing/comparing it to a polar or a garmin watch which uses a chest strap... Posted via Android Central App

Agree I would love to know also. If it is reliable/close to the chest strap this becomes an easy decision to get one. Though we realize this is going to be a pain for you. Thanks!

Do you know if you will be reviewing the Up3 that supposed to be released soon? It looks promising, and its not trying to replace your smartwatch at the same time.

Thanks for that. Two things I'd like to know:Accuracy of HRM compared to a chest strap monitor, but also does this work with the watch worn inboard on the wrist? . Many sportspeople wear their watches this way, me included. Oh,and can we export the the GPS data to Strava etc? Posted via Android Central App

Exactly what I'd like to know to! People think I wear my watch different but once I started running that way it just seemed more natural to click off splits Posted via the Android Central App

Fitbit does not recommend wearing the watch with the face on the inside of the wrist. They recommend wearing it about an inch above the wrist bone on the outside of the wrist. I think that is the same for all of the wrist-worn HRMs. The Rhythm+ is different, but that is meant to be worn on the inner arm near the elbow.

I got the Fitbit Surge in the mail on Saturday and have been wearing it for the past 3 days. I love it! I've pretty much done everything I can with it, including going for a run and having it track my sleep (two of the things that made me want to buy it in the first place). From my observations it has delivered on almost everything I hoped that it would be. It has accurately mapped my runs with its gps, given me instantaneous updates on my heart rate during the day, while on my runs, and while sleeping. I was also amazed by how accurately it sensed when I went to sleep and woke up, as it does this automatically. The only downside I've really noticed would be in the smartwatch aspects. It syncs to my LG-G3 just fine, but I wished it had more features, such as alarms with different vibration patterns. This is something that can easily be fixed with software updates though, So I am very optimistic that this watch will only get better in the future!
Android Central Newsletter
Get the best of Android Central in in your inbox, every day!
Thank you for signing up to Android Central. You will receive a verification email shortly.
There was a problem. Please refresh the page and try again.